The best e-readers 2017 – reviewed
We've scanned our eyes over countless virtual books to find the best e-reader around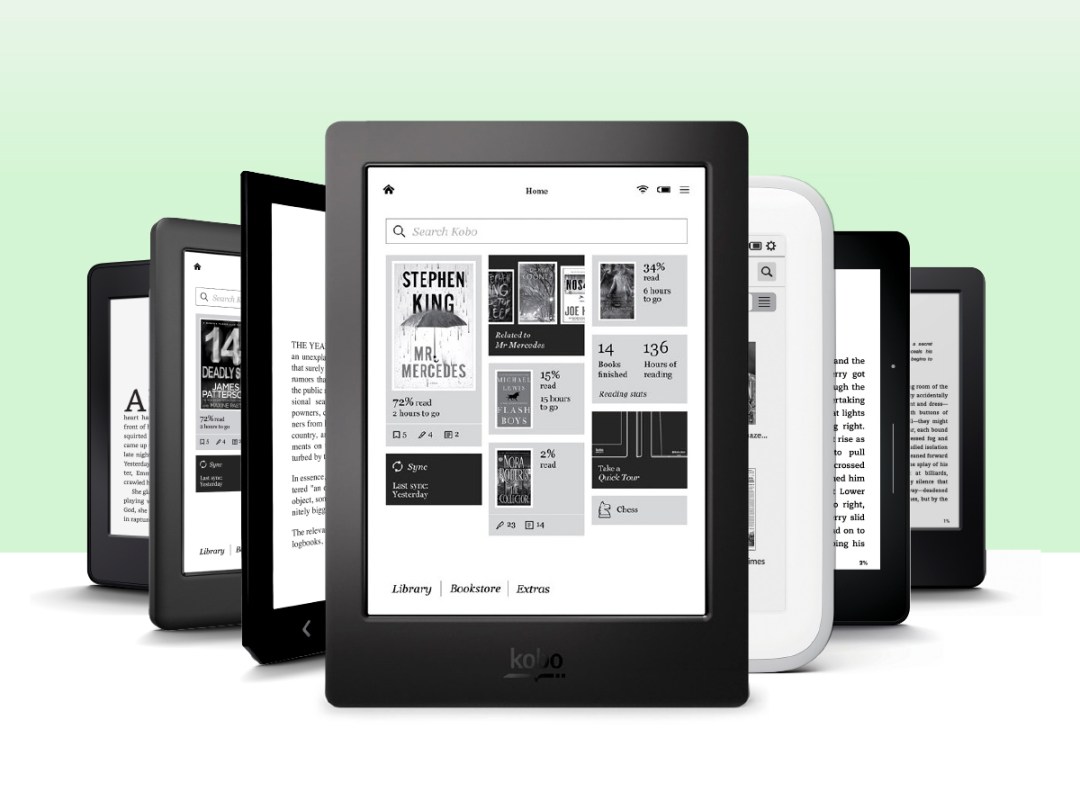 Still reading paper books or, even worse, reading on a phone or tablet? What are you playing at? Everyone else has been virtually thumbing through books on Kindle for years now, and for good reason. 
There's no eyestrain, nothing that'll clutter up your house, and an e-reader lets you carry hundreds of book around with you. You've probably heard this all before, right? 
But do you know which are the very best e-readers you can buy right now? You will if you keep reading – and don't expect 'em to all come from Amazon, either…
Kobo Aura H20 (2017) – £140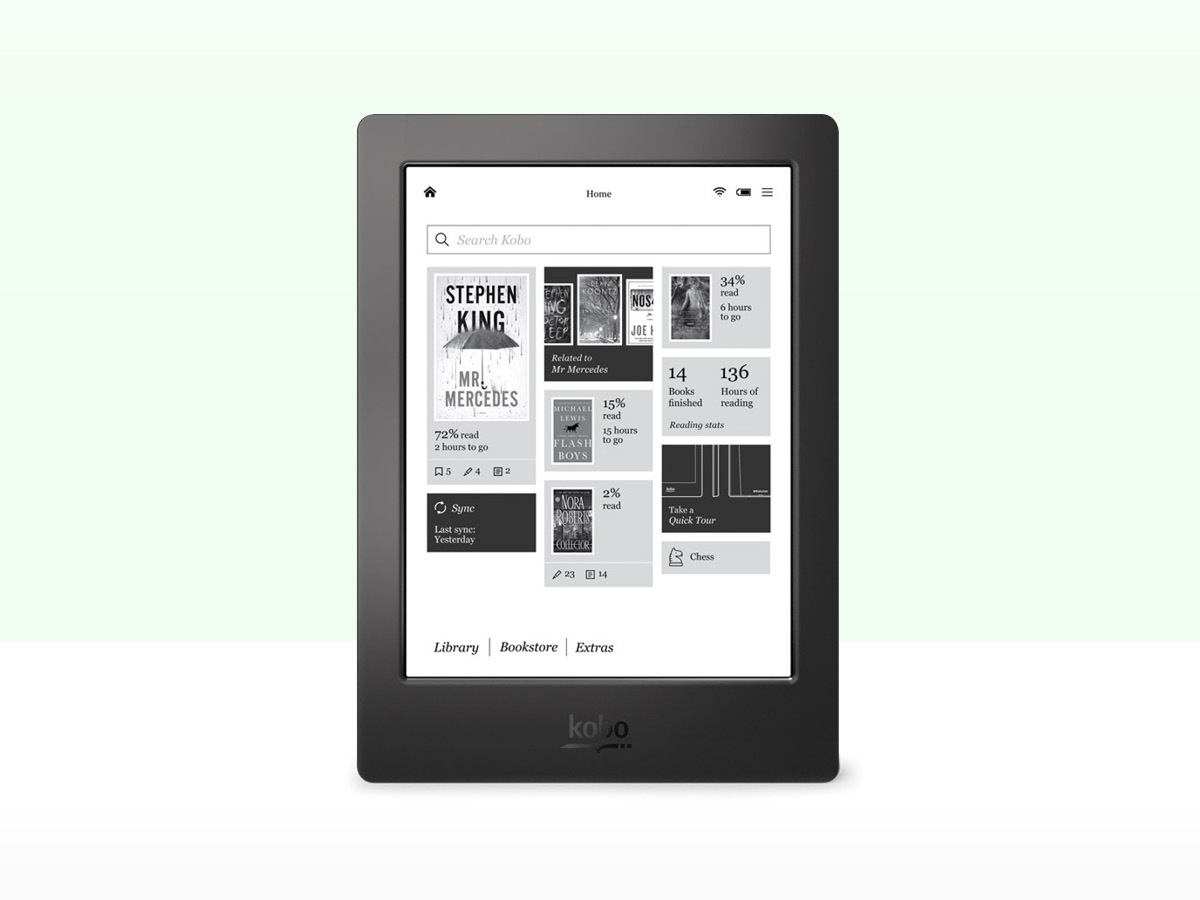 If you don't want to follow the pack and get an Amazon Kindle, a Kobo e-reader is always a good shout. You'll find them on the high street at WH Smith stores, and the 2017 version of the Aura H20 is our top pick.
It's also one of the few e-readers we've used to be completely primed for bath time. There's nothing quite like relaxing with a good book in the bath, and thanks to the Aura H20's rubber-sealed port on the bottom there's no chance of a fried battery or sodden pages here.
It makes us wonder why we haven't seen waterproof e-readers before – Amazon seriously needs to catch up here.
In the trade-off, the Aura H20 isn't quite as slim or slick as the top-end Kindle Voyage. Its super-soft finish plastic body feels great, with rubber rear for added grip, but it's chunkier and larger than any Kindle.
Part of this is deliberate, though. The Kobo Aura H2O has a 6.8in screen rather than a 6in Kindle-size one, but still offers great sharpness thanks to its 265ppi E Ink Carta display. Sure, the Voyage still has the edge for sharpness when you get up-close, but Kobo has enough tiny E Ink microcapsules to make even small text look crisp.
Its front light is also a bit more tonally consistent that the Kindle Voyage's, and can tweak the amount of blue light it pumps out so you're not left counting sheep come bedtime. This is a cracking piece of hardware that really appreciates what tech-loving readers are after.
Kobo's software has its highlights, like great tracking of your reading stats, but you'll have to shop around to find your books – there's no Kindle book store here.
Buy the Kobo Aura H20 here from Kobo
Stuff says ✭✭✭✭✭
Don't want to be an Amazon Kindle sheep? The Kobo Aura H20 is the best alternative, especially if you read in the bath
Kobo Aura H20 in figures Screen: 6.8in E Ink Carta 265ppi with front light • Battery: Up to one week normal use • Connectivity: Wi-Fi • Storage: 8GB • Dimensions: 129x172x8.9mm • Weight: 210g
Kindle Paperwhite (2015) – £110 / £170 with 3G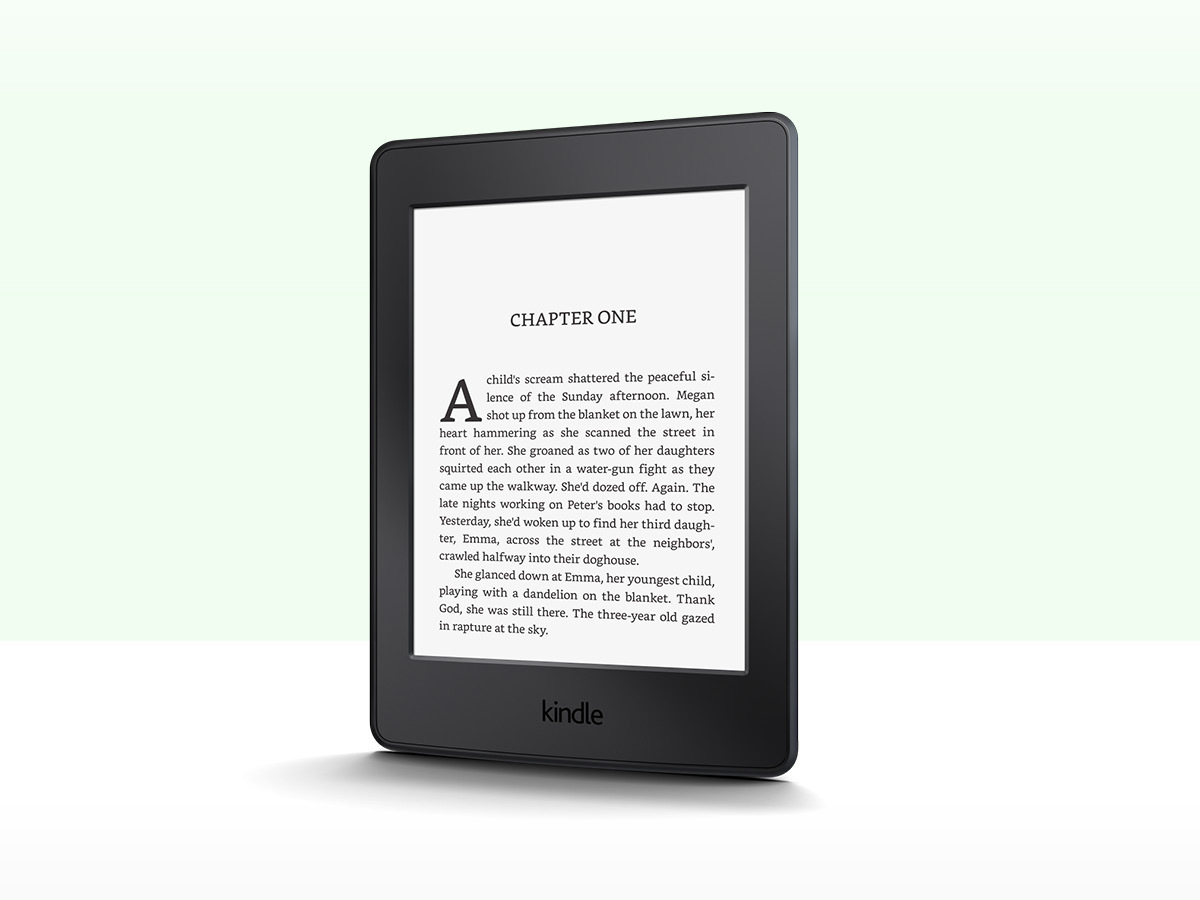 How do you make the best even better? Amazon has sauntered through its latest Paperwhite upgrade with the confidence of a red carpet celeb. The look hasn't changed: why should it? Amazon knows it doesn't need flashy extras to reel us in.
The screen is new, though. Now, for around £100 you get the 300ppi sharpness of the £170 Kindle Voyage. Fonts are that bit sharper and smoother this year.
Amazon has also tweaked the screen's light a bit, making it less blue-ish so the pages look all the more like those of a paperback.
There's a minor sacrifice in battery life, but when you can still get up to six weeks' use off a charge (2-3 is most likely), it's no biggie. Everything else is as before, and just how we like it.
You turn pages with the touchscreen, the 4GB storage is enough for thousands of novels and the Amazon ecosystem is still a winner. This is what previously earned the Kindle Paperwhite our thumbs-up over and above competitors. The non-Kindle crew just didn't make it quite as easy to get hold of books, newspapers and so on.
Amazon also tends to have better promos and prices in general than much of the competition. It's about more than just the hardware, which is starting to fall behind the competition.
Unless you're desperate for the flashy extras of the Voyage, or the waterproof Kobo range, this is a great all-round e-reader.
Buy the Kindle Paperwhite from Amazon
Stuff Says ✭✭✭✭✭
A modern classic and the best performance-per-pound ereader around – if missing a few features
Kindle Paperwhite in figures Screen: 6in E Ink with 1430×1080 resolution (300ppi) and integrated light • Battery: Up to six weeks normal use • Connectivity: Wi-Fi (optional 3G) • Storage: 4GB • Dimensions: 169 x 117 x 9.1mm • Weight: 205g
Amazon Kindle Voyage – £170 / £230 with 3G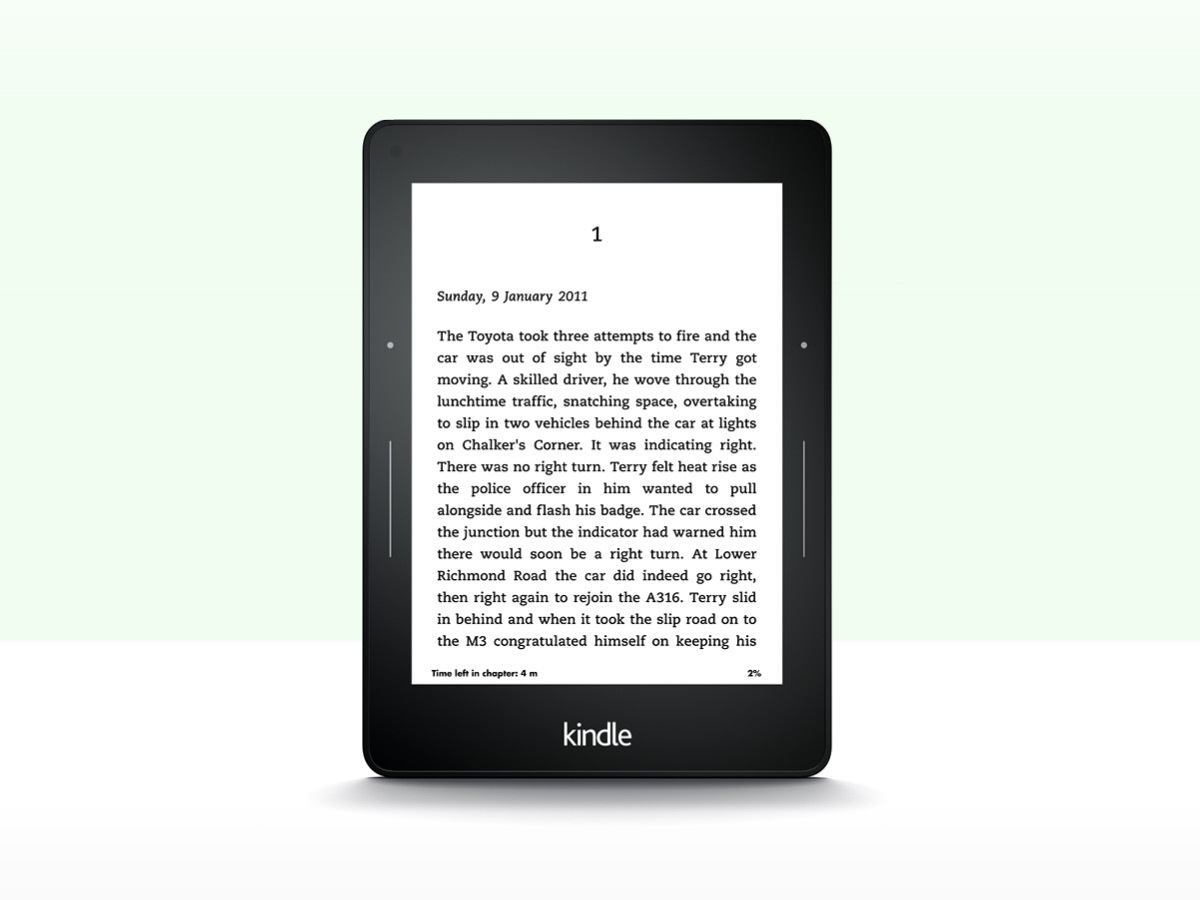 This is the BMW 5-series of Amazon's e-reader world. Not as luxurious as the Kindle Oasis, not as mainstream as the Paperwhite, and not as bargain basement as the basic Kindle.
It stands out with pressure pads on the front. See the little line and dot markers on each side of the screens? These are page buttons for the post-button age. Press on the line and you'll go forward a page, press the dot and you'll skip back a page. Naturally, you can also use the touchscreen.
And what a screen it is too. This is by far the sharpest Kindle screen so far, one definitely deserving of the Retina tag we normally attach to phones, because text is actually smoother than it is in most printed books.
The Kindle Voyage gets the latest Carta E Ink screen tech, and while the display size is the same as the £59 Kindle and Paperwhite, it's the first to have an auto brightness front light setting. There's an ambient light sensor on the Voyage, letting it gradually dim and brighten the screen's light as you go from reading in a lit room to, perhaps, a dark bedroom.
We'll admit to going manual with the light (also still an option) as the Auto setting likes to make the display a bit too bright in day-time. After all, wasn't the whole point of E Ink that it used natural light when it's available?
Still, not everyone's likely to feel the same. Also a tiny bit contentious is the design. Kindle e-readers have historically had a pretty plain practical design, while the Voyage gets a bit flashy with a more angular rear with bits of glossy plastic: a look nabbed from the Kindle HD tablet range.
Whether convinced about these choices or not, they don't stop the Voyage from being tremendously nice to use. Those new pressure buttons mean you don't even need to move a finger while reading.
This is a corker of an e-reader, and the one to go for if you can afford it if you're already invested in Amazon's eco-system. That said, it really doesn't come cheap at £170, or £230 for the 3G edition. Ouch.
Buy the Kindle Voyage from Amazon
Stuff Says ✭✭✭✭✭
It's still the mainstream king of Amazon's e-readers, but is now looking due for an update
Kindle Voyage in figures Screen: 6in E Ink with 1430×1080 resolution (300ppi) and integrated light • Battery: Up to normal use • Connectivity: Wi-Fi, optional 3G • Storage: 4GB • Dimensions: 162 x 115 x 7.6mm • Weight: 180g
Kobo Aura One – £190
Aura One in figures Screen: 7.8in E Ink Carta 300ppi • Battery: Four week normal use • Connectivity: Wi-Fi • Storage: 8GB • Dimensions: 195x138x6.9mm • Weight: 230g
Amazon Kindle Oasis – £270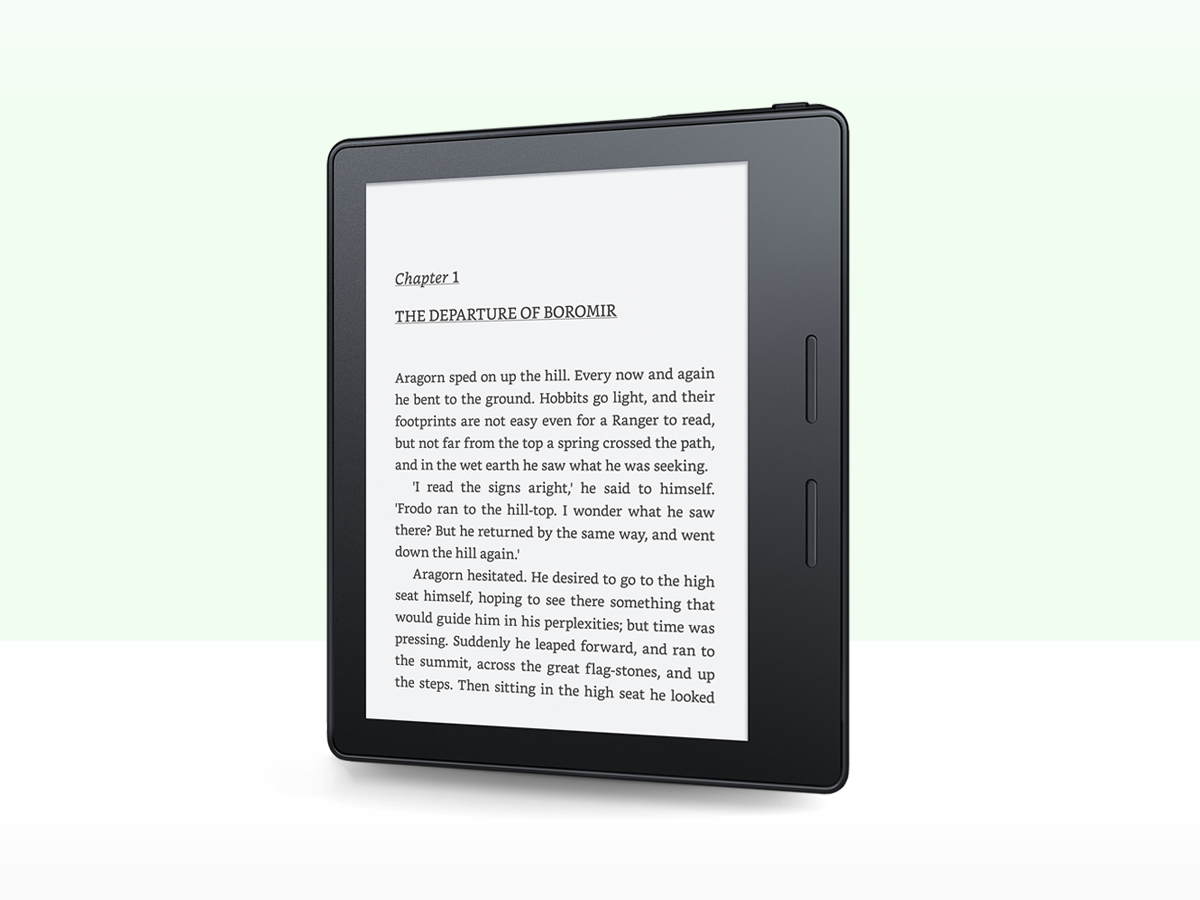 The e-reader equivalent of doing your weekly shop at Fortnum & Mason, the Kindle Oasis is the epitome of E Ink luxury. But then you'd hope as much, seeing how it costs an eye-watering £270. Or £330, if you want 3G thrown into the bargain.
It's all to do with dimensions, y'see. At its thinnest point, the Oasis is a mere 3.4mm, and tips the scales at a featherweight 133g. The plastic polymer Amazon has used to keep weight down somehow feels premium, and you'll be amazed just how light it feels once you pick it up.
Those skinny sides don't leave a lot of room for a battery, which means you'll be hunting for a power socket after two weeks of reading. Not bad, by any means, but not great either.
Unless, that is, you bolt on the complimentary leather cover that comes included in the box. This'll boost your reading time to an incredible nine weeks. They come in suitably swanky colours, too, like merlot and walnut. Perfect for leaning back in your wingback Chesterfield, brandy in one hand and Oasis in the other.
The only downside is that, unlike the Kindle Voyage, you're forced to adjust the frontlight brightnes by hand. Like a peasant.
It's overkill for most, then, and not as good specs-wise as the cheaper competition. But when was pure decadence ever cheap?
Buy the Amazon Kindle Oasis here from Amazon
Stuff says ✭✭✭✭✭
A jaw-droppingly expensive e-reader, but one that absolutely oozes class
Amazon Kindle Oasis in figures Screen: 6in E Ink Carta 300ppi • Battery: Eight week normal use • Connectivity: Wi-Fi • Storage: 8GB • Dimensions: 143x122x8.5mm • Weight: 240g (with cover)
Amazon Kindle (2016) – £60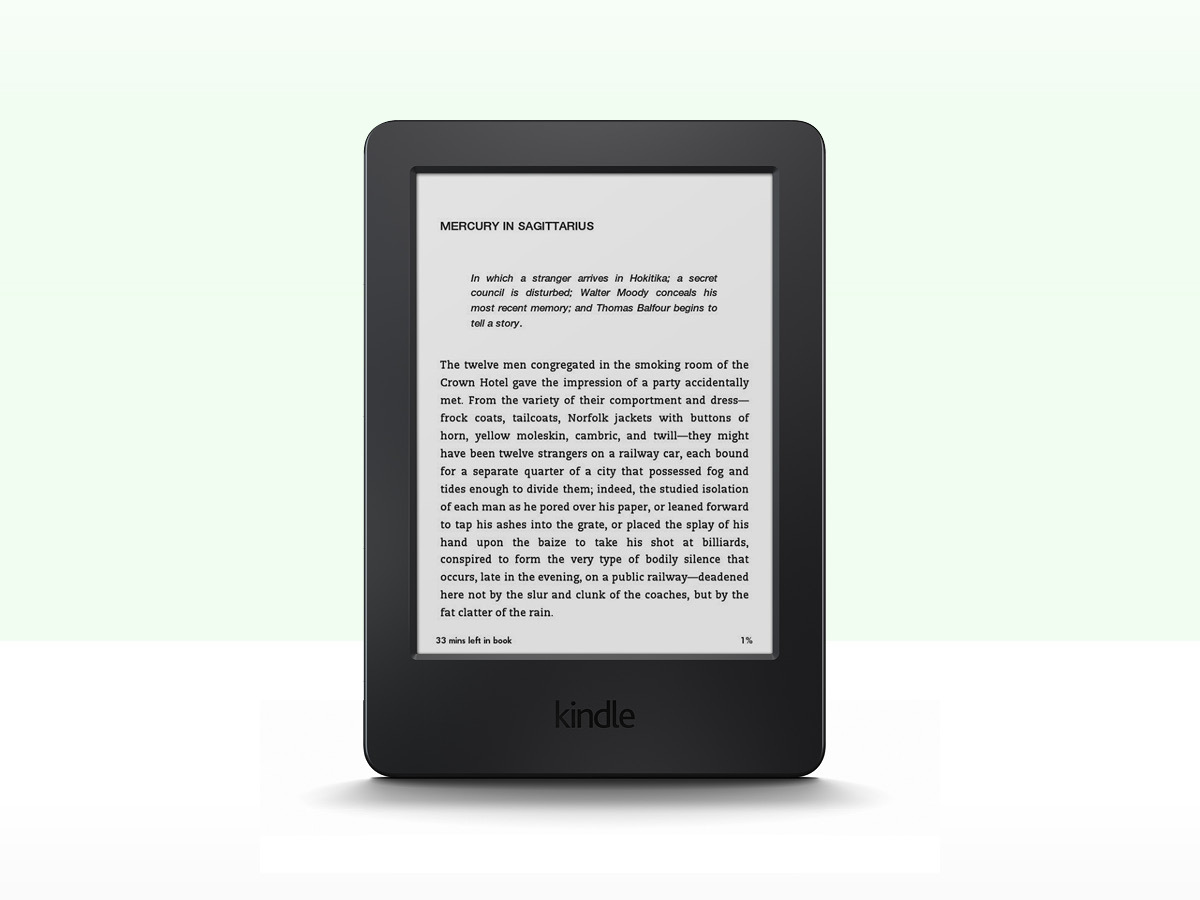 Don't mind missing out on the latest tech? The basic £60 Kindle gets you a similar experience to what what we saw a few years ago from the Kindle Touch, for less money. But let's not forget that was once the top dog in the e-reader world.
What you'll definitely miss if you have any experience with a Paperwhite is the front light: the basic Kindle doesn't have one. That means no reading in the dark because, as ever, the E Ink screen itself supplies zero light.
It's also not the glitziest-feeling device. There is a bit of texture to the plastic rear, but this is probably the cheapest-feeling Kindle to date, including the old non-touch £70 model that has now been discontinued. The actual screen tech is a generation behind the competition too, with relatively low-res E Ink Pearl on-board rather than the latest Carta-generation screen.
It probably sounds like we're really laying into the basic Kindle, but it's actually a perfectly good e-reader if you're happy to live with its cheapy cutbacks. In daylight, its screen is just about as comfortable to read from as the Kindle Voyage: contrast is still very good, only lacking the crispness and bold pitch-black text of the more expensive models. Surprisingly enough, it is just about as fast too.
And just like every other Kindle, the £60 model benefits from Amazon's fantastic book delivery system. You just log in with your Amazon account, then you can buy books directly from the reader, or even send ones to it from your laptop's web browser.
Keen readers should probably consider a slightly higher-end model, mostly because of the front light, which we now find indispensable. But if you're looking to read on the beach rather than in bed and want to save a few quid, this is a perfectly respectable e-reader.
Buy the Amazon Kindle from Amazon
Stuff says ✭✭✭✭✩
It feels a bit cheap and isn't great for night reading, but the Kindle gets the basics just right
Kindle in figures Screen: 6in E Ink Pearl 167ppi • Battery: Four week normal use • Connectivity: Wi-Fi • Storage: 4GB • Dimensions: 169 x 119 x 10.2 mm • Weight: 191g