Amazon Kindle Oasis (2017) review
Waterproof and Bluetooth, ain't that the truth
If you love reading – and I mean really, really love it – you could have done a lot worse than last year's Kindle Oasis.
Amazon's most expensive e-reader was also its most portable, most pocket-friendly, and longest-lasting. We loved it.
Now though, there's a successor – and it's somehow even better, despite putting on a few extra grams.
With a bigger screen, bigger battery, better Bluetooth, and a newfound ability to withstand the wet stuff, it really is the best Kindle Amazon has ever made.
If you've been putting off a move to digital, now might finally be the time to ditch those dusty hardbacks for good.
DESIGN & BUILD: LEFTY LOOSEY, RIGHTY TIGHTY
The new Oasis looks very similar to the old one – only everything is a little bigger this time around.
It's thicker at one side but super skinny on the other, giving you something to comfortably grab onto, while staying perfectly balanced in your hand.
You can hold it in either one, and don't have to worry about flipping the orientation if you swap between left and right, either – there's an accelerometer that automatically reorients the page so it's facing the right direction. It's super-quick, too, redrawing the screen by the time you've flipped the thing over.
With glass covering the whole front panel, there's no gap between the e-ink screen and surrounding bezel. It makes swiping to change pages an absolute cinch, but there are two simple buttons that get the job done too if you want something to press instead.
The back is pure aluminium, which only adds to the premium feel. The whole thing is expertly crafted and feels well put together – constantly sling this in and out of a bag on your weekday commute and it shouldn't come a cropper.
Oh, and pool-dwellers' prayers have finally been answered: the whole thing is IPX8 water-resistant, so taking a dunking won't put an end to your holiday reading. Quite why it's taken Amazon so long to do this is a mystery, but it essentially makes the whole thing holiday-proof. Which is most certainly a good thing.
DISPLAY: SO MUCH MORE ROOM TO READ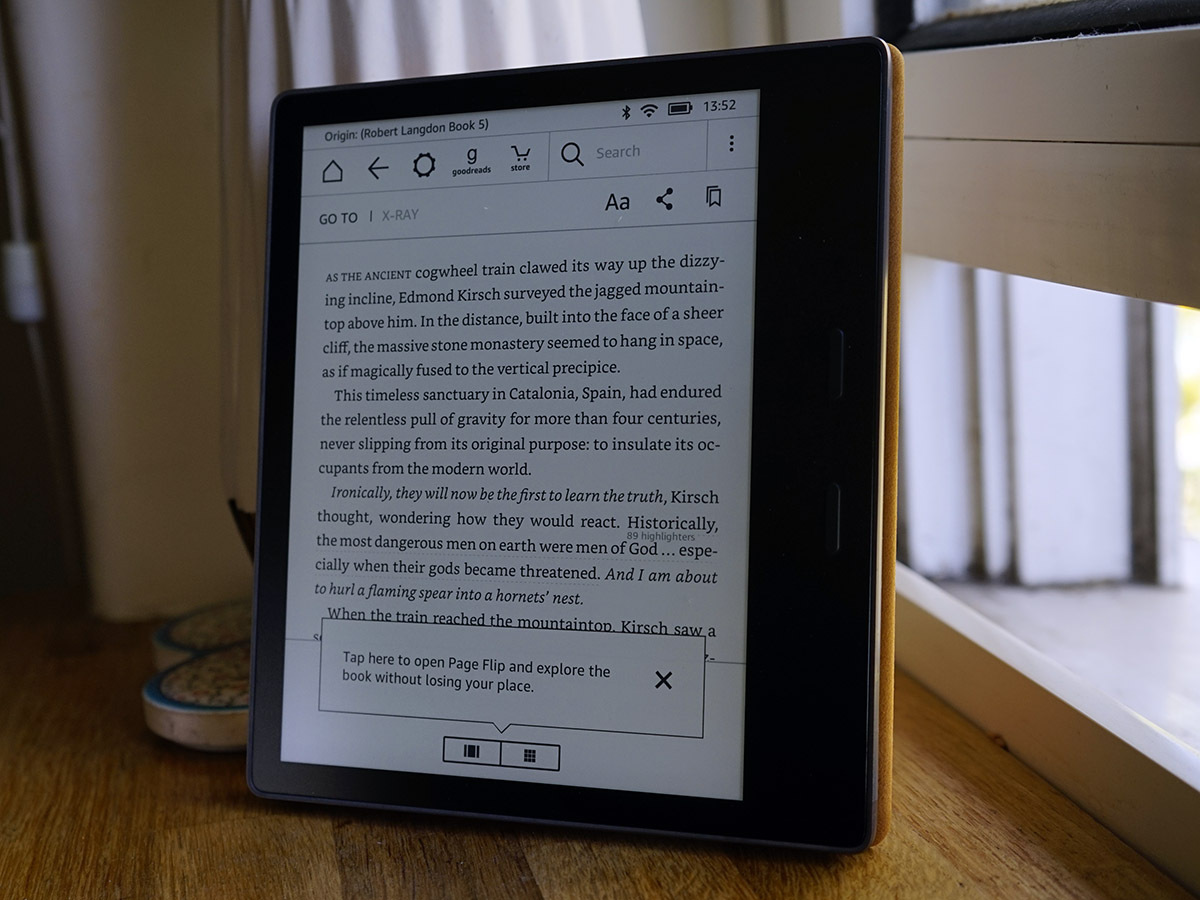 Amazon has ditched the old 6in screen for a larger 7in panel, and bumped up the resolution slightly to keep the same 300ppi display density. That means graphic novels illustrations and magazine images look just as sharp as before – only now they're larger.
The extra screen space means you can fit more words on each page, and you'll have to do less page-turning overall. Seeing how the screen only uses power when you refresh it, that should mean more time between battery top-ups too.
It's front-lit, of course, with 12 LEDS (up from 10 in the original Oasis) creating a smooth, even glow across the whole display. What's even better than that? Adaptive lighting. The less expensive Kindle Voyage had an ambient light sensor, but it was oddly missing on the 1st-gen Oasis – Amazon has rectified that here, adding twin sensors that automatically raise and lower the light brightness to suit your surroundings.
During the day, the new Oasis keeps the lights low enough (or off altogether) to save battery, while still being clear to read. At night, you don't have to fumble with the manual brightness controls or risk being blinded, as it is quick to adjust and usually picks the ideal setting for a bit of bed-time reading.
SOFTWARE: THAT FAMILIAR FEELING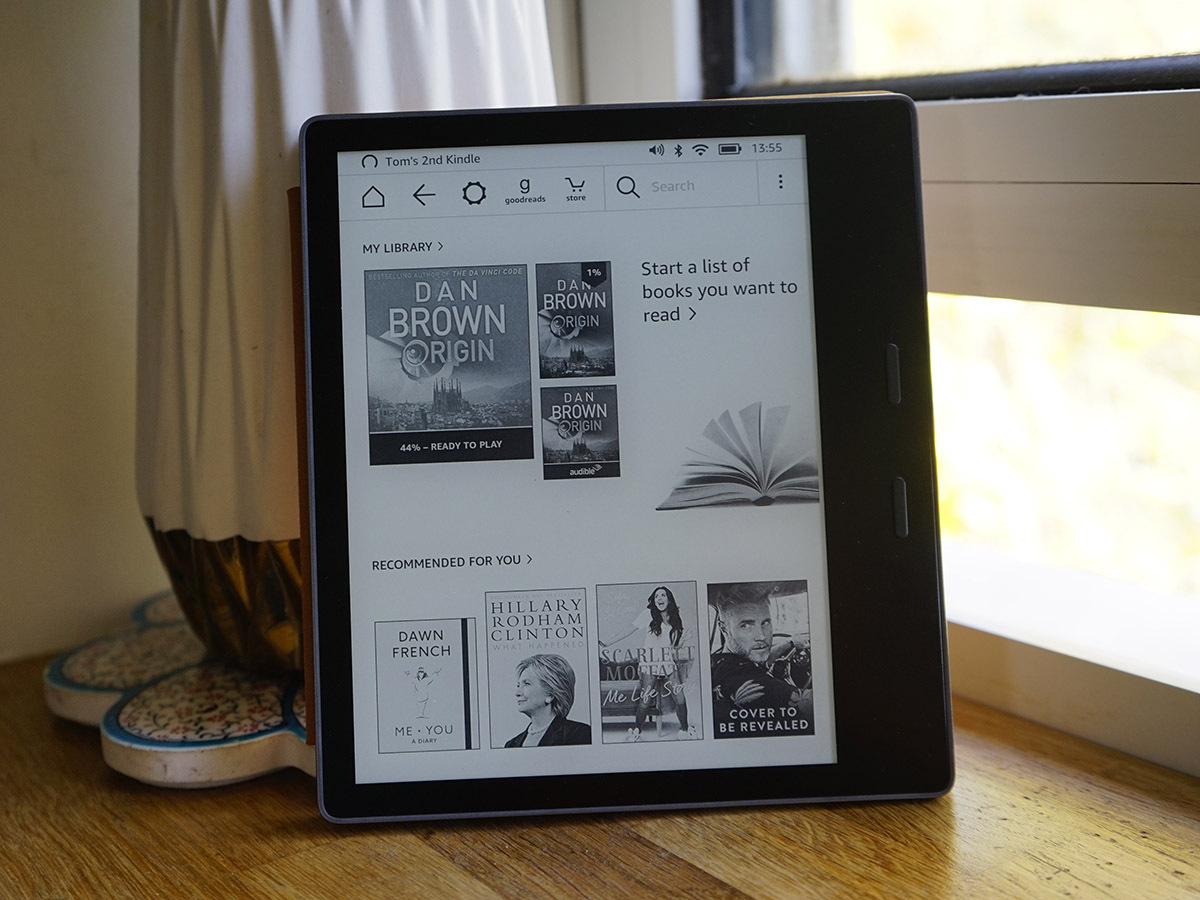 Amazon's 2016 software overhaul made the Kindle homescreen a lot more user-friendly, and it's even better here on a bigger display.
The books you're reading sit front-and-centre, with the ones on your wish list just below. Best sellers and recommendations show up here as well. All your books live in the cloud, so you can download and delete them whenever you like, to free up space.
The Kindle has long been the benchmark for e-readers, with the only price you pay being that you're limited to buying books from Amazon. Given the huge selection and nigh-unbeatable prices, though, this is hardly a major problem.
BATTERY LIFE: MORE THAN ENOUGH
The new Oasis is physically bigger than the old one, to make room for the larger screen, so naturally there's more room inside for batteries. Amazon has managed to squeeze one in that'll get you through six weeks of use – a threefold improvement on the outgoing device.
I've barely a week in from a full charge, and haven't dipped past the first battery blip yet – meaning I've got plenty more reading to go before I can confirm Amazon's claims.
The optional flip covers might have lost their battery-boosting abilities as a result of this change, but a month and a half between top-ups should be enough for just about anyone.
USB-C would have been a nice inclusion, but instead you're stuck with good ol' micro-USB.
AUDIOBOOKS: EASY LISTENING
Last year's entry-level Kindle added Bluetooth for the first time, but it was mainly for the VoiceView screen reading accessibility mode. Now, though? It's audiobook heaven.
Pair the Oasis to a speaker or pair of wireless headphones, and you'll be able to tune in to your Audible audiobooks straight from the device.
Audible is fully integrated here, so you can jump between reading and listening whenever you like with a couple of taps. It tracks which page you've got to and resumes playback at the exact point you left off, so you don't hear the same bit you've just read.
The basic Oasis has 8GB of on-board storage now, so there's double the room to store your files compared to last year. That's enough for thousands of books and hundreds of audiobooks, which typically take up around 200-500mb per recording.
Amazon reckons its customers downloaded a whopping two billion hours of audiobooks in 2016, and this new baked-in feature is only going to make that number jump even higher, so it's great news you won't have to worry about running out of room.
Want more? There's a 32GB version available too, complete with 3G for Wi-Fi-free downloads.
AMAZON KINDLE OASIS (2017) VERDICT
Amazon has given its top-end Kindle some genuinely useful upgrades, without compromising on design or battery life. Everyone can appreciate a bigger screen, and waterproofing has been a long time coming.
Audiobooks over Bluetooth open up a whole new way to enjoy your reading library, too. Not every Kindle owner will have some in their library, but those that already use Audible will appreciate its inclusion.
It's also cheaper than the original Oasis, at £229. Still expensive for an e-reader, sure, but a £50 price cut is very welcome, especially when the value of the pound is weaker than wet tissue paper.
If there's a downside here, I couldn't spot it. The 2017 Oasis looks like the best Kindle yet.
Tech specs
| | |
| --- | --- |
| SCREEN | 7in, 300ppi E Ink Carta |
| STORAGE | 8GB on-board |
| BATTERY LIFE | Six weeks (average) |
| DIMENSIONS | 159x141x3.4-8.3mm |
Stuff Says…
It's hands down the best Kindle ever, which pretty much makes the new Oasis the best eReader ever as well
Good Stuff
Waterproof – finally
Excellent battery life
Bluetooth great for audiobooks
The biggest, best ebook store
Bad Stuff
Locked to Amazon's marketplace