Apple VR/AR latest: could we finally be getting a headset in 2023?
An augmented/virtual reality headset from the maker of the iPhone? It's looking likely....
Apple doesn't launch entirely new products very often, so when there's one in the works it sends the rumour mill into overdrive. Talk of an Apple VR headset has been doing the rounds for years, and the Cupertino-based company is still yet to make any official announcements, but it's now starting to look like something concrete might be in the pipeline.
Apple doesn't tend to jump on bandwagons unless it's convinced the product being developed has ironed out any issues with existing competitors and that there's a big enough demand for it. But reports say that Apple's board was given a demo of a new mixed reality headset, suggesting things are at a reasonably advanced stage.
So what do we know so far? And when is Apple VR (or whatever it ends up being called) likely to see the light of day?
Apple VR: rumoured specs
According to Bloomberg, Apple's headset has been in the works since 2015, so the specs will have changed dramatically over time. The most recent version is said to be powered by a version of Apple's own M1 chip, with 8K displays, a 120-degree field of view and eye-tracking technology on the inside, and multiple cameras on the outside. The headset is predicted to come with motorised interpupilary distance (IPD) adjustment, and support prescription lenses with a magnetic mounting system.
The report also claims that the first device, codenamed N301, will offer both VR and AR capabilities, while a second pair of AR-only glasses (codename N421) will follow later. Trademarks seen last year suggest that Apple is considering the Reality One and Reality Pro names for each device.
Apple has been pushing AR apps pretty hard on iOS in recent years, and a dedicated set of Apple AR glasses have been long rumoured. References to a 'realityOS' have been spotted in pre-release iOS builds, App Store upload logs and trademark filings going all the way back to 2017. More recently, we've seen trademarks for the 'xrOS' branding, which could be an alternative name for the software.
With all that said, though, Apple has reportedly shelved its plans to release an augmented reality headset anytime soon. Instead, says Bloomberg's Mark Gurman, Apple are deciding to focus on a mixed-reality set that is rumoured to cost around the same as an iPhone. That is anywhere between $800 and up to $1600, then, but reports are suggesting it will have a 2025 release date when it does finally drop.
Apple VR: rumoured design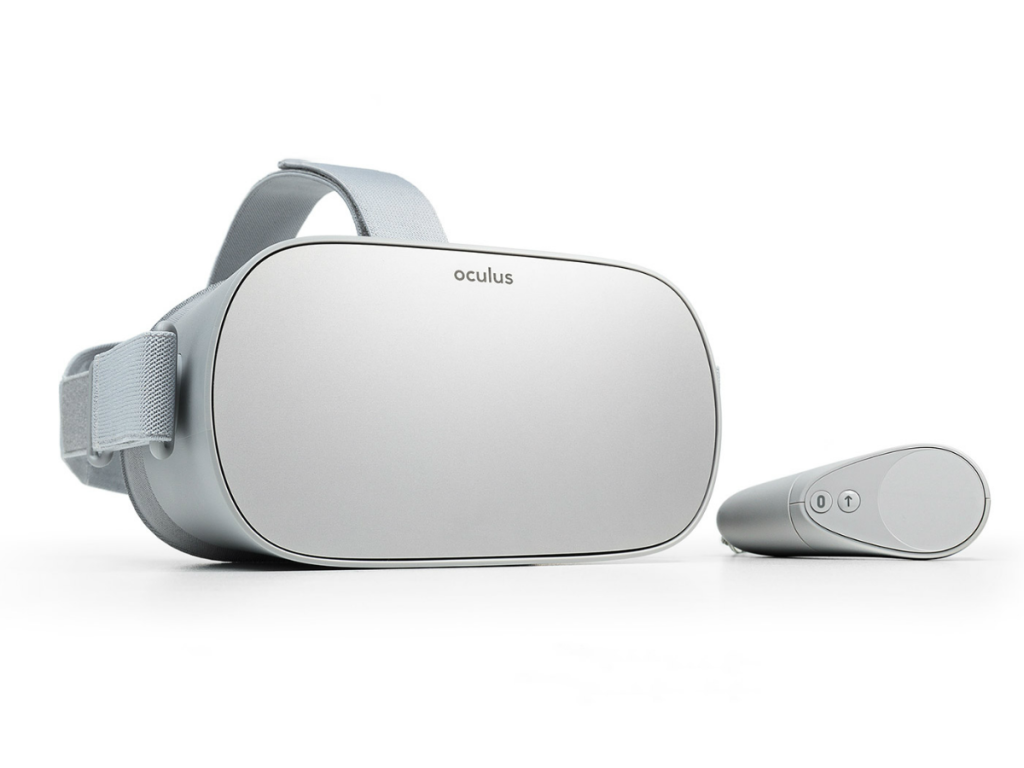 Apple has managed to keep any renders or mock-ups of its headset under wraps so far, but a report by The Information in 2021 said it would feature a "sleek, curved visor" with "swappable headbands", which sound similar to the canopy on the AirPods Max. That knitted, breathable mesh is designed to reduce pressure on the wearer's head, so would make sense for a device that you'd be likely to wear for long periods. It'd be a small departure from existing headsets like the Oculus Go (above), but still recognisable as a VR device.
Materials will apparently be a mix of aluminium, glass and carbon fibre, in order to keep weight down. The depth-sensing and location-tracking cameras will be hidden, for a more visually pleasing design.
The report also mentioned one prototype that included a physical dial, much like the Digital Crown found on the Apple Watch and AirPods Max. This would make sense from an ergonomic point of view, allowing the wearer to navigate menus without having to fiddle about looking for multiple individual buttons. You can bet it'll support Siri for totally hands-free use as well, though.
The same source more recently suggested a waist-mounted battery pack, which would connect to the headset via a MagSafe-like cable. Two hours of use is predicted per charge, with hot-swappable packs an option.
Apple VR: rumoured price and release date
Every time Apple's WWDC (Worldwide Developer Conference) event rolls around there are fresh rumours that the headset will make an appearance. That was true in 2022, but it didn't happen – apparently due to issues with the latest prototype overheating, according to rumours.
Apple analyst Ming-Chi Kuo said in 2022 that an Apple VR headset could be announced as early as January, and ship out to faces before next year's WWDC, but backtracked at the start of 2023. Development delays have instead pushed mass production back to Q2 or Q3, with the analyst now suggesting either a Spring 2023 media event, or WWDC 2023 as the official unveiling. A recent report from Mark Gurman also expects a headset debut ahead of WWDC 2023, so look out for a spring event.
Kuo claims it'll be the most revolutionary product since the iPhone, which would be easier to believe if he didn't expect it to cost between $2000 and $2500, possibly more. Surely that's no way to turn AR and VR into a mainstream success story like the iPhone?
Main image from Ian Zelbo