Which is the best MacBook for you? Apple MacBook Air vs MacBook Pro
M2-powered MacBooks entice, but you've got options. We run through the entire MacBook range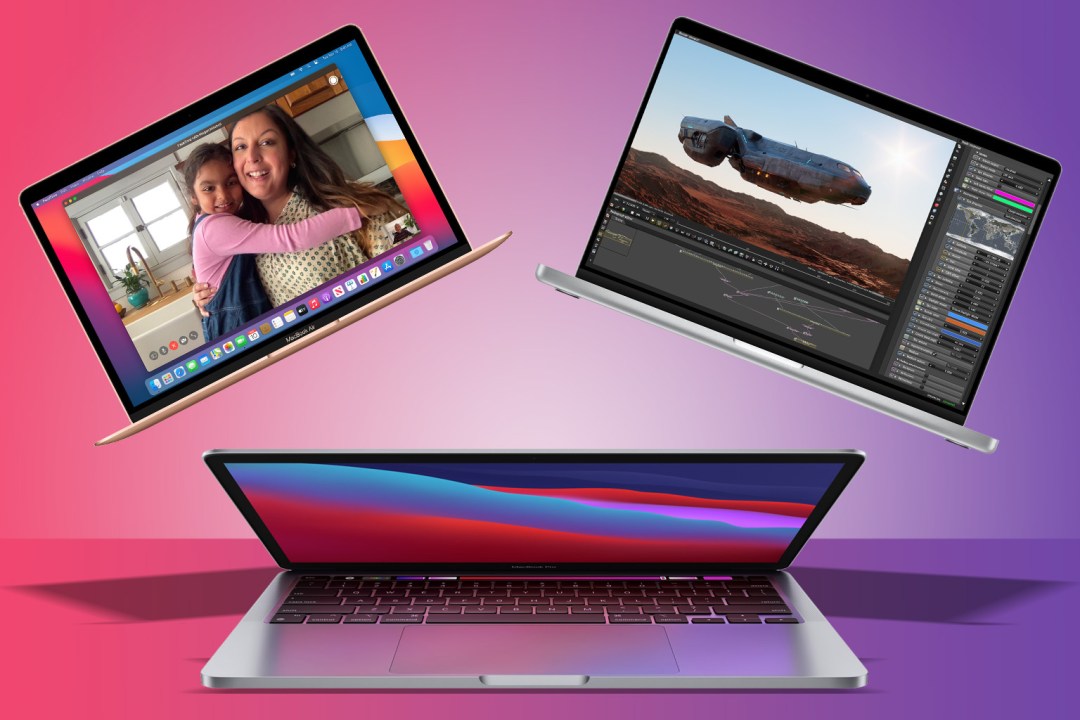 As far as laptop line-ups go, the Apple MacBook range is fairly easy to get your head around. After a few years of having three separate models (MacBook, MacBook Air and MacBook Pro), the tech giant simplified things even further when it gave the Retina MacBook the boot. What's left is the cream of the crop, regularly making appearances on our best laptops list.
Now you've only got to choose between the lightweight Air or more powerful Pro. Easy, right? Not so fast. Each is powered by Apple's in-house silicon, but how much grunt you get depends on what screen size you go for. MacBook Pros have the latest M2, M2 Pro or M2 Max processors and the fancy Touch Bar. And there's the choice of M1 or M2 processors in the Air.
If you've been wondering which Apple laptop deserves a spot on your shopping list, we're here to help. Our rundown covers the entire range, from least to most expensive, and explains why each notebook might be the one for you.
MacBook Air (M1)
The kick-off point for the entire MacBook line-up packs an awful lot of hardware into something so slim and silent. Note we didn't say "quiet" – the latest-generation Air doesn't need a fan to keep its M1 processor cool, so the only noises it makes are when you're blasting tunes from the (surprisingly clear) speakers or typing on the responsive Magic Keyboard.
There are two performance tiers on offer. The standard laptop has an 8-core CPU and 7-core GPU, and comes with 256GB of storage. The more powerful model gets an extra GPU core, and steps up to 512GB of storage. You can also add extra RAM and a bigger SSD if you want.
You're limited to just one screen size, but 13.3in is still plenty when it has a better-than-Full-HD resolution. Battery life is truly heroic, making this a go-anywhere machine that'll let you leave the power brick at home, and it's astonishingly light for something so powerful. TouchID even makes the cut for quick logins. Choosing an Air also gives you the widest choice when it comes to colours: you can grab one in grey, gold or silver.
Why you'd want it: Distills the MacOS experience down to its purest form, with impressive performance at a price that won't break the bank. Whether you're an Apple fan or not, this is the best all-rounder laptop available for under a grand. It'll handle anything up to and including photo editing, but you'll want to investigate the MacBook Pro line-up for more demanding jobs.
Tech specs: Screen 13.3in 2560×1600 LED-backlit IPS • Processor Apple M1 • RAM 8/16GB • Storage 256GB-2TB SSD • Battery up to 17 hours • OS macOS • Connectivity Wi‑Fi 6, Bluetooth 5.0, 3.5mm, 2x Thunderbolt 3 • Dimensions 304×212×16mm • Weight 1.29kg
MacBook Air 13in (M2)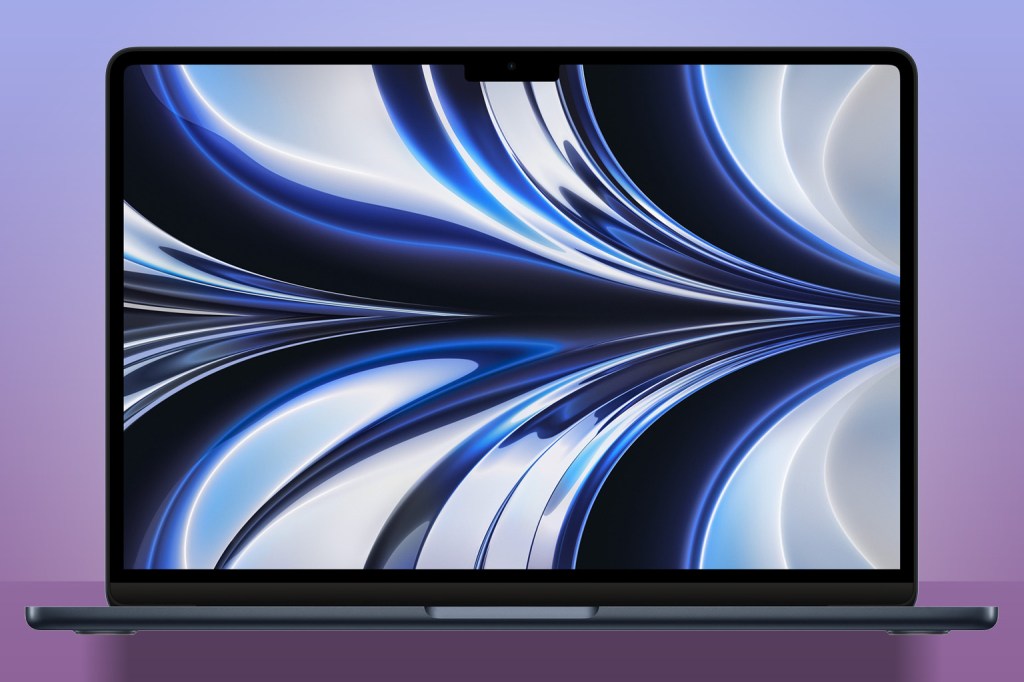 Thinner and lighter (who thought that was possible), yet with even more power – the M2 MacBook Air is as cutting-edge as Apple laptops get right now. It's rocking an all-new design, with all-new silicon inside promising a 20-40% performance increase depending on what you want to do with it.
The new Air also gets a brighter, more colourful screen, the option to outfit it with a whopping 24GB of memory, and an all-new keyboard with physical function keys (no TouchBar here). The webcam has been upgraded to a 1080p model, which now resides in a notch. MagSafe charging makes its reappearance, and it'll manage rapid charging too.
Why you'd want it: Even more portable than before, and with a slicker design, higher quality screen and even more power. It's the MacBook Air's ultimate evolution. The 13in MacBook Pro might also have an M2 CPU, but it hasn't been upgraded like this has – if you always want Apple's latest, this is the model to go for.
Tech specs: Screen 13.6in 2560×1663 LED-backlit IPS • Processor Apple M2 • RAM 8/16/24GB • Storage 256GB-2TB SSD • Battery up to 18 hours • OS macOS • Connectivity Wi‑Fi 6, Bluetooth 5.0, 3.5mm, 2x Thunderbolt 3, MagSafe • Dimensions 304×215×12mm • Weight 1.24kg
MacBook Pro 13in (M2)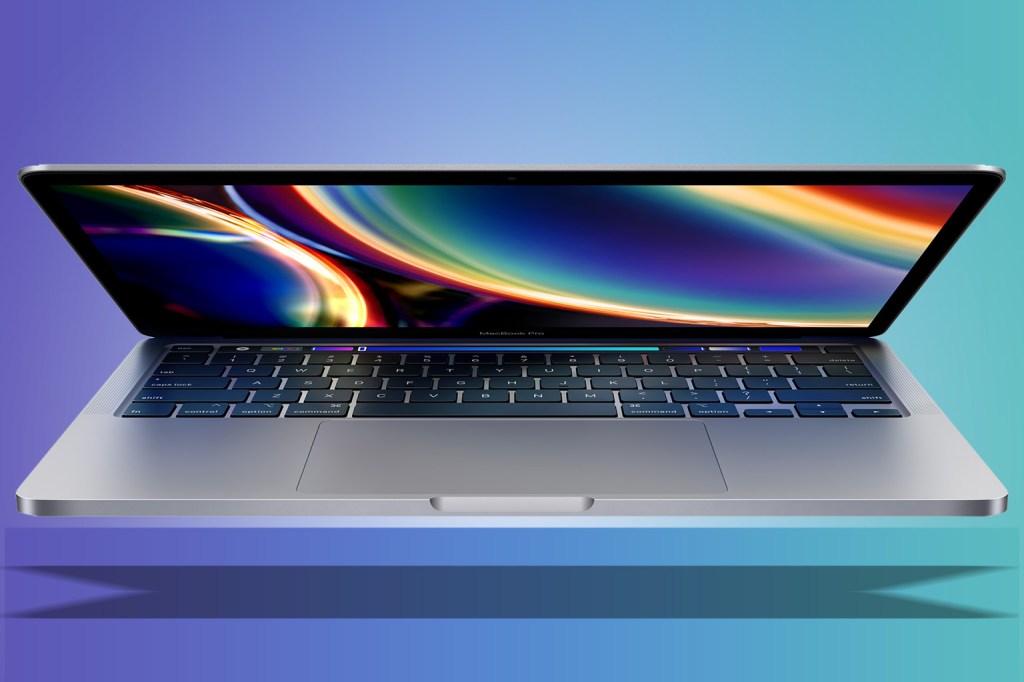 The smallest MacBook Pro made the switch from Intel to Apple silicon at the end of 2020, and hasn't looked back. It was considerably more powerful than the outgoing model, with better battery life to boot – and now it's second in line for the latest M2 processor, just behind the new MacBook Air.
The 13in Pro is only marginally bigger than a MacBook Air, and just a little bit heavier, so there's no need to write it off if you'll be carrying one around all day. It has the same connectivity, with two USB-C/Thunderbolt 3 ports and a 3.5mm audio port.
Performance is a step up from the M2 MacBook Air, but not because it has faster silicon. The Pro has an internal fan that keeps the processor cool when it's under load, letting it maintain higher clock speeds and for longer. All models have the same 8-core cpu and 10-core GPU arrangement, with either 8, 16GB or 24GB of RAM, and up to 2TB of storage.
It's also now the only MacBook model with a TouchBar in place of the function keys, with newer models dropping it like a bad habit. Colour choice is Space Grey or Silver.
Why you'd want it: A modest power increase over the M2 MacBook Air, thanks to active rather than passive cooling, helps the entry-level Pro do more, and do it faster. It's considerably quicker than the M1-powered generation, and also probably your last chance to get a modern MacBook with a TouchBar, if that's what you're into.
Tech specs: Screen 13.3in 2560×1600 LED-backlit IPS • Processor Apple M2 • RAM 8/16/24GB • Storage 256GB-2TB SSD • Battery up to 17 hours • OS macOS • Connectivity Wi‑Fi 6, Bluetooth 5.0, 3.5mm, 2x Thunderbolt 3 • Dimensions 304x212x16mm • Weight 1.4kg
MacBook Pro 14in (M2 Pro/M2 Max)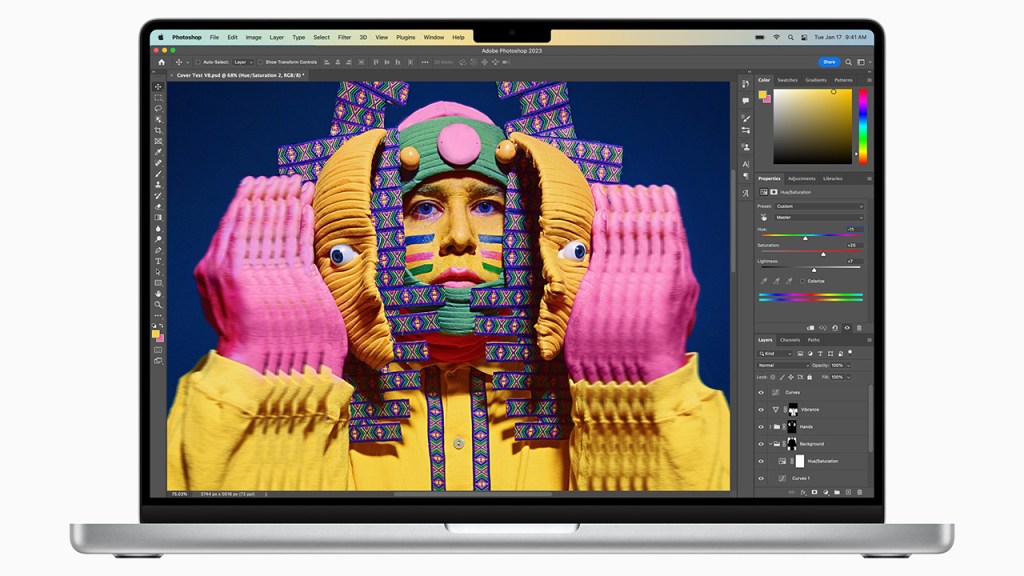 One half of the two-pronged MacBook Pro refresh that shipped in January 2023, the 14in MacBook Pro is the smaller, more portable offering that won't take up quite so much room in a backpack. But before we get too sidetracked by performance (of which it has a lot), here's what to expect.
On the outside, it looks the same as the M1 model. The TouchBar display has not made a return, replaced by good old-fashioned function keys. There's MagSafe charging, ensuring an accidental tug on the power cable won't result in a destroyed laptop, a full-size HDMI port and SDXC card reader adorn the sides, and you get three Thunderbolt 4 ports. There's even a headphone socket.
The 14in mini-LED display is truly gorgeous, with stunning colours and deep blacks, plus a dazzlingly high peak brightness that's perfect for HDR content. The keyboard is a pleasure to type on, and the touchpad is expansive.
Even the entry-level model, which has an M2 Pro with 10 CPU cores and 16 GPU cores, paired with 16GB of RAM and 512GB of storage, can kick some serious computational backside. There's a version with a more powerful GPU if you need it, or you can step up to the beastly M2 Max for 32GB of RAM and unrivalled graphical ability as standard. You'll want to discuss it with your bank manager before pulling the trigger, though.
Why you'd want it: Exceptional performance with a properly compact footprint. The 14in MacBook Pro is small enough to take on the move, but has the CPU and graphics grunt to challenge most desktop PCs. It's perfect for on-the-go video editors and developers that travel on the regular.
Tech specs: Screen 14.3in 3024×1964 Liquid Retina XDR LCD • Processor Apple M2 Pro/M2 Max • RAM 16-64GB • Storage 512GB-8TB SSD • Battery up to 17 hours • OS macOS • Connectivity Wi‑Fi 6, Bluetooth 5.0, 3.5mm, 3x Thunderbolt 4, MagSafe 3, HDMI, SDXC • Dimensions 313x221x16mm • Weight 1.6kg
MacBook Air 15in (M2)
What's surprising about the 15in MacBook air isn't its svelte dimensions, gorgeous screen or potent M2 processor – it's that Apple has never sold a big-screen ultraportable before. It inherits the same up-to-date design as the 13in Air, but squeezes in a much larger 15.3in LED display into a chassis that's only 4cm longer and just over 2cm deeper.
Battery life isn't all that different from the 13in Air, despite the larger screen, and you have similar upgrade options if you fancy bumping the RAM and SSD storage up as far as they'll go. MagSafe charging is on-board, along with a 1080p webcam that lives in a notch.
Why you'd want it: For big-screen working in a package that's still perfectly portable. The 15in MacBook Air has more than enough power for moderately demanding desktop work, and it absolutely looks the part. The 13in model remains our top pick, but this should be first choice for those wanting more display real estate.
Tech specs: Screen 15.3in 2880×1864 LED • Processor Apple M2 • RAM 8-24GB • Storage 256GB-2TB SSD • Battery up to 18 hours • OS macOS • Connectivity Wi‑Fi 6, Bluetooth 5.0, 3.5mm, 2x Thunderbolt 4, MagSafe 3 • Dimensions 340×238×11.5mm • Weight 1.51kg
MacBook Pro 16in (M2 Pro/M2 Max)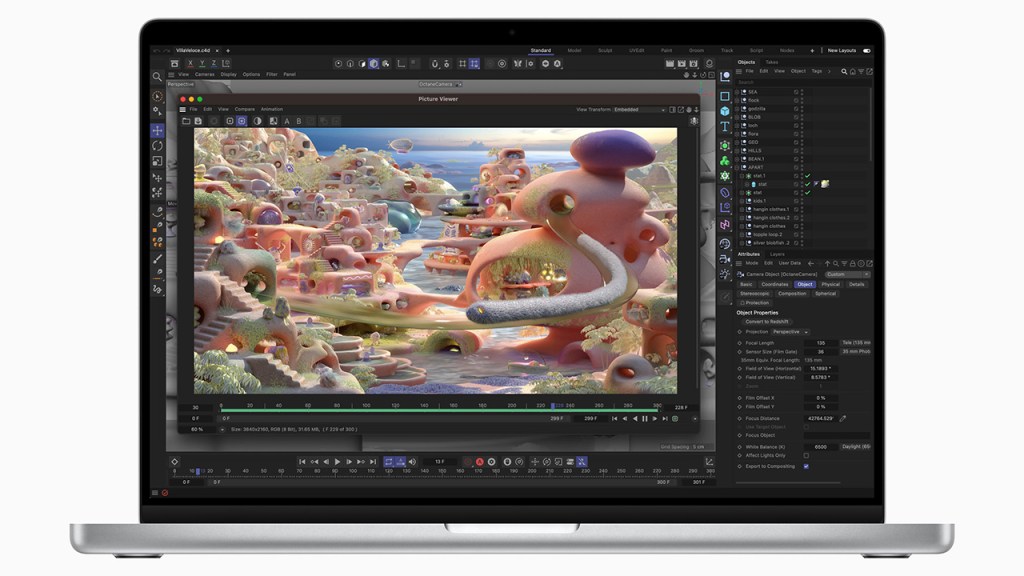 Essentially a 14in MacBook Pro, but scaled up just that little bit more. The 16in MacBook Pro shares the same connectivity, same MagSafe charging, and same excellent keyboard/touchpad combo as its baby brother, but gets an even better display and the very best hardware Apple can squeeze into a laptop.
At 3456×2234, the Liquid Retina XDR panel puts your images and videos in their best light, with exceptional colour accuracy and picture clarity. HDR content is mind-bendingly impressive. For most people, we're betting the combination of this screen with an M2 Pro would be a dream machine to work on – but if your wallet will allow it, you can crank things up further. Much further.
All in, you can get a 16in MacBook Pro with an M2 Max CPU, 96GB of RAM and 8TB of NVMe storage. That's enough power to best professional desktop workstations – in something that'll still slip into a rucksack. But unless you're editing multiple 8K video streams, all that horsepower may be lost on you.
Why you'd want it: For desktop-grade power in a portable package. A 16in MacBook equipped with an M2 Max is proper overkill for anyone but the most demanding of power users. Buy it if you don't know the meaning of the word compromise.
Tech specs: Screen 16.2in 3456×2234 Liquid Retina XDR LCD • Processor Apple M2 pro/ M2 Max • RAM 16-96GB • Storage 1TB-8TB SSD • Battery up to 17 hours • OS macOS • Connectivity Wi‑Fi 6, Bluetooth 5.0, 3.5mm, 3x Thunderbolt 4, MagSafe 3, HDMI, SDXC • Dimensions 356x248x17mm • Weight 2.2kg
Related: What's next for Mac? MacBook Air, MacBook Pro, Mac Mini, iMac and Mac Pro rumours