Apple MacBook Pro 2016 vs Microsoft Surface Book i7: the weigh-in
Microsoft's sleek transforming notebook brings the fight to Apple's Touch Bar-toting laptop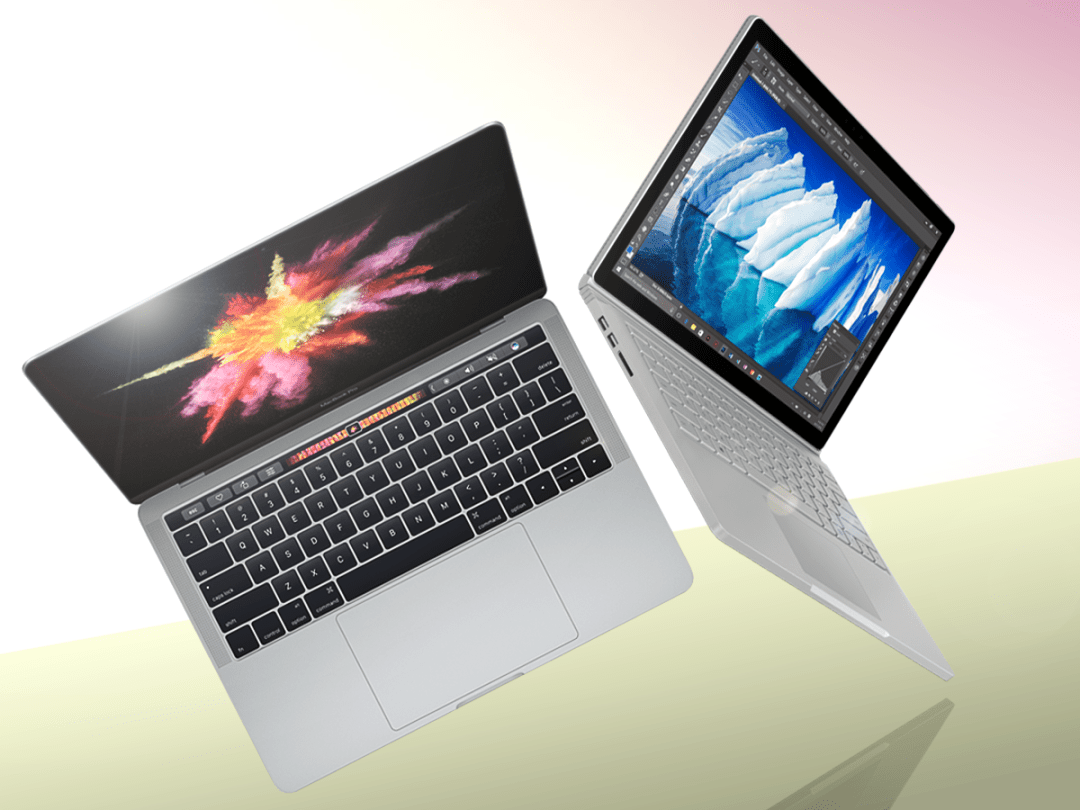 Microsoft versus Apple. It's a rivalry as old and long as War and Peace – and we're about to enter a new chapter.
It's a little over 24 hours since Microsoft announced the gorgeous, flexible and seemingly extremely powerful Surface Book i7 and already it has a very serious new rival. Say hello to the Touch Bar-toting MacBook Pro.
Even we are yet to get our hands on the new devices, but that doesn't mean we can't indulge in a healthy bit of spec-ulating (sorry).
So how do the two new top cats of the laptop world stack up on paper? You're about to find out.
Apple MacBook Pro 2016 vs Microsoft Surface Book i7: design and build
Both devices look almost identical to their predecessors, but you're not going to find us complaining – they're both stunning to look at and (presumably) hold, with premium, solid metal builds.
While both are undoubtedly lovely though, the Surface Book i7's design stands out from any other notebook out there.
Its specialised bendable hinge gives it an alluring wedge shape when closed, and its removable screen, which can be reversed, re-attached and flipped shut for drawing, writing and doodling, gives it a massive edge over the touchscreen-less MacBook Pro.
The MacBook Pro isn't ugly of course – it's just as pretty as ever – but Microsoft takes this round for pure innovation, and for striving to stand out from the crowd.
Winner: Microsoft Surface Book i7
Apple MacBook Pro 2016 vs Microsoft Surface Book i7: displays
Okay, so the Surface Book i7 can transform into a giant tablet, and it's got a touchscreen. But how do the screens hold up when it comes to actual specs?
Well, both screens are unchanged from last year's models, which means the Surface Book keeps its 13.3in 3000 x 2000 resolution, while the MacBook Pro is rocking a 13in 2560 x 1600 display.
The Surface Book edges ahead in the ppi stakes then, and if the contrast ratios of both screens remain the same as last year (we'll have to confirm when they arrive at Stuff Towers), the Surface wins out on that count too.
Winner: Microsoft Surface Book i7
Apple MacBook Pro 2016 vs Microsoft Surface Book i7: special tricks
Aside from its touchscreen and morphing powers, the Surface Book i7, like its predecessor, has a pressure sensitive screen that's compatible with Microsoft's Surface Pen.
Far more than an ordinary stylus, the Surface Pen offers precise, pressure sensitive movements, ideal for handwritten notes, doodling, and graphic design.
The MacBook Pro, on the other hand, lacks touch capability. Well, on the screen, at least.
That's right – the long rumoured OLED strip above the keyboard is real, and it's called the Touch Bar.
Essentially, it's a thin OLED touchscreen that rests above the number keys and can display different touch-sensitive buttons depending on what you're currently doing.
Watching a movie, for example, might bring up some playback controls, while editing in Photoshop might provide you with customisable shortcut buttons.
It's different, it seems useful, and we're sure Apple has nailed its execution. But that's not all.
To the right of this strip is a Touch ID fingerprint sensor, which should let you access sensitive information and apps, as well as instantly pay for things when shopping online.
Both notebooks have innovative features, then, but the usefulness of each depends entirely on what you're after.
If you're a creative type, then the Surface definitely wins this round, but if you do a lot of online shopping, and feel like you're going to make use of shortcuts, then the MacBook Pro's got the edge.
Winner: Draw
Apple MacBook Pro 2016 vs Microsoft Surface Book i7: power and battery life
Both Apple and Microsoft were proud of the power packed into both of their machines, and with good reason.
The new Macbook Pro and Surface Book i7 are using Intel's 6th generation processors, available with both i5 and i7 options, depending on their configurations.
Both machines also have dedicated GPUs, with Microsoft going the Nvidia route with an Nvidia GTX 965M vs the Radeon Pro 4GB in the MacBook Pro.
It's hard to say which machine is more powerful in real-world use as the MacBook's GPU is a custom affair that will require some proper benchmarking – but make no mistake, they should be able to handle anything you'll throw at them, and then some.
Where the Surface Book might have the edge, is in its battery life. Microsoft promises up to 16 hours of battery, which makes the MacBook Pro's (still impressive) 10 hour battery pale in comparison. That's why the Surface Book takes this round for now.
Winner: Microsoft Surface Book i7
Apple MacBook Pro 2016 vs Microsoft Surface Book i7: initial verdict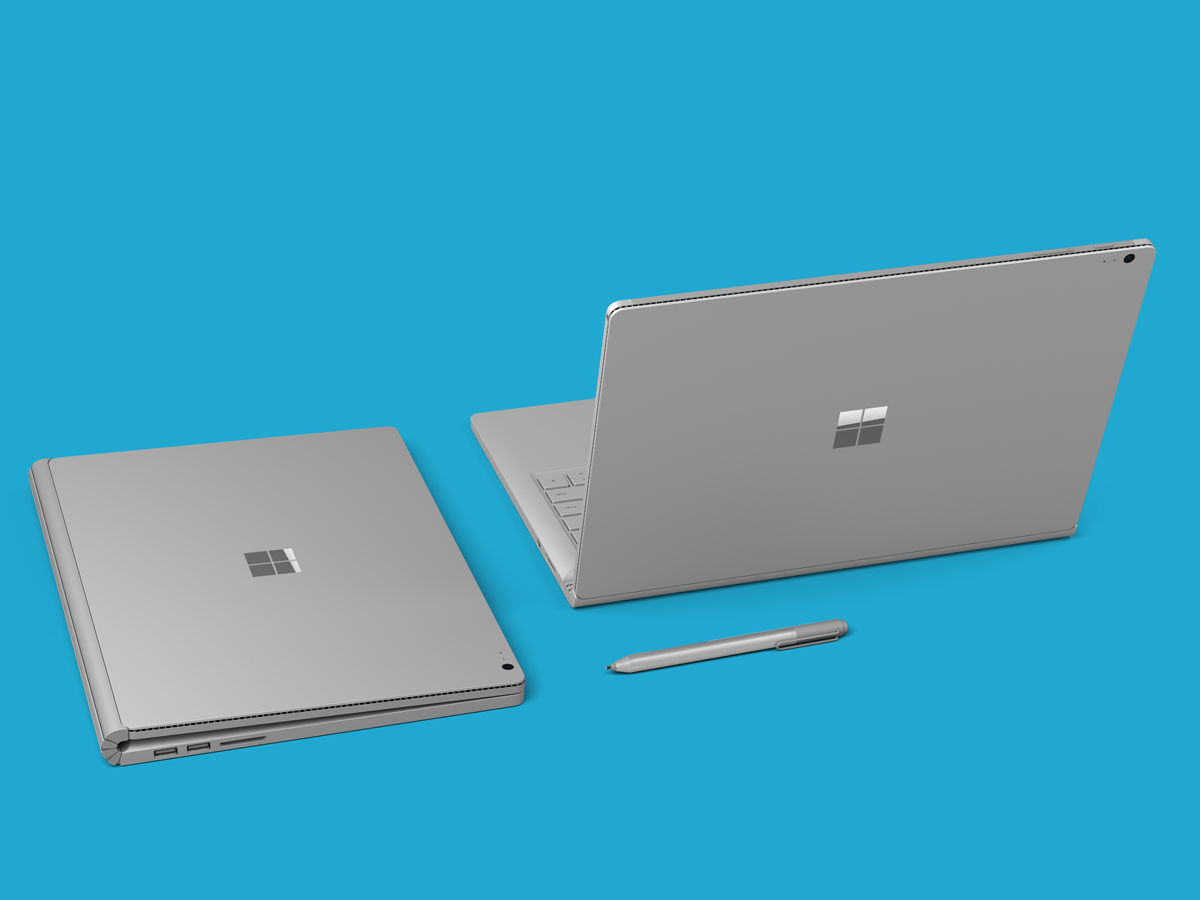 You don't need to be a maths genius to spot that the Microsoft Surface Book has won most of the rounds above, and it's true that on paper it looks a real winner. But making a decision about which one to buy is about more than specs – it's about the little features and special skills that set them apart from one another.
Do you want the touchscreen/pen/transforming shenanigans that come with the Surface Book? Or do you want the Touch Bar customisation and fingerprint security of the Mac Book Pro?
Ultimately, they both appear to be truly stunning machines, with plenty going for them and with eye-watering price tags to match.
In the US, the 13in MacBook Pro starts at £1449 (sans Touch Bar). The Touch Bar model starts from £1749, while the larger 15in model will set you back a minimum of £2349. Ouch.
The Surface Book i7 doesn't yet have an official UK price, but in the States it starts at exactly the same price as that 15in MacBook Pro, and we've no reason to think that will be any different for those of us in Blighty.
In other words, we'd suggest waiting for the full reviews before deciding which of these two beastly beauties is right for you, but for what it's worth, the Surface Pro i7 wins the spec battle.