Apple iPhone 15 specs and rumors latest: will there be an iPhone 15 Ultra?
All the latest up-to-date Apple iPhone 15 and 15 Pro news plus rumoured specs and features we think we'll be seeing this September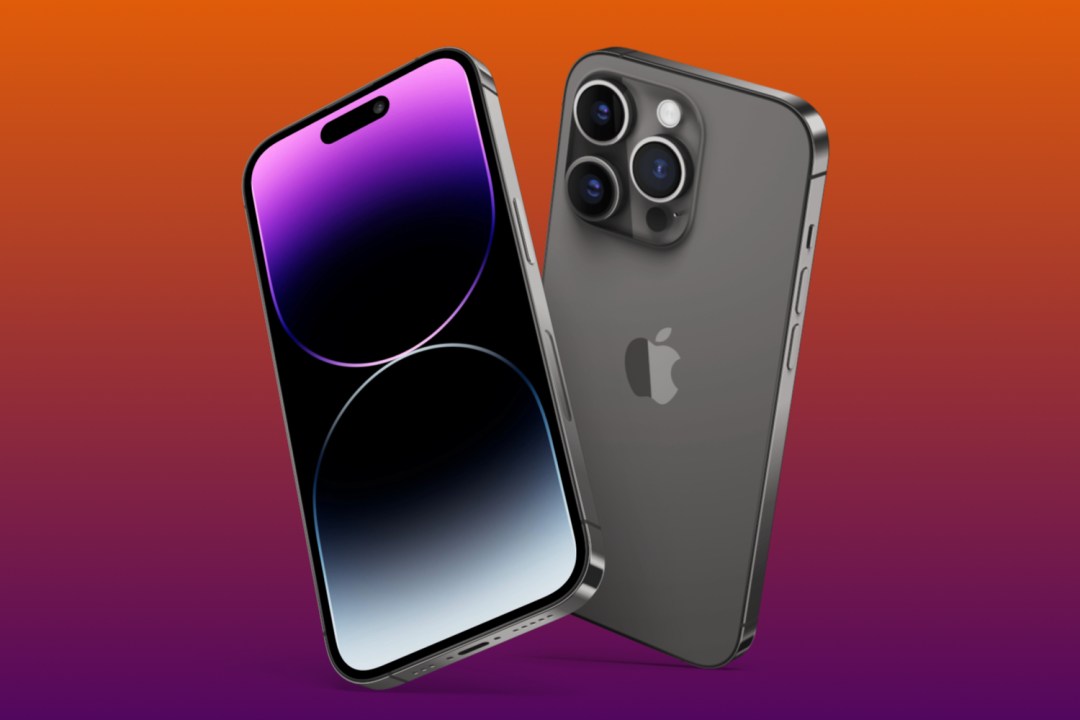 The next Apple iPhone isn't far off. So turn your attention to 2023's upcoming phone series from Apple, most likely called iPhone 15. Welcome to our regularly updated feature with all the latest iPhone 15 rumors.
Once again there should be four models; the iPhone 15 and 15 Plus as well as the iPhone 15 Pro and Pro Max. The latter model may go even more premium and be called the iPhone 15 Ultra (to match the Apple Watch Ultra).
When is the iPhone 15 release date?
The iPhone 14 series hit the shelves back in September 2022. Recently it re-launched in yellow.
As you can see below from the dates of previous iPhone launches, we're predicting that the iPhone 15 will debut on either Tuesday 5 or Tuesday 12 September 2023. With the iPhone release date normally taking place just over a week later on a Friday, the iPhone 15 release date would be 15 or 22 September 2023.
Apple's iPhone launch events usually take place at the Steve Jobs Theater in Apple Park, Cupertino, California and start at 10am PT, 1pm ET, 6pm BST, 1900 CET.
iPhone 15 series at a glance: what we're expecting
The Dynamic Island to be on all iPhone 15 models
The iPhone 15 Ultra will replace the Pro Max
Four models will again debut – iPhone 15 and 15 Plus as well as the iPhone 15 Pro and Ultra
USB-C will replace Lightning – finally
The Pro and Ultra may have a new periscope zoom, but it might just be the Ultra
Again there will be 6.1 and 6.7in screen sizes
All will run iOS 17 out of the box. We're expecting to find out more about the new software (which will also almost certainly come out in September) at next week's Apple developer conference, known as WWDC. Check out everything we think will happen at WWDC23.
When has the iPhone launch taken place in the past?
The original iPhone came out in January 2007, though the UK launch was towards the end of that year. Since, some launches have taken place in June and even October. But since the iPhone 5, things have settled in the September slot. The exception to this was in 2020, when the delay to the iPhone 12 lineup was caused by the global slowdown in production due to the pandemic. The iPhone 13 series returned to normal and the iPhone 14 launch was slightly earlier than the launches in previous years. That's led to our slight uncertainty about the week the launch event is going to be in.
iPhone 5 – 12 September 2012
iPhone 5S / 5C – 10 September 2013
iPhone 6 / 6 Plus – 9 September 2014
iPhone 6S / 6S Plus – 9 September 2015
iPhone 7 / 7 Plus – 7 September 2016
iPhone 8 / 8 Plus / X – 12 September 2017
iPhone XS / XS Max / XR – 12 September 2018
iPhone 11 – 10 September 10 2019
iPhone 12 – 13 October 13 2020 (later due to manufacturing delays with the pandemic)
iPhone 13 – 14 September 2021
iPhone 14 – 7 September 2022
iPhone 15 rumoured design
The iPhone 15 won't look a whole lot different. Some models – possibly just the Pro and Pro Max/Ultra – are set to have slightly more curved edges than the iPhone 12-14s have had, though it is subtle. These renders from serial renderiser (yes we made that up) Ian Zelbo points the way to the likely design:
These renders are the result of various rumours about the new iPhones as well as information gleaned from accessory makers.
In May 2023, MacRumors got hold of dummy iPhone 15 units. These again show a very similar aesthetic to the Zelbo renders above. Again they show the USB-C port on the bottom and slightly rounded bezels. There are some suggestions that all iPhone 15 models will have this. But it could well be this change will be Pro-only.
This should provide a softer feel in the hand than the angular models we've had since iPhone 12. However, there's not a massive amount that's revealing here.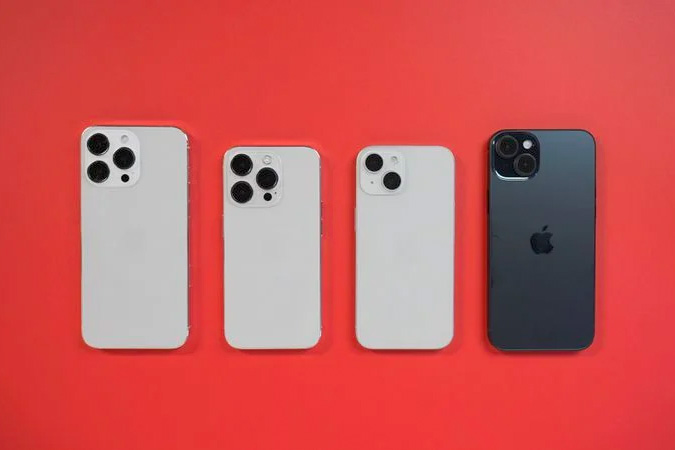 In terms of the screen bezels, leaker Ice Universe claims that they will be even slimmer than the Xiaomi 13's 1.81mm bezels at just 1.55mm. That's definitely in the box marked 'unconfirmed' at present.
One of the key differences this time around is in the materials. The iPhone 15 Pro (and possible Ultra) will have a titanium casing rather than stainless steel. The SIM tray could also potentially be removed on all variants though European networks may not be that keen on that.
The iPhone 15 Pro is also rumoured to come in a dark red colour this time around.
iPhone 15 button changes
It also seems certain that the premium models won't have buttons that move when pressed. Instead, they'll be solid state with taptic feedback to make you feel like you've pressed them. This is just like the Home button on later Touch ID iPhones.
A single volume button may or may not be in these models. We may also be saying goodbye to the physical mute switch. Getting rid of it altogether is a sad move – how else do you mute your phone in your pocket? It's a big USP of what makes an iPhone an iPhone in our book. We're also wondering how you'll be able to avoid pressing the mute button when you don't want to.
Some rumours suggest there will be an Apple Watch Ultra-style action button instead of the mute switch. This button will then enable to choose what you use it for. So you could still mute if you wish or configure to use another common shortcut.
Without having room for buttons to move, the mechanisms will take up less space inside the iPhone. It's also one less part that could break, with the side buttons as part of the Self Service Repair program. Plus, it'll make the device more water-resistant, with fewer openings for water to creep in. Stuff regular Craig Grannell wrote this piece about why a portless iPhone would be a bad thing.
iPhone 15 rumoured display specs
The iPhone 14 Pro and Pro Max's Dynamic Island feature will be rolled out across all iPhone 15 versions. That's according to display industry analyst Ross Young. The Island will presumably stick around until Apple can get rid of it altogether. It could well get some extra features in iOS 17.
While Young expects the Dynamic Island to appear on the standard iPhone 15, he doesn't think that the non-Pro models will get 120Hz displays or Apple's ProMotion tech. As for an under-display Face ID system, Young suggests this will come to the iPhone 16 Pro in 2024. Another regular Apple watcher, Ming Chi-Kuo, agrees.
Getting rid of the Dynamic Island will definitely require a serious improvement in under-display camera tech for it to be as good as the current arrangement for Face ID. And since Apple has clearly done a lot of work on Dynamic Island, we don't expect it to go anywhere anytime soon.
iPhone 15 USB-C, MagSafe and charging
We know the iPhone 15 will have to make the jump to USB-C. Apple head of marketing Greg Joswiak acknowledged this in an October 2022 chat with the Wall Street Journal's Tech Live event (video below). The EU has legislated for it and it's well overdue on the iPhone, having been a staple of the iPad for several years now. Some rumours suggest Foxconn is making wired Apple EarPods with USB-C.
One side-effect of the move to USB-C is that it should be capable of fast 40Gbps Thunderbolt data speeds like Macs and the iPad Pro. This may be something that's restricted to the Pro models, or even just the UItra. That could mean that you could use an iPhone with a display, but given how un-keen Apple seems to be to give the iPad Pro proper external display support, this seems a pipedream. The move to USB-C should mean Apple can make a bigger thing out of fast wired charging. Even so, the fastest charging speeds are rumoured to be restricted to cables that are certified as part of Apple's Made for iPhone (MFI) program.
As for the wireless charging, it sounds like the new phones will all support the Qi2 standard, which is based on MagSafe. Cheaper (non-MagSafe) Qi2 wireless chargers will be able to charge up to 15W. You can currently only get this speed with MagSafe chargers. We don't know if there will be any rise in the MagSafe charging speed though. You'd hope so, considering 15W is pretty pedestrian compared to some wireless charging speeds these days.
iPhone 15 memory, RAM and chips
We also believe the new iPhone 15 Pro will have more RAM – 8GB instead of 6GB. That's according to Taiwanese research company TrendForce. Interestingly TrendForce says in the same note that the proportion of Pro vs non Pro models is tipping more in the Pro's favour – around 60% of iPhone 14 models sold, partly due to the late introduction of the iPhone 14 Plus. Rumours suggest there will be 2TB of storage available on the iPhone 15 Ultra, with lower capacities on the other units.
As for chips, expect the standard iPhone 15 models to make the jump to the Apple A16 Bionic series from last year's iPhone 14 Pro, while the iPhone 15 Pro models will move to the A17 Bionic which will be even more efficient thanks to a 3nm manufacturing process.
The iPhone 15 will continue to use 5G modems from Qualcomm, probably the X70 from early last year. Apple's difficulties with developing 5G modems are well documented. It started developing them itself in 2019 but the results of that work are unknown. Apple models definitely won't be ready this time around, though it looks set to move away from Qualcomm modems either in 2024 or 2025. Apple has already announced a deal for some future 5G radio parts to come from Broadcom US facilities.
Battery life on the standard iPhone 15 would stay broadly the same, but the iPhone 15 Pro and Ultra could have a few hours extra as a result of the new chips used.
iPhone 15 cameras
Nikkei suggests that Sony Group will apparently supply the iPhone 15 with a top-tier image sensor. According to Nikkei, Sony's newest image sensor doubles the saturation signal in every pixel, which reduces overexposure or underexposure. That should stop photo subjects being drowned out by backlight. The standard iPhone 15 will have a 48MP main lens.
The iPhone 15 Ultra should offer 8K video recoding alongside a periscope camera (seemingly not coming to the Pro). This technology involves multiple camera lenses at an angle, to decrease a smartphone camera's size, improve zoom, and increase the megapixel count. Introducing a periscope camera with 5x zoom (some say 6x) on the iPhone 15 would enable Apple to approach Samsung's impressive zoom capabilities. Though, since the S23 Ultra has a 10x optical and 100x digital zoom, it will still lag behind that.
The iPhone 15 Ultra will almost certainly have a thinner camera bump, thanks to that rumoured periscope camera. However, it appears that the camera bump won't reduce on the Pro. Indeed, something very noticeable from the iPhone 15 Pro renders we've seen so far is that the individual camera lenses are bigger.
It's also been suggested the periscope lens on the iPhone 15 Ultra could mean the position of the telephoto and ultrawide lenses are switched around to fit everything in. The periscope camera would be the one between the flash and LiDAR sensor.
How much could the iPhone 15 cost?
Given the outrage over the higher prices in Europe for the iPhone 14 (starting at $799/£849), we'd expect the iPhone 15 price to stay the same. But if there is an Ultra model instead of the Pro Max, you can expect that will command an even more premium price than we saw with the iPhone 14 Pro Max. So you'd expect a starting price somewhere in the region of $12999/£1249.
We know that Apple is keen on introducing higher spec models to take advantage of bigger sales prices. "I think people are willing to really stretch to get the best they can afford in that category," said Tim Cook in Apple's Q1 2023 earnings call.