6 things you need to know about the Samsung Galaxy Z Fold 2
Update: You can order yours today!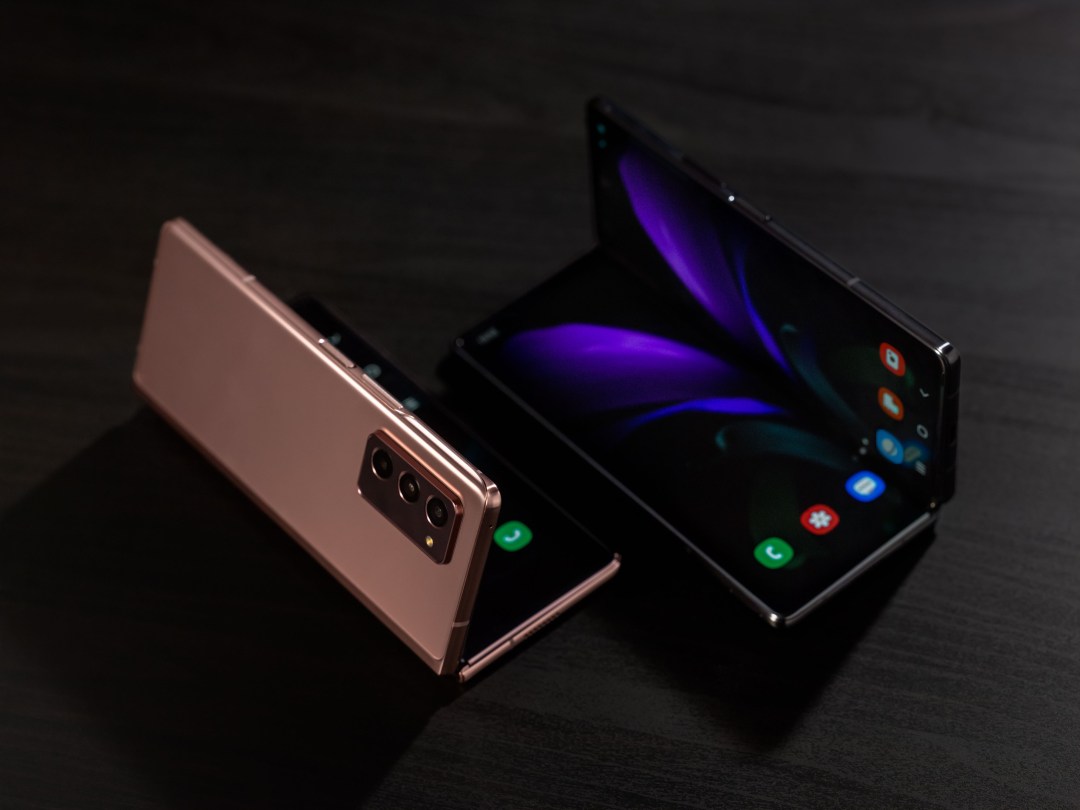 While it continues to make quite good flat phones, Samsung keeps telling us they're dead, and that the future is foldable.
Already the company has two foldables in the wild, each with a totally different structural approach. First we had the Galaxy Fold, the tall and skinny book-like smartphone that opened out into a full-sized tablet, then came the Galaxy Z Flip with its more traditional clam-shell design.
Which brings us to the Galaxy Z Fold 2, a proper sequel to the ever-ambitious South Korean giant's original and somewhat underwhelming foldable phone. First announced as part of Samsung's recent Galaxy Unpacked event, we already knew we were getting bigger screens and a more premium build, but today Samsung launched the phone proper.
Here's everything you need to know.
1. Big-screen bonus
Innovative though the original Galaxy Fold undoubtedly was, it was also clearly a first-gen product with numerous areas for improvement.
One the most obvious of these was its displays, particularly the narrow screen you look at when the device is folded. The comically enormous bezels made using the display awkward, leading our reviewer to unfold the phone whenever possible.
This time, the 'cover screen' has been completely redesigned. With a size increase from 4.6in to a 6.2in HD+ Super AMOLED, it houses far more content, and with Samsung's now familiar edge-to-edge Infinity-O design, it's pretty much all screen.
Unfold the phone and you'll see that the tablet-like main display is also larger at 7.6in, and it too opts for a Infinity-O camera cutout, banishing the first Fold's unsightly notch. The unfolded panel is a QXGA+ Dynamic AMOLED 2X Infinity Flex with a 2,208 x 1,768 resolution, and it features an adaptive refresh rate that can run at as low was 11Hz for web articles, right up to the full 120Hz for games and movies.
Previously the Fold maxed out at 60Hz and the new refresh rate put its replacement more in line with what we expect from an Android flagship in 2020. The bezels are also 27% smaller.
2. Improved design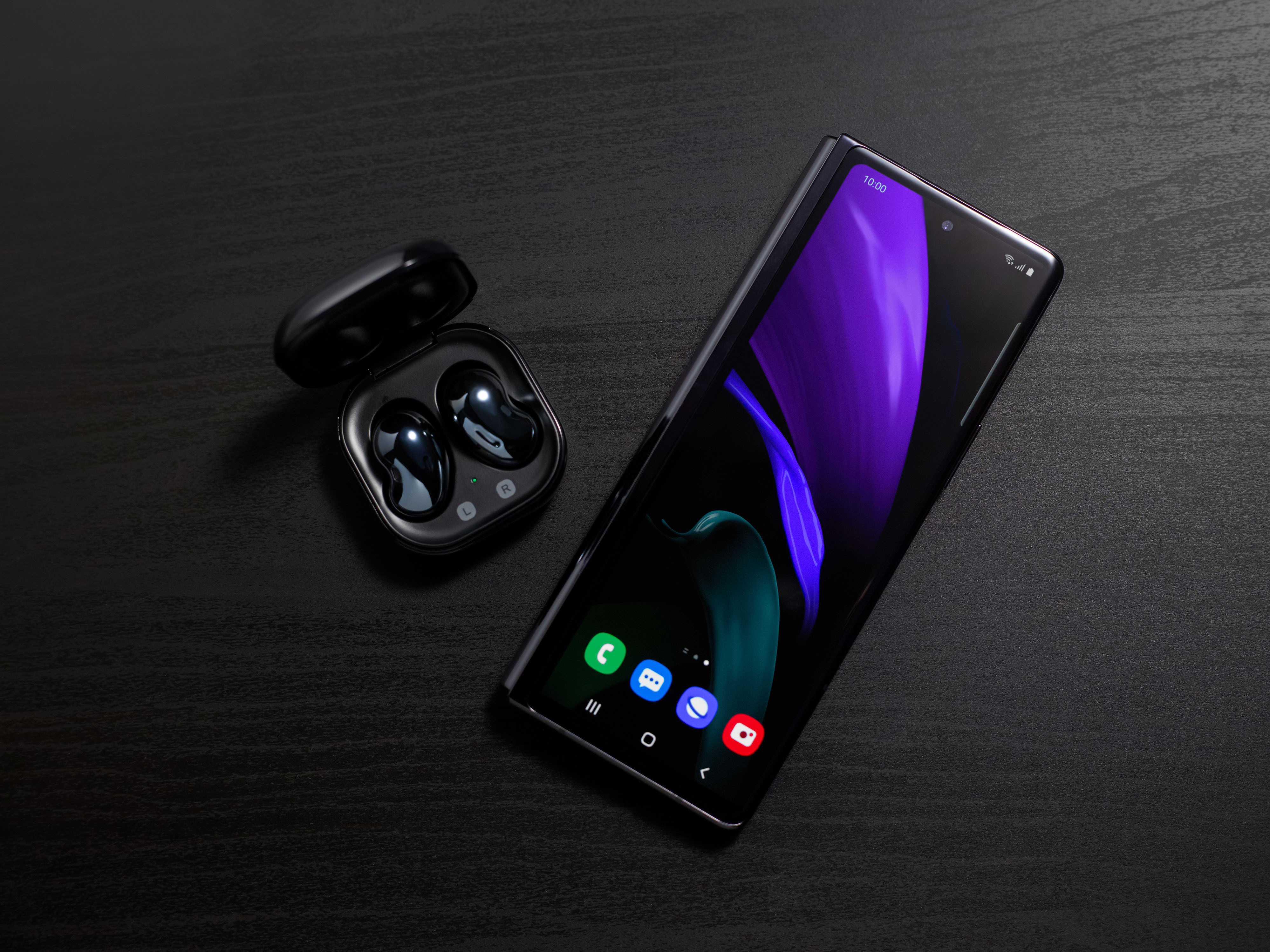 Folded up, the Galaxy Z Fold 2 is still chunkier than the phone you're used to having in your pocket, but it's a marginally more slender sandwich than before, measuring 16.8mm at its thickest.
The main screen now swaps plastic for Samsung's Ultra Thin Glass, as seen on the Z Flip, and also adopts the clamshell foldable's sweeper tech, which repels dust and other potentially screen-wrecking particles when the device is in its folded state.
As there's less room between the hinge housing and the body of the phone on the Z Fold 2, Samsung has designed a new sweeper system that fits easily into a smaller space.
3. An even greater emphasis on versatility Any phone that folds in half is already more versatile than most phones on the market, but Samsung wants to ensure that the Galaxy Z Fold 2 is useful whether it's folded, opened out or freestanding at anything between 75 and 115 degrees thanks to the Hideaway Hinge.
App Continuity now allows you to view apps at anything between 80 and 160 degrees as you transition to the main screen. Content will be shown on the top half of the screen, with controls and UI features on the bottom half. You might get separate call controls on video calls, or an agenda list under your calendar, for example.
This feature will obviously require third-party support to really function in the way Samsung wants it to, but apps such as YouTube already split into two (video controls on the lower half).
4. A better tablet
They're called foldable phones, but we've always thought the more exciting thing about the Galaxy Fold is that it's essentially a pocketable tablet. Having a big-screen option wherever you are is naturally better for entertainment, but Samsung is keen to emphasise the Z Fold 2's multitasking capabilities too.
You're able to have three apps running simultaneously on the main screen, the size and layout of which are customisable to suit your use case. Dragging files between each is as simple as sliding them with yout finger. You can also have a split view of the same app, or two internet browsers.
A new multitasking feature called Split Screen Capture allows you to take a screenshot in one app and move it to another without needing to edit or resize. When capturing a screen with three open apps you'll get an icon for each screen, rather than one photo with three screenshots in it.
The Z Fold 2 also allows you to switch between traditional smartphone and tablet/PC-like UIs on the main screen, with support from a number of Google and Microsoft's own apps.
5. Even more snap-happy Having a phone with multiple screens is a boon for photography. The Galaxy Z Fold 2 sports a now typical three lens – wide, ultra-wide, telephoto – setup on the back, each lens 12MP, and a selfie camera on the main display and the cover screen, both 10MP.
As with the first Galaxy Fold, you get a dual preview camera that allows both the photographer and the subject to see the frame before the photo is taken, while you can easily line up high-res selfies with the rear cam.
Flex mode now allows you to see photos you take on the lower portion of the screen in real-time so you don't need to open the gallery, and in tablet mode you can see your snap to the left of the live viewfinder preview. Auto-framing in Flex mode can track a subject in frame using machine learning, without requiring someone to move the device. Dancing Tik-Tokkers rejoice.
A Pro video mode offers more control to those who get serious about their shooting, and feature such as Night Mode and Single Take make their way over from Samsung's non-foldy blowers.
6. Everything else
Specs-wise, everything else is pretty much as you'd expect. The Z Fold 2 is powered by a Snapdragon 865+ and has 12GB of RAM and 256GB of storage. It has a 4,500mAh battery, fast wireless charging, both facial and fingerprint unlocking and stereo speakers that Samsung says are more than good enough to let you forget the Bluetooth speaker. Hmmm.
Available in 'Mystic' black and bronze with silver, gold, red and blue personalised hinge colourways, the Galaxy Z Fold 2 is available for a slightly terrifying £1,800.