The Stuff Gadget Awards 2023: TV gadgets of the year
Our favourite TV gadget revealed – plus the finest soundbar of 2023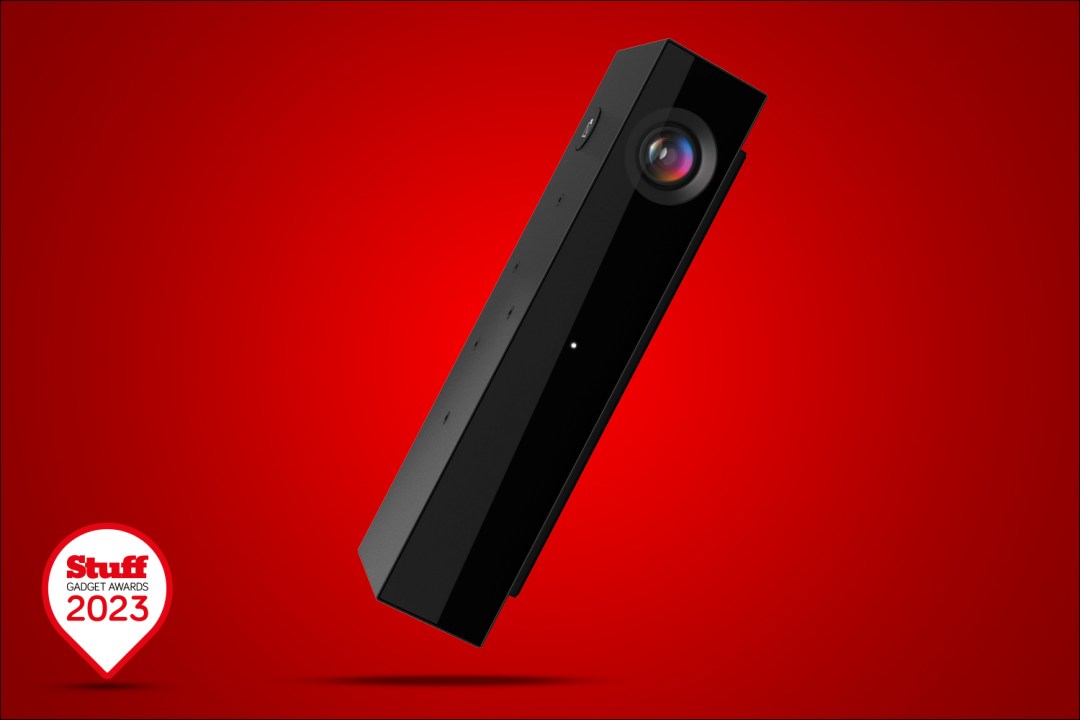 We've already looked at our favourite televisions of 2023, but what about other audio visual (AV) gadgets? Things that aren't tellies, but could be described as telly-adjacent? Like streaming devices and soundbars, for example. Here our TV gadgets of the year.
Here at Stuff we're huge fans of soundbars as effective, easy and non-disruptive ways to boost your TV's audio. And this year saw a lovely load of them slink onto our sideboards for in-depth testing. You'll find our top pick below, alongside the runner-up and a couple of honourable mentions.
But before that, we've also snuffled out our favourite TV gadget of the year. It's a category that encompasses everything from streaming dongles and set-top boxes to projectors. So grab your popcorn, prime your remote and keep your peepers peeled: it's time to reveal the winner.
---
TV gadget of the year: Sky Live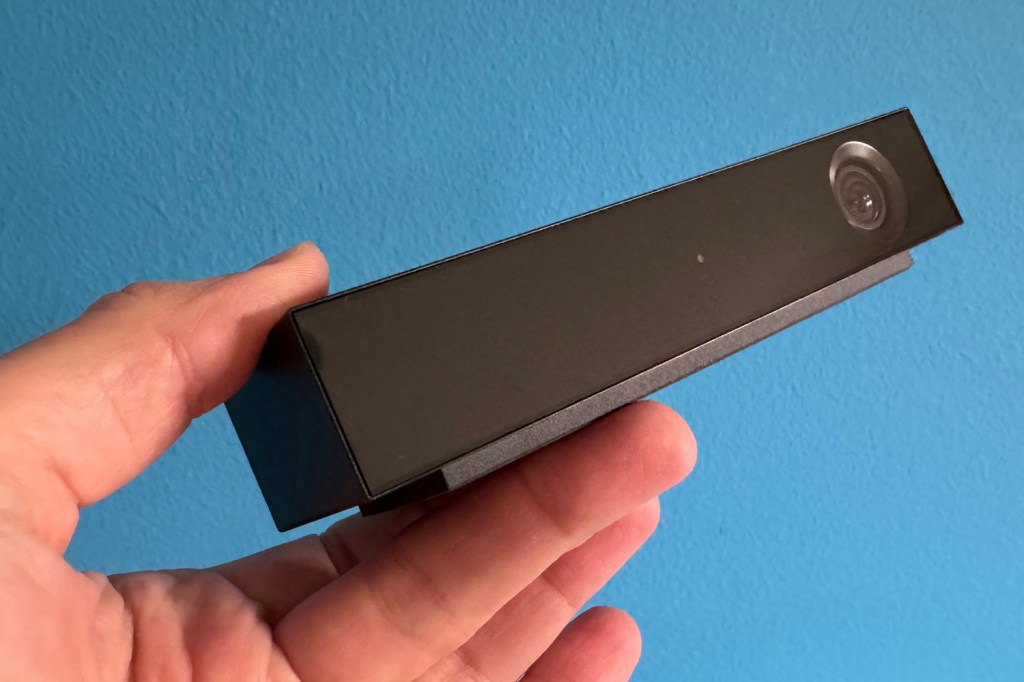 Want to make your Sky Glass even more class? Sky Live is the gadget you need – and our favourite TV gadget of 2023. It's an interactive camera that is only available as an add-on for Sky's own 4K TV. Live ushers in a suite of extra functionality when perched on top of the set. Fully Zoom compatible, it'll turn Sky Glass into a video call centre and make you the envy of your WFH colleagues. It'll also keep you fit through Mvmnt, a body-tracking workout mode developed with the makers of the WithU health app. Once you're done getting toned you can chill out with a bunch of body-controlled games like Fruit Ninja and Paw Patrol. Or play a spot of Monopoly with distant friends. Or start a Watch Together party where you can settle down in front of sport or a movie with other Sky Live-owning friends and family. 
Highly commended: Samsung The Freestyle 2nd Gen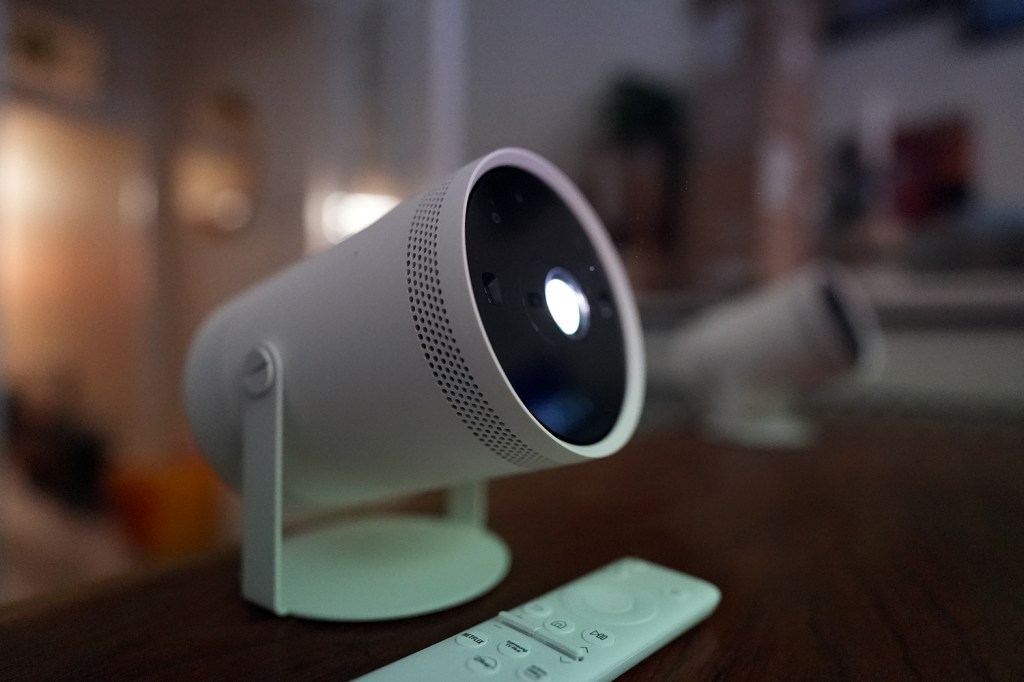 If the first Freestyle was a dazzler, the second generation of Samsung's compact yet tech-packed 1080p projector is twice as nice. Quite literally, for anyone willing to double up on it. A pair of them can be combined to create an ultrawide 21:9. The pairing process is so beautifully simple that you may forget how ridiculously ostentatious buying two of the same projector actually is. And that this thing is Full HD rather than 4K. Still, even a single Freestyle 2nd Gen is a fun and fuss-free projector enjoyably thunderous sound and an engaging big-screen picture, all for a very amenable price.
---
Soundbar of the year: Sennheiser Ambeo Mini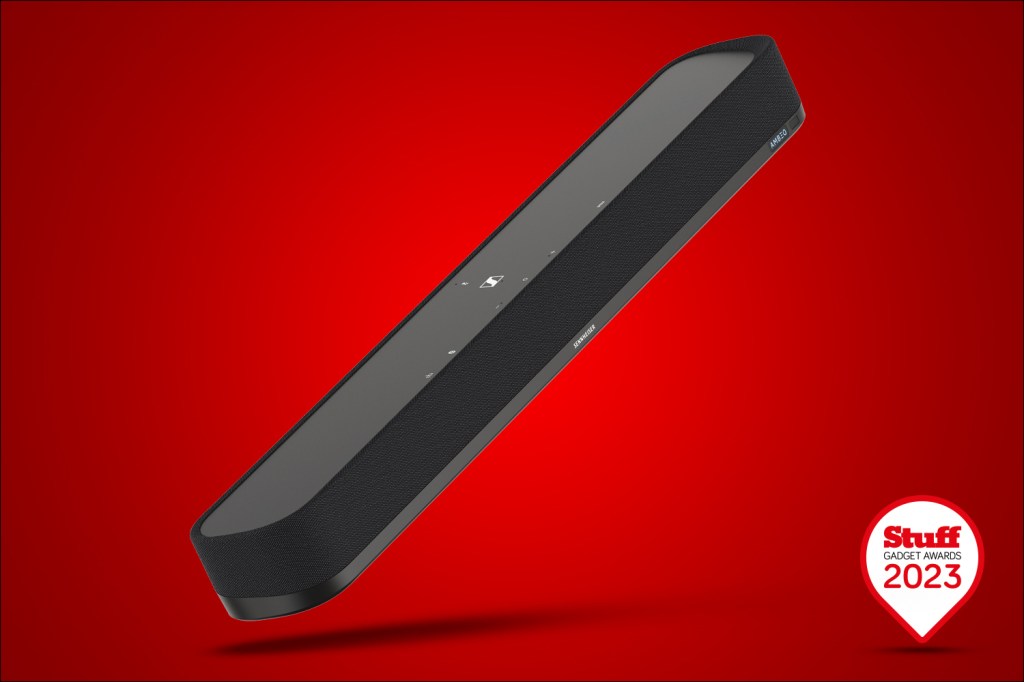 While we absolutely loved Sennheiser's original Ambeo soundbar, its hulking size made it pretty unsuitable for anyone with a less-than-enormous living room. Enter the Ambeo Mini, a shrunk-down version (in price as well as size) that offers a similarly scintillating Dolby Atmos audio in a more manageable package. It doesn't nail the verticality of Atmos as well as its big brother, but it's more than capable of going wide and expansive, and with strong but tightly controlled bass and great automatic room calibration, this thing punches well above its weight. And punches its way to the top of the award winner's podium too.
Highly commended: Philips Fidelio FB1
Soundbar design hasn't shifted much in years (99% of them being, unsurprisingly, bars that make sound) but the Fidelio FB1's valiant attempts to shake things up grabbed our attention. Not only is this bar trimmed with sustainable Scottish leather, it's also equipped with lights that surround its Dolby Atmos drivers – lights that can be set to synchronise with your Philips Ambilight-equipped TV. These touches would feel gimmicky if they weren't backed up with solid performance, but thankfully the FB1 delivers a big, bold and engrossing sound that's easy to love.
Also shortlisted: LG S95QR, Bang & Olufsen Beosound Theatre
Other brilliant bars from 2023, you say? Well, our ears very much enjoyed the LG S95QR's entirely convincing surround sound effects, while the B&O Beosound Theatre is an astounding piece of design that also happens to be an effective (and very expensive) Dolby Atmos soundbar.
---
Best soundbar