Samsung The Freestyle 2nd Gen review: two become one
Stitching two big screens together for some ultrawide magic is an impressive party trick. But is it worth it?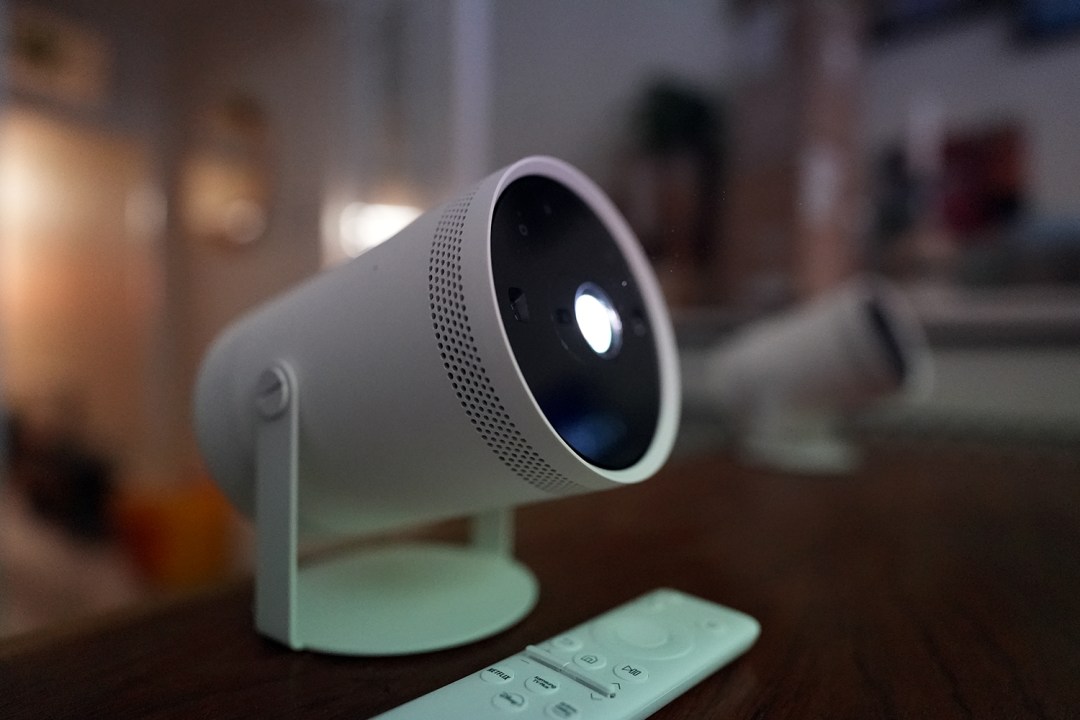 Stuff Verdict
The Samsung Freestyle 2nd Gen is a niche, expensive, and very impressive bit of kit that won't disappoint those with a need for a portable big-screen powerhouse.
Pros
Excellent auto adjustments for a guaranteed clear image
Compact build
Impressive sound for its size
Gaming Hub unlocks even more entertainment
Ultrawide mode with two units for a more cinematic experience
Cons
Buying two models for all the features is very expensive
Ultrawide video mirroring is limited to Samsung phones
Introduction
Samsung's original Freestyle (or, technically The Freestyle) projector made quite a splash when it landed back in 2022. The wonderfully portable alternative to a traditional TV won us over with its great design, ease of use, and solid picture quality.
One year on, The Freestyle Gen 2 looks to keep everything that made its predecessor so great, while hoping to dazzle with some ambitious new party tricks. The cloud-capable Samsung Gaming Hub essentially turns The Freestyle 2nd Gen into a portable games console, but the showstopper is using two units to create a huge, 21:9 ultrawide experience – albeit nice at twice the price.
Does that make The Freestyle 2nd Gen worth considering over other "normal" projectors? Is there enough here to warrant an upgrade? Does it deserve a place in your home? Let's find out.
How we test projectors
Every projector reviewed on Stuff is used as our main device throughout the testing process. We use benchmarks and tests, as well as our own years of experience, to judge general performance, display, sound and overall quality. Manufacturers have no visibility on reviews before they appear online, and we never accept payment to feature products. Find out more about how we test and rate products.
Design & build: a familiar face
If you're au fait with the first-gen Freestyle, you can skip this section, as the 2nd Gen Freestyle is nigh on identical. The same white cylindrical build returns, along with a hinge-toting base that allows quick and easy angle adjustments. This is a particularly useful feature as it instantly lets you switch from projecting on walls to ceilings with a mere swivel.
With a black rear for speakers and cooling (with Samsung's tried and tested solar-powered remote included), there are no design complaints on our end. The semi-opaque frosted plastic lens cover also makes a welcome return, protecting the sensitive business end when not in use and adding a dash of style in the process.
On the side, you'll find a USB-C port which will happily power The Freestyle 2nd Gen from the mains or an appropriately beefy power bank, along with a mini HDMI input for direct connections to consoles, PCs, and other devices. Touch-sensitive controls for the power and volume buttons surround the lens, but you'll rarely want to use them as they're difficult to see. You definitely won't want to take a closer look when the main LED is blasting bright light towards your face.
Picture and performance: zen-like focus
The Freestyle 2nd Gen beams a 1080p picture between 30-100 inches across when set 0.8-2.7m from a wall, respectively. Like the original version, it mercifully takes all the hassle out of producing the sharpest, most accurate picture, thanks to remarkably quick auto-focus, auto-leveling, and auto-keystone features.
We set up a bunch of awkward positional challenges with the aim of throwing The Freestyle 2nd Gen off its game, but it dealt with each one with nippy, laughable ease. Pick it up, move it to a different position or location, and it's mere seconds before everything automatically adjusts to provide you with a sharp, level, distortion-free image. You can manually adjust everything too, of course, but we failed to spot any differences between our tweaking and the automatic settings. They're just that good.
On the brightness front, The Freestyle 2nd Gen hits the same 500 lumens/230 ANSI lumens as before. Its LED is good for 30,000 hours of illumination, apparently. We're not going to sit here and pretend that it's eye-searingly bright — you'll definitely want to close the curtains/blinds in a sunlit room to get a usable picture. Once you've done that though, the resulting image is perfectly enjoyable in dim to dark rooms – as long as you're not at the higher end of that 100in maximum limit.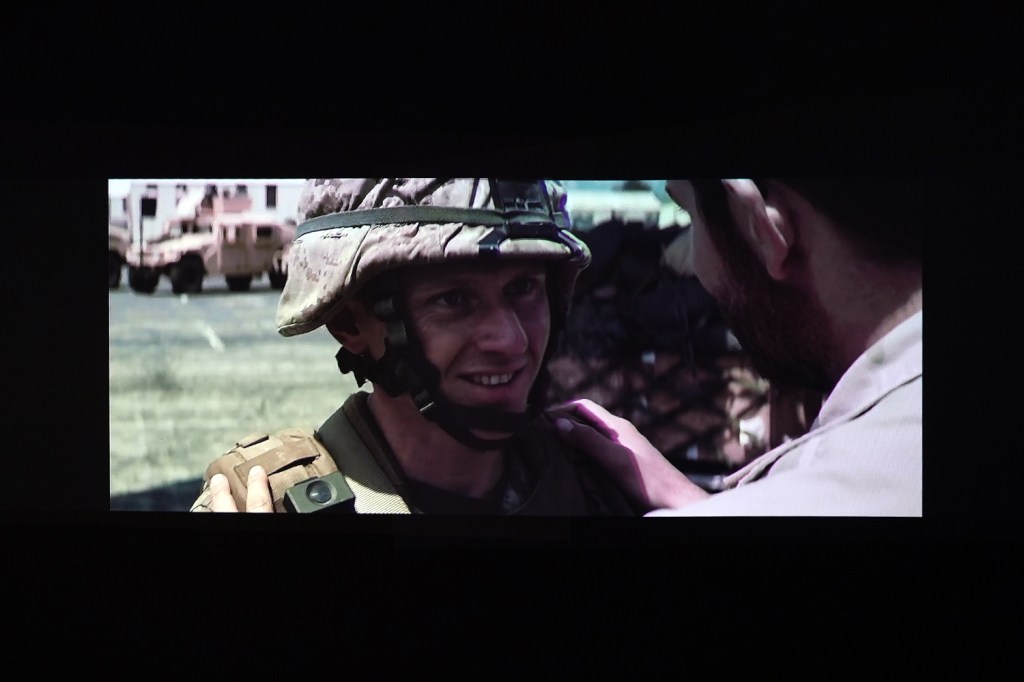 Naturally, the further back you place it, the larger the picture but the dimmer the experience. We found the sweet spot between size and brightness to be around the 70-80in mark in a dim room, with some ambient lighting present from the hallway. Everyone's setups will vary of course, but in general, you'll want to make things as dark as possible — pretty standard advice for all projectors, really.
In terms of sharpness, you'll definitely know you're not watching 4K content. Even at larger screen sizes though, the 1080p resolution on offer is absolutely fine, especially as you'll ideally be sitting proportionately further back. And if you're concerned about projecting onto non-white walls — don't be. The calibration feature in the Smart Things app does an excellent job of using your phone's camera to rejig the white/colour balance to ensure a consistent experience. We tested picture quality on both white and dark yellow walls, and the calibration feature was spot on for both.
While obviously no match for a soundbar or surround sound setup, the 360-degree speaker remains as impressive as ever. It has a surprising amount of loudness and depth for such a compact size. This means The Freestyle 2nd Gen makes good on its promise of being an all-in-one entertainment setup without the need for any external gubbins to weigh you down. You can even combine two separate sets of Bluetooth headphones, for truly silent two-person movie nights.
Features: broaden your horizons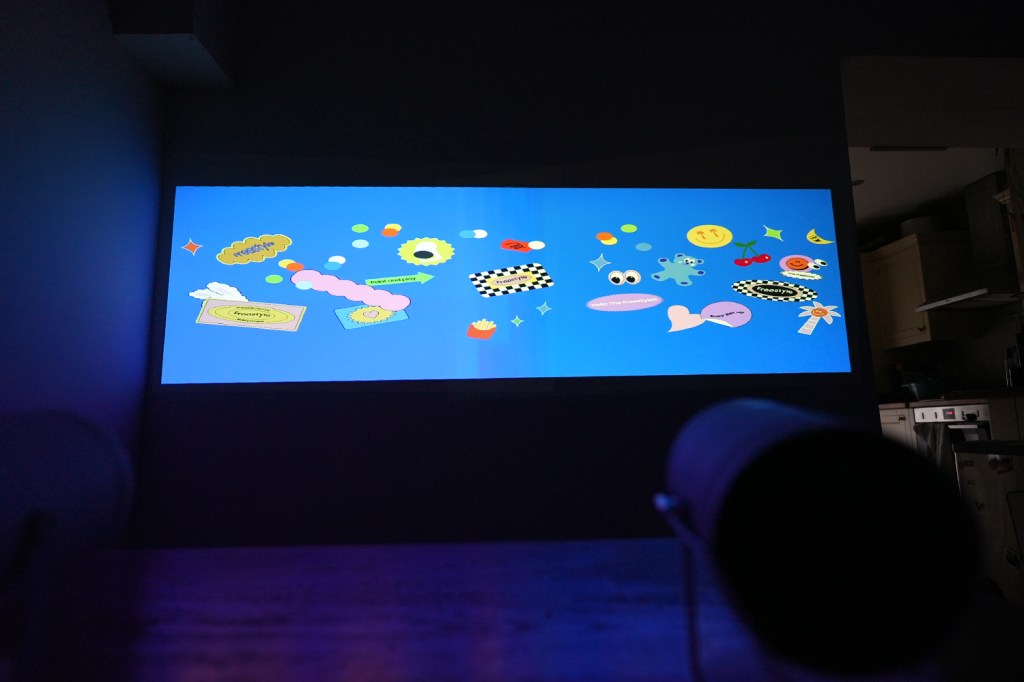 Anyone with a Samsung TV will feel right at home, as The Freestyle 2nd Gen runs the same Tizen OS. Even the menus are identical. With more processing power under the hood than the original Freestyle, things are noticeably snappier, with easy access to all the apps and features you'd come to expect. The remote plays its part as a seamless, easy-to-use input device.
The major new feature in the new Freestyle's arsenal is its ability to pair up with another unit to create a 21:9 ultrawide image. Doing this manually would be a ridiculous logistical nightmare: we know because we tried lining up two projectors ourselves. The results were as bad as you'd expect.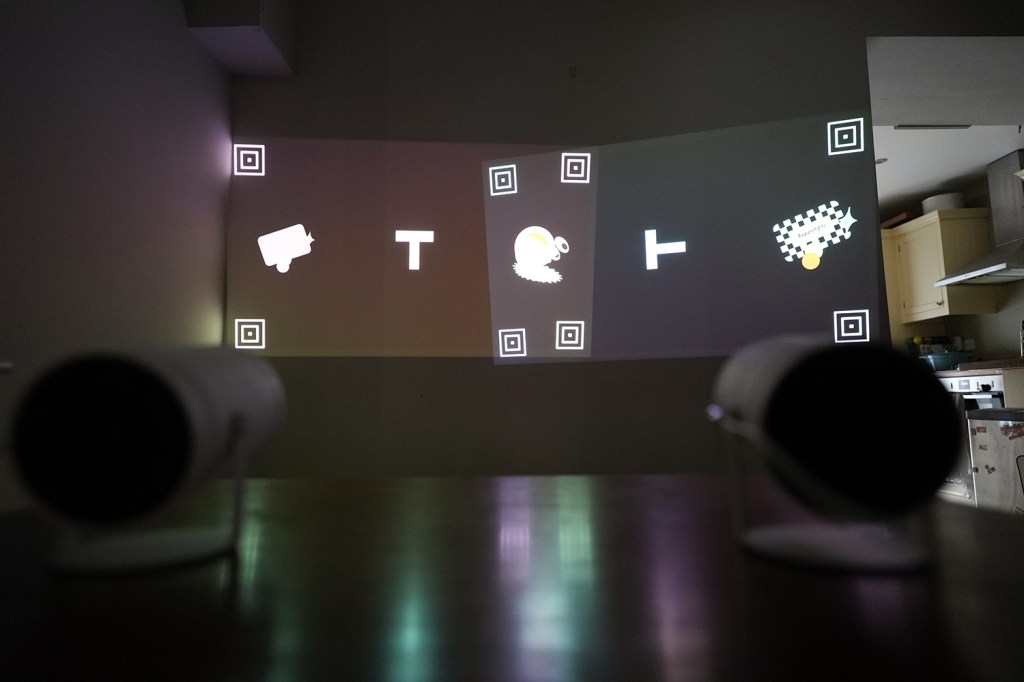 Thankfully, the actual pairing process is incredibly quick and easy, and the results are just as impressive. Once you've got a pair of The Freestyle 2nd Gens paired to Samsung's Smart Things app, it's a simple matter of picking either of the units, and selecting the Smart Edge Blending mode. Once that's done, both projectors will display a scene with a variety of different objects within it, with square markers around the edges. From here, it's just a case of roughly lining up the middle objects, then using your phone's camera to capture the two projected screens. After a few seconds — boom — it's all seamlessly stitched together, and you're in 21:9 ultrawide territory.
It's as quick as it is impressive, and never once failed to produce crisp, clear results. If you plan on leaving both projectors in their respective places, then you'll only need to do the setup process once. If they're moved then you'll have to repeat it all, but it doesn't take more than a minute. In fact, we found it rather fun experimenting with all manner of crazy positions and angles to throw off the auto setup process, and it took everything in its stride. Very impressive.
It's after this pairing process that things might become disappointing, depending on what smartphone you've got. If you've got a non-Samsung Android handset or an iPhone, the most you can do is view photo slideshows from your phone. We can't imagine many people going through the expense and setup for a wall-filling digital photo frame, as impressive as it is.
On the other hand, proud owners of compatible Samsung smartphones can use Samsung's Smart View app to mirror your phone's screen. This means that you can fire up video content on anything from YouTube to Netflix on your phone, which will then in turn be displayed on the giant 21:9 picture provided by the projectors themselves.
With the right content, it's an even more cinematic experience, and is naturally at its best when viewing native videos. Even though most content on streaming platforms sticks with 16:9, you can adjust the fill in the mirroring app to still get a full-screen experience. It's hassle-free, works well, and you can even continue mirroring with the screen off, to avoid wasting your phone's battery life.
In an ideal world, we'd love to use two Freestyle units natively with the bundled remote, without having to get a different device involved. While using the Smart View app isn't difficult, it's still an extra step, and more clunky than using the remote and the native Tizen OS experience.
As things currently stand, you also can't use the new Gaming Hub in Smart Edge Blending mode, which dashes fantasies of portable ultrawide gaming. Given the extra processing power simultaneous picture stitching and cloud gaming would take, we suppose that's to be expected.
Regular cloud gaming via the Gaming Hub is, at least, a smooth and pleasant experience. All the major options are there, from Nvidia's GeForce Now to Xbox Cloud Gaming and Amazon's Luna. Connecting a Bluetooth controller is a quick and easy process, and our spare PS3 pad was hooked up in seconds.
Given the nature of cloud gaming, seriously competitive players would never run The Freestyle 2nd Gen as their main machine, and that's okay. This isn't about topping the leaderboards at the next Halo Infinite World Championship. Instead, this is a fast, instantly accessible way to enjoy huge-screen gaming wherever there's a flat surface. From hotel rooms to hung bedsheets in the garden, there's simply no faster way to game on a large screen without multiple devices hooked up to each other.

From our testing, and averagely-fast internet connection, we enjoyed more casual games like Rocket League versus fast-paced shooters where the slight delay was enough to lose our edge. All in all though, the addition of the Gaming Hub is a very tantalizing upgrade over the original — perhaps even more than the dual-device ultrawide functionality, based on the cash required alone.
Samsung The Freestyle 2nd Gen verdict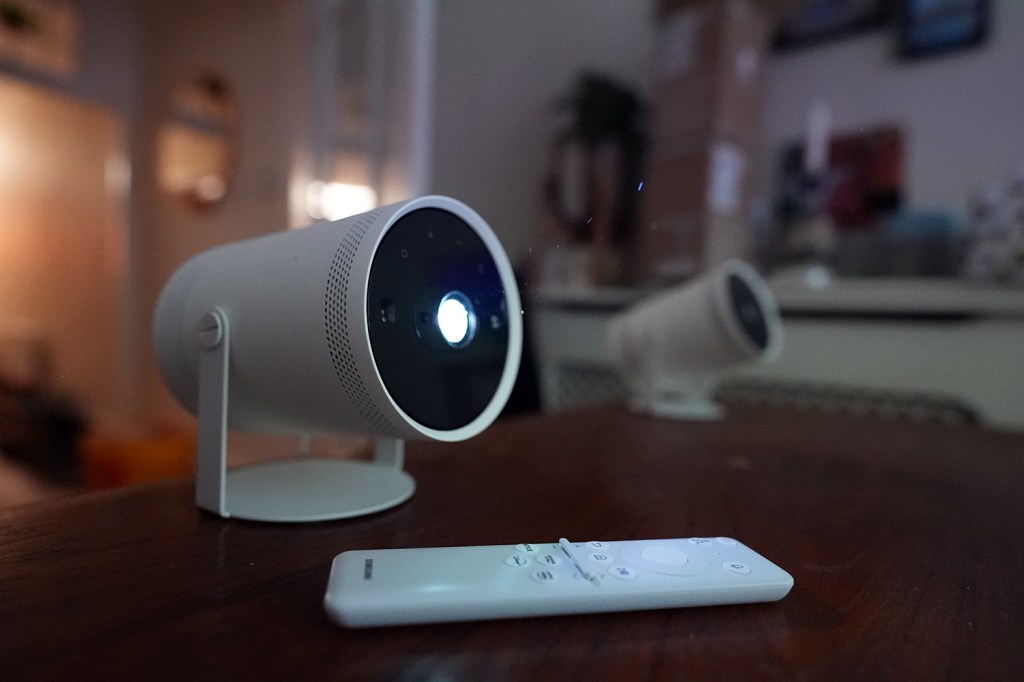 With an RRP of $800/£700, buying two 2nd Gen Freestyle units is a luxury only those with deep pockets and a real need for portable ultrawide action should consider. To narrow the niche down even further, they'll also need to be Samsung smartphone owners to truly max out the true dual-projector potential. It also goes without saying that one could spend the same £1400 on a dedicated, more powerful, brighter, premium 4K projector.
As with the first folding smartphones and other innovative gadget trailblazers though, The Freestyle 2nd Gen was never going to be about being the most sensible product money can buy. Instead, it offers something truly unique, that nothing else in the world can currently offer, which is becoming more of a rarity in the tech world these days.
With that all said, Samsung should absolutely be applauded for pushing the boundaries here. A standalone 2nd Gen Freestyle projector is still a superb portable big-screen powerhouse in its own right.
If you're an owner of the first-gen model, then it's probably not worth an upgrade unless you're absolutely set on cloud gaming, but for those looking for a superb, compact big-screen entertainment solution (with the future possibility to expand), then The Freestyle 2nd Gen is a very tempting prospect.
Stuff Says…
Stuff says: Needing two units to max out its full potential, The Freestyle 2nd Gen is a unique, (albeit expensive) prospect. Then again, niche trailblazing tech always is. If portable big-screen entertainment and gaming are a priority, you won't be disappointed.
Pros
Excellent auto adjustments for a guaranteed clear image
Compact build
Impressive sound for its size
Gaming Hub unlocks even more entertainment
Ultrawide mode with two units for a more cinematic experience
Cons
Buying two models for all the features is very expensive
Ultrawide video mirroring is limited to Samsung phones
Samsung The Freestyle 2nd Gen technical specifications
| | |
| --- | --- |
| Projection type | LCD |
| Light source | LED |
| Resolution | 1920×1080 |
| Brightness | 550 lumens |
| HDR formats | HDR10+, HLG |
| Speakers | 5W 360-degree |
| Connectivity | Mini-HDMI, Wi-Fi, Bluetooth |
| Dimensions | 104x173x95mm, 1.7kg |