Bang & Olufsen Beosound Theatre review
Luxury all-in-one is a design piece as much as it is an audio upgrade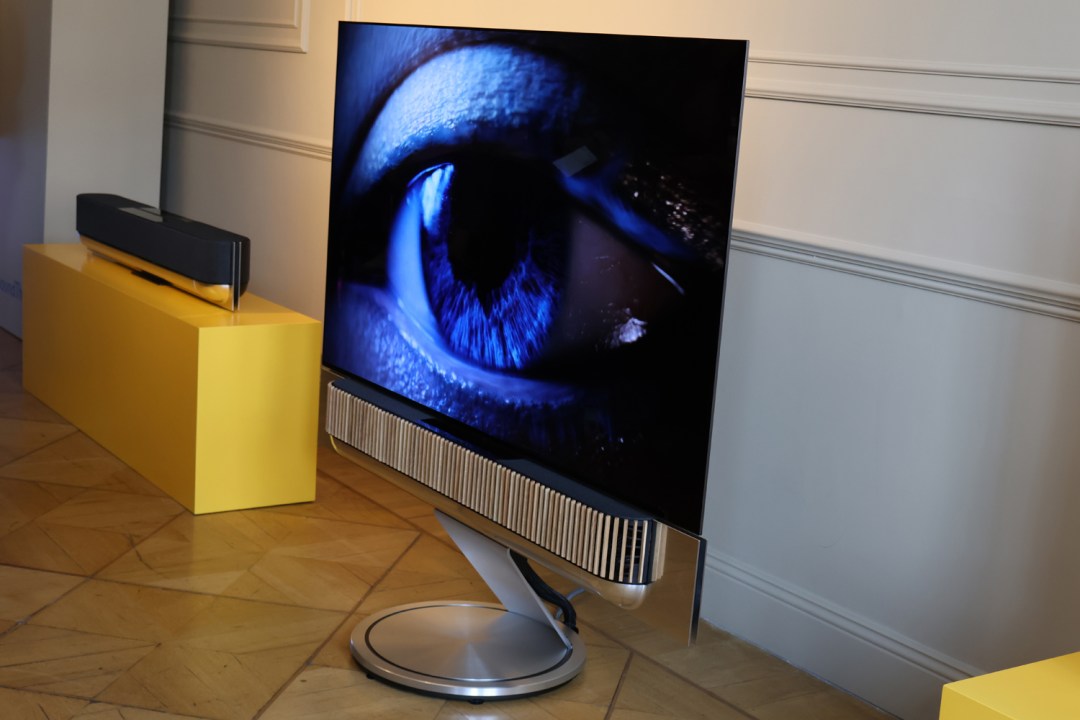 Some brands have their own specific areas of expertise – and for the longest time, B&O's has been giving established product types the full Scandinavian Design House treatment. Far more often than not, it's been a very successful policy. It's hard not to worry that the Bang & Olufsen Beosound Theatre Dolby Atmos soundbar might be a bridge too far, though.
After all, brilliantly accomplished Dolby Atmos sound from a single speaker (or speaker-plus-subwoofer) can be yours for considerably less money than this. Join us, as we worry about whether or not Bang & Olufsen has finally overreached itself…
Design & build: wide, wider, widest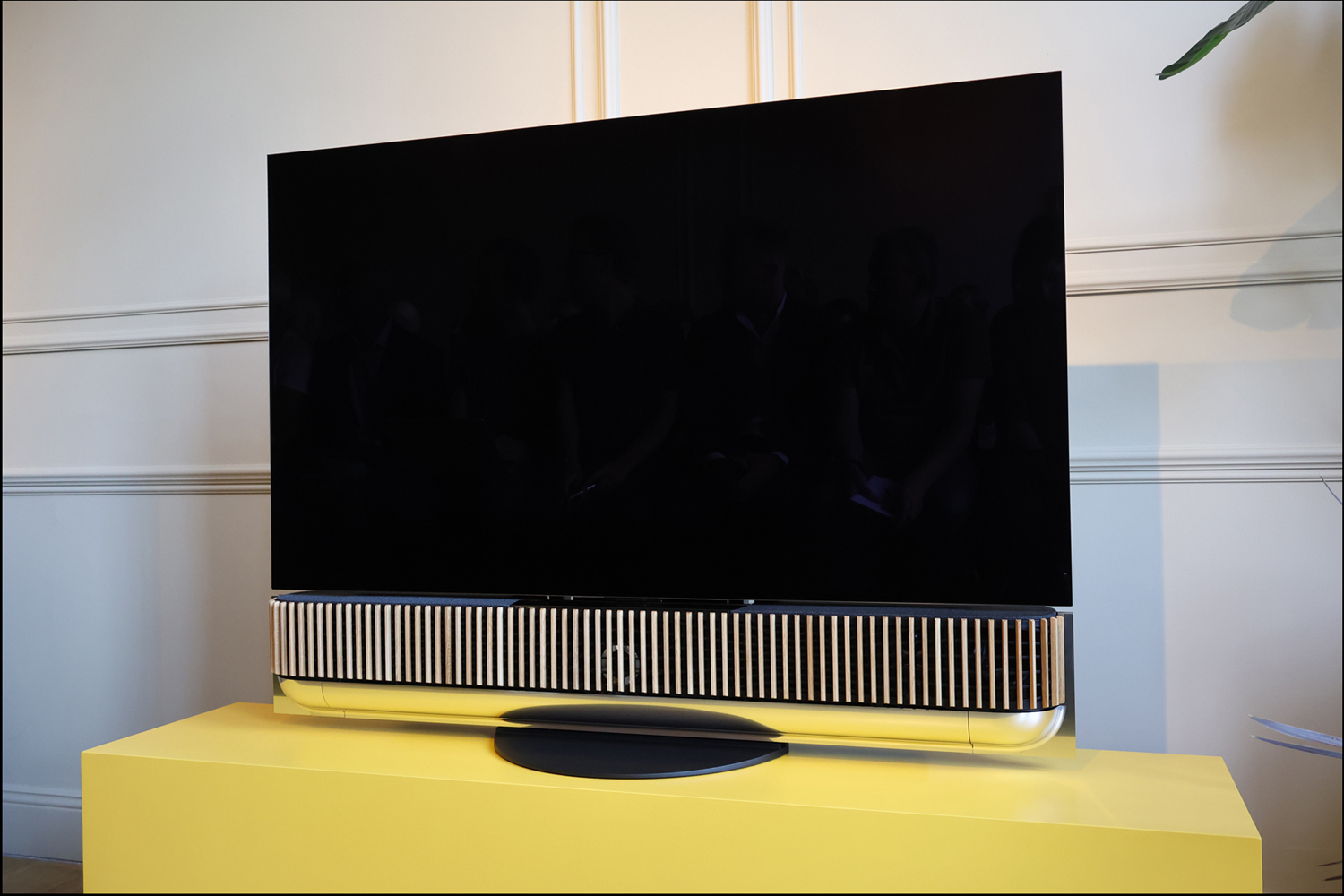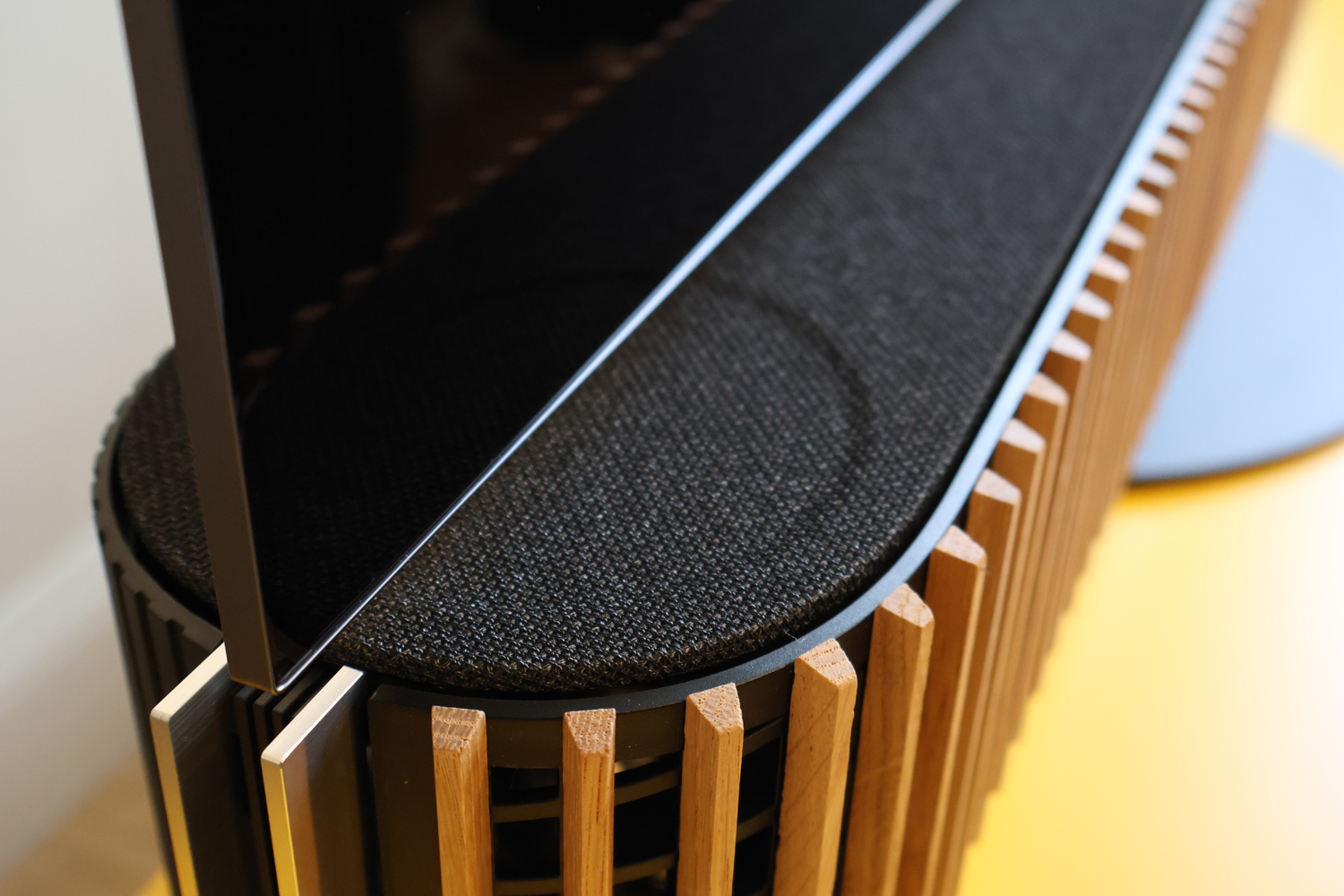 Bang & Olufsen suggests the Beosound Theatre's looks were inspired by that of a boat. But given this soundbar measures 1222x197x157mm (WxHxD), it seems likely the boat in question was a battleship.
Mind you, the Beosound Theatre can quite easily be bigger still. It arrives fitted with a pair of aluminium end-caps that make it as wide as the average 55in TV – but it also has two pairs of replacements. So if you want to team your new soundbar with a 65in or even a 77in television, switching the end-caps will make it an appropriate width (and consequently a much more pleasing visual proposition).
Those aluminium end-caps are available in 'natural', 'black anthracite' or 'gold tone' finishes. The wrap-around grille that covers the entirety of the front of the soundbar can be had in a variety of oak slats ('dark', 'light' or, erm, 'oak') or in 'dark grey melange' fabric if you prefer. It's by making choices like these about the finish of your Beosound Theatre that the price can balloon to £6390.
And your spending needn't stop there. The package includes a central pedestal stand (for putting the Theatre on a surface – although given its height the TV behind will need long legs) and a wall-mount (which allows its partnering TV to sit across the soundbar's centre, effectively halving its visual depth). But if you want (and you can afford it), a motorised wall-bracket or a motorised stand is available too.
As far as build quality is concerned, it's basically impeccable. We'd expect nothing less from a product at this sort of money, from a brand as well-regarded as this one – but nevertheless it's good to report the Beosound Theatre feels every bit as good as it looks.
Features & connectivity: power station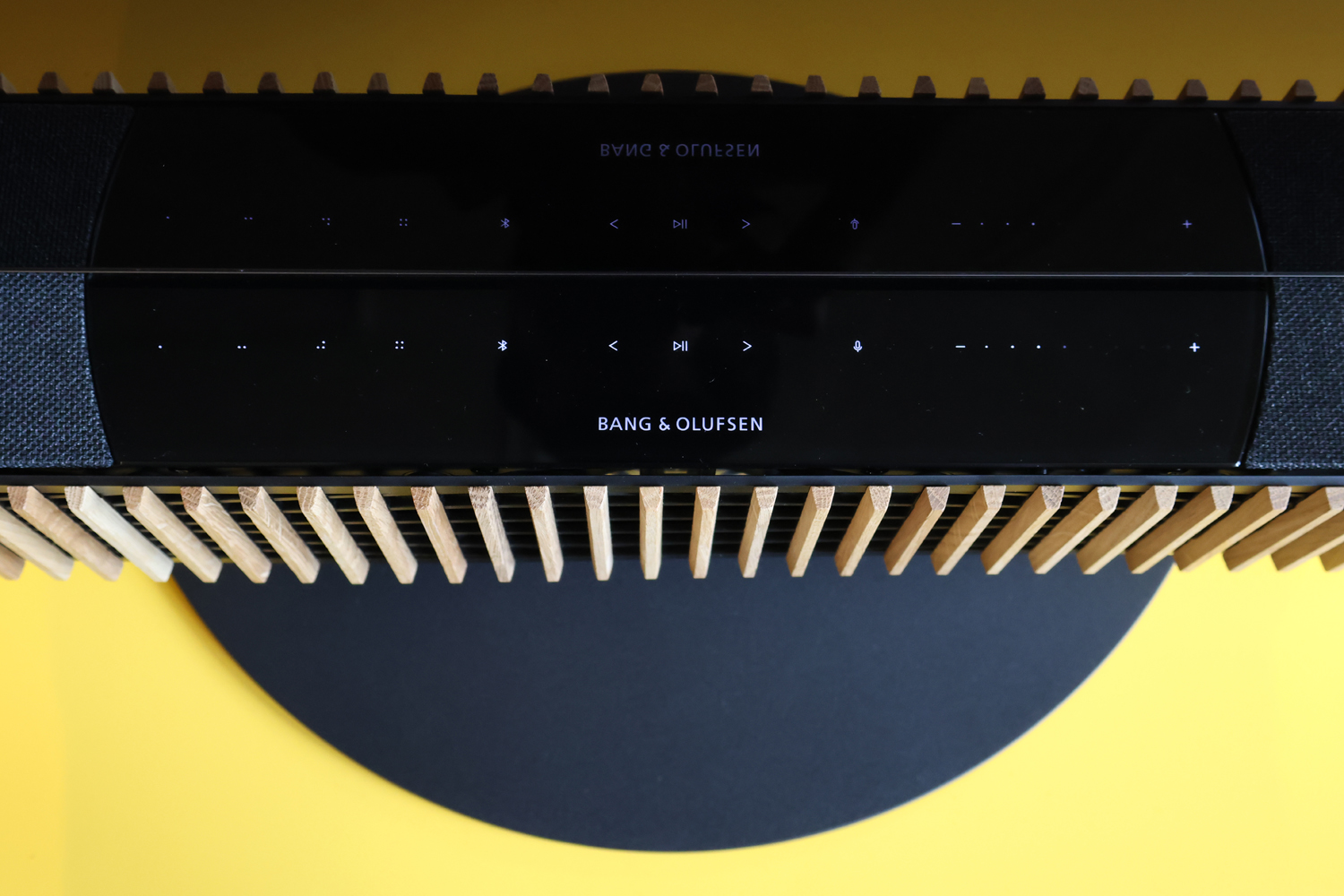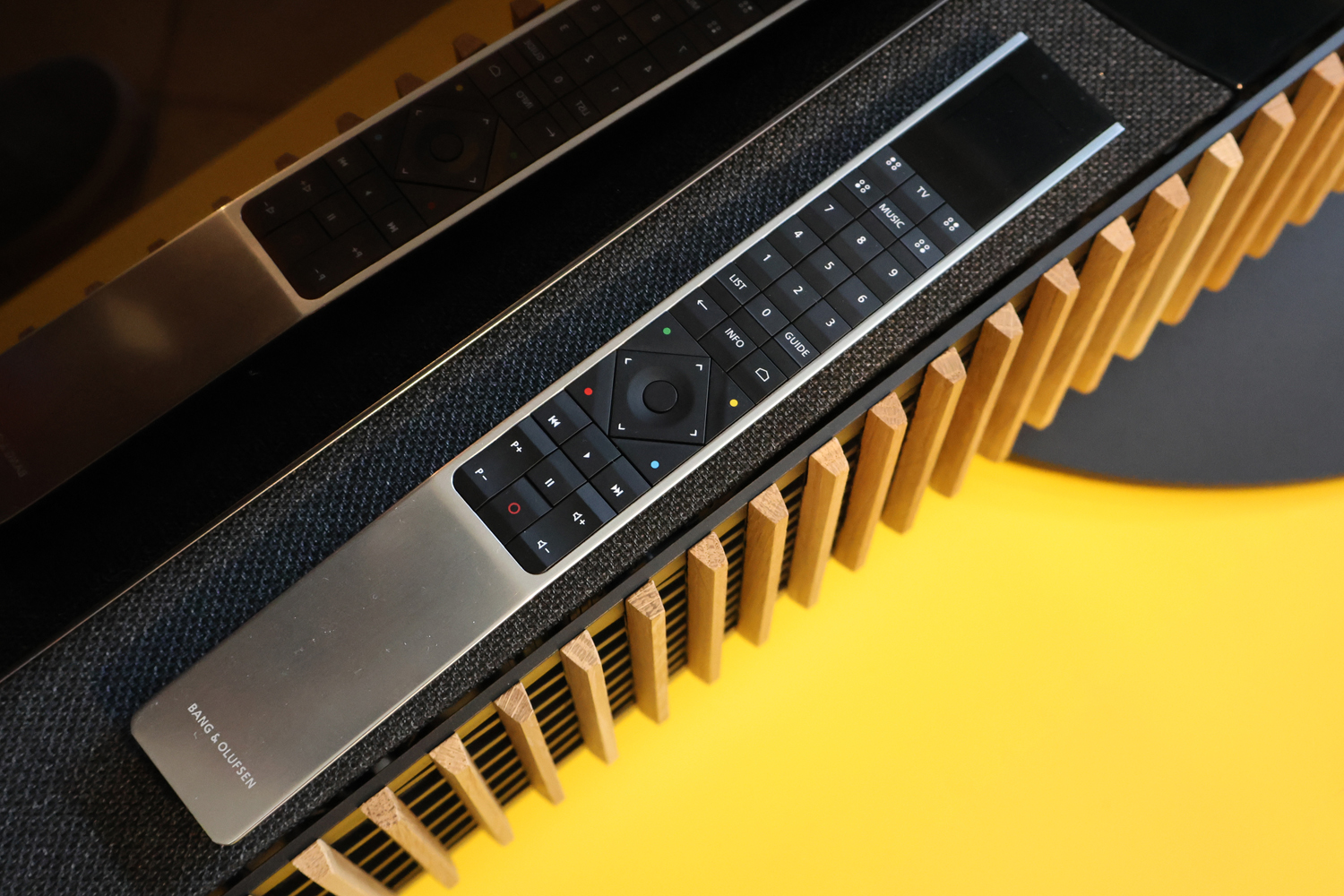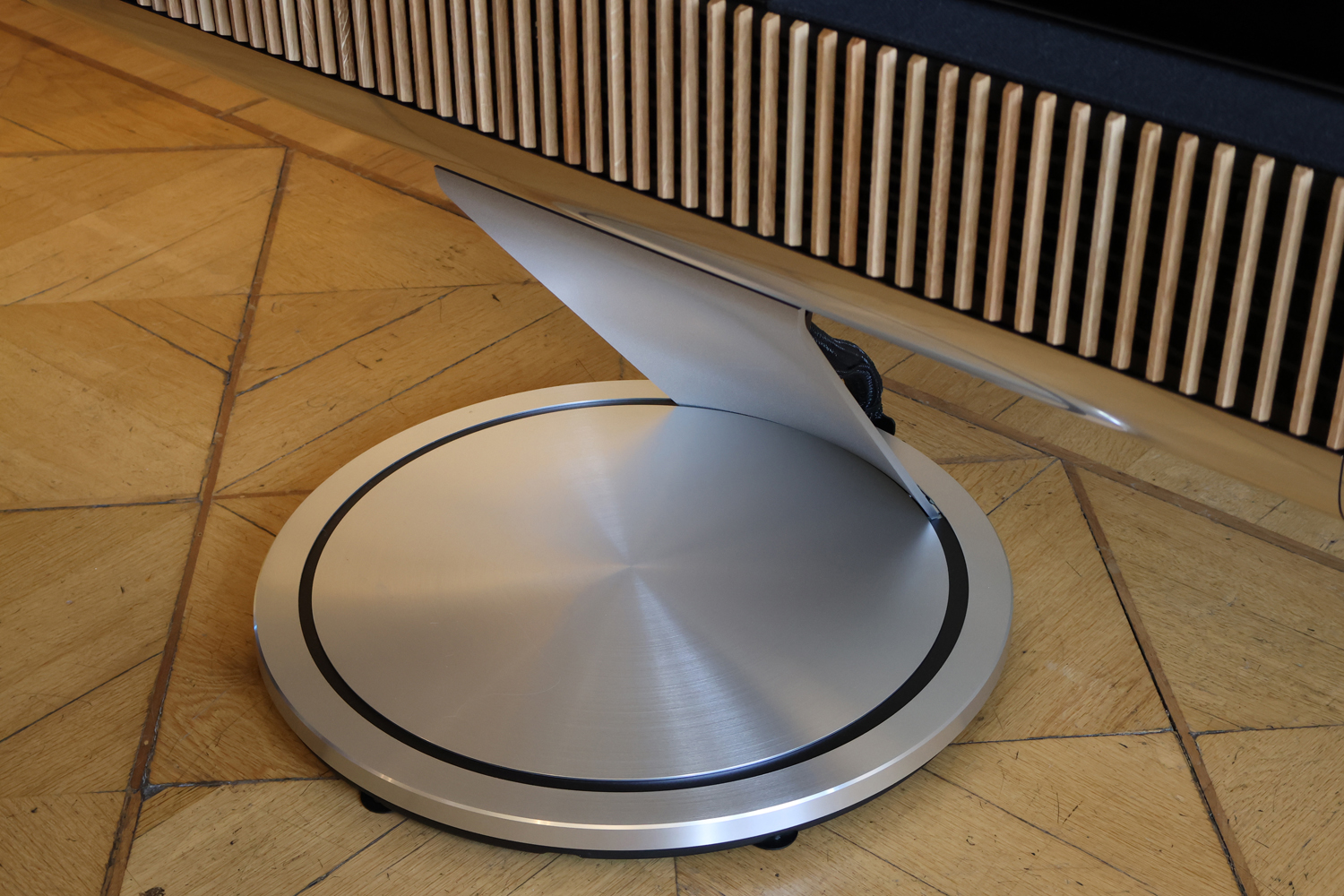 It's not sensible to look at a product's spec-sheet and make assumptions – but sometimes it's hard not to. This is one of those times. The Beosound Theatre features twelve speaker drivers, and 800 watts of power. Tell us you're not drawing some conclusions from that information.
It goes like this. Facing forward are two 165mm bass drivers, one either side of a 135mm midrange driver in the centre of the soundbar. This midrange driver is in a coaxial arrangement, with a 25mm tweeter at its middle. Two more of these tweeters are sited outside the bass drivers, each above a 76mm full-range driver. In a cavity at each end, above those aluminium end-caps, there's an upward-firing 64mm full-range driver and an outward firing duplicate too. The two big bass drivers get 100 watts of Class D power, while the other ten drivers enjoy 60 watts each. 'Ample' is a word you might want to deploy at this point.
All the Theatre's physical connections are kept in a covered recess at the back of the chassis. Four HDMI inputs (one with eARC and 4K@120Hz capability), four Ethernet sockets (one specifically for use with LG OLED TVs, allowing entire-system control via the B&O app) and connections for as many as eight Beosound Powerlink speakers seems plenty… and if you want the biggest possible Beosound-based system as possible, the Theatre will also connect wirelessly to up to eight wireless Powerlink speakers too.
Add in further wireless connectivity via dual-band wi-fi, Apple AirPlay, Bluetooth 5.1, Chromecast and Spotify Connect, and it's hard to suggest you might feel in any way shortchanged.
Interface: controlling behaviour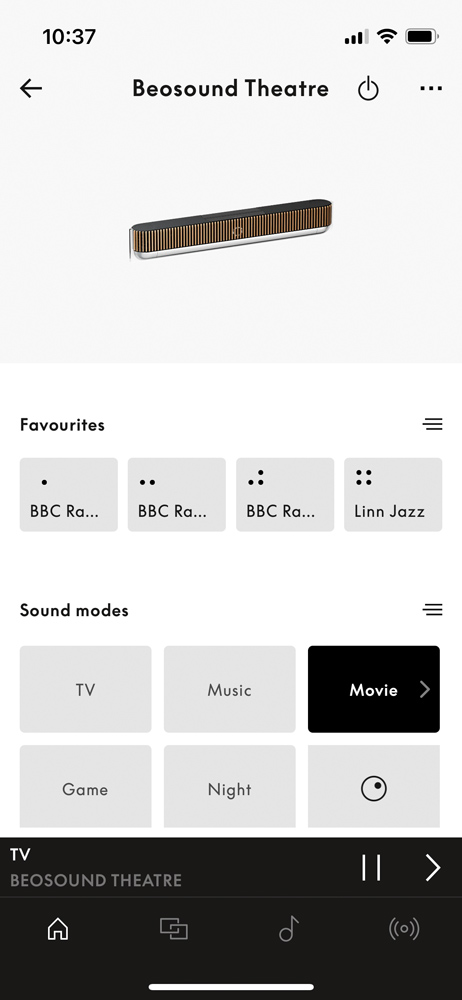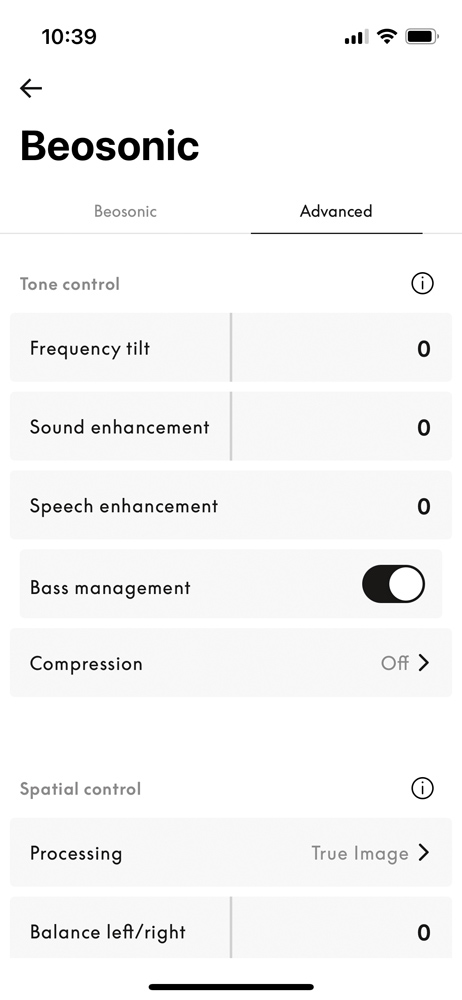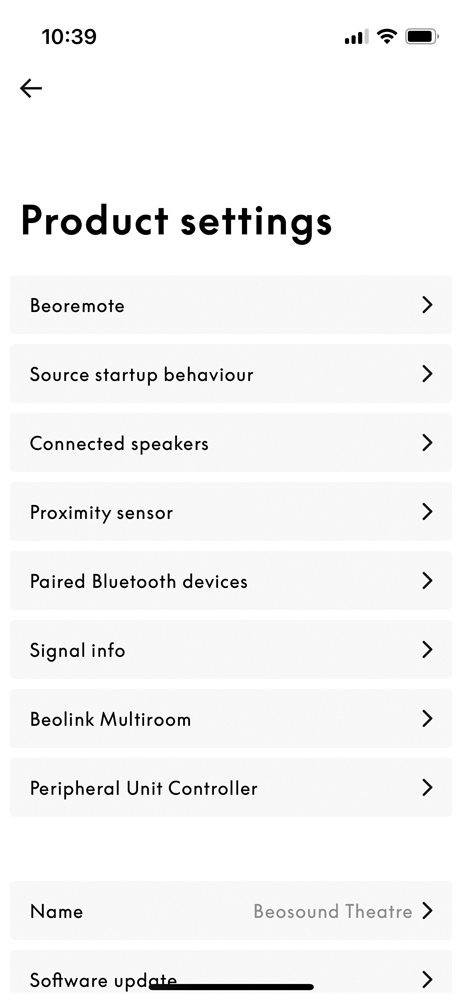 There's no integrated voice-control here – but if you've a Google Assistant speaker on the same network, the Theatre can be controlled that way. If you don't, though, never fear – you've plenty of other options.
The top of the soundbar is mostly acoustic cloth, but in the centre there's quite a big area of nicely-fitted-but-quite-reflective glass. There are a number of responsive, reliable proximity-sensing, light-up touch-controls available here. Your TV's remote control can handle the volume, of course – but an altogether more comprehensive and elegant alternative is available in the shape of the B&O control app. It's free for iOS and Android, it's clean and logical, it's stable and it covers pretty much every eventuality. Here's where you can select some custom EQ presets or fiddle with the levels yourself, where you can access Bang & Olufsen's own radio station, check for software updates and so on.
Naturally, you can just chuck more money at the problem if you prefer. The B&O Beoremote BT remote control will take care of all your needs – just add it to your bill.
Performance: deep, wide and (sort of) tall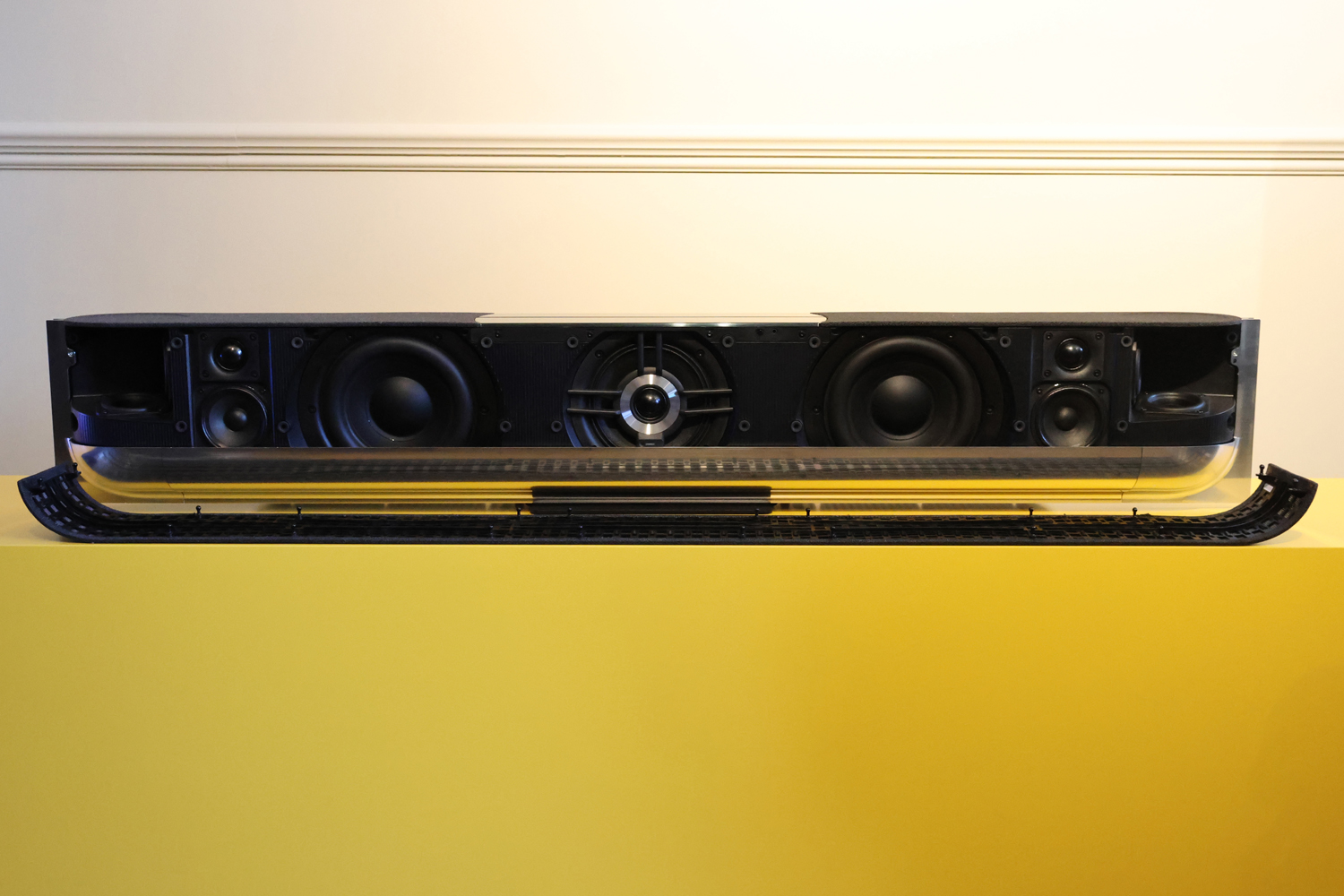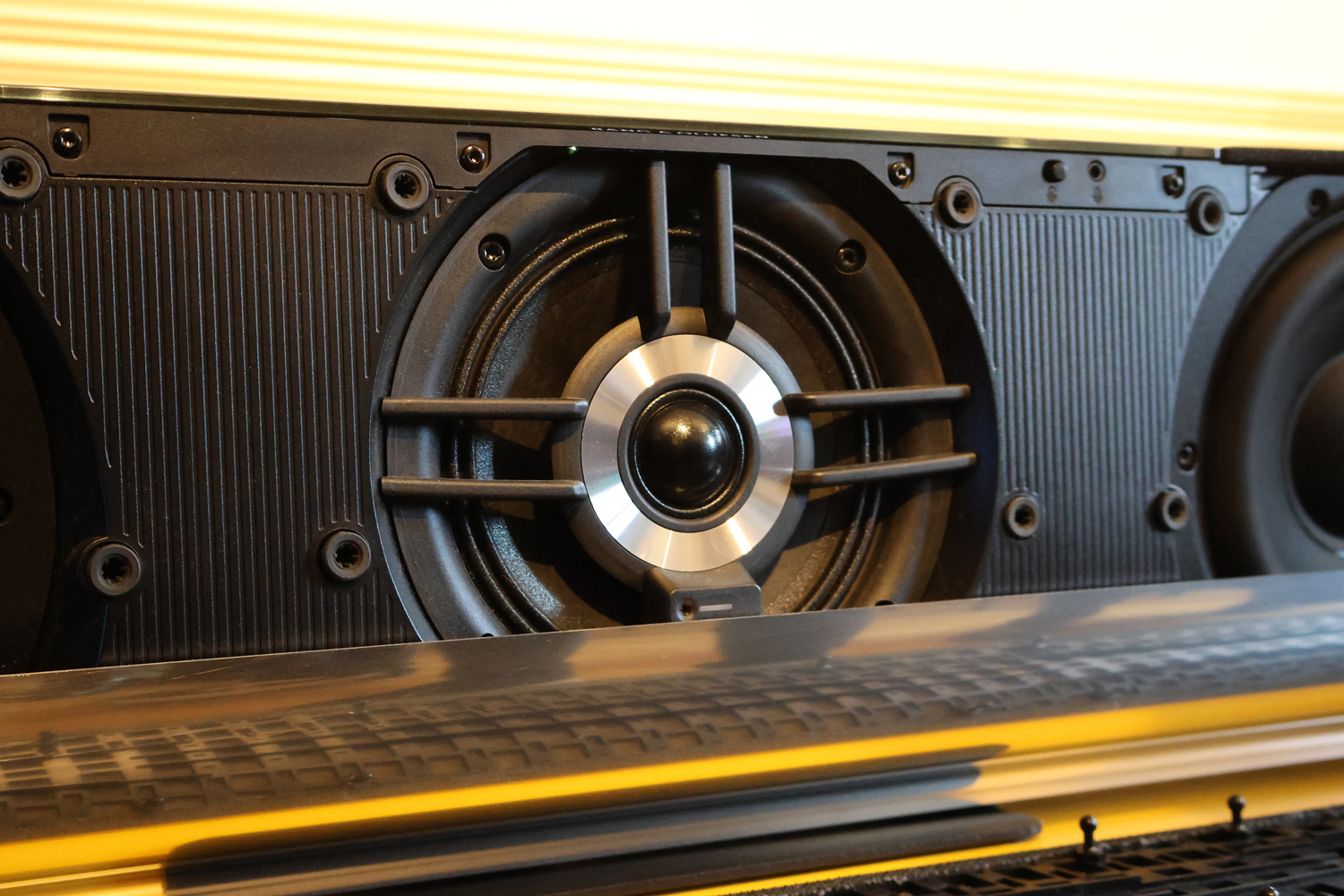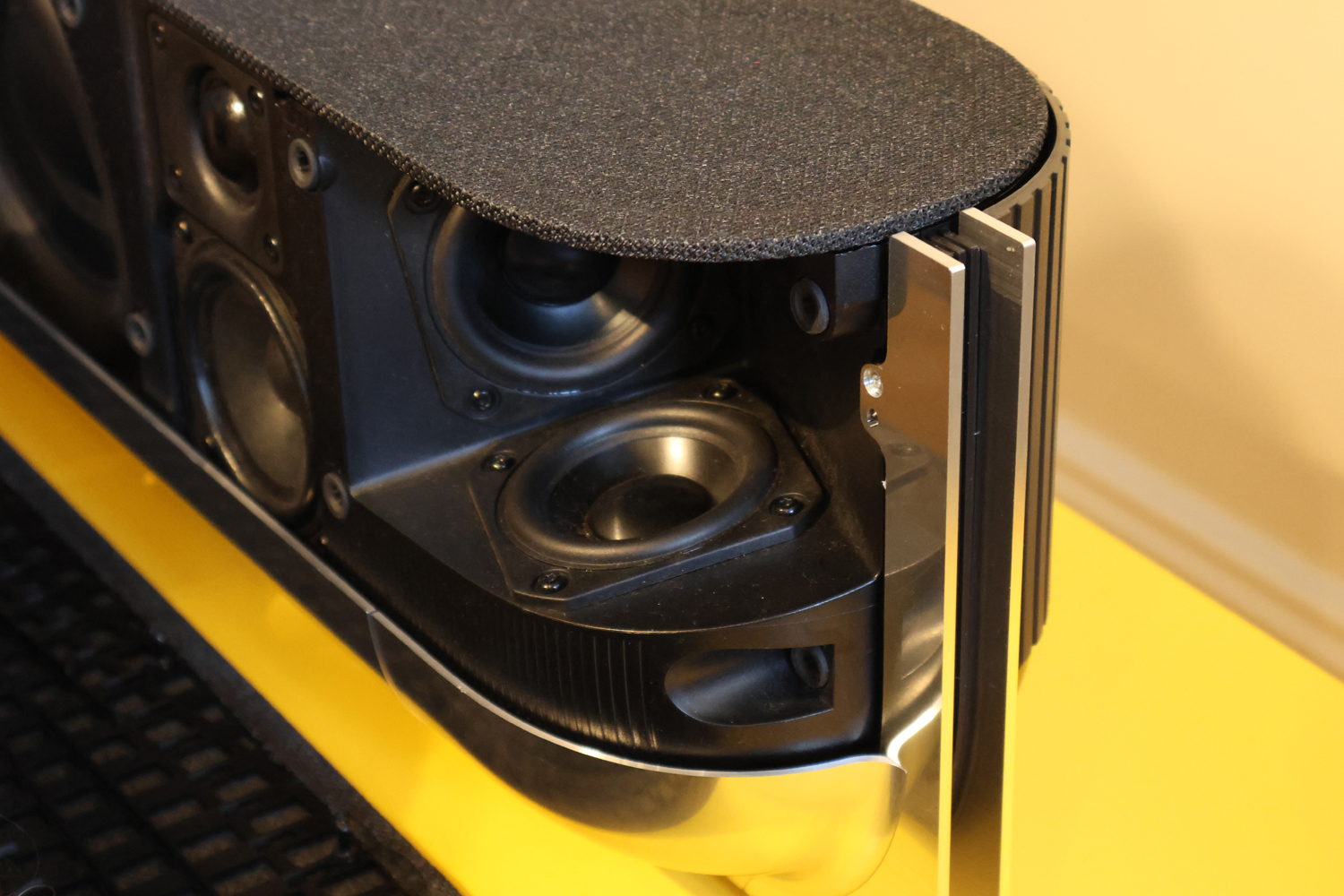 Almost as predictable as a Bang & Olufsen product being very thoroughly designed, and almost as predictable as said product costing significant money, is the news that the product in question is a high-performance high achiever. That's where we find ourselves with the Beosound Theatre.
As far as sound quality is concerned, it's approaching ideal. Despite the lack of a dedicated subwoofer, the low frequencies on offer here are impressively deep and even more impressively controlled. They hit hard and carry an absolute stack of tonal variation within them. Detail levels are sky-high across the frequency range – but because everyone's so used to bog-standard subwoofers that just thump along with the rest of the soundtrack, the nuance and expression the Theatre teases out of bass sounds is almost startling.
It's a similarly impressive story in the midrange. That central coaxial driver set-up, with a tweeter just ahead of the middle of the midrange driver, means dialogue of all kinds projects well and never seems in danger of being overwhelmed by the activity all around it. Voices are loaded with detail, easy to follow and communicate with real positivity – even in moments of high Hollywood crisis, explosions or crashes never swamp vocal activity.
At the top of the frequency range the B&O attacks with equal confidence, delivering the treble stuff with plenty of bite but no harshness. 'Crisp' isn't always the most positive way of describing a speaker's high-frequency response, but it applies here in the most favourable way.
The whole frequency range is integrated cleanly – no mean feat when you're talking about a dozen drivers all kicking off at once. Nothing's underplayed, nothing's overstated – and so the entire presentation is tonally convincing.
Dynamic potency is off the charts, too – the B&O has such reserves of power that it's able to give you 'shock and awe' instantaneously. But, again, there's sufficient control to stop anything sounding stressed or contrived – the Theatre is simply capable of travelling from 'near silence' to 'enormous planetary overload' in a heartbeat. And it's similarly accomplished where less obvious dynamic variations are concerned, too – if it's a change is vocal tone or the harmonic discrepancies in an instrument, the Beosound Theatre will find them.
About the only way it seems deficient is where Dolby Atmos is concerned – which is unfortunate, no two ways about it. The left/right, front/back soundstage is big and convincing, with plenty of space for competing elements of a soundtrack to do their thing at the same time as combining to present a nicely unified whole. But the height element of the Atmos soundtrack to Spider Man: Into the Spider-Verse is noticeably curtailed. As a result, the overall presentation is less immersive than a) the film-maker intended and b) some other, inevitably less expensive, Dolby Atmos soundbars can manage.
Bang & Olufsen Beosound Theatre verdict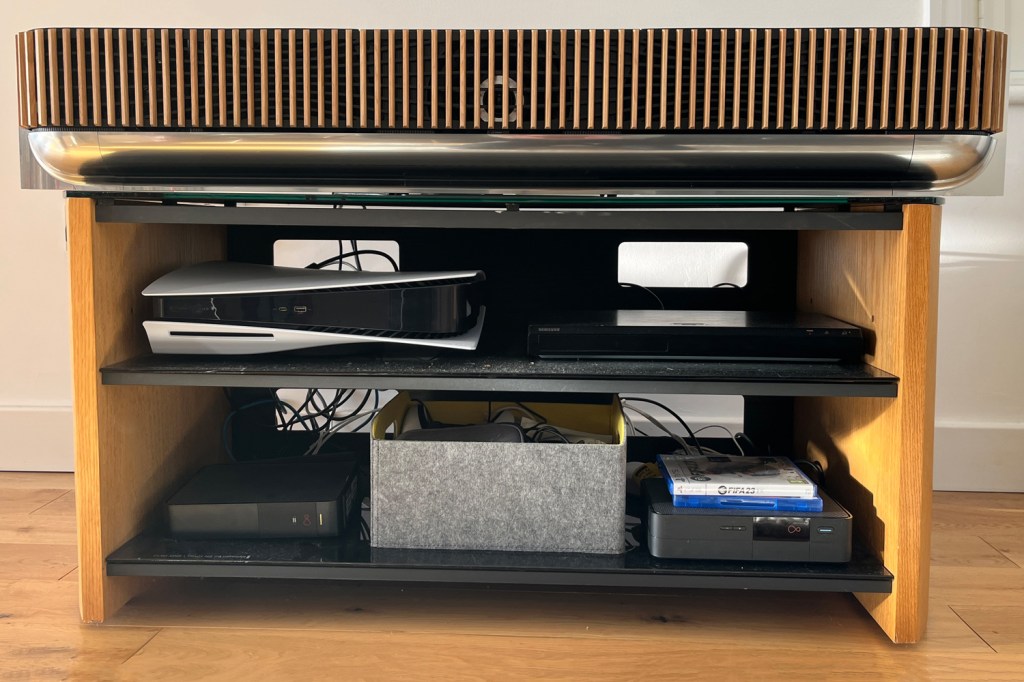 Put your 'hard-headed pragmatist' hat on and it's hard to make a case for the Bang & Olufsen Beosound Theatre. It's the most expensive Dolby Atmos soundbar around, by a margin – and yet it doesn't do the Atmos business as well as it should. So why would you want one?
Well, for all the other reasons we've discussed. It's an enthralling, high-octane listen that will tease out the finest details from your favourite soundtracks; it's a better-balanced and more assertive listen than any soundbar you've ever heard; it's a visual delight and a conversation-piece. Basically, with one caveat it's a very exciting and absorbing listen.
Stuff Says…
Good looks will only carry you so far – fortunately the Bang & Olufsen Beosound Theatre has the performance to match. At a price, mind you…
Pros
Full-on, full-scale, fully detailed sound
Individual design and impeccable finish
Many worthwhile control options
Cons
Costs more than a black-market kidney
Needs more Dolby Atmos-ness
Occupies a lot of space
B&O Beosound Theatre technical specifications
| | |
| --- | --- |
| Speakers | 12 (2x 6.5in woofer, 1x 5.25in midrange + 1in coaxial tweeter, 2x 3in midrange, 4x 2.5in full range, 2x 1in tweeter) |
| Amplifiers | 12 (2x 100, 10x 60w) |
| Inputs | 1x HDMI eARC, 3x HDMI CEC, 8x Powerlink, 8x wireless powerlink, Ethernet |
| Connectivity | Bluetooth, Spotify Connect, Apple AirPlay 2, Chromecast, BeoLink Multiroom, DLNA |
| Dimensions | 197x157x1222mm, 18kg |