Sky Glass review
It's a streaming TV from Sky and that's right - there's no dish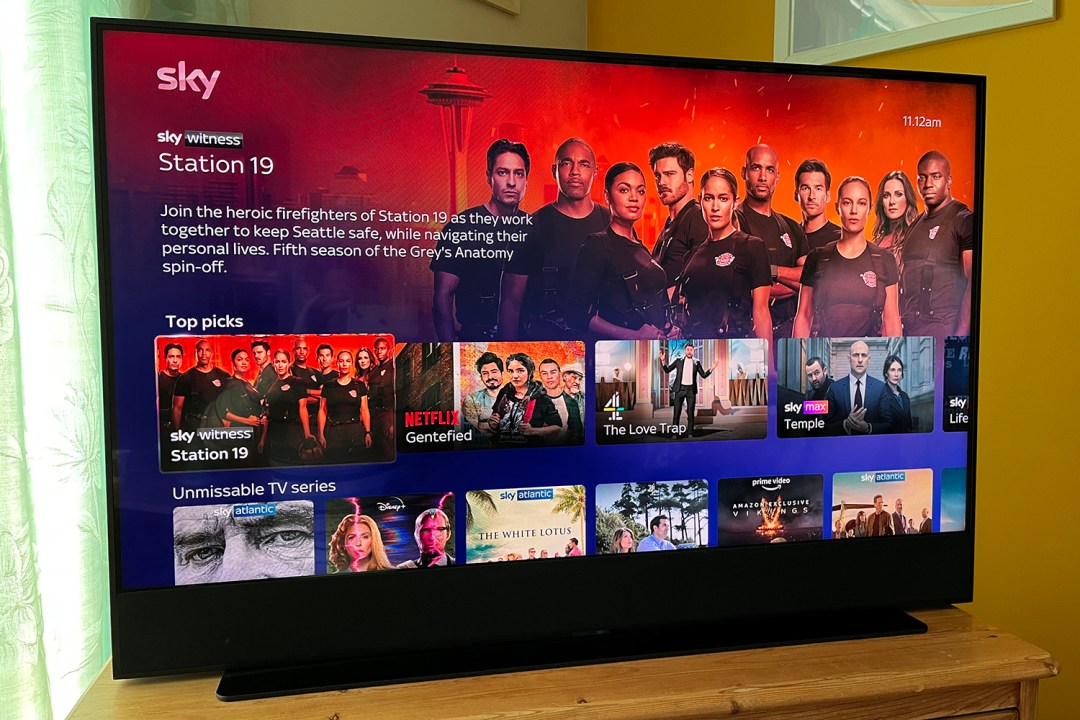 Sky Glass is a brand new concept from Sky – a streaming TV without a dish. It's the future of Sky TV – but is it a replacement for Sky Q or simply a different option?
Our model is a 43-inch unit in black and the first thing you notice is the slab of integrated soundbar under the display as well as a near-5cm thick grille on top for upward-firing speakers.
You can get Sky Glass in Ocean blue, Dusky pink, Racing green, Ceramic white and Anthracite black – your remote will also be colour-coded to suit, too.
Setup and interface
Sky's streaming TV was delivered and placed on our TV stand for us – we didn't have to lift a finger. We're told that Sky engineers will set these up usually and get you started even though it doesn't need a dish; it'll just use your Wi-Fi. Yes, the dish is finally on the way out….
Our setup didn't get off to the best start; it wouldn't find our Wi-FI and an update failed before working on the second attempt. But then we were into the new Sky Glass interface, which is a complete redesign of the existing Sky Q platform.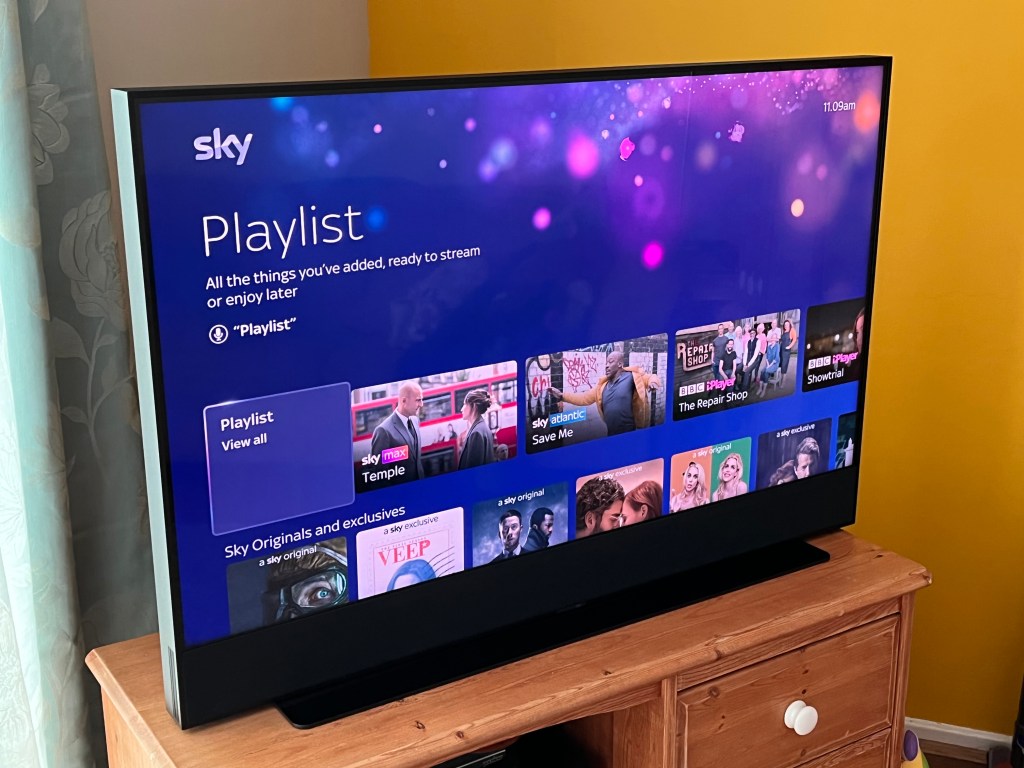 Instead of recording programmes, you add them to a feature called Playlist, which is essentially a rolling favourites list like you have on Spotify or My List on Netflix.
The system is similar in many ways to BT TV in that all non-Sky catch up content is served through separate apps like BBC iPlayer and All4.
Content from third-party players like Disney+ and Netflix appear as part of the main screens though so your TV will recommend content from other platforms alongside that of Sky. Apple TV+ is also being added to Sky platforms soon, too.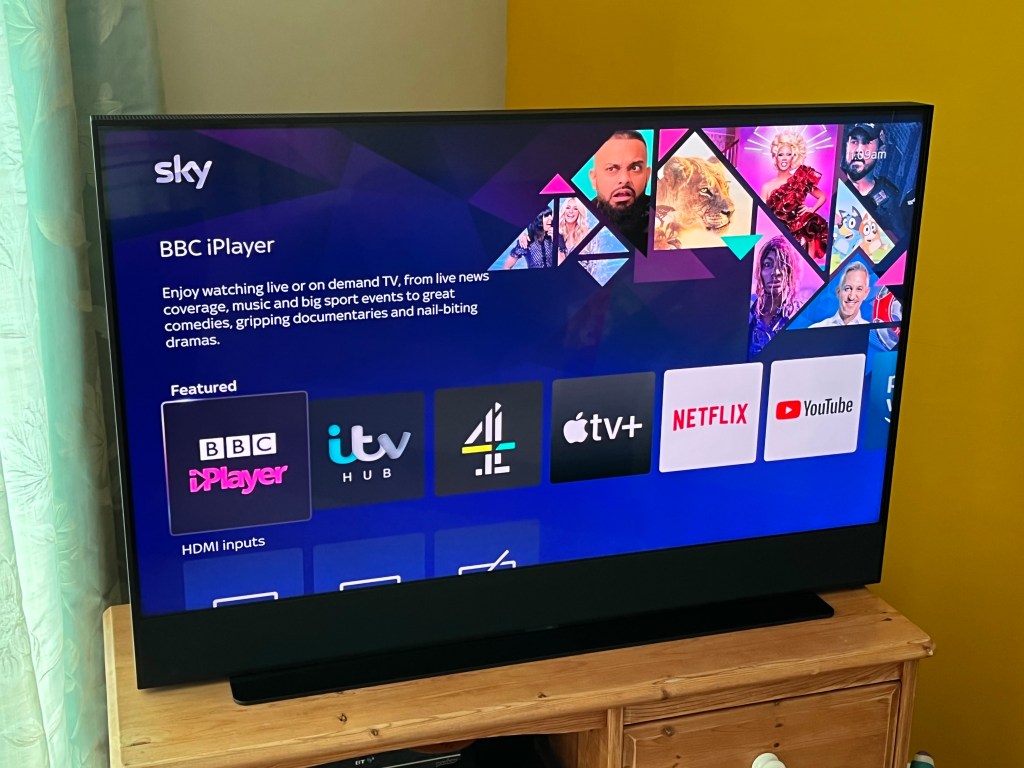 Linear TV is presented just as it is on any other Sky box – the channel numbers are the same and despite everything coming over Wi-Fi it all works excellently.
There's a new soft-touch remote, which is a modified version of the Sky Q remote, but there are some strange design decisions like the Sky logo is no longer a button – it would make a lot of sense if this took you to Playlist just like it takes you to recordings on Sky Q. And there's no up and down channel buttons. While Sky is obviously prioritising Sky Glass for those who watch non-linear TV, it seems obvious to make it a decent experience for hopping between channels, too.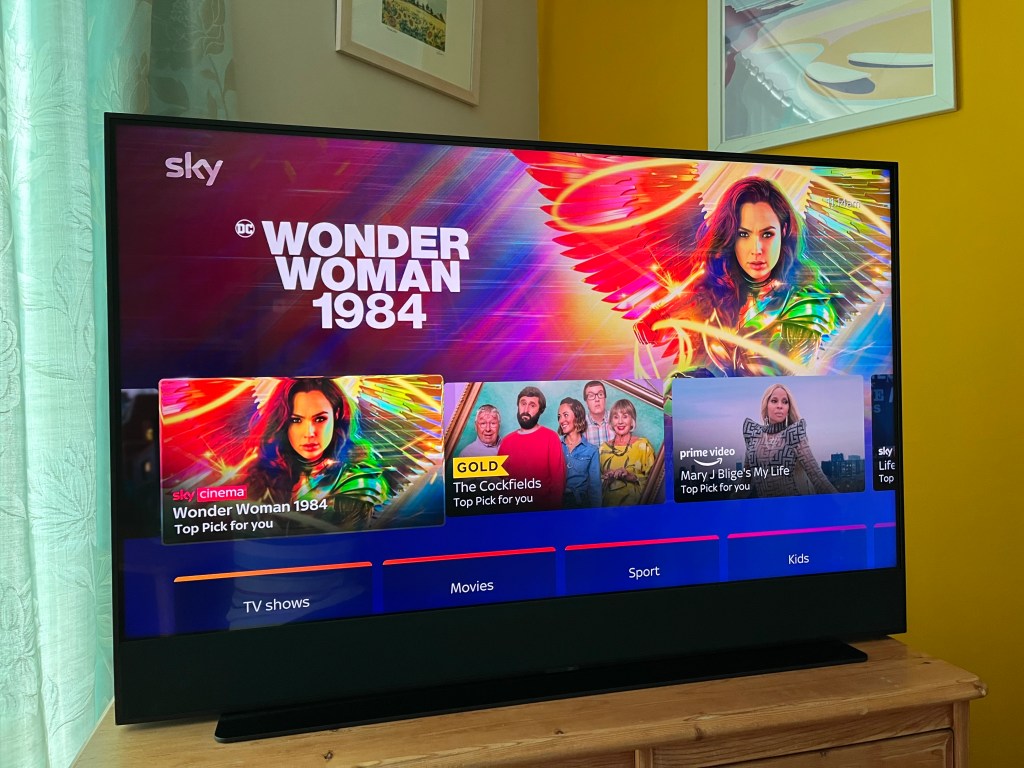 Picture quality
Picture quality from the Quantum Dot display is excellent when you're pumping the right content through it – but so much of what you watch through a Sky dish is HD rather than 4K, which remains a shame. HDR content from Sky does really pop though.
It's a Quantum Dot display, while Dolby Atmos audio is also supported. The sound from the six-speaker setup is OK, but doesn't knock your socks off and certainly isn't a replacement for a decent dedicated soundbar. and especially won't replace beefier setups. By the way, you can connect other devices like consoles up to Sky Glass no problem, since there are three extra HDMI ports.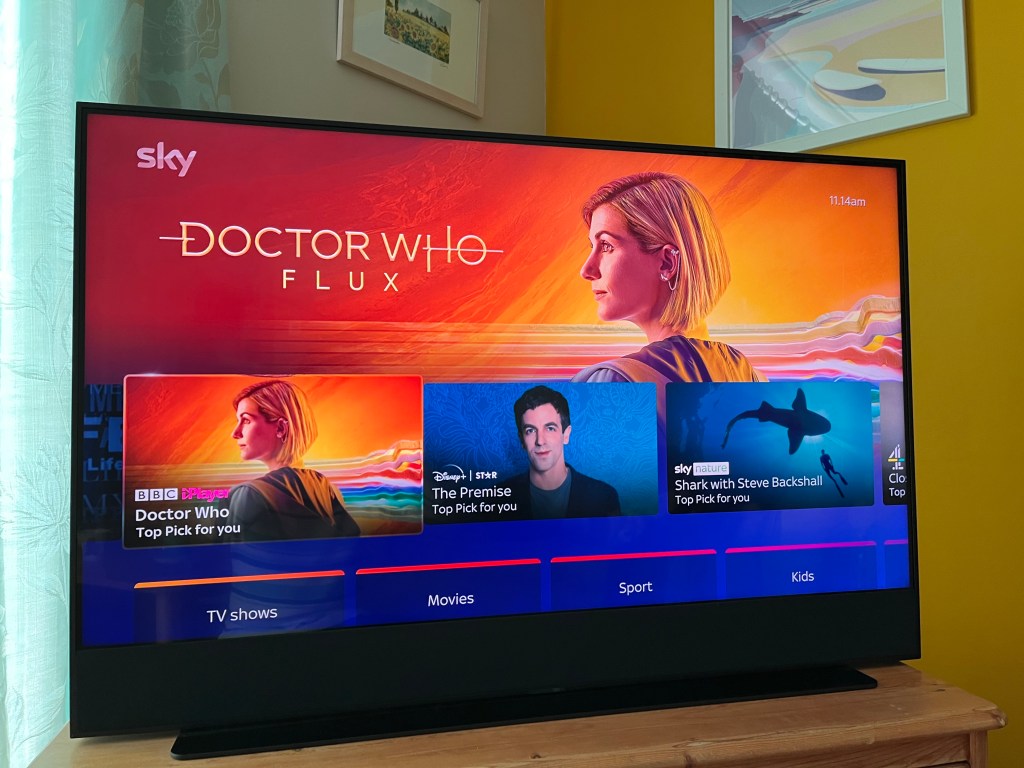 Using Glass with catch up TV
One of the restrictions with not being able to record programmes is that you're dependent on programmes still being available on the individual catch-up players.
A request from another household member to watch this week's Great British Bake Off results in a five minute scramble to retrieve our All4 password from our iPhone and type it in manually. You also have to watch the mandatory All4 ads before the programme starts.
This isn't a great experience, but it's no different from other platforms. It does mean you can just press red to restart a show from BBC iPlayer, for example. One issue is that you are at the mercy of programmes being available on the individual players and there can be delays in recently-broadcast programmes appearing.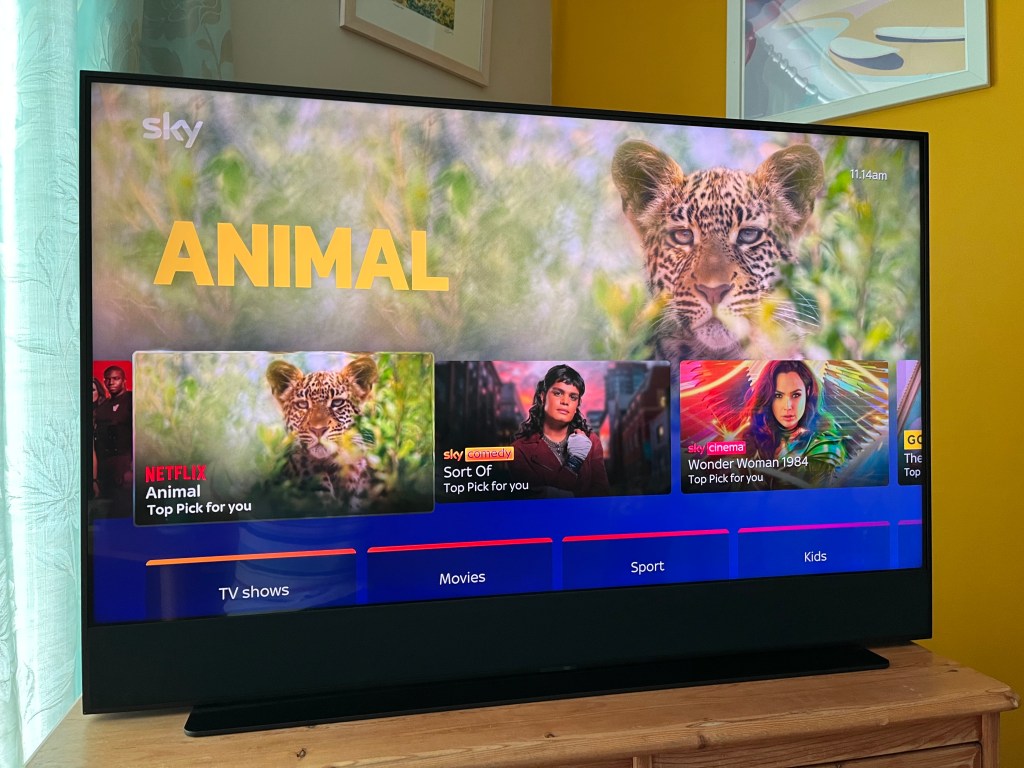 We tend to record music shows and return to them some time later; but we couldn't check out our favourite Glastonbury performances on Sky Glass because they're simply not available.
Sky says it'll continue to offer Sky Q for those who want to be able to retain recordings in that way. And it's not all plain sailing for Sky content either; if you want the extended highlights of a Premier League game, for example, you need to wait for it to be broadcast on Sky Sports and then appear on catch-up.
We've always found Sky's voice search patchy and while it's been improved in recent times, it's more noticeable here as it's the de facto way to search on Sky Glass – you can hold the voice button on the remote or use the Hello Sky command. Some programmes can be hard to find. Searching for 'Strictly' for example brings up Strictly Ballroom and the Strictly Come Dancing results show rather than the main programme. However, the programme is available elsewhere if you poke around.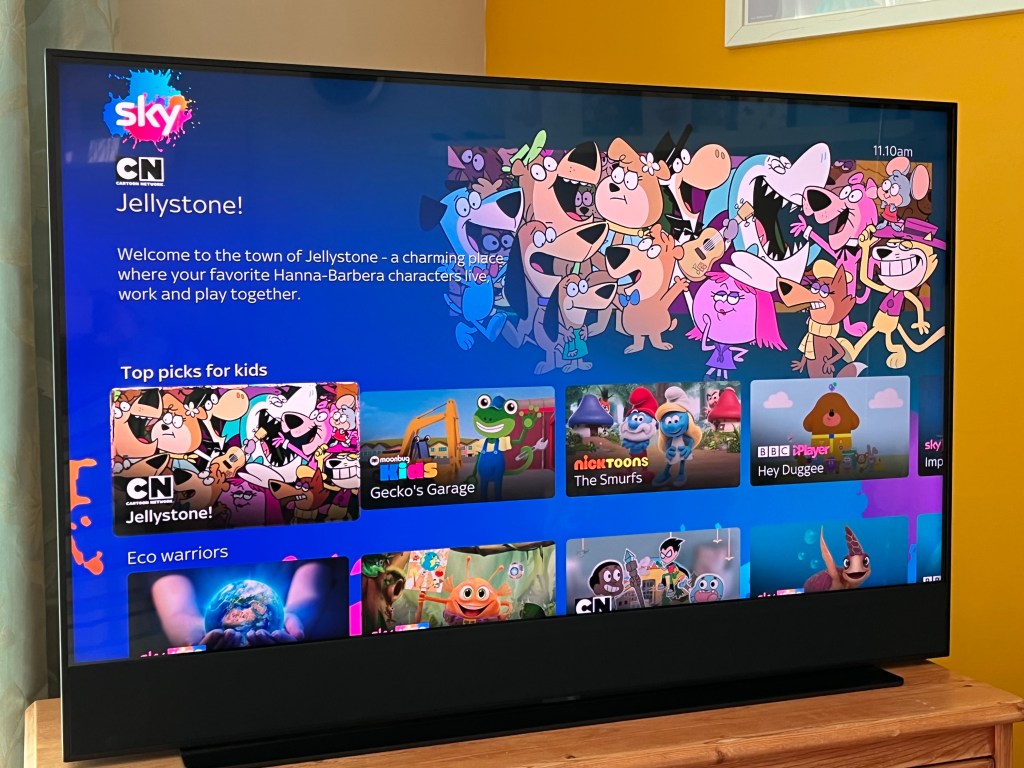 Sky Glass price and monthly cost
The elephant in the room with Sky Glass is cost – You can get Sky Glass from £13 a month on a 48-month interest-free deal and, while the subscription is welcome, you do ned a full Sky package to go with it. Sky Ultimate TV costs £26 a month and, while you get Netflix included, that means you're shelling out between £39 and £47 a month depending on what size you go for. And that's before you add the extra Sky Ultra HDR and Dolby Atmos pack for £5 a month – yes, that costs extra – or something like Sky Movies or Sky Sports. But if you're an existing Sky customer you'll know that things soon add up. However, new customers may get a bit of bill shock.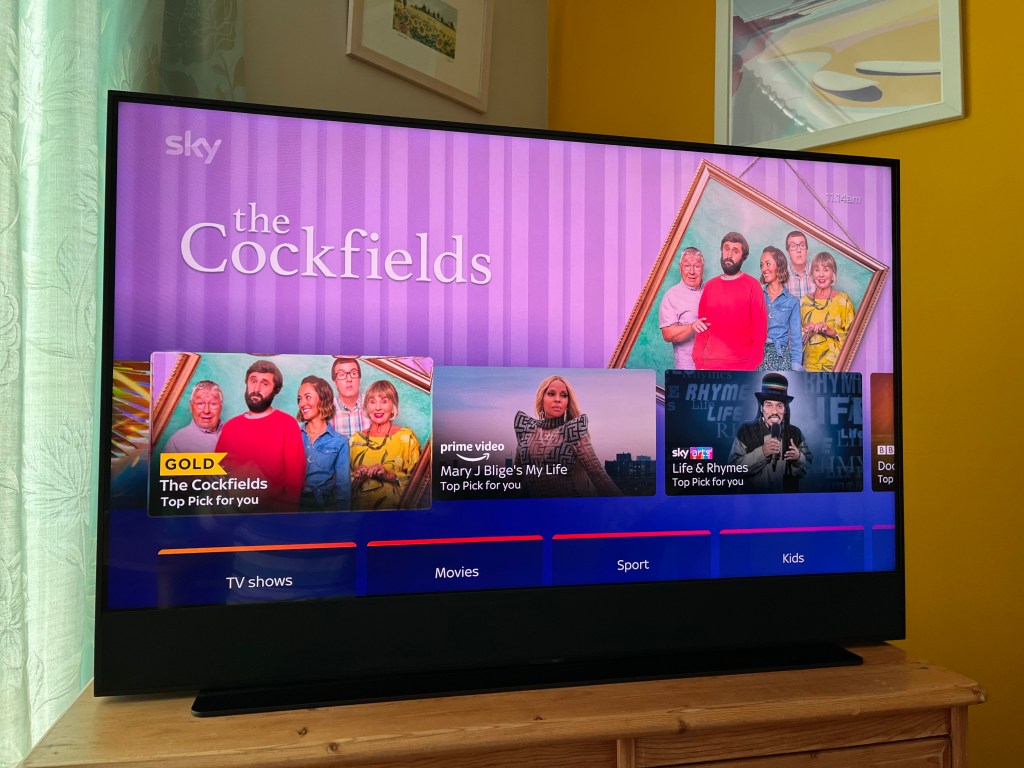 Verdict
There's no doubt that Sky Glass is a very good-looking TV indeed and Sky has certainly hit upon a great design even if some of the tech used isn't as good as say, a quality standalone soundbar or some of the best Quantum Dot displays.
But Sky is definitely ready to dump that dish – we expect a dish-free version of Sky Q soon. It's no Sky Q yet – we're probably a few years off that – but Playlist is a decent alternative to recording programmes while it's great having all your shows – tailored to you – in one place. The tweaked remote is nice to use although voice search remains a bit patchy. That needs fixing since Glass relies upon it.
And, of course, it's always worth noting that a full Sky subscription is already expensive and Glass will make it more so. If you've already got a decent Ultra HD 4K TV then Glass probably isn't for you.
Stuff Says…
The future of Sky is here – but not if you have a decent Ultra HD TV already. The subscription model is very appealing, though
Good Stuff
A great-looking package
Good sound for an integrated system
Tweaked remote is good, but too reliant on voice
Sky's user interface is significantly improved here
Bad Stuff
The costs for Sky still add up
Better picture quality out there
Some catch-up players give a poor experience
Sky Q still better for many
Tech specs
| | |
| --- | --- |
| Screen sizes | 43, 55, 65in |
| Type | 4K Ultra HD Quantum Dot |
| HDR | HDR10, Dolby Vision, HLG |
| Inputs | HDMI x 3, USB-C x , Ethernet, Wi-Fi 6, tuner for backup only |
| Sound output | Up to 215W (3x outwards speakers, 2x upwards, 1 x subwoofer) |