Philips Fidelio FB1 review: as Atmos-y as can be
Philips does what it does best - and refuses to change what it doesn't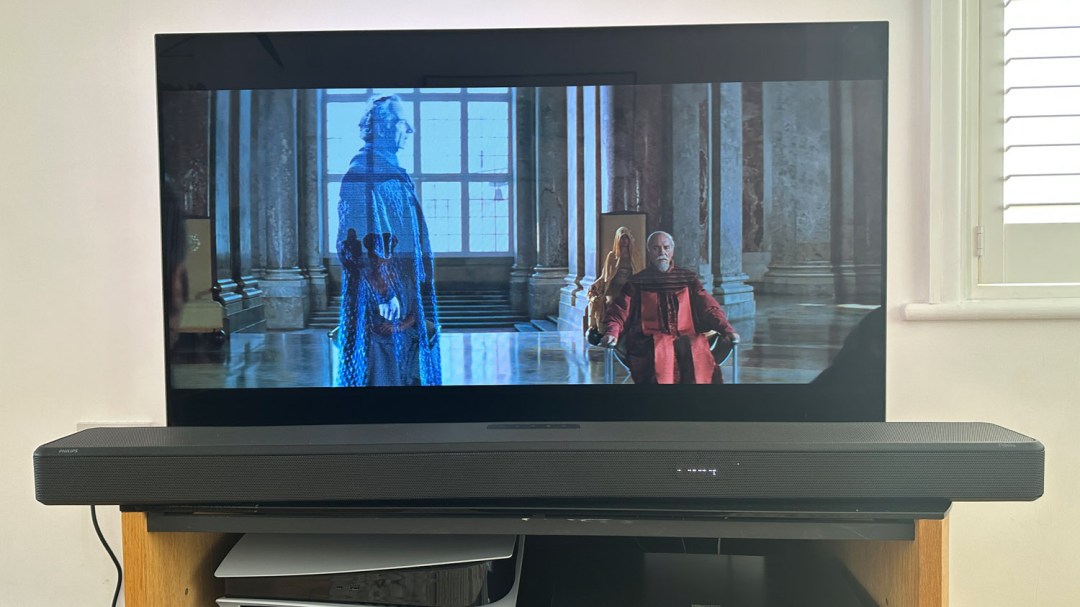 You're not short of choice when it comes to Dolby Atmos-enabled soundbars at the sort of money Philips wants for the Fidelio FB1. But soundbars that are trimmed with leather? That light up when Atmos content is detected? That need more than one control app to get them up and running? Those are in much shorter supply.
So what we need to know is: has Philips identified a gap in the market, or is the Fidelio FB1 an answer to a question no one is asking?
Design and build: long and leathery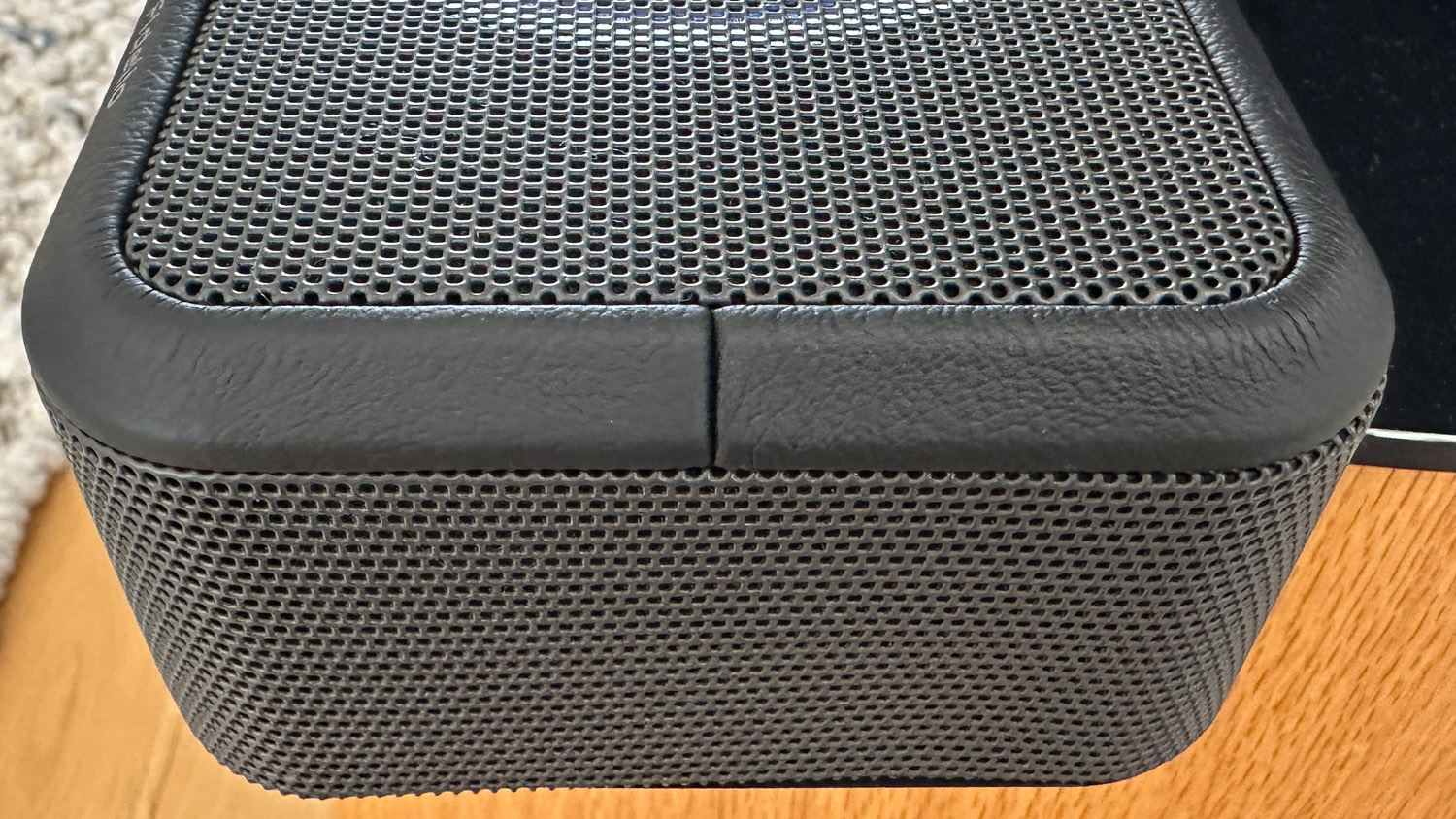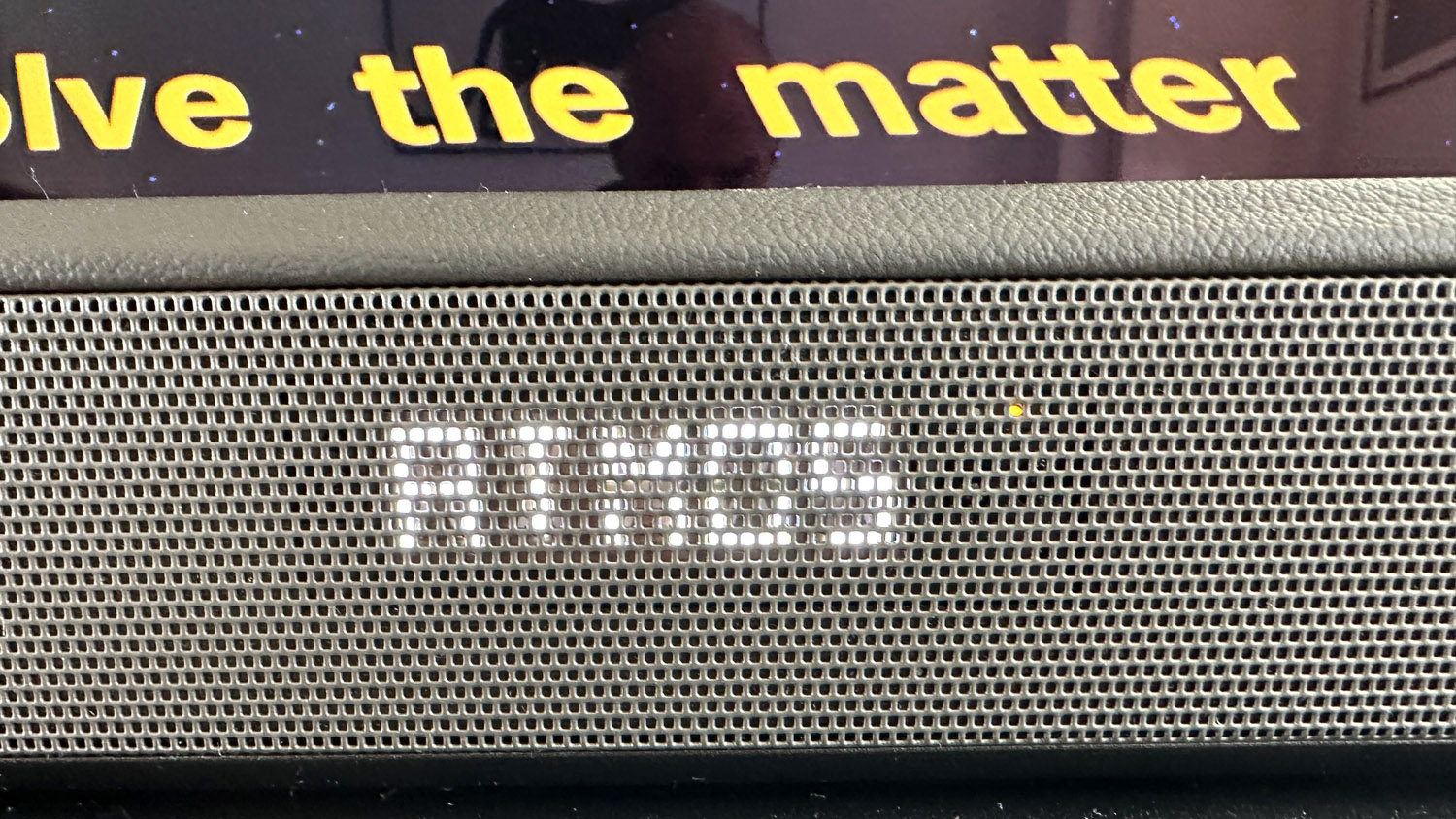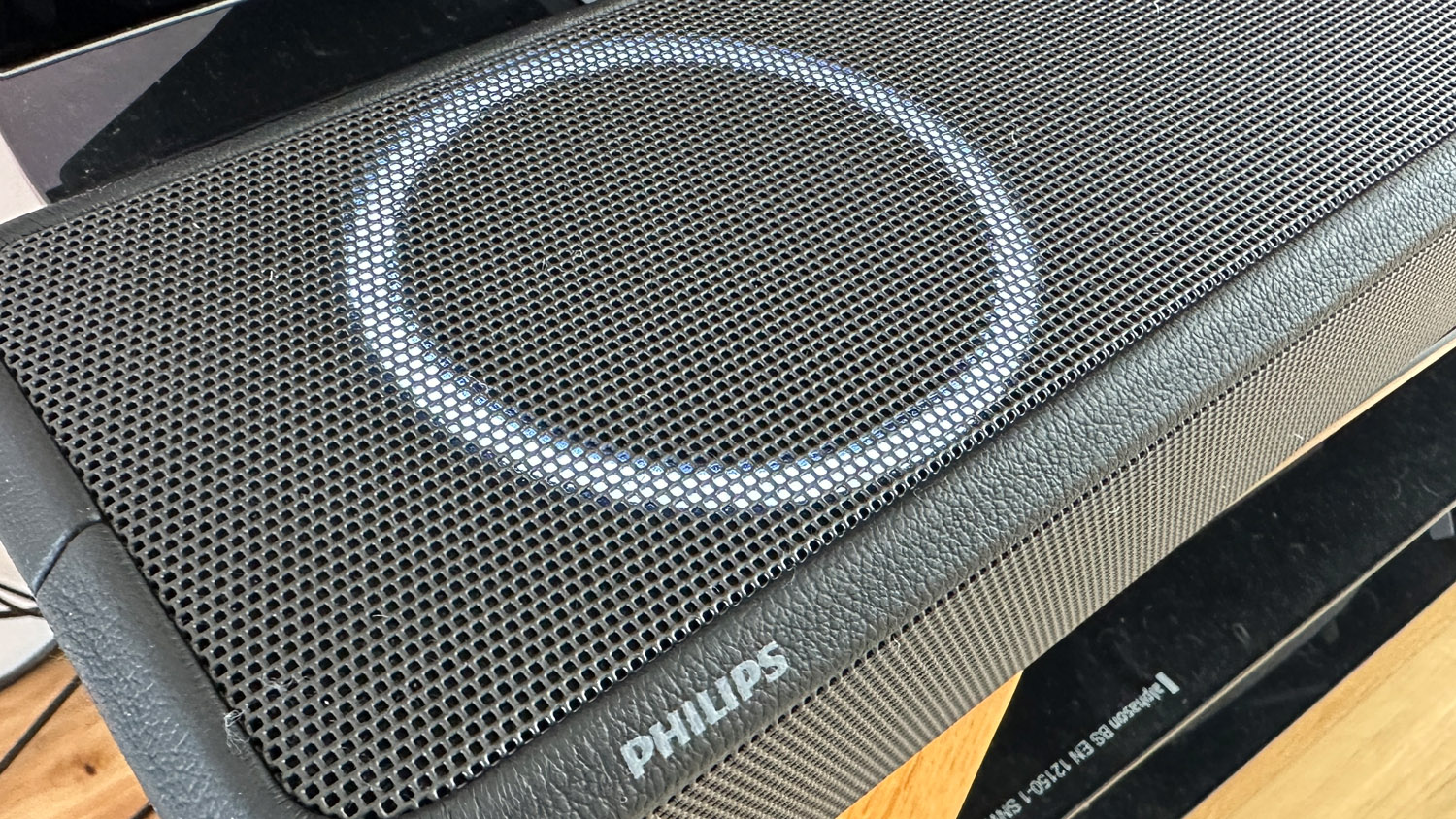 Unless you're Bang & Olufsen, there's not a lot to be gained by messing with the design of a soundbar. As long as it's big enough to hold all the necessary components, and as long as it's not too heavy to attach to a wall/doesn't get in the way of the bottom of a TV when sat on a stand, that's job done. Isn't it?
In the case of the Fidelio FB1 the answer is "yes and no". At 1200x120x73mm (WxDxH) it's most certainly big enough to contain even the numerous components Philips has included. It'll sit happily enough on its bundled wall-bracket without posing a threat to your plastering, at 7.2kg. And unless your TV sits very low on its feet, it shouldn't get in the way of your screen. But there's a bit more to the design of the FB1 than that.
After all, how many alternative soundbars can you think of that are trimmed around their top four edges with a quantity of sustainable leather sourced from a Scottish tannery? Exactly. None have circular lights surrounding their up-firing Dolby Atmos height-channel speaker drivers, either. Those lights can also be synced to mimic the glow of any Philips Ambilight TV the soundbar is connected to. These are differentiators and no mistake.
Otherwise, the FB1 is recognisably a soundbar. Where it's not leather, it's made from almost entirely high-quality, perforated metal. It's put together flawlessly and finished to an extremely high standard. Yes, it's so long that any TV of less than 55in is going to look a bit weird accompanying it – but then it's hardly the world's first massive soundbar. At least it keeps a fairly low profile, both literally and metaphorically.
Features: fifteen? Love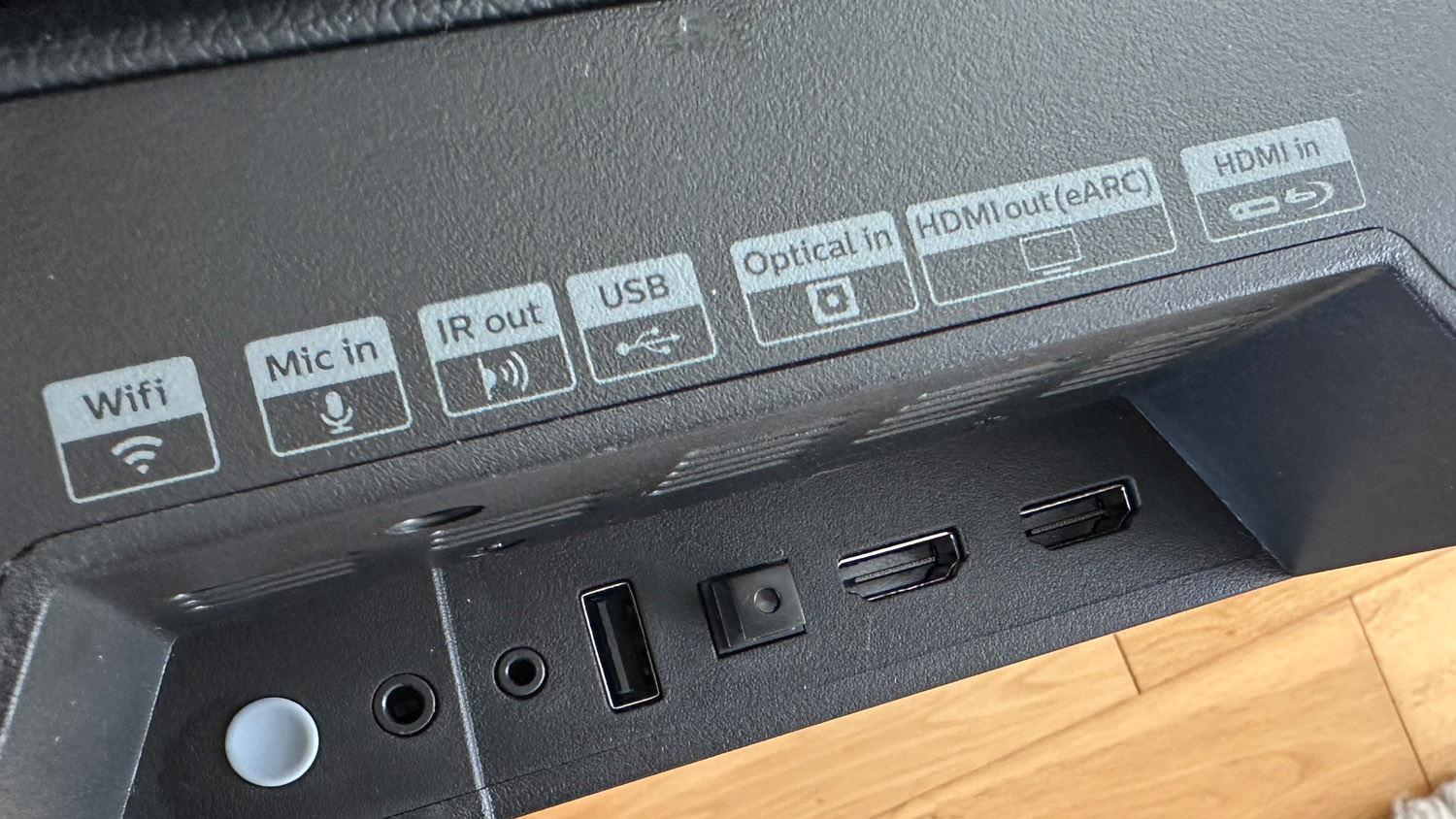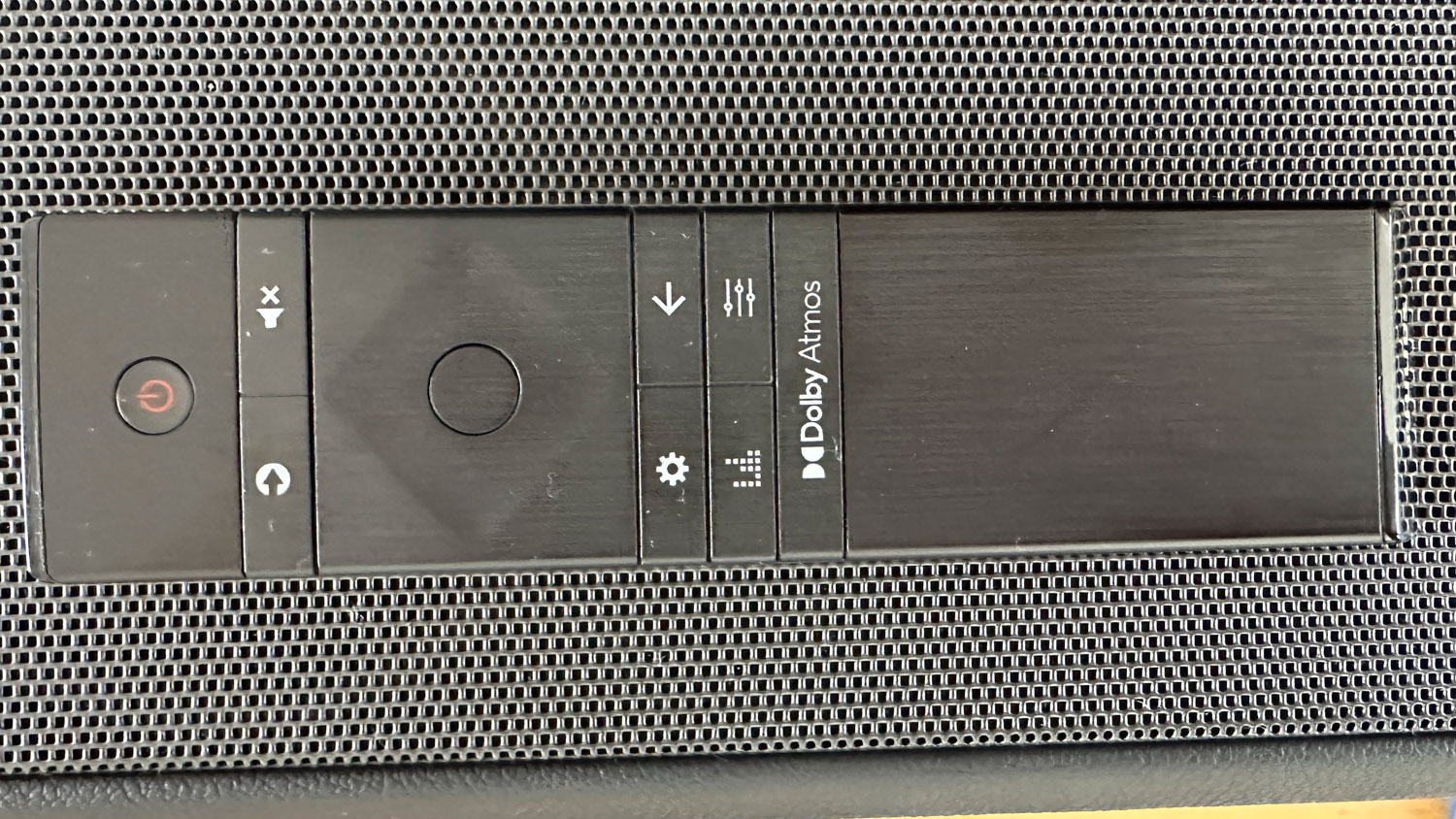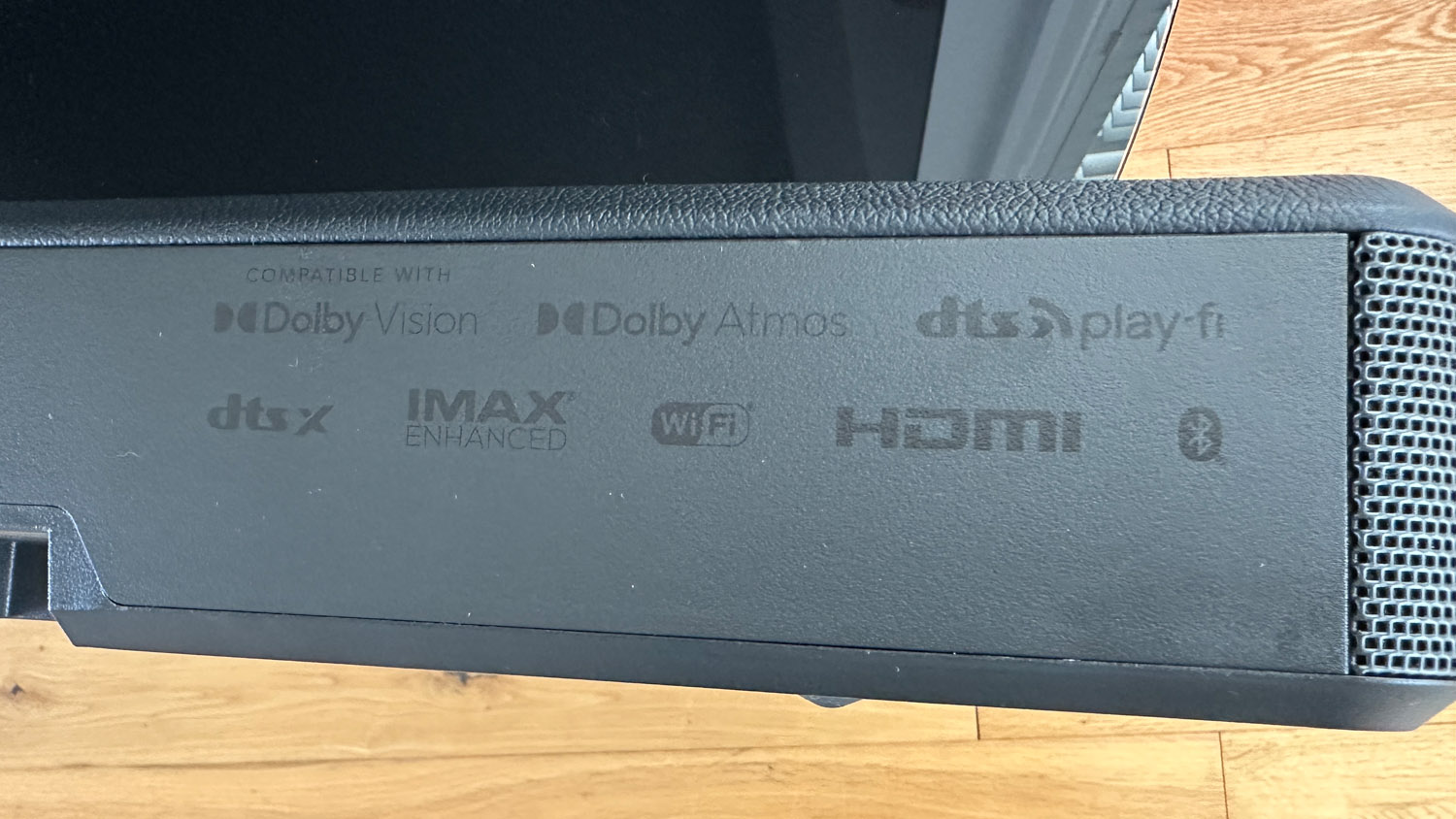 How many speaker drivers sounds realistic to you? Fifteen? Good. That's how many Philips has managed to cram into the Fidelio FB1. Doesn't seem quite so big now, does it?
The front three left/right/centre channels each comprise a 25mm soft-dome fabric tweeter with a 50mm midrange driver on either side – so there's nine drivers right from the off. Then there's a 63mm full-range driver at either end of the soundbar to create the sensation of sonic width, and two more of these drivers facing upwards from behind the metal grille that covers the top of the FB1. Also arranged on top, and each isolated in a discrete port enclosure, are a couple of 88mm bass drivers. Fifteen drivers, powered by a total of 310 watts of Class D amplification. These are numbers to be reckoned with.
By now some readers will have established this is a 5.1.2 -channel layout. Philips, though, is confident the FB1 can use its prodigious processing power to create 7.1.2 – channel sound.
Connectivity is covered off by Bluetooth 5.0 and dual-band Wi-Fi, with Apple AirPlay 2, Chromecast and Spotify Connect all available. Hard connections can be made using HDMI eARC, digital optical or USB-A sockets – there's also an HDMI passthrough, which is handy. It would be handier still, though, if it supported the ALLM or VRR aspects of a games console, rather than just 4K @ 60Hz. Also in the little recess at the back of the soundbar is a 3.5mm analogue input, for use with the calibration mic that's supplied in the box.
Obviously, Dolby Atmos compatibility is the headline. But the Fidelio FB1 is also able to deal with DTS:X soundtracks, and is IMAX certified too.
Interface: twice the apps = half the convenience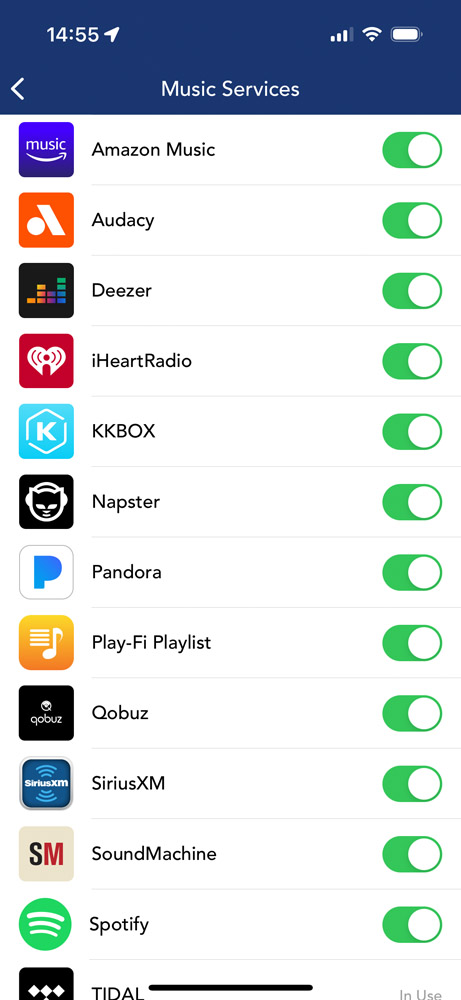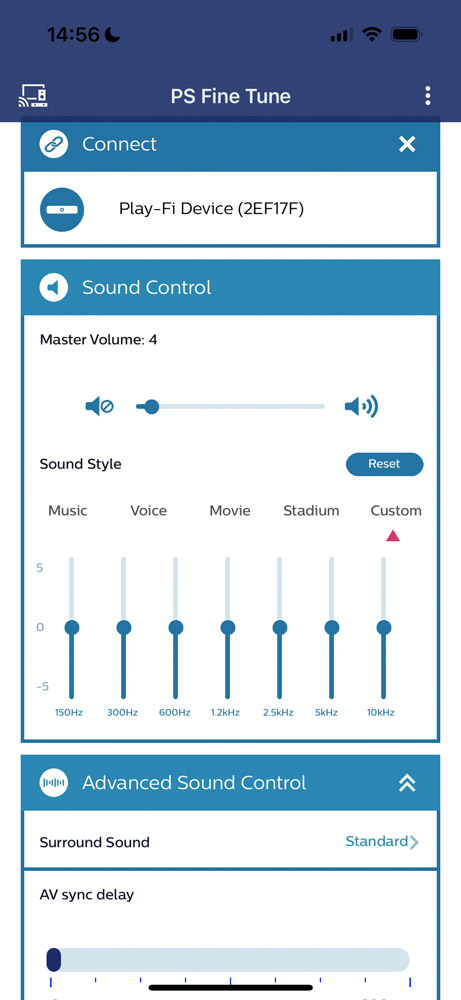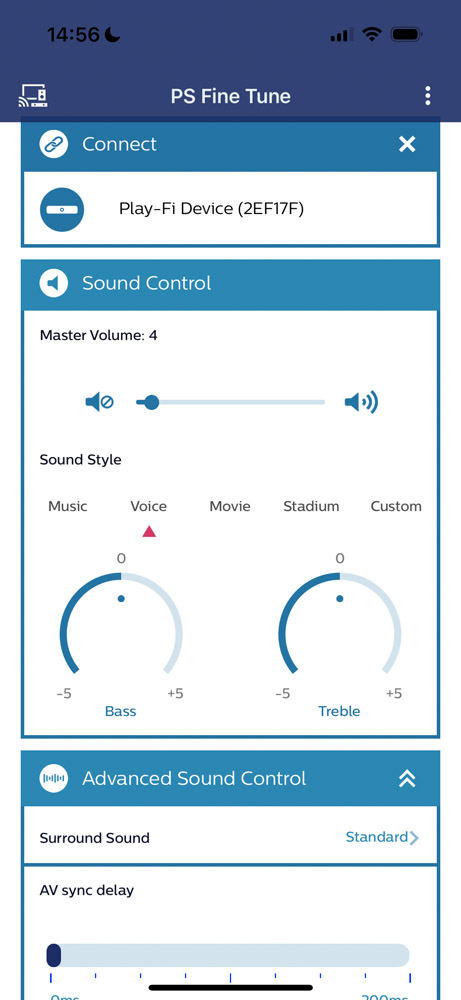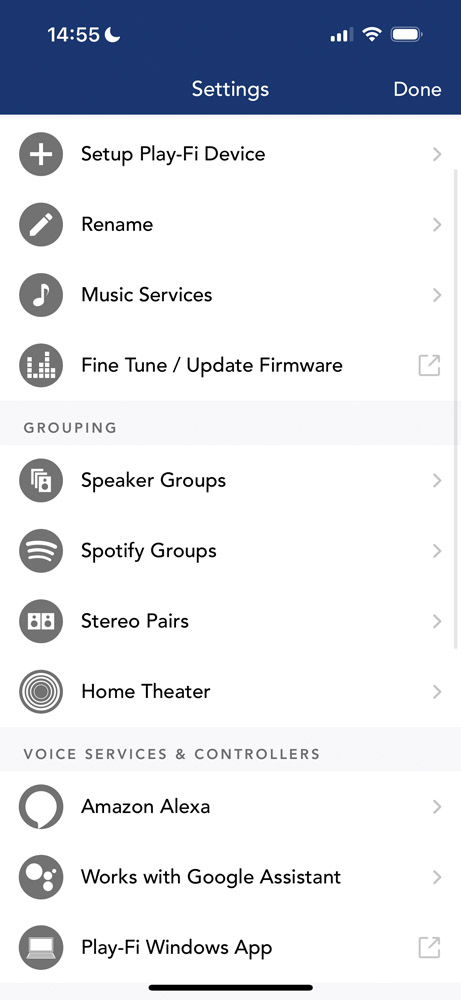 Here's where Philips proves beyond reasonable doubt that it's possible to have too much of a good thing. Ordinarily, having a remote control handset along with a control app and a facility with voice assistants would be an uncomplicatedly good thing. With the FB1, though, it's a rather double-edged sword. At least interactions with Amazon Alexa or Google Assistant are straightforward enough. It's the other bits that are slightly perturbing.
You need two control apps to get the Fidelio FB1 set up to a point you might be satisfied with – which, we can all agree, is one too many. The 'PS Fine Tune' app, broadly speaking, takes care of sound – it's where you can choose between EQ presets ('Music', 'Voice', 'Movie' or 'Stadium', each with bass and treble adjustment). You can also define a 'Custom' setting using a seven-band EQ, trim the volume level of each of the FB1's individual audio channels, and access the mic-assisted calibration routine.
'Philips Sound', meanwhile, is a strongly DTS Play-Fi -centric app which lets you connect the soundbar to appropriate wireless rear speakers and/or a wireless subwoofer to build a true multi-channel audio system. It lets you incorporate the FB1 into a multi-room system, too, as well as letting the speaker system fitted to a suitable TV join in with, rather than be overridden by, the soundbar. It even lets you integrate your favourite music streaming service(s), so the Fidelio FB1 can easily become a music speaker too.
Quite why all of this can't be taken care of by just one app is anyone's guess. Philips says the two will be combined into a single app sometime soon – but we are not holding our breath here.
Still, at least it's obvious what each of the control apps is attempting to do. The little remote control handset that's supplied with the FB1 doesn't have many buttons, but it's far from obvious from their labels what it is they're supposed to do. Except for the volume control buttons, that is – they're not labelled at all. So really we should be thankful that the top of the soundbar has some physical controls which are easy to understand.
Performance: deftly hefty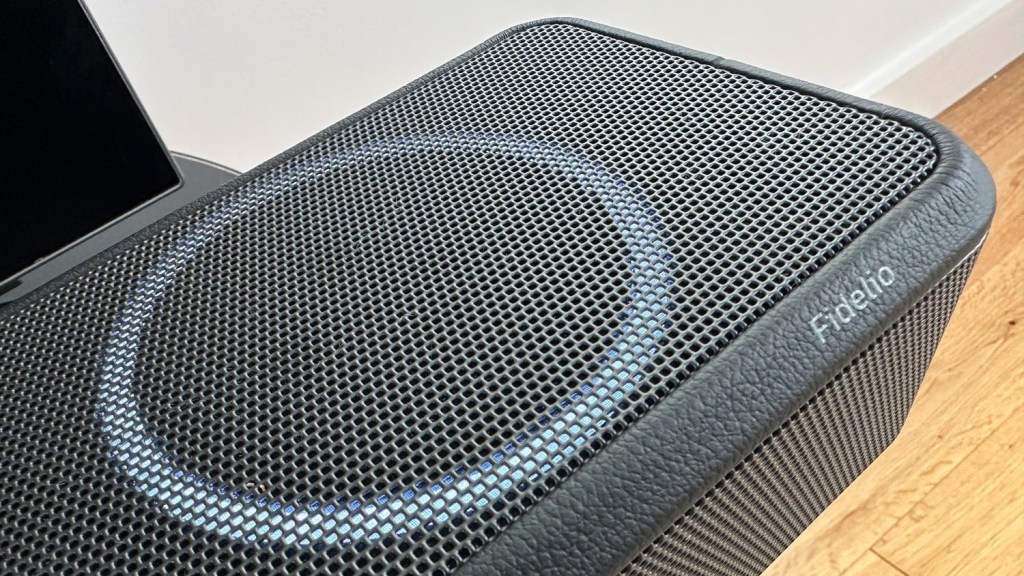 Let's cut to the chase – give the Fidelio FB1 a native Dolby Atmos soundtrack to deal with, no matter if it's the uncompressed audio on a 4K UHD Blu-ray of Dune or the compressed equivalent on a Disney+ stream of The Phantom Menace, and it's an impressive and periodically absorbing listen. The soundstage it creates is deep, and wide, and tall – and it can steer effects around these three planes with real confidence. Focus is solid, positioning is obvious – and as a result the FB1 is a convincing and quite enveloping listen.
For a soundbar without an off-board subwoofer it has proper depth and punch to its sound. Bass is also controlled well, though, so the Philips is no blunt instrument – it has speed and momentum to the bottom end, and when playing music (at which it is equally adept) it expresses rhythms well. Add in impressive levels of detail regarding texture and timbre, and the FB1 is a deftly hefty low-frequency listen.
It's similarly accomplished in the midrange. Dialogue is alive with the finest and broadest details alike, projects well ahead of any distractions elsewhere in the frequency range, and has more than enough potency to make a speaker's character and motivations plain. There's a directness and positivity to the way the FB1 handles the midrange that makes it a convincingly cinematic listen (as well as very easy to follow).
There's more than enough dynamic headroom available to drive the FB1 to antisocial levels when the on-screen action demands it – even if you're listening at significant volume already, when the soundtrack ramps up the Philips ramps up right along with it. But it's also subtle enough to make the spaces and silences that some soundtracks thrive on carry just as much weight and significance as the sounds themselves. It's capable of letting you hear a pin drop if the soundtrack requires it.
It's at the top of the frequency range that problems – such as they are – can be found. Despite its great number of speaker drivers, the Fidelio FB1 has no problem creating a smooth and unflustered journey from the bottom of the frequency range to the top – but once it's up there, the FB1 alters its tonality and not in a good way. Treble sounds are never less than brash, and there's a brightness to the way the Philips describes the top end that doesn't encourage louder listening. Yes, one or other of the control apps will let you back off the treble response – but it only gets quieter, not any less edgy.
Philips Fidelio FB1 verdict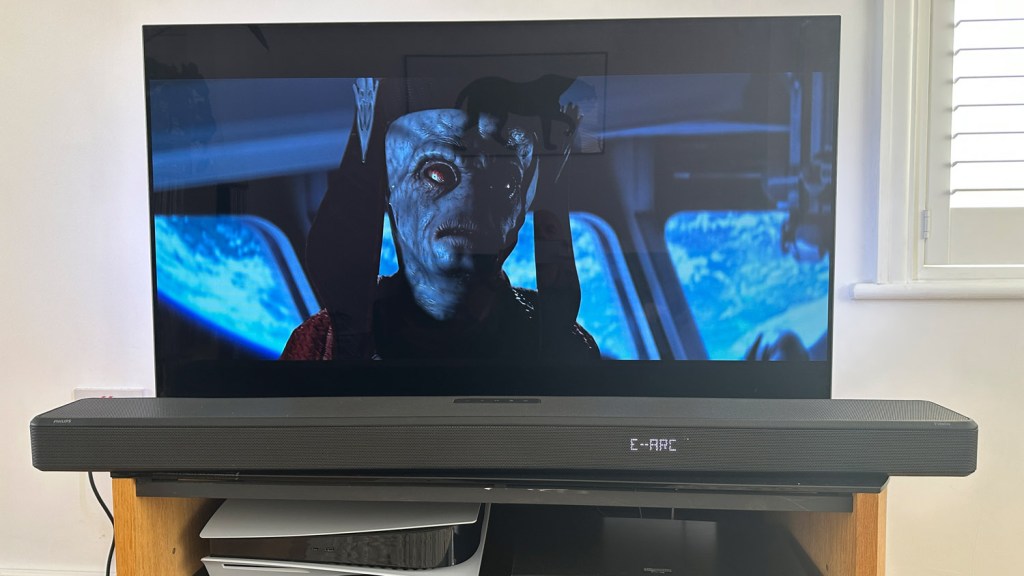 In some ways the Fidelio FB1 is such a typical Philips product it's almost the company is trolling its users. But way too many set-up options, way too many user interfaces, and a finish that will alienate vegans shouldn't detract from the deeply impressive spatial audio performance that's on offer here.
It shouldn't, but it might.
Stuff Says…
Ignore (if you can) all the apps and the oddball remote control, and you're left with a great-sounding soundbar for movies and music alike
Good Stuff
Big, expansive and engrossing sound
Impressive low-frequency presence
Well made and nicely finished
Good connectivity
Bad Stuff
Slightly edgy and bright high frequencies
Hopeless ergonomics
Not suitable for vegetarians