The Stuff Gadget Awards 2022: AV products of the year
We reveal our top TV gadget – plus 2022's best soundbar bar none
With streaming services becoming the preferred viewing method for more and more of us, the way we watch TV may be in the middle of a sea change – but the tech that enhances our telly-watching experience isn't a whole lot different than it was a decade ago. Streaming boxes and soundbars are the name of the game here, and we've run the Stuff rule over more than our fair share of them in 2022. It's not been an easy task to pick out our favourites, but after much deliberation, here they are. Are you sitting comfortably?
TV gadget of the year: Sky Stream
Sky without the satellite dish? Don't mind if we do. It's been a long time coming, but Sky Stream gives you the best of Sky's TV without the need to fix any unsightly apparatus to your house. In fact, at roughly the footprint of a beer mat it's extremely low impact even for the smallest of flats, and as long as you have a decent broadband setup (Sky recommends at least 10Mbps) you're able to access all the goodies Sky Sports, Sky Cinema, Sky Atlantic et al have to offer, not to mention streaming services like Prime Video, Disney+ and Netflix.
Dolby Vision, Dolby Atmos and 4K are all supported where available, making this a bit shinier and crisper than Sky's own Now streaming service (which is limited to HD and 5.1 surround sound). All in all, we reckon this puck may be the best way to watch Sky TV around – and this is only the first-gen model. So we'd expect Sky Stream to get even better in the future.
Highly commended: Apple TV 4K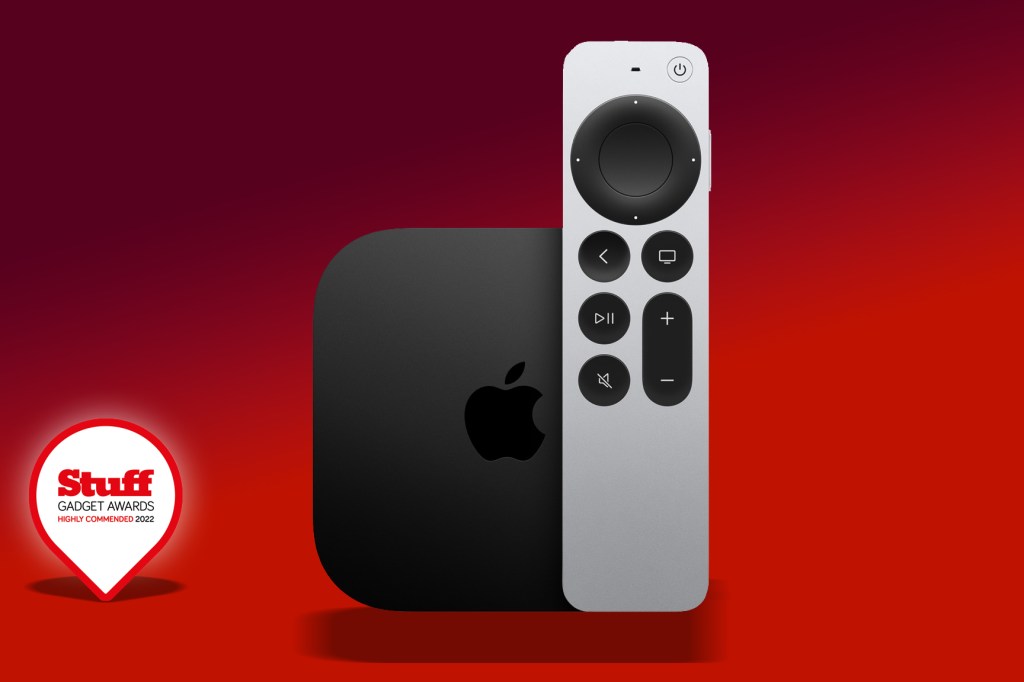 The Apple TV has always been an excellent product, but this has been tempered by a high price. However, for many Apple fans, it's a price worth paying since the simplicity of tvOS and ease of AirPlay mean it's the best TV-based accompaniment to Apple devices. This year's update brings more power in the form of the A15 Bionic and the HDR10+ support in addition to Dolby Vision, HLG and standard HDR10 . The remote also now charges via USB-C. In short though, it remains the best streamer out there.
Also shortlisted: Amazon Fire TV Cube
We were also impressed by the Fire TV Cube, Amazon's powerful box of delights that not only offers 4K HDR streaming and Alexa, but also works brilliantly (in our experience, anyway – your mileage may vary) as way to get voice controls onto any TV.
Soundbar of the year: Denon Home 550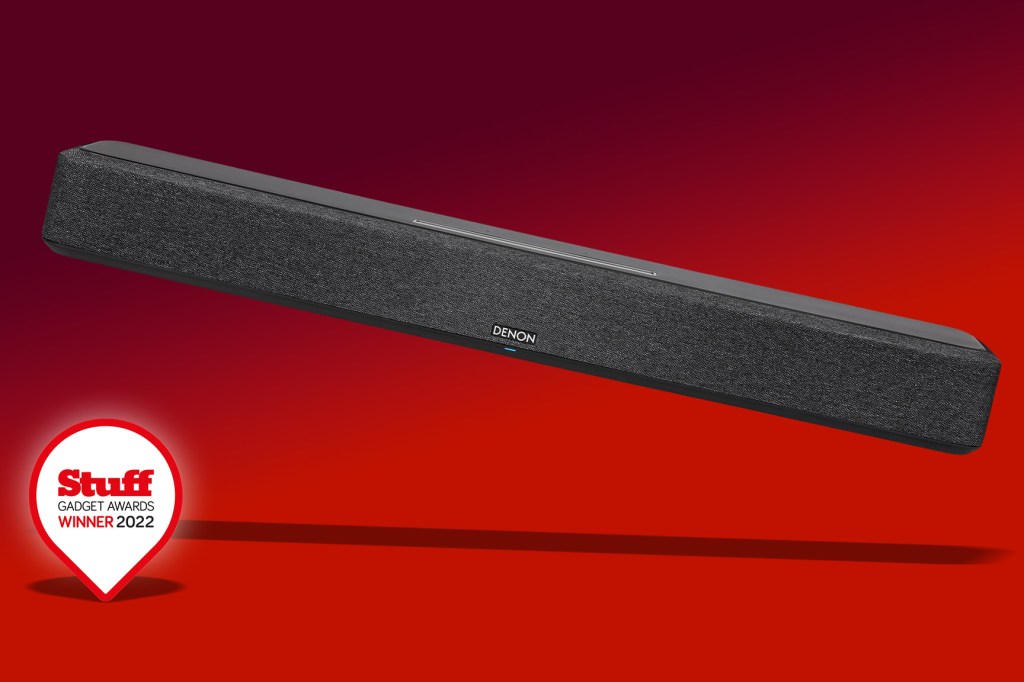 Not everyone has the space or taste for plonking a massive soundbar under their TV, but the Denon Home 550 is proof positive that compact alternatives don't have to sound weak and bloodless. This 'bar is a mere 65cm wide and 12cm deep, meaning it doesn't hog much cabinet space, but at reasonable volumes its audio performance is suggestive of a larger, weightier device. It doesn't fare quite so well at loud volumes, losing much of its composure, but that's perfectly acceptable: this is a speaker designed for everyday use, not for house parties and riotous movie screenings. Dolby Atmos and high-resolution music support are on board too, making the Home 550 a relatively compromise-free compact soundbar when it comes to audio specifications.
With a solid range of connections, Amazon Alexa bringing the voice controls and an attractive design that'll seamlessly blend into any home, we have no hesitation in declaring this our favourite soundbar of 2022.
Highly commended: Devialet Dione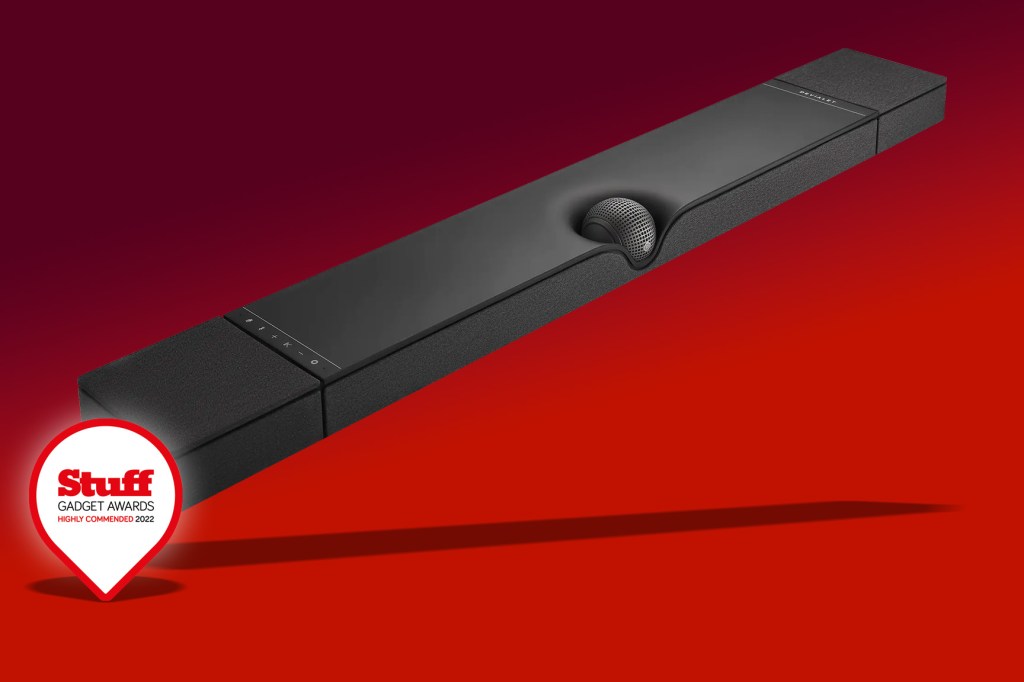 The Dione takes an entirely different approach to the Denon Home 550. Devialet's first effort at making a soundbar, its design is big and brash – a marked difference from the compact and discreet Denon. It's also about four times the price (£1990) and unashamedly bold when it comes to delivering its sonic payload. 950W of amplification power an array of 17 drivers to serve up a wide, tall and forceful Dolby Atmos sound that left us hugely impressed. Weird? Yes. Wonderful? Undoubtedly.
Also shortlisted: Sonos Ray, Bowers & Wilkins Panorama 3
The entry-level Sonos Ray is a beautifully designed, easy to use model that's small enough to suit even the tiniest TV, while the decidedly not entry-level Bowers & Wilkins Panorama 3 is the British company's most well-rounded soundbar yet, and a great performer when it comes to music as well as movies.
About The Stuff Gadget Awards
The Stuff Gadget Awards are where we reward the best tech we've seen during the year with gongs that celebrate their status as the cream of the gadgety crop. Read more about The Stuff Gadget awards.