Sky Stream review: Ding, dong the dish is dead
Sky's long-awaited dish-less offering can now be plugged into any telly. Is this the end of an era for satellite TV?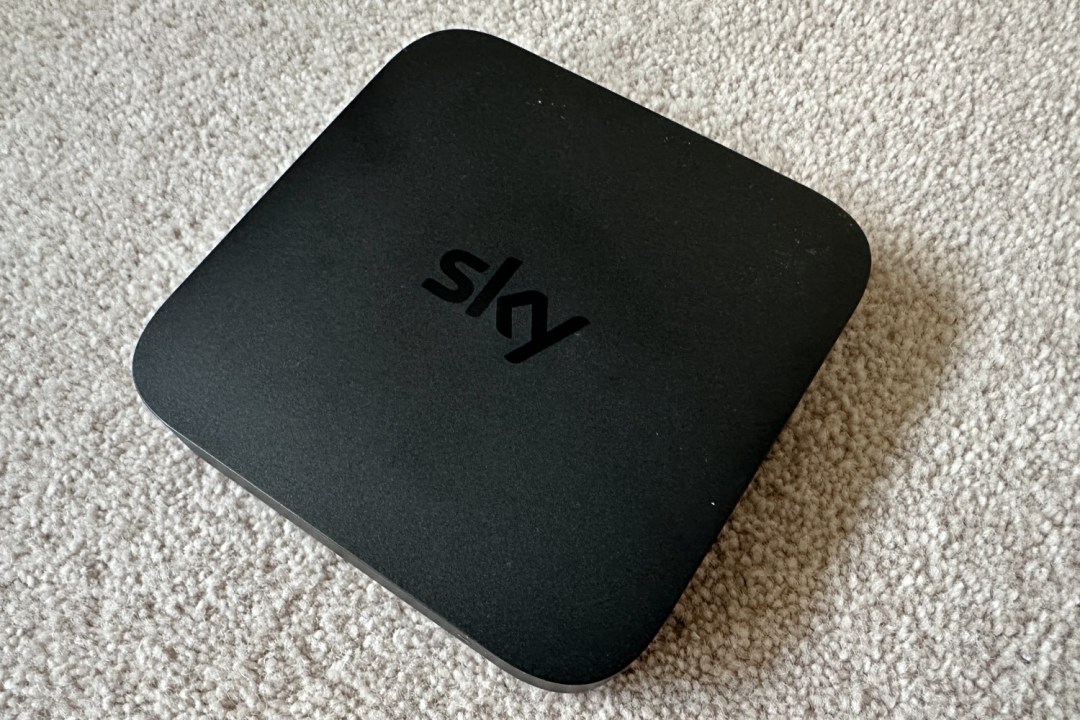 Like Ant and Dec, Sky TV and satellite dishes have come as a pair since the early '90s – but when Sky Glass was launched last October, a new way to watch House of the Dragon, Curb Your Enthusiasm, and the week's biggest Premier League football was born. Sky Glass ditched the dish and went internet-only, but didn't solve the problem for those who already owned a perfectly good telly. Sky Stream does.
This little puck, which offers the full Sky TV experience over Wi-Fi (or ethernet), has been a long time coming.
The very least you'll spend on a Sky Stream subscription is £26 per month, plus £20 upfront, but that requires an 18-month contract. Opt for the 30-day rolling subscription and the monthly charge jumps to £29 – and you'll have to pay £40 for the box. Check out all the Sky Stream deals.
This gets you the slightly misleadingly named Sky Ultimate TV, which includes the basic Sky channels such as Sky Atlantic, Comedy Central, MTV and all the main Freeview channels, but not Sky Sports or Sky Cinema, and the more accurately named Netflix Basic (normally £6 a month), which, as of 3 November, will be limited to 720p. The more channels you add the pricier it gets, but it's up to you how much you want to spend – and it does work out cheaper than Sky Q.
So is this the box telly addicts in flats and rented accommodation have all been waiting for? Or does the lack of a hard drive mean you're better off sticking with the odd Now subscription? We spent a week in front of the telly to find out. 
This review was originally posted on 28 October 2022.
Design: Compact as puck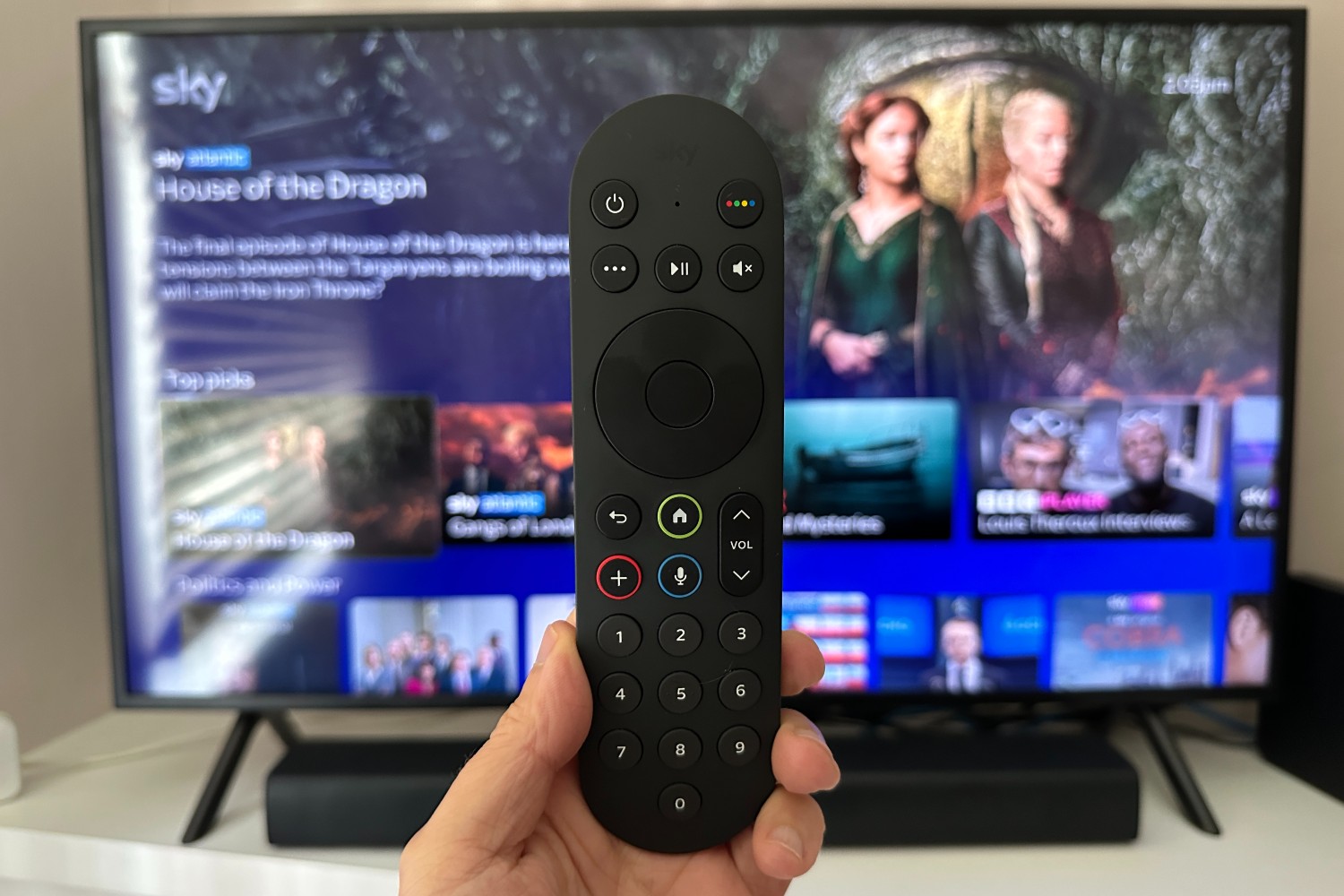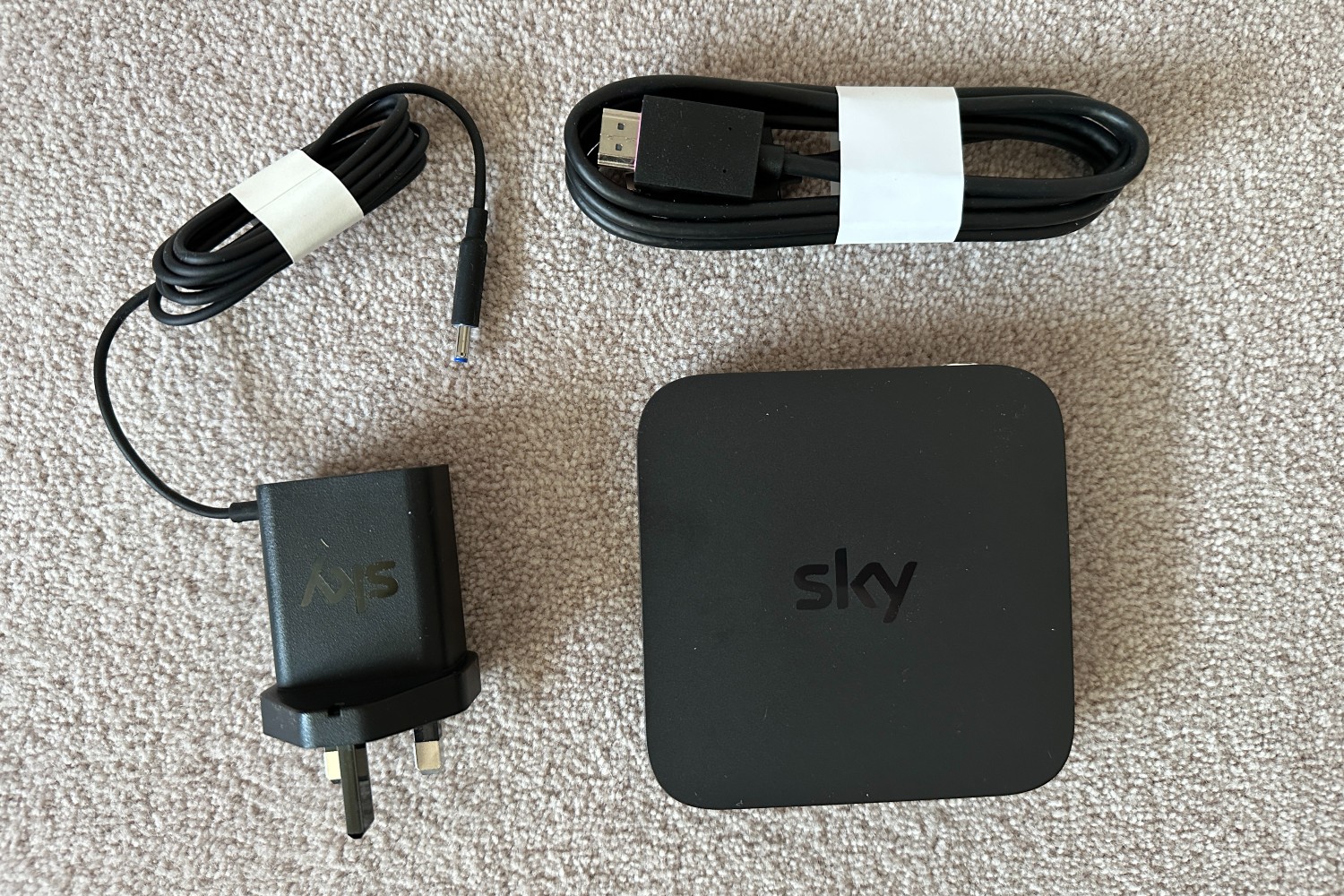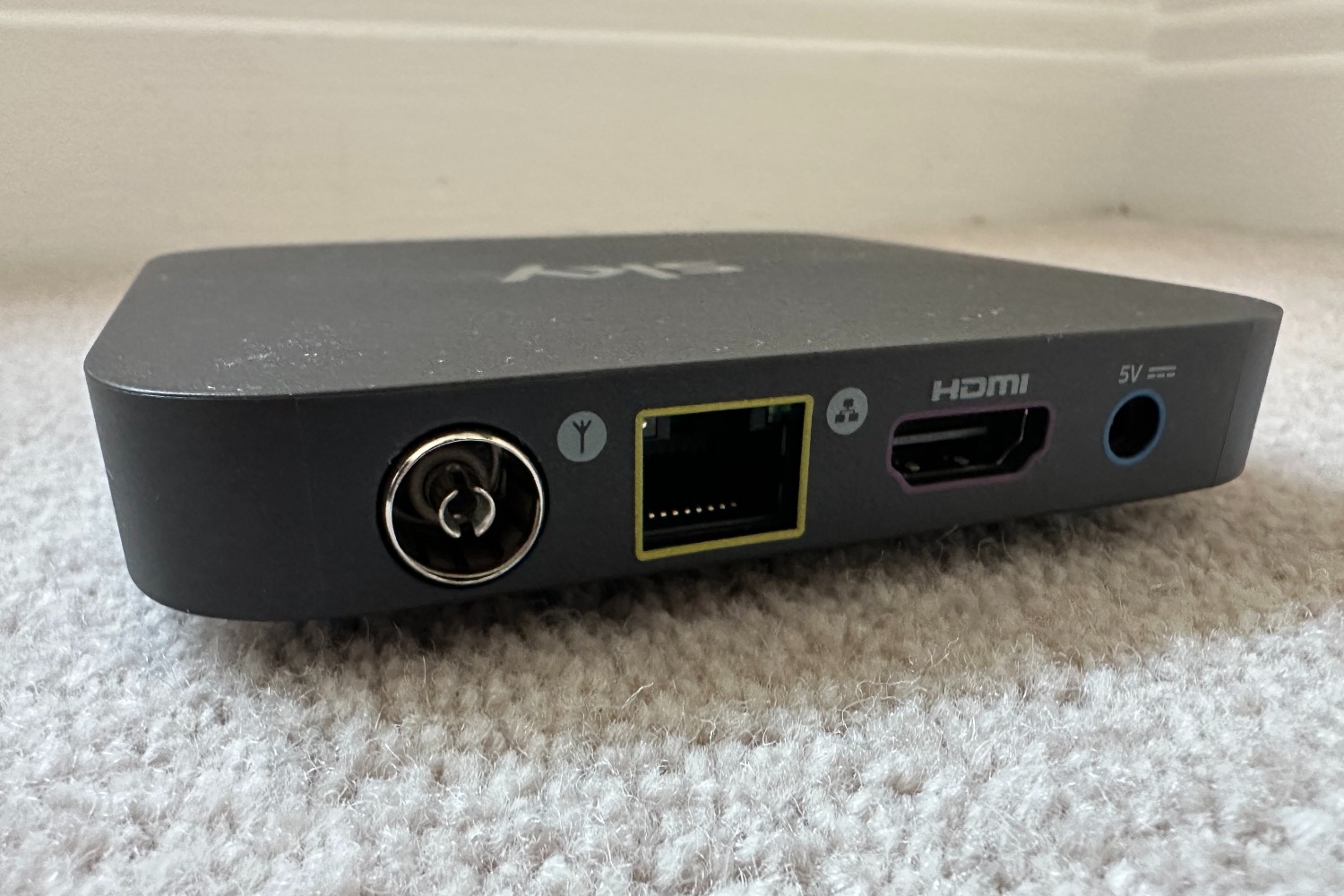 If the space under your telly is already clogged up with a soundbar and games consoles from various eras, you might worry whether there's space for yet another box. But with the footprint of a drinks coaster, a Stream puck should be able to fit into even the most crowded cabinet. In fact, it looks not unlike an Apple TV box, just a bit flatter.
Squeezed into the back you'll find the the power socket, an HDMI port, ethernet, and an aerial input, although this isn't used to receive terrestrial broadcast channels – like the rest, they're all streamed over the internet – so it's not really clear what it's doing there.
The remote is identical to the one you get with Sky Glass – a sleek, smooth-to-the-touch zapper that lights up when you use it in the dark. It strikes a nice balance between functionality and simplicity, with buttons to add things to your Playlist, activate voice control, and quickly navigate the Stream puck's Entertainment OS, although it'd be nice to have a button that takes you straight to the EPG. If anything, it's the numeric keypad that feels least useful, like a throwback to the old Sky+ days when everybody had their favourite channel numbers memorised.
Setup and interface: Are you not entertained?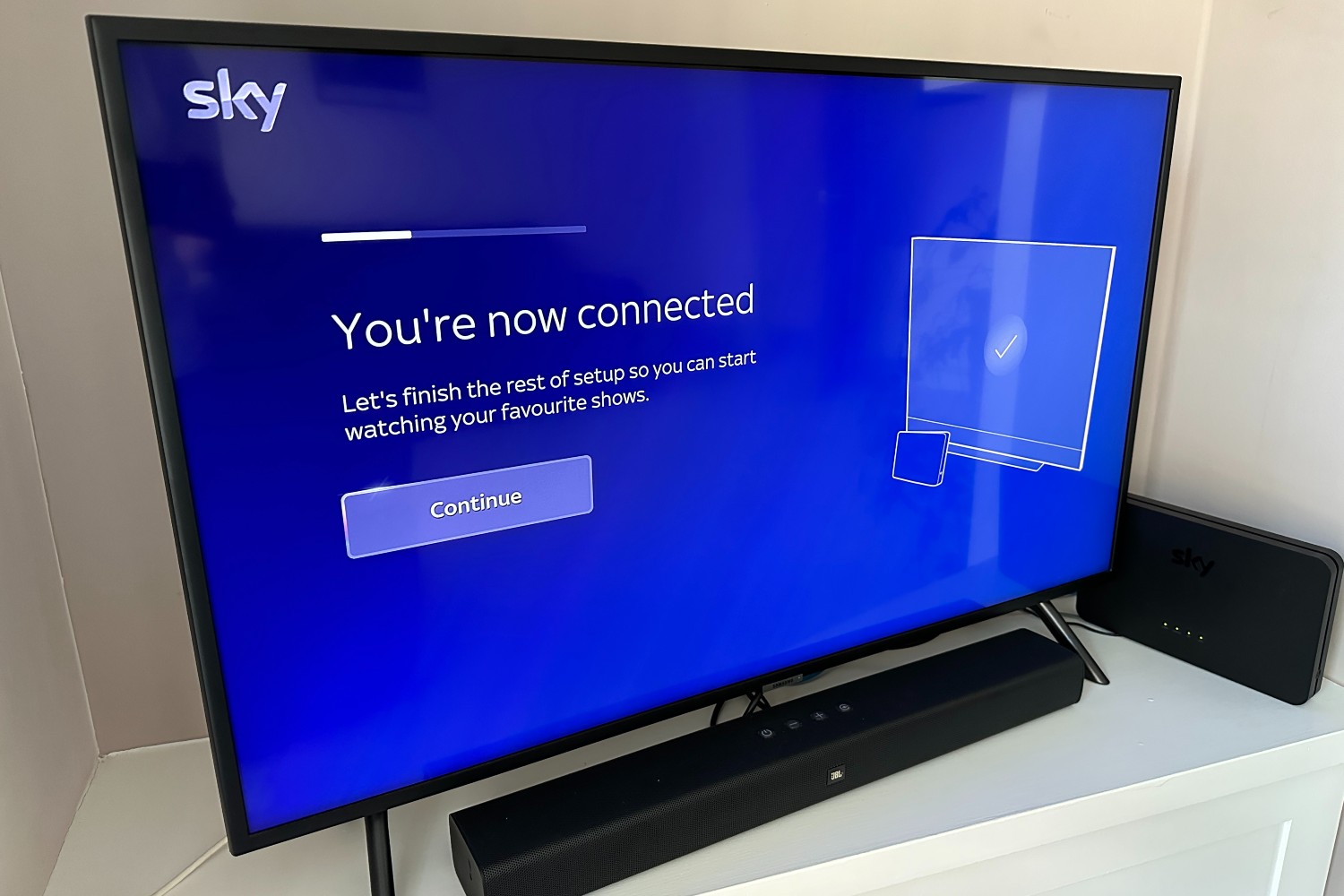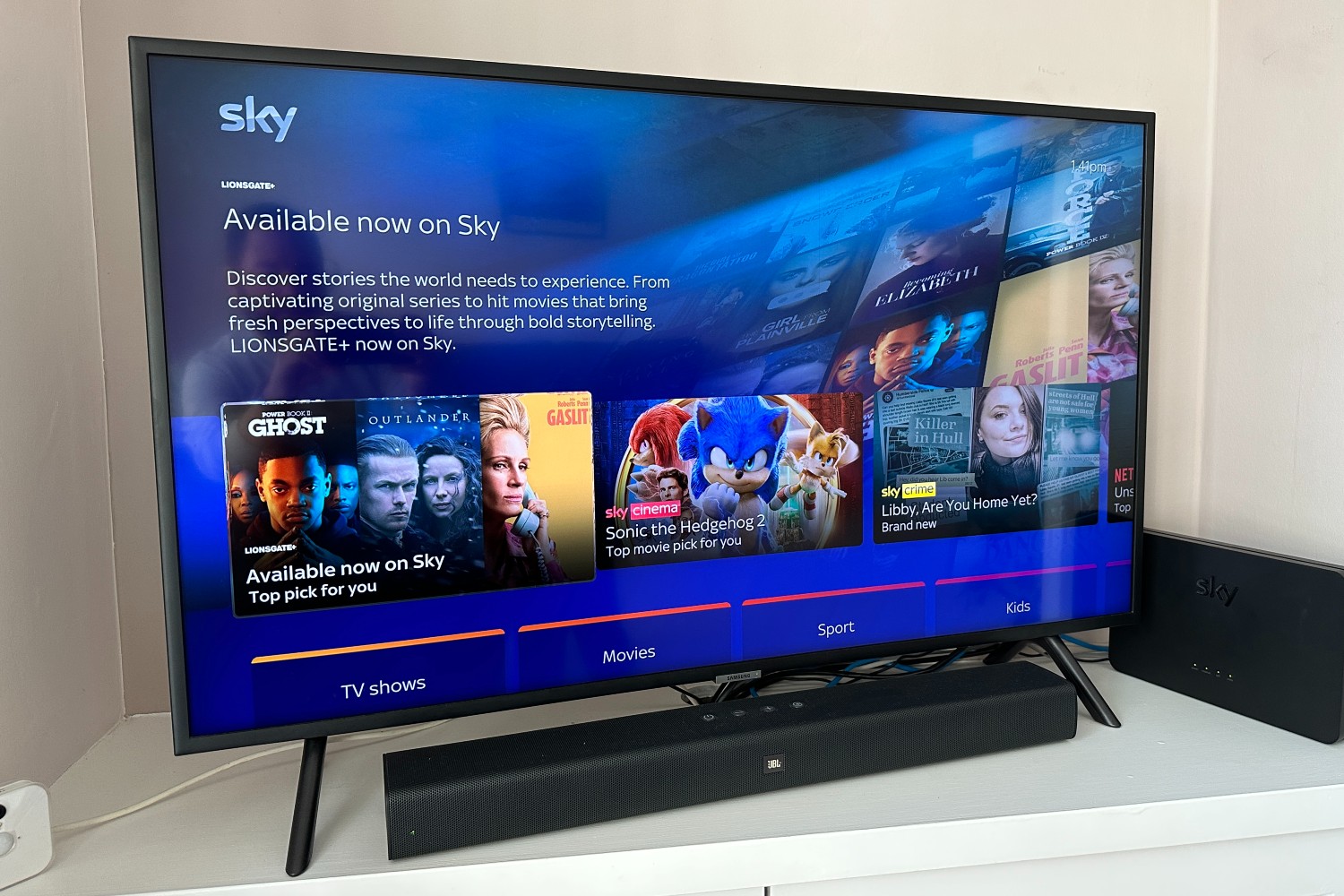 Once you've plugged your puck in there are just a few steps before you can start watching TV, but the whole setup process takes just a few minutes (less if you use ethernet and don't need to input your Wi-Fi password).
At the top of the home screen you get recommendations and shortcuts to recently viewed apps and channels, with a set of buttons underneath to jump straight to hubs for TV shows, movies, sports and such like. Below that you can see what's currently showing on the main terrestrial TV channels, or click through to see a full TV guide.
A bit further down you'll find your Playlist, which functions like a hybrid of the watchlist on a regular streaming service and the recordings menu on a more traditional hard-drive recorder such as Sky Q. The Stream puck has no built-in storage, but if you add an upcoming show to your playlist many can be recorded in the cloud, allowing you to watch it back as if it's live rather than accessing it via catch-up. It's not perfect, and can be a bit unclear at times, but it generally does the job.
While the interface collects together content from various third-party providers such as Disney+, Amazon Prime et al, choosing to watch something from one of them will still fire up the individual app, so the whole process isn't quite as seamless as it appears. Some of these apps are nicer to use than others – we're talking about you, ITV Player – but that's hardly Sky's fault. It'd also be nice if there was a way to hide suggestions from services you don't subscribe to.
On the whole, the UI doesn't feel quite as instantaneous as we'd like and channels take about four seconds to load, which certainly isn't as snappy as a standard TV tuner, but unless you're incredibly impatient it's not something that'll spoil your experience.
Features: Channel hopping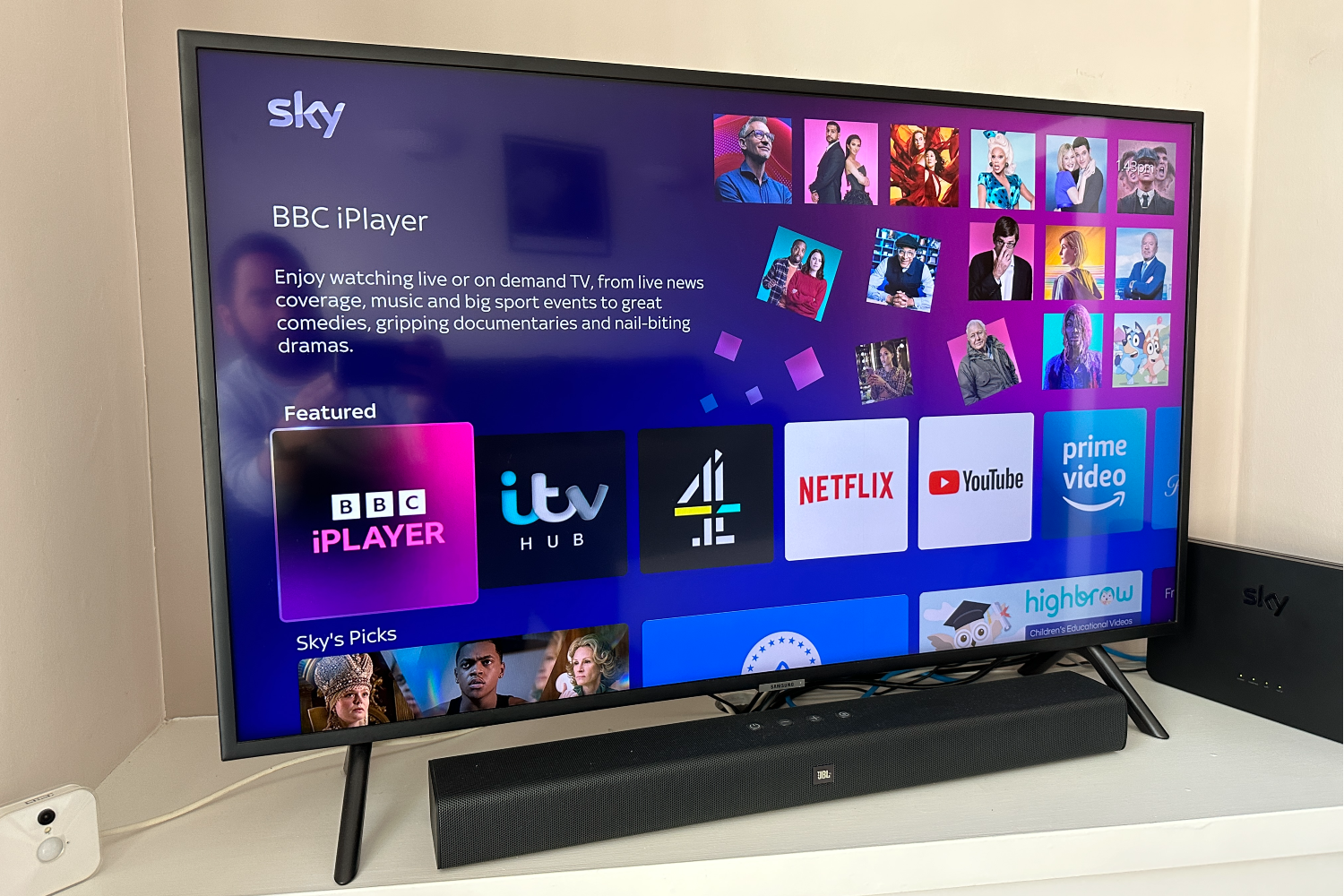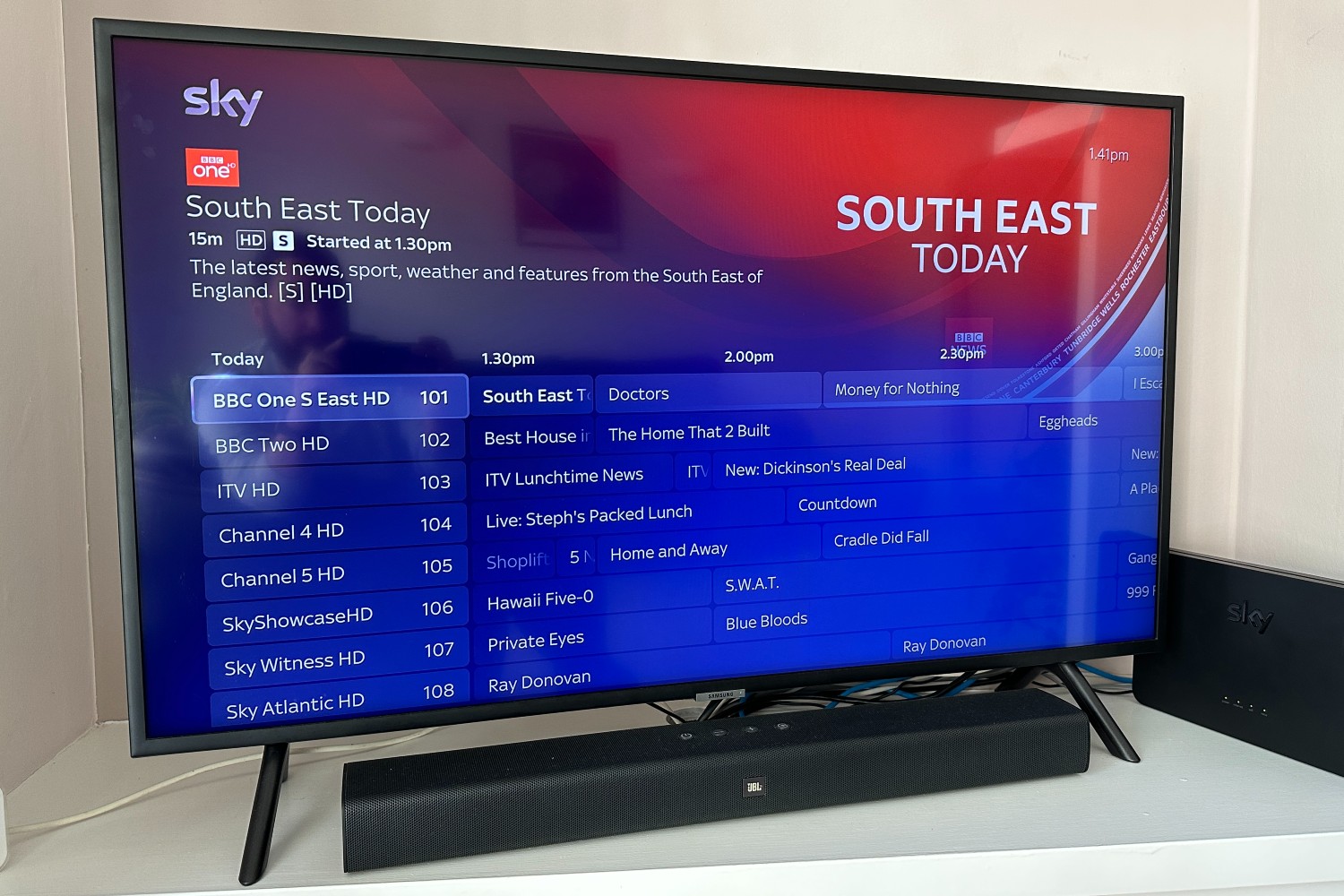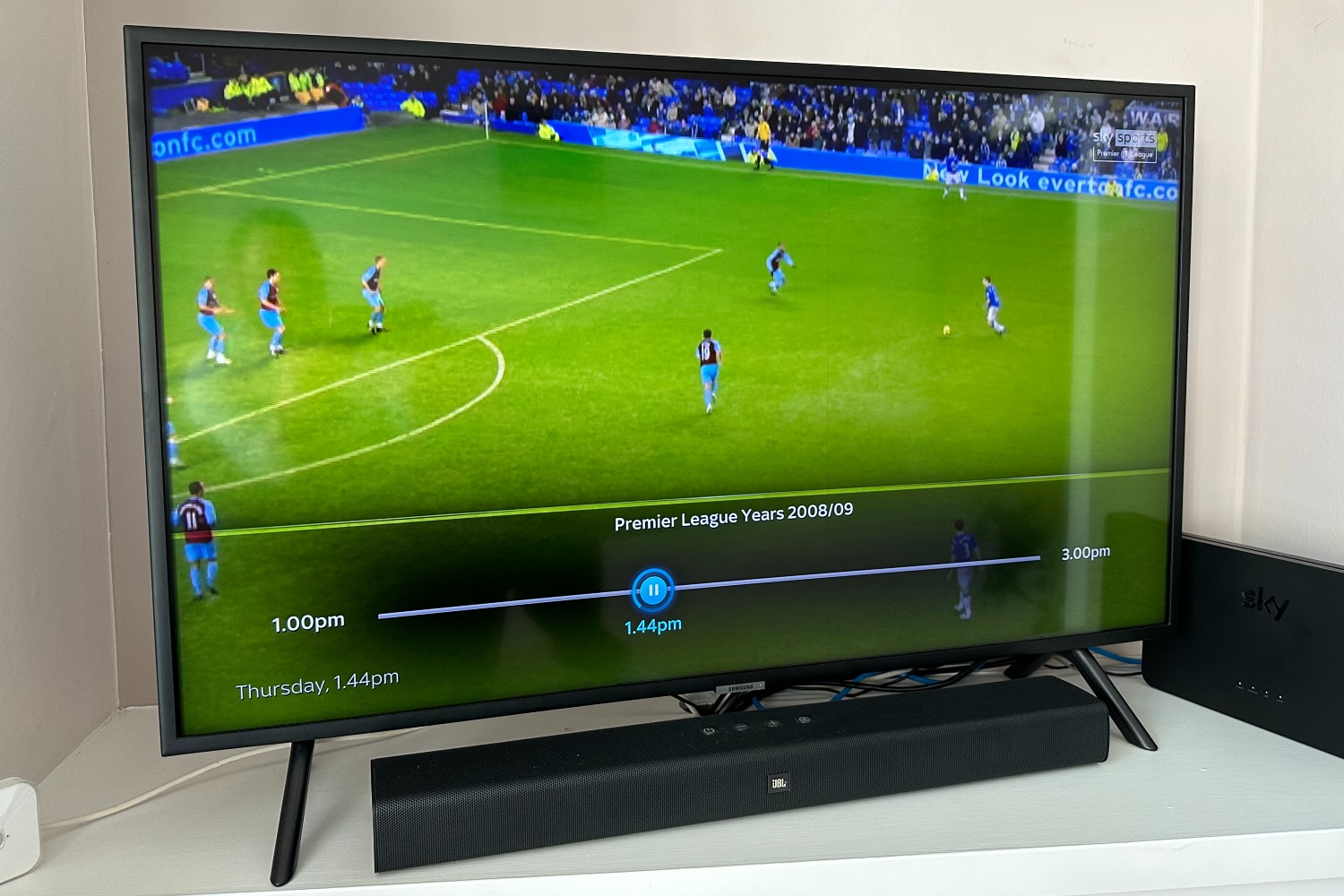 One of the big selling points of Sky Glass is its hands-free voice control. Much like a smart speaker, you can simply say "Hello Sky" to your telly and start barking instructions at it – but Sky Stream doesn't have the necessary always-on, far-field microphone that allows this.
Instead, you have to press and hold the button on the remote, just like you do with Sky Q. It adds an extra step to the process but it hardly feels like a chore, and we're almost always impressed with its ability to understand what we're asking for. It can't be used to control playback, but it's a much quicker way to search for things than typing them out letter by letter using the alphabetical grid.
Sky Stream technically comes with far fewer channels than Sky Q, but that's mainly because it doesn't include SD versions of channels that are in HD, plus there are no +1 channels running on a one-hour delay (you can find a full list of what's available here). Instead, you can usually choose to start watching a programme from the beginning if you tune in after it's started. This works just like watching a recording, so you can easily skip forward to when the programme actually begins. You can pause and rewind live TV, too.
The box also comes with non-TV apps such as Spotify, BBC Sounds and Peloton, plus a selection of games including Connect 4, Dots, and, er, Spongebob's Patty Pile-Up. None of these will sway anybody's decision when it comes to buying a Sky Stream puck, but they're nice to have just in case.
Picture and sound quality: Stream if you want to go faster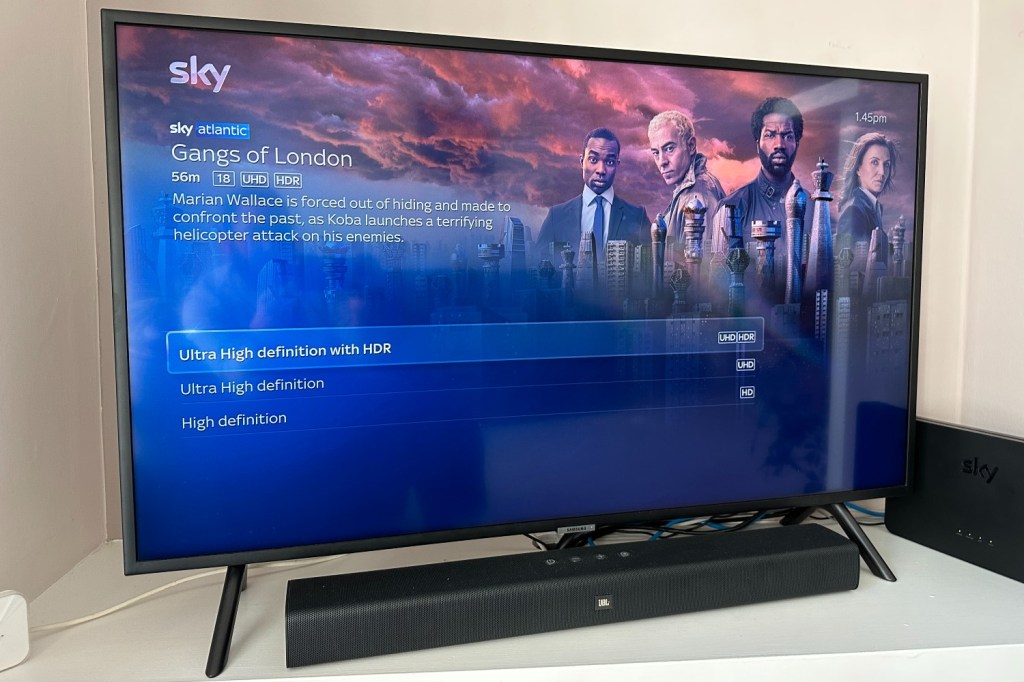 With everything being streamed rather than beamed down via satellite, you'll need a fairly robust internet connection to get the best from your puck. Sky recommends a minimum of 10Mbps, but if you pay the extra £6 a month to watch in 4K you probably wouldn't want to hook it up to anything slower than 30Mbps.
We tested it hard-wired to a 50Mbps connection and found it would occasionally stutter when watching live sport in Ultra HD, but encountered no such issues with on-demand content, presumably because it's able to buffer in a way that's not possible with a live broadcast. It would be nice if there was a way to see what's available in 4K at a glance, though. Right now you have to select something and then check what formats are available, which is at least one click too many.
Sky's streamed versions of the live HD channels arguably look better than their over-the-air counterparts, with a slightly sharper picture than the one provided by the Freeview tuner inside our 4K Samsung telly. There's none of the softness you sometimes get with online streams of live TV, and even the channels that are only available in standard-def – of which ComedyXtra and E4 Extra are probably the most well-known – are more than watchable.
For those with suitably skilled TVs and home cinemas, Sky Stream also supports Dolby Vision and Dolby Atmos. Our telly and soundbar aren't fancy enough to test this out, but the only app that you'd expect to offer it that doesn't is Disney+. That seems pretty likely to change at some point in the future via an update, though.
Sky Stream verdict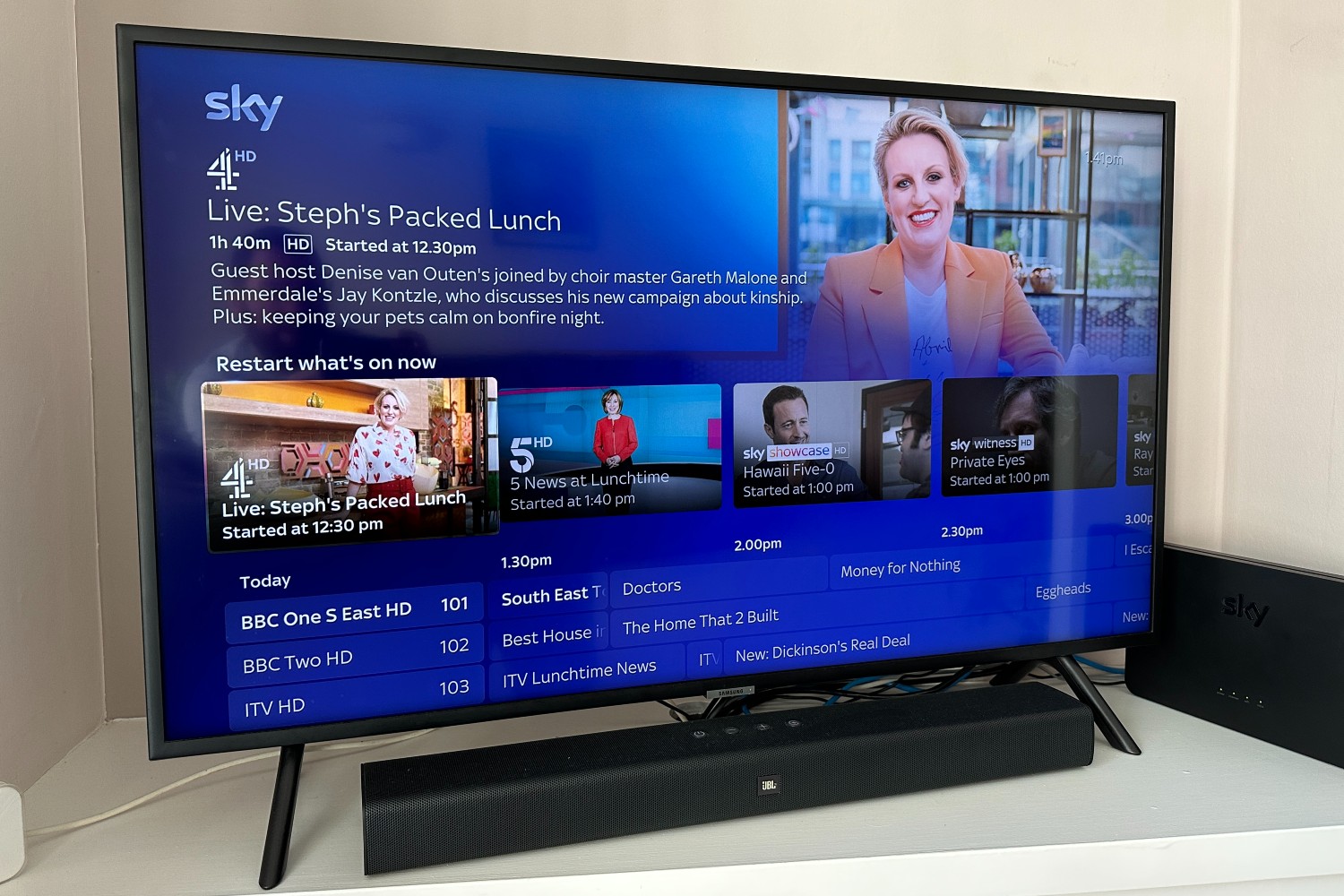 Lots of people have been waiting a long time for a product like Sky Stream. Functionality-wise it's hard to find fault with it. Sky+ veterans might miss the local recordings, but the Stream approach feels a lot more modern and doesn't take long to get used to. For many, it's likely to already be the norm anyway.
From a cost point of view, Sky Stream is easiest to justify if you're a sports fan. The basic package seems a little pricey compared to a subscription to Sky's £10-a-month Now Entertainment deal, which gets you access to most of the same channels via an app that's available on smart TVs from Samsung, LG and Sony, through games consoles, and on Amazon, Apple and Roku streaming devices.
But if you want to watch movies too, and especially if you're willing to pay the money to watch Premier League football, Formula 1, NFL and you can't have (or don't want) a satellite dish, a Sky Stream puck is the ideal solution. Check out the latest Sky Stream deals.
Stuff Says…
More affordable and more accessible than ever, this is arguably the best way to watch Sky TV
Good Stuff
No dish required
Excellent picture quality
Easy installation
Bad Stuff
Interface lacks a little zip
Extra features cost more
Speedy broadband needed for 4K