Amazon Fire TV Stick 4K Max review: taking Fire TV up a notch
Video streaming to the... max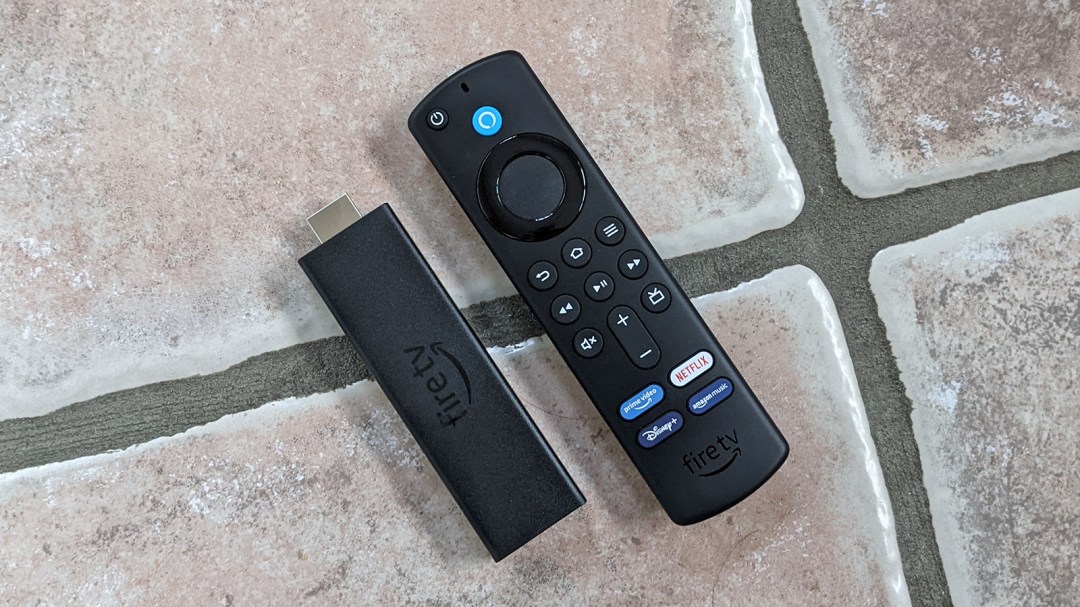 Amazon's media streaming dongles are already well known for being affordable, reliable and versatile, and the Amazon Fire TV Stick 4K Max continues that tradition. The Max bit on the end means faster performance, an upgrade to the latest Wi-Fi 6 standard, and a tweaked remote control with a few more buttons.
All of that can be yours for £54.99, whereas the standard Amazon Fire TV Stick 4K comes in at £49.99. Considering the newer model is faster and more responsive, that's not much more to pay, but it does mean that if you own the older model there isn't really a compelling reason to go out and buy the new one.
Design: more of the same
There's no change to the design of the Max stick compared to the previous Amazon Fire TV Stick 4K, for better or for worse: it doesn't have the aesthetic appeal of, say, the Chromecast with Google TV, but then it is going to be stuck behind your television set for most of the time. Great looks aren't really all that important.
In terms of size, the dongle measures 108 mm x 30 mm x 14 mm – a little bit bigger than a stick of chewing gum. The HDMI plug on the end of the streaming stick is rather short, which can make fitting it into certain TVs a pain, but Amazon has included a short extension cable to solve this potential problem.
The remote gets a bit of a tweak from what we've seen before on these Amazon streamers: the main difference is the addition of four new buttons that are dedicated to launching Prime Video, Netflix, Disney Plus and Amazon Music. We're not huge fans of labelled, hard-coded buttons like this – we prefer to choose our own services, thanks – but they're there if you need them.
Setup: very straightforward
Setup doesn't take long and isn't difficult at all, though factor in a few minutes for the Amazon Fire TV Stick 4K Max to get the latest updates from the internet (this can take a while). You'll be walked through every step of the process, including getting the volume controls on the remote working with your TV.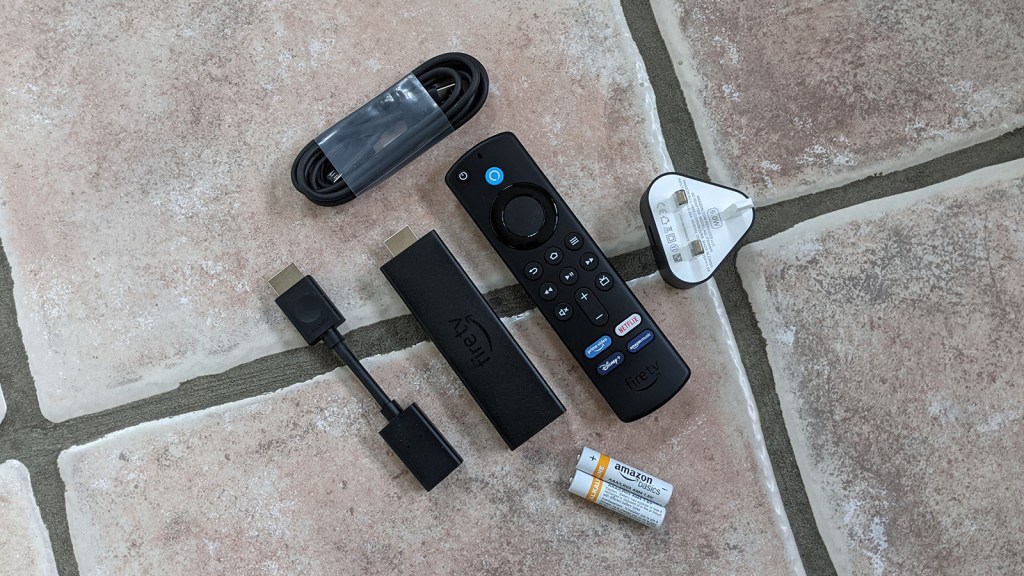 The remote is powered with two AAA batteries – there's two in the box ready for you – and the dongle itself needs a mains connection as well (a cable is included, though it uses the ancient microUSB tech). When the time comes, you can sign into your Amazon account using a web browser thankfully, which means you don't have to type out your username and password using the remote.
Most apps work the same way: sign in through your web browser, where you're likely to have your usernames and passwords saved, and you'll be up and running and streaming in just a few minutes. If Amazon recognises that you've used a Fire TV device before, it can restore your apps and accounts from a backup.
Features: the best yet
If you want a media streamer that's going to tick just about every box there is, this could well be it. You get support for 4K resolutions, Dolby Vision, HDR10, HDR10+, HLG, Dolby Atmos audio, and the fastest Wi-Fi 6 – though you need to make sure that your router supports Wi-Fi 6 as well to take advantage.
The 8GB of storage is the same as the standard Amazon Fire TV Stick 4K, but the memory gets bumped up from 1.5GB to 2GB, and the processor jumps from 1.7GHz to 1.8GHz – that should lead to a speed increase of around 40% Amazon says, and we can certainly believe it from our time zipping about the interface and its menus.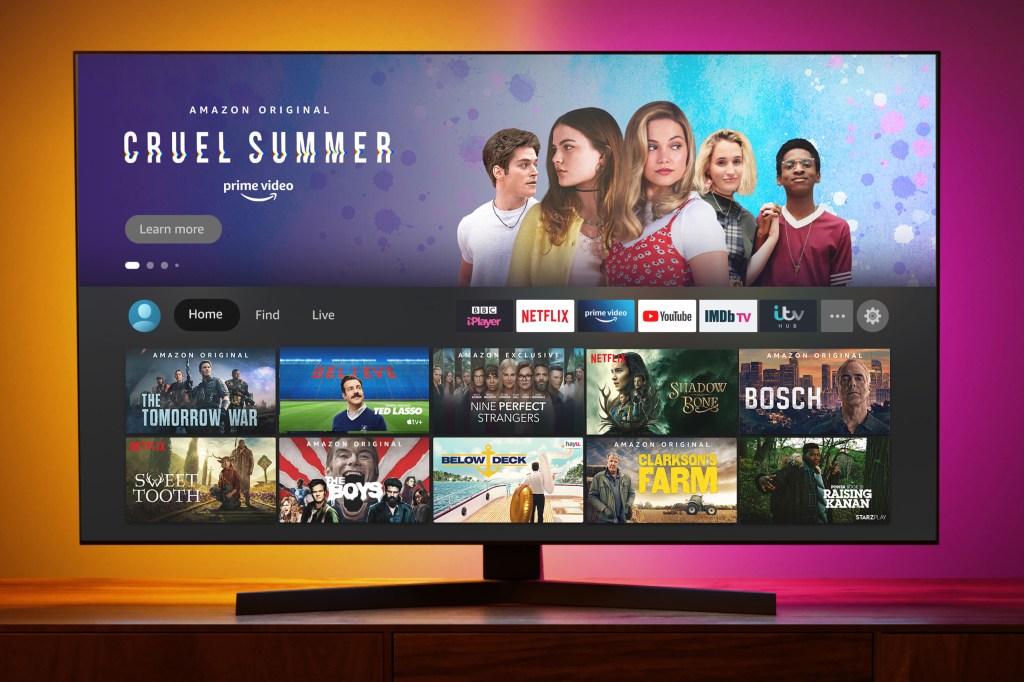 Alexa is here of course and continuing to improve. You can use your voice to search for content across all of your attached services (though sometimes you need to specify an app, as is the case with YouTube). Alexa being Alexa, you can also control your smart home devices, look up the sports scores, check the weather and so on.
You do get a little more in the way of power and storage space with the Amazon Fire TV Cube, but then again that is almost double the price of this device. For something that's compact and capable of doing just about everything you need it to do, the Amazon Fire TV 4K Max fits the bill.
Apps: just about everything you need
All the usual suspects are here in terms of app selection, from Netflix to Disney Plus to Spotify. Prime Video and Amazon Music are present and correct of course – each with their own buttons on the remote – and there's access to all the streaming services from the terrestrial channels in the UK (you can tap the new Live TV button on the remote to jump straight to them).
Amazon has even resolved its issues with Google, so there's a full YouTube app available – which hasn't always been the case on Fire TV devices – and we've got Apple TV Plus, BritBox and Now TV here too. All these apps can be arranged as you like on your home screen fairly easily, though Prime Video is given the top spot in terms of recommendations.
There's less of a choice outside music and video apps, but then that's to be expected. If you're keen on gaming on the big screen, for example, you might want to look at a more capable box like the Apple TV or the Nvidia Shield TV.
Picture and sound: top quality
Give the Amazon Fire TV Stick 4K Max some good content to work with and it will absolutely do the business when it comes to showing it off. Of course the picture and sound quality depends to some extent on the source material and your television set, but we were very happy with what this streaming dongle managed to produce.
Colour, brightness and sharpness were all impressive on the Panasonic TV we were using, and with more and more streaming now being served up in a 4K HDR format, you shouldn't ever be stuck for something to watch in the best quality. However many pixels and audio channels your streaming apps are pumping out, the Amazon Fire TV Stick 4K Max will be able to cope.
Verdict
If you've used previous Amazon Fire TV devices then you know exactly what to expect from the Amazon Fire TV Stick 4K Max – it's just all a little bit slicker and a little bit faster. The device remains a bit Amazon-centric, like all the Fire TV hardware before it, but the excellent app support and the versatility of Alexa make up for any minor shortcomings.
Stuff Says…
If you want the best Amazon Fire TV device around at the moment, in terms of both features and value for money, this is it.
Good Stuff
Alexa on board
4K HDR support
Simple setup
All the key apps
Bad Stuff
Favours Amazon apps
Old-style microUSB port
No casting option
Not a huge upgrade