Sky Q review
UPDATE: Now includes our verdict on Netflix integration and the redesigned remote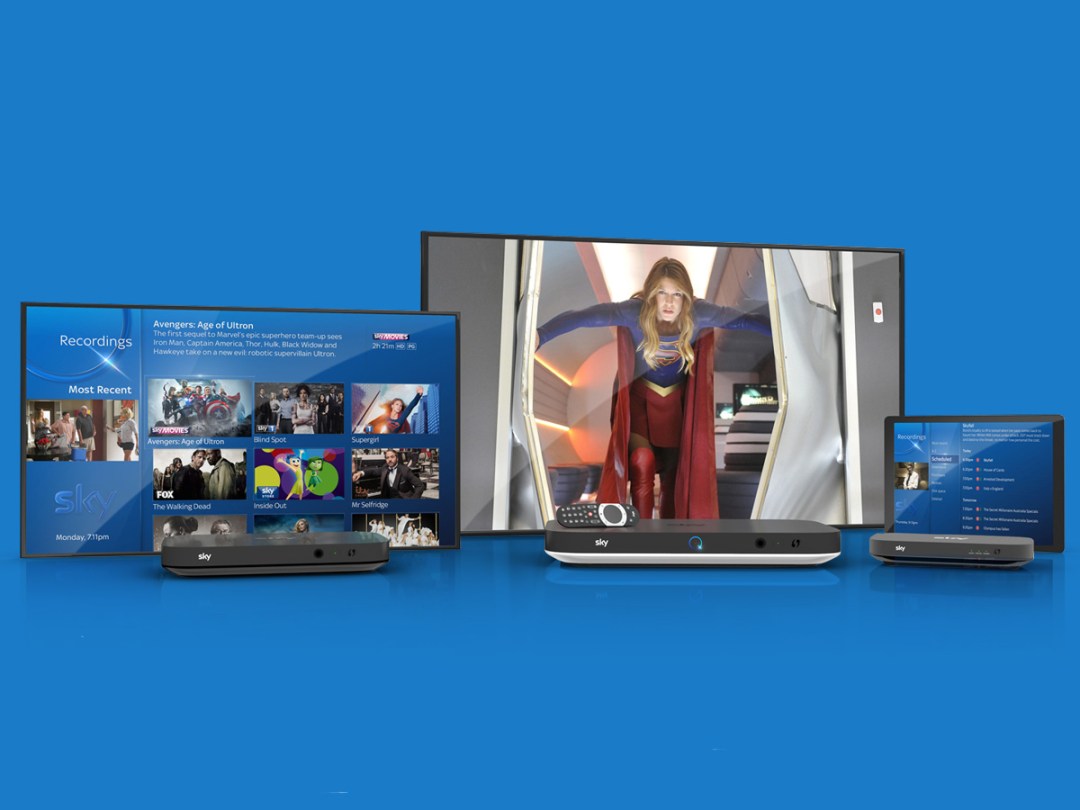 As the biggest addition to Sky's all-conquering offering since the introduction of Sky+, Sky Q wants to be the Sonos of TV, allowing you to watch telly all over your house and even take recordings on the road.
It's the Sky Q 2TB package that we're testing here, which allows you to simultaneously watch one channel, record four others and stream to either two separate Sky Q Mini boxes (one of which is included in the bundle), two tablets, or one of each. Phew. Did we mention it also offers 4K?
You can go with the slightly more affordable, standard 1TB Sky Q box, but it has fewer tuners and half the hard-drive space. It can't stream to as many secondary screens, either, plus – and this one's a biggie – it's not able to receive or download anything in Ultra HD.
Whichever version you go for (it's got to be the 2TB one really, hasn't it?), you'll be shelling out more for an already pricey package – is it really worth it? Read on to find out.
Sky Q review: Setup
David Beckham might've been ahead of Stuff in the Sky Q installation, er, queue but as the future king of England we'll let him off. We were still pretty high up the list, so the engineers were still getting used to the setup process when they paid us a visit, meaning it took a little longer than you might expect. No doubt this will improve as they get more practice.
In the vast majority of cases you won't need a new dish or even new cables: just a small part of your existing dish (called the LNB) needs to be swapped out. In our case, though, Sky's engineers decided we might as well have our super-old dish replaced, and who are we to disagree?
That wasn't even what took a while. In order to stream between boxes, Sky Q creates its own mesh network – a dedicated wireless network that's separate to the one you use for everything else and therefore avoids interference. It makes placement of each box crucial for maximising speed, and the engineers spent a good couple of hours making sure everything was performing as well as possible. If it means our telly viewing isn't interrupted by other people streaming Netflix or playing Destiny while we're trying to catch up on Last Week Tonight, it's two hours well spent.
If there's a large gap between your router and the Sky Q box, and the Minis aren't spaced out enough to daisy chain the signal, you might need to give the network a bit of help. Ours required Sky to install a booster halfway between the router and the main box, which isn't ideal, but once it was up and running it was as stable as a wired connection, and has remained so ever since.
Even with Sky supplying your broadband, each house is likely to be different, but because Sky includes servicing as part of the Sky Q monthly cost, it's in the company's interest to make sure everything is working as it should be.
Sky Q review: The 2TB box
The Sky Q 2TB box forms the heart of the Sky new system and will in all but the rarest of cases be the device that's installed under the telly in the lounge. This is the box that connects directly to your satellite dish and receives all of that lovely digital entertainment, which can then be watched directly or pumped to your Minis and tablets.
It's far sleeker than the +HD box that it replaces, about half as tall and less plasticky, meaning it'll fit in far more nicely alongside the PS4. There's Wi-Fi built in and you get a 2-terabyte hard drive inside to fill with recordings and downloads – that's about 350 hours of HD.
The interface has been completely revamped and is now much more befitting of the Netflix generation, with less reliance on text and more dominant imagery. The main sections are now sorted into a single column and selecting one opens a sub-menu to the right. It feels similar to – and is quite possibly inspired by – the way Apple arranges its menus on iOS: simple, modern and easy to understand.
There are a few new portals that are worth extra mention here. Sitting below Recordings in the main menu is My Q, which is itself split into three sections: Continue, New Series and For You. Continue basically does what you'd expect, highlighting series or shows that you've started but not finished. New Series suggests whole new shows based on what you've previously enjoyed.
For You is much more interesting than both of these, though, because it suggests things that you might like to watch based not only on what you've watched before, but also on what time of day it is. No-one wants to watch The Wire at 7am, so it won't be suggested. And when your nipper comes home from school it'll be the likes of CBeebies that gets highlighted. Then when you settle in for your own TV at 9pm or so, that's exactly what you'll be presented with. And if you've got multiple boxes in the house, each one can have a different set of recommendations based on what's usually watched on that TV at that time.
It's all great in theory, but with multiple people likely to use the box, recommendations never really feel that personal.
It's also well worth highlighting the new Sports section of the Sky Q interface – after all, that is still why a lot of us have Sky in the first place. The Sports portal now allows you to filter by sport if you're a one-sport kind of person, but also allows those who like everything to see all of the live sport coming in the next few days.
And speaking of sport, the new apps panel, which can be accessed picture-in-picture style at any time, looks especially useful for sports fans in that it can be used to keep an eye live scores and the like without interrupting whatever it is that you're watching. Not a sports fan? You can access Sky News, Weather and even your photos (from Facebook) using the same app panel.
The Sky Q 2TB box is the only one in the range that'll let you watch Ultra HD, with sports, movies and TV box sets on the 4K menu.
Sky Q review: Remote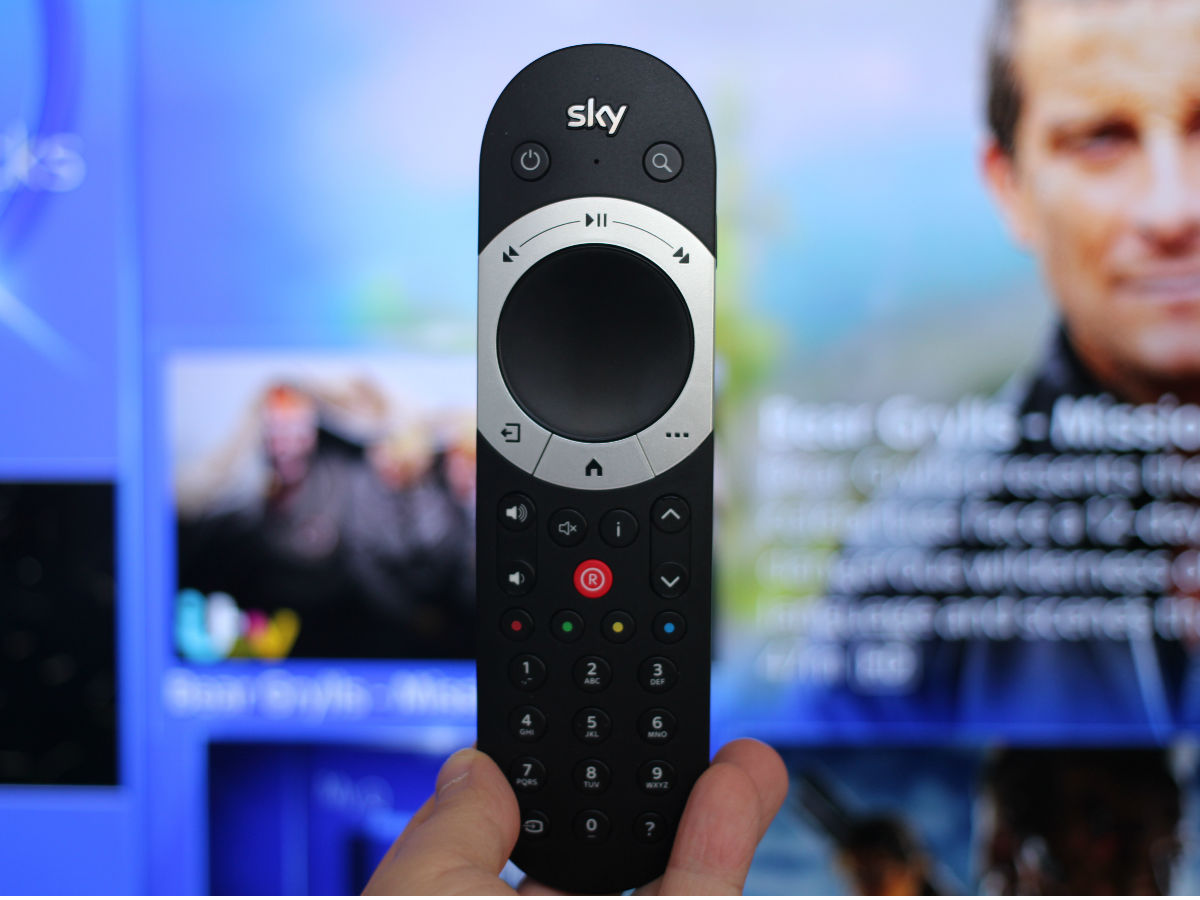 Sky Q launched with a fancy touch-sensitive remote, which took a bit of getting used to but made navigating its swishy menus quick and easy.
The new Touch Remote looks almost identical at a glance, but the crescent of playback controls and circular navigational panel are now proper buttons. They're no longer touch-sensitive by default, you have to turn that on in the Settings menu, which isn't at all clear during setup.
It's worth doing, though, because swiping through the interface is much more elegant than clicking on the four-way d-pad, although the physical buttons do work better for controlling playback.
There's also a tiny hole just under the Sky logo at the top of the remote that houses a microphone. Sadly it's not for a new interactive karaoke channel but a pretty-impressive-actually voice search function. Simply hold the mic button while you tell Sky what you're looking for, let go, and the box responds with results. It's very quick and snappy in action, and even responds to some famous movie quotes. You can see us putting the new feature through its paces in the video below.
The remote will also control the telly as well as the box, so you can pretty much retire the one for your TV, and if you lose it you can press the Q button on the front of the box and the missing zapper will beep so you can dig it out of its hiding place. Down the back of the sofa, right? It always is.
Sky Q review: Mini boxes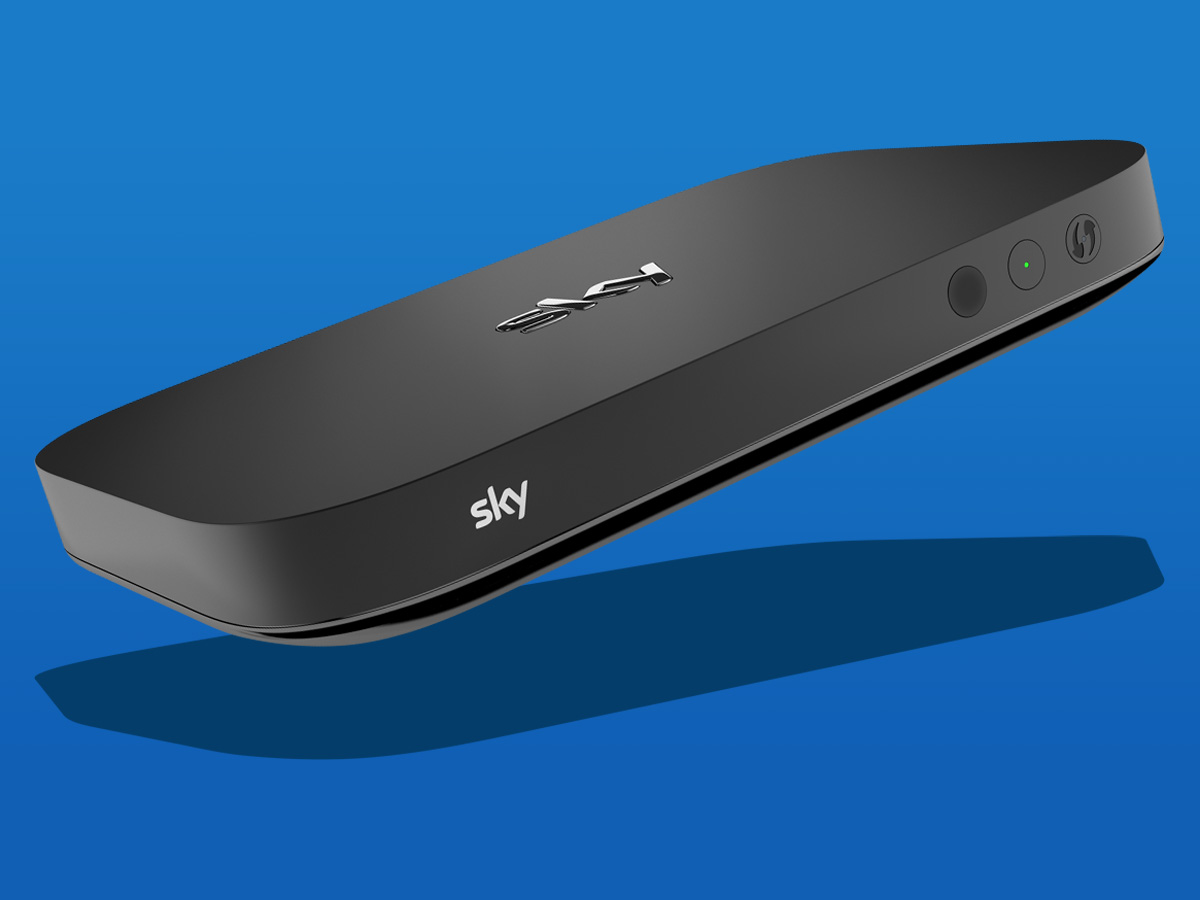 The multiroom-enabling Sky Q Mini boxes are plug 'n' play – all they need is power, a Wi-Fi (or Ethernet) connection and an HDMI cable plugged into a telly and they're good to go. That means you can move them between TVs if you want to without too much upheaval.
Sky's 'Fluid Viewing' is, in our humble opinion, a rather silly marketing term that simply means you can watch telly wherever you want, starting in one place and seamlessly moving to another if that's what you fancy. Silly name or not, the good news is that in action it's very impressive. Pause a recording on the Silver box, pick up a tablet or switch to a TV with a Mini box attached and within seconds you can resume watching where you left off via the My Q menu. You can even switch back to watching on the main telly a bit later.
In fact, you don't even need to pause the first box, so if you decide you love whatever you're watching but can't bear to remain in the same room as the person you're watching it with, you can just take yourself off to your bedroom and keep watching in blissful solitude.
Each Mini and tablet has access to everything the Silver box does, including everything you've saved to its hard drive, so using one is a lot like sitting in front of your main telly. You can delete recorded shows from the main box's drive using a Mini, too, but this isn't supported by the tablet app – at least not yet. Picture quality appears to be just as good as from the main box, even without a direct wired connection to a satellite.
Mini boxes come with less fancy remotes but they also connect via Bluetooth, so you don't need to point it at the box in order for it to work, although try shaking off the habit.
It's always been good value to get your broadband from Sky if you've already got the TV, and with Sky Q there's a handy extra bonus: the Sky Q Hub router, which comes with Sky Q, enables your main Sky Q box and Mini to act as Wi-Fi hotspots, improving your wireless network right through your house.
While we're on the subject of networking, one slight negative on the Sky Hub front is that the router itself has just two Ethernet sockets. One suspects that the majority of Sky customers use Wi-Fi almost exclusively, but those that do like to use Ethernet to connect devices such as NAS drives could find this a bit annoying.
Sky Q review: Streaming to the Sky Q app
Streaming to a tablet or phone requires the Sky Q app. It's easy to setup – just fire up the app and it'll detect a Sky Q box on your network.
The app almost exactly mimics the TV interface, enabling you to set recordings, download shows to watch on the go, or stream live or recorded shows within your home. Quality and reliability are good, probably because it's streaming over your home network rather than the internet as it does with Sky Go.
You can only cache Sky's own programmes to a tablet to watch offline, so disappointingly you can't take Only Connect with you on your commute. Downloading to tablet storage is quick, though: three minutes to get a 32-minute Alan Partridge episode from main box to iPad Mini, for example. Downloads remain on your tablet for a month if unwatched or 48 hours from the moment you click Play, at which point it's automatically deleted. It's a lot like renting a movie from iTunes or similar, except you're obviously not paying extra for each download on Sky Q.
Sky Q review: 4K
If you've got a 4K TV and you're struggling to find things to fill all those extra pixels, Sky Q now also offers football, movies and some TV shows in Ultra HD – and it doesn't cost a penny extra.
Turn on a Premier League match and if your box detects an Ultra HD TV it'll prompt you to press the red button to switch to the 4K feed. Suddenly you can pick out individual faces in the crowd, there's more depth to the picture and everything is that much sharper. But with football predominantly filmed with longer shots, there's less opportunity to show off that extra detail, which is what 4K really excels at.
Stick on a movie, though, and the difference is startling, even on our 40in Samsung KU7000. Ridley Scott's The Martian has a suitably hyperreal feel to it. It's tempting to pause almost any shot and just study all the tiny details in the background, or examine the added texture that it gives human skin. For the squeamish that will make Matt Damon's unfortunate Mark Watney stapling up his own stomach at the start a rather difficult watch.
We say 'stick on' but watching a film in 4K on Sky Q isn't just a case of changing the channel. It's all on-demand, so you have to download it first before you can watch it. Unlike HD downloads, which you can start watching almost immediately, it takes quite a lot longer before a 4K film has downloaded enough for you to press play. On our 12MB Sky broadband connection it took nearly three hours for the whole 18GB file for The Martian to download.
While the catalogue is still a bit limited it's growing all the time, with a dozen or so new films added each month. There's some decent stuff on the Sky Store as well if you're willing to pay extra. With films that lend themselves to having extra pixels it's definitely worth the extra download time – just make sure you plan your night's viewing in advance.
TV shows fall somewhere in-between. They don't take so long to download (it was about 40 mins before a 44-minute episode of David Attenborough's Galapagos was ready to play) but the impact also doesn't tend to be quite so great. The addition of Netflix expands the catalogue, but until Sky has added big hitters such as Game of Thrones, or older shows like The Sopranos to its Ultra HD line-up, it's the movies that are most likely to be your go-to 4K fix.
Sky Q review: Price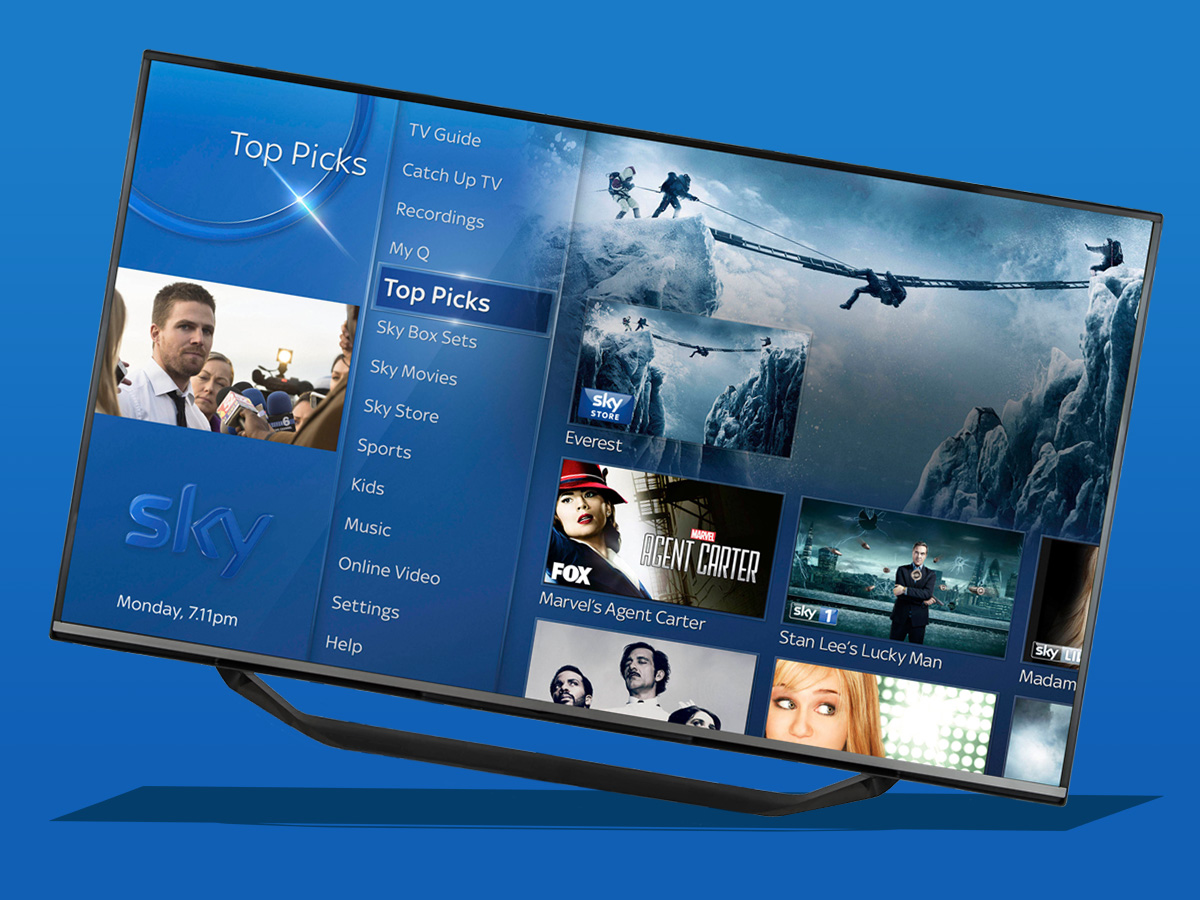 And now we come to the thorny subject of price, and it's not all that straightforward.
Technically you can get Sky Q for a £20 installation fee and £22-per-month subscription, but that's only for the 1TB box, the basic channel package and doesn't even include HD.
In order to get a 2TB box and access to any 4K content you'll need to front up £75 for the kit (plus £20 for one Mini box, £119 for a pair, £218 for three, or £317 for four) and £39 per month in subscription charges. If you just want the one main box, don't want to stream to any tablets and don't have a 4K TV you can save yourself £12 a month but installation goes up to £199. You no longer get to keep the boxes if you cancel your subscription either.
Add Sky Cinema and your monthly bill goes up by a tenner, while Sky Sports adds £23 and the Kids package will set you back a fiver. Want Netflix fully integrated? That's a tenner a month, although obviously you don't also need to keep paying Netflix on top of that. Go all in and you're looking at £87 a month.
There are also broadband and TV packages that cost more in total but might save you a few quid if you need both anyway, but the long and the short of it is that Sky Q doesn't come cheap, especially if you want all the bells and whistles.
Sky Q review: The verdict
Nobody's pretending a Sky subscription isn't already an expensive way to watch TV, even before upgrading to Q. However, comparing it to a £7.50-per-month Netflix subscription is disingenuous. It offers so much more than just the content. With 4K now part of the package, we wouldn't call it a bargain exactly, but it does offer even more telly for your money.
There's no doubt that Sky Q makes everything else look old fashioned, but it's also hard to shake the feeling that it solves problems that for some people probably don't currently exist. Just look at the homes the people in Sky's Q adverts live in: they're luxury penthouse apartments with floor-to-ceiling windows or large, four-bed houses.
In those abodes and even in more modest family homes Sky Q will make a great deal of sense. It's a more seamless, neat and, OK, fluid experience than the rather archaic multiroom option that Sky was already offering. For those of us in one- or two-bedroom houses, though, Sky Q's extra features will look like luxuries that might not be worth the extra expense.
But don't let that take away from the fact that this is impressive, well-realised technology that you can't get anywhere else. Sky Q isn't for everyone (at least not yet), but neither is a Tesla Model S, and that doesn't mean that both aren't brilliant.
Sky Q works flawlessly and could change the way you watch TV.
Stuff Says…
Undoubtedly the best TV experience you can get, but only true telly addicts and early adopters need to dive in right now
Good Stuff
Slick new interface
Fluid Viewing works brilliantly
Nice new remote
4K looks great – especially movies
Bad Stuff
Expensive
Remote can be a little over-sensitive
Prone to the odd crash