The ultimate laptop for the new world of work: meet the MSI Summit E13 Flip Evo
As the Fresh Prince once poetically stated, our lives over the past 12 months have been flipped, turned upside down.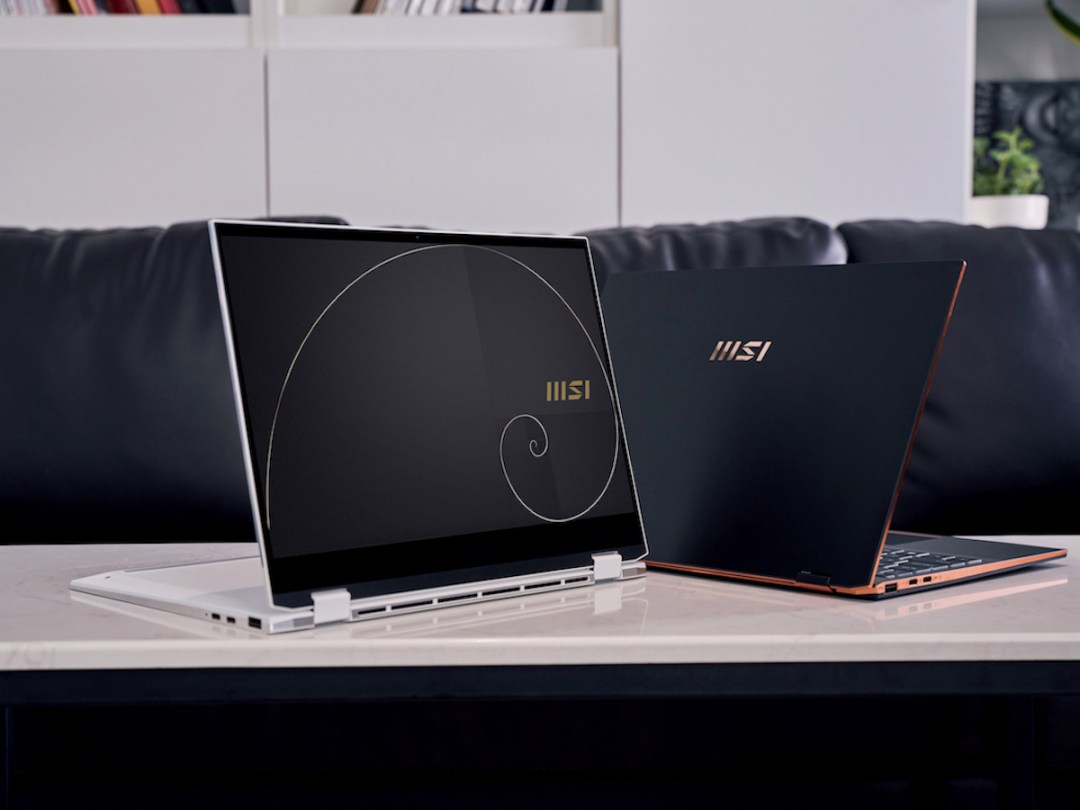 Most of us have become workspace nomads, pitching up an office space wherever happens to make sense on a given day. These very words were typed from a kitchen table, and if all goes well, the ones later on will have been born in a sunny pub garden.
The way we work has changed, and even as the world slowly begins to crawl back to normality, the seeds of flexible working have firmly been planted. The future of work is the ability to achieve your best wherever you are, and for that, you'll need the right tools for the job.
Enter the MSI Summit E13 Flip Evo — a business and productivity focused laptop that perfectly blends a sleek, compact build, with bleeding-edge power. With a head-turning design and born from MSI's legendary PC expertise, it's the ultimate companion for getting stuff done, no matter where you are.
The golden ratio
The first thing you'll notice about the Summit E13 Flip Evo is its 13.4in screen. With a 1920 x 1200 resolution, it offers more height than other traditional laptop displays, thanks to its 16:10 aspect ratio. This was a crucial design factor that MSI's in-house designers wanted to achieve, as it's the perfect golden ratio for the ultimate productivity experience.
The display's increased height allows more content to be shown on the screen at any one time which, given how much we spend our time reading websites and creating documents, is an absolute godsend.
Being able to read more in one go without having to scroll is a productivity comfort that you'll never want to give up ever again. If that wasn't enough, the screen can also be flipped completely back on itself thanks to specially designed 360-degree hinges, letting you transform from notebook to tablet in an instant.
Beyond its touchscreen capabilities the included MSI Pen also lets you create, draw, and take notes in a completely natural way, unleashing a whole new world of versatility and productivity. Powerful magnets handily attach the Pen to the side of the laptop too, so it'll never be far from reach. Screen aside, the actual build of the Summit Flip is a joy to behold.
Available in Ink Black with a brushed copper trim, this is a notebook that exudes elegance and class. Crafted using a precise CNC manufacturing process, its precisely-angled edges and minimalist features will stand out from the crowd in any environment — from boardroom to coffeeshop, and everything in between.
Floats like a butterfly, stings like a bee
After picking up the featherlight 1.35 kg body of the Summit Flip, you'd be forgiven for thinking that it's far more style than substance. Despite its miniscule footprint however, it packs one hell of a powerful punch. And then some.
For starters, it's rocking the unrivalled power of Intel's latest 11th generation Core i7 processor, along with 16GB RAM. Combined with Intel's new built-in Iris Xe graphics, this means the Summit Flip will absolutely breeze through any productivity tasks you care to throw at it.
From tonnes of open Chrome tabs to watching videos, firing off emails, creating presentations and even video editing and esports gaming, it offers more than enough power to handle it all. All of this would, of course, be pointless without a speedy connection to back it up, and the Summit Flip goes above and beyond here too.
As the world's first laptop equipped with Wi-Fi 6E, it delivers incredible cutting-edge wireless speeds for speedy downloads and super-smooth video calls. The latter, by the way, will be made even better by MSI's built-in AI noise cancellation technology which filters and eliminates background noise for crystal clear calls, every time.
There's also a built-in webcam lock switch too, which'll come in handy for avoiding any potentially embarrassing Zoom call faux pas.
Controlled and connected
Unlike other ultralight notebooks that sacrifice connectivity, the Summit Flip packs in a plethora of useful ports, despite its svelte 14.9 mm body. These include a Micro SD slot for easy media transfer, a USB Type-C port, and a USB Type-A port for hassle-free compatibility without the need for any pesky adaptors.
There are also two Thunderbolt 4 ports for incredibly quick charging with the bundled 65W charger, with support for blistering data transfer and display options to boot.
Under the hood, you'll also find PCIe Gen 4 storage support, which can help boost your workflow with faster storage performance, which means less time waiting around for things to save and load.
Combined with MSI's docking station which supports up to three 4K monitors, five USB ports and even faster 100W charging, the Summit Flip truly is the ultimate device both on the road, and at home.
Exceptional heritage
MSI differentiates itself from other brands by being the only company to ensure that everything from design, testing, manufacturing and tech support are all carried out in-house. This means that everything from the inception of the Summit Flip to its after-sales support is fully under the company's control, for extra peace of mind.
Given MSI's legendary gaming heritage — namely, producing the world's fastest, most powerful no-compromise PC products that stand up to the most extreme demands possible — the Summit Flip stands proud in the very best of company.
Available now, the MSI Summit E13 Flip Evo is ready to transform the way you work, wherever you are.