Peloton Tread review
The king of connected cardio offers a bootcamp up the backside
Please be aware that as of May 2021 Peloton is recalling Tread and Tread+ models due to a number of alleged injuries and one reported death. Peloton's full statement can be read here.
Having revolutionised connected home fitness with a total transformation of the spin-bike experience, Peloton hopes to rehabilitate the reputation of the most popular piece of gym kit – the treadmill – with the Peloton Tread.
The equipment may be different, but the concept is the same: combine a top-quality cardio machine with high-energy, studio-style cardio and bootcamp workouts beamed straight to your home live and on-demand, with the aim of taking the drudgery out of the fitness slog.
The Tread is all about inspiring general fitness more than goal-chasing PB hunters. That's not to say there isn't anything here for experienced 'athletes', but the Peloton special sauce is getting reluctant runners off the sofa and on the virtual path to better shape. It's designed to help you fall in love – or at least out of hate – with hard work.
You'll need deep pockets to join this revolution. Despite this version launching in the UK being the smaller, cheaper model (not the Tread+ available in the US), it still starts at over £2,000 and there's a £39 monthly fee for full access to all the classes.
The mat, dumbbells and full accessories for bootcamp sessions can be as much as £2,870. That's unquestionaly expensive, though you can use your own. It's also worth noting you can pay for the classes but use your own treadmill, of which there are many more affordable options.
So is the Peloton Tread worth the money? Or should you, well, run a mile? We put it to the test for a month to find out. And here's the verdict in our Peloton Tread review.
Design: A mint finish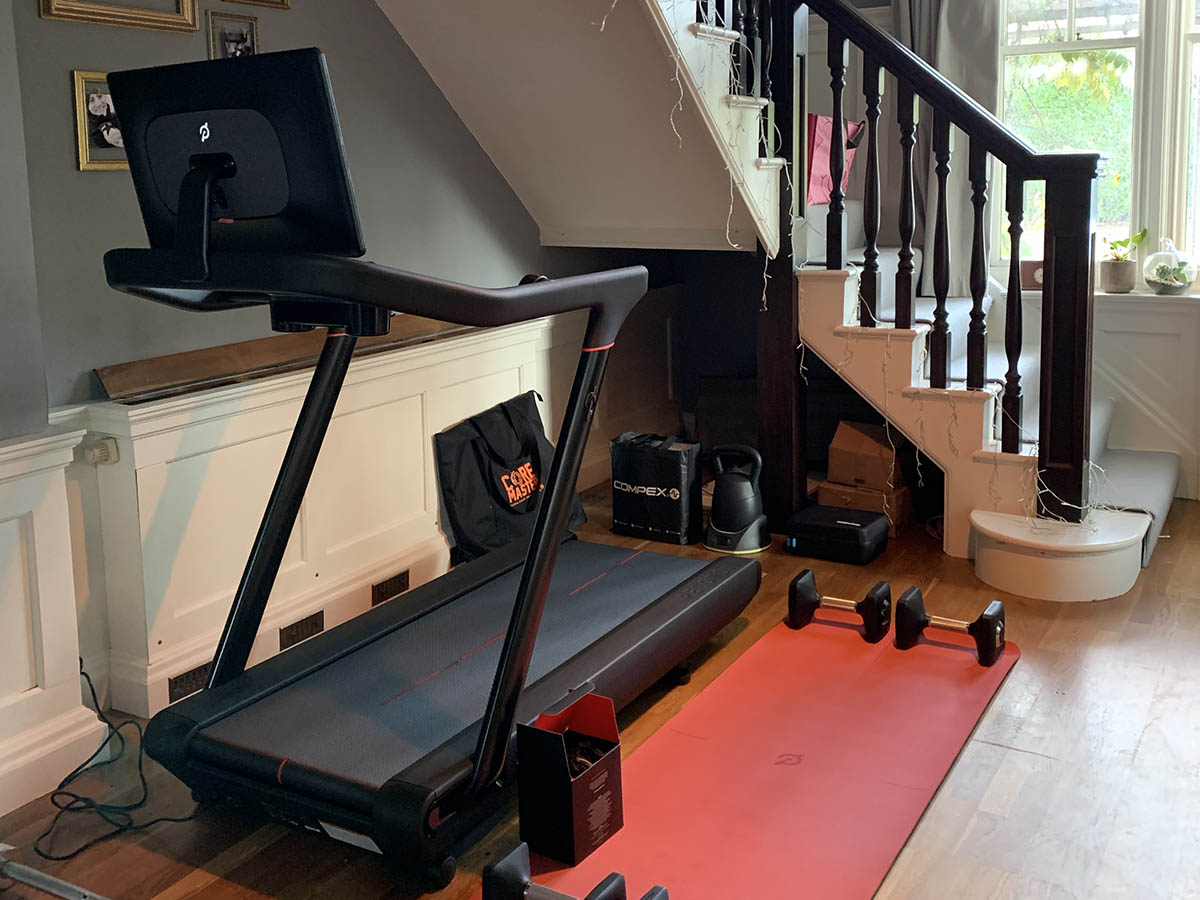 Delivery and assembly is included with every purchase so you can put your Allen keys away. As treadmills go, it's a looker, with cleaner lines and less bulk than some of the monster machines found at the gym.
However, at 1730mm (L) x 840mm (W) x 1570mm (H) and 131kg, it has a larger footprint than some rival home-use treadmills, so you'll need plenty of space. Think garage gym or spare room rather than the corner of a flat.
The 1500mm belt offers plenty of roomy running space and a more road-firm running surface than some bouncier treadmills. In testing, we ran a 90 minute half marathon without trouble.
Unique controls make shifting tempo and incline a doddle. One roller moves speeds in 0.1mph increments, to a top speed of 12.5mph (sub 5 min/miles). A second adjusts the incline from 0 to 12.5%, in 0.5% increments. Each roller also houses a button that adds 1mph speed and 1% incline jumps.
The rollers are easier than stretching for touchscreens, but it's not always easy to hit the precise 0.1 increases which trainers often recommend. We'd also like a button to jump back down in steps. Coming off an all-out sprint into an easy jog needs more backwards rolls of the knob.
The 24in HD – and sweatproof – touchscreen is bright, sharp and nicely responsive with a built-in camera for connecting with training buddies. You can tilt it to make it easier to see during floor exercises too. A loud, hi-fidelity four-speaker sound system makes gives off immersive studio vibes that help raise effort levels.
Speaking of noise, you'll ideally need a spare room or garage pain cave to soak up the Tread's belt whirring and impact reverberations. Using it anywhere with thin walls threatens to cause housemate and neighbourly disputes.
You'll also need solid Wi-FI. Even the on-demand experiences are streamed rather than stored locally and a poor connection causes buffering that wreaks havoc with your stats.
Training and tracking: Not just run of the mill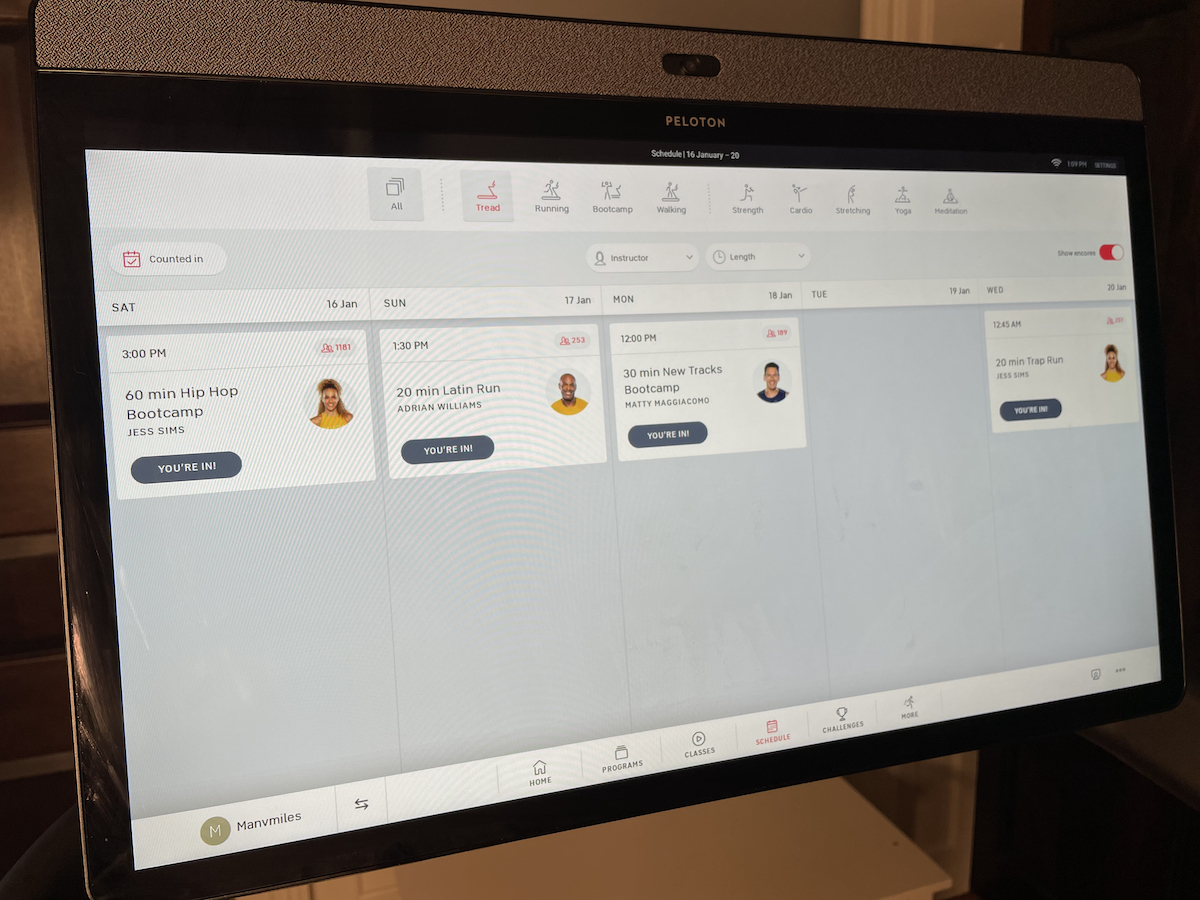 The Peloton Tread isn't just a treadmill, it's a connected, social-coached, fitness universe. A boutique studio in your spare room. If you need motivation on tap, it doesn't get much better than this.
The expert-coached, turn up-and-train experience caters for all fitness levels, with a bias towards beginners and it's wonderfully immersive. It's also inspiringly convenient, making it oh-so easy to go from sofa to full sweaty endorphin release inside 45 minutes, including getting changed.
The Apple-esque interface is crisp, clear, well laid out, easy-to-use and makes most other treadmills feel outdated. Filters for trainers, duration, intensity, workout type and level of difficulty make finding a suitable session easy. The selection includes daily live sessions and a growing library of past workouts to stream on demand.
Sessions last 20, 30, 45 and 60 minutes with a variety that goes way beyond running to include bootcamp HIIT, strength and even yoga workouts. During workouts you get pace, speed and distance stats in a customisable layout. There's also session breakdown, time remaining, real time heart rate and zones (provided you're wearing a heart rate monitor) and a leaderboard that lets you compare your performance to random strangers.
You also get your own personal best output for similar sessions where you can see in real time if you're ahead or behind. It's great for motivation and highly addictive if you're competitive. Though we'd love to see Peloton incentivise more than just hammer down hard work. After all, chasing leaderboard position and personal bests every time you train isn't smart or effective in the long term.
When it comes to coaching, that hard work ethic runs throughout too. And though you're advised to be smart about your own limits, there is a consistent drive to give more. If you need someone in your ear the whole session, driving you on with whoop-whoop, high-fiving, motivational pep talks, you'll love it.
If you prefer to zone out on your runs, the coaching probably won't be your cup of glucose. The non-stop chatter grates after a while and it also makes sessions much less repeatable – there's only so many times you can hear stories about a trainer's new puppy – and some of the motivation feels like you're being fed Instagram influencer inspiration gems.
Luckily, you can fix that by whacking on subtitles and following the instructions on screen. Or you can do your own uncoached runs with enjoyable scenic video tours through various beauty spots and national parks. The end of run workout stats offer a good balance of detail. Fewer than Garmin and Strava, but plenty to glean good insights. You get heart rate, speed and pace charts, along with pace splits and your overall position on the leaderboard.
And of course, in keeping with Peloton's relentless motivation, you can earn badges for run streaks and join challenges, all the extras designed to keep you turning up. Other really useful tools include your own training calendar for scheduling future sessions, favourites for storing sessions you want to repeat. We'd definitely like to see a broader selection of goal-oriented running programmes. Those on the Tread platform are currently limited to 'Couch to 5k'. There is marathon training 'Road to Your 26.2′, but only in the smartphone app.
Overall this is a fantastic experience. Educational, friendly, engaging and motivating. If you need that appointment to train then this is highly likely to keep you showing up, provided you're smart about mixing the intensity of your sessions.
Connectivity: Missing links?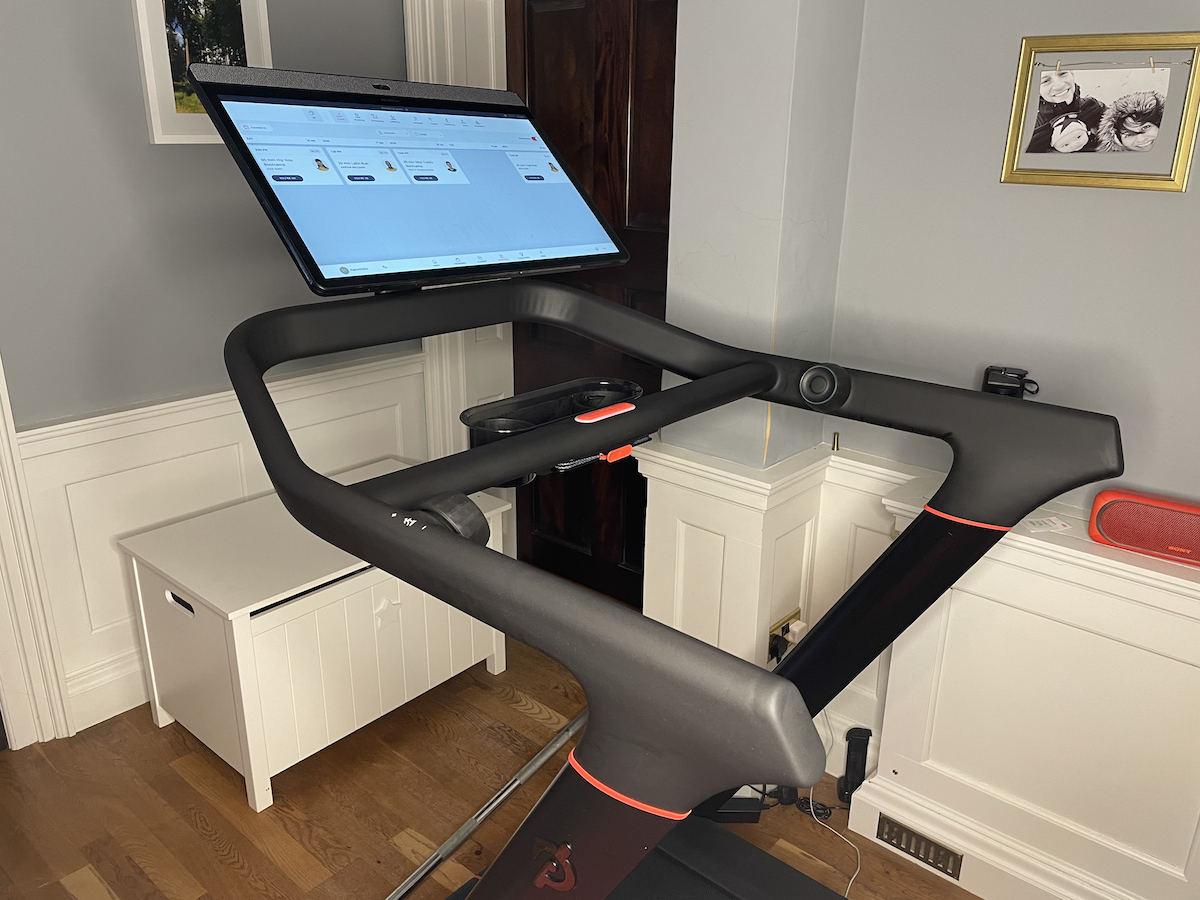 Beyond Wi-Fi, the Tread packs ANT+ wireless support and Bluetooth 5.0, so looping in external devices like headphones, heart rate chest straps or footpods like Stryd is simple and reliable. It also connects to Strava, automatically sharing your workout, splits and where you came on the leaderboard.
You can link it to Spotify, but only to automatically curate a playlist of any tracks you hit the like button for during a workout. It's a nice touch but it doesn't compensate for the fact the Peloton's screen is locked down. You can't stream or control your own music or video from services like Spotify or Netflix. Granted that's not so bad when you're doing a Peloton session, but really annoying if you're training on your own.
Verdict: Peloton Tread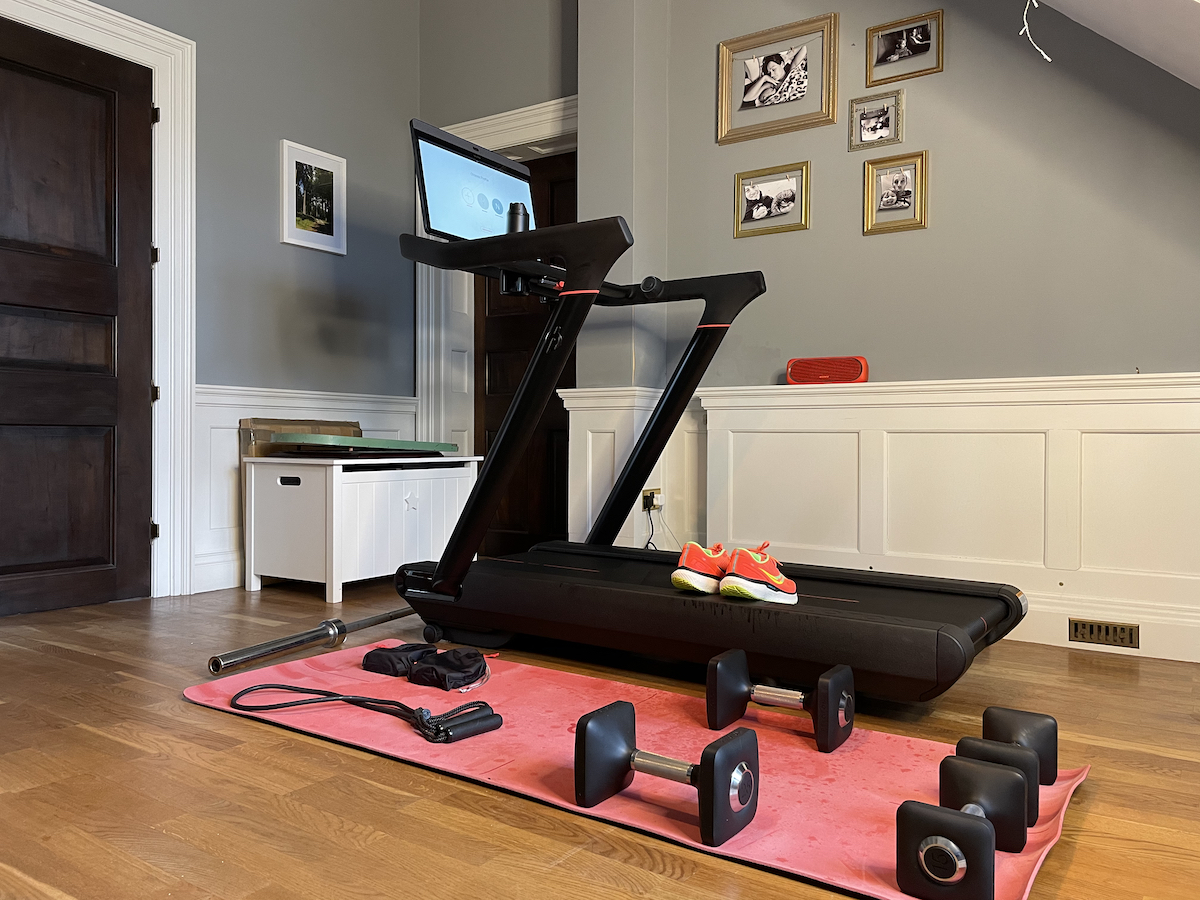 The Peloton Tread is great. Solid hardware, slick software and an experience that's exciting, immersive and potentially addictive.
If your goal is general fitness, this dishes out the kind of coaching, motivation and convenience that'll get even the most sofa-bound moving more.
It's a powerful weapon in the war on repetitious – and ineffective – treadmill cardio and a brilliant way to unleash the happy chemicals that come with high-tempo workouts. If you've got the space and can afford that hefty price tag.
Stuff Says…
If you've got the space and the spending power, the Peloton Tread offers a fitness experience that's brilliantly accessible, and dare we say it, even fun.
Good Stuff
Excellent coached training experience
Brilliant variety of workouts running and beyond
Well designed, solid build
Bad Stuff
No video or music streaming allowed
Very expensive
Can't create your own structured workouts
Limited training plans