Motorola Edge 20 Pro review
High-end tech for mid-range money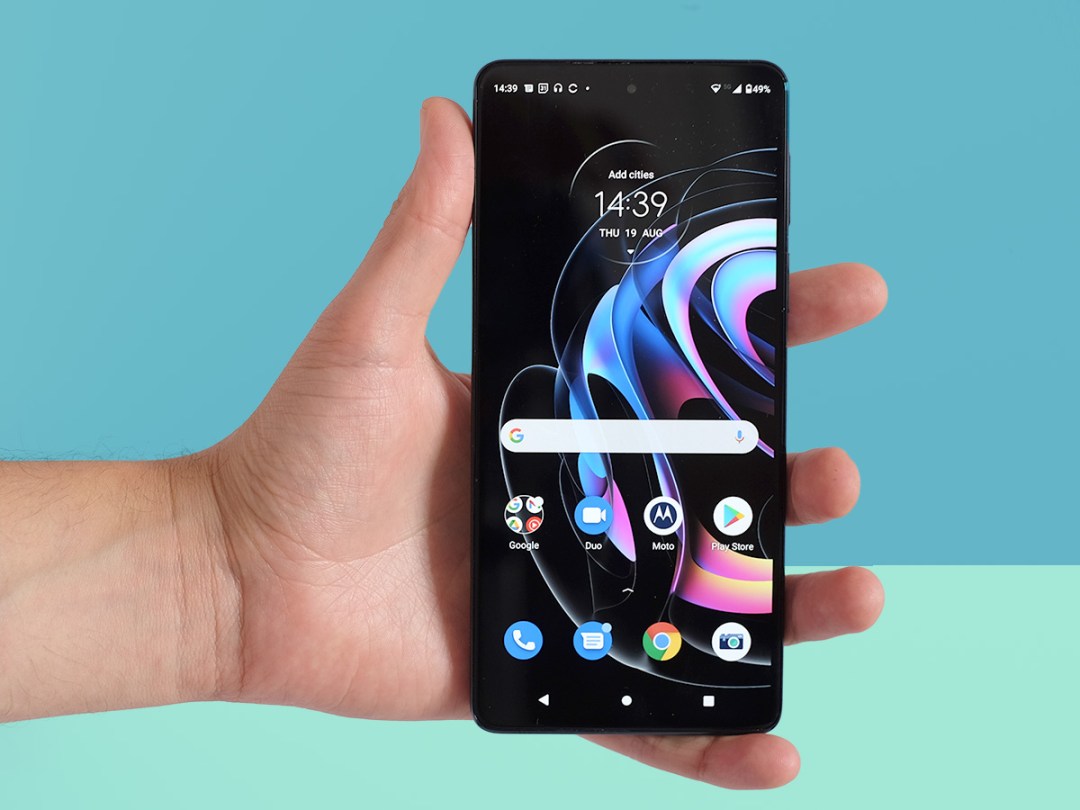 Most of us can get behind the concept of the Motorola Edge 20 Pro. It's a classic formula: high-end tech for mid-range money.
The Edge 20 Pro costs £650. Yes, that's a good deal more than Motorola's breezy budget blowers like the Moto G50. But it's still a whopping £350 cheaper than the Samsung Galaxy S21 Plus.
Sure, Motorola isn't some sort of smartphone Gandalf. A few cuts are made here and there to save pennies. And there's only one stand-out piece of high-end tech: a 5x optical zoom, with the kind of lens not usually seen in phones under £1000.
If you don't care about that, you probably shouldn't buy a Motorola Edge 20 Pro. Simple. You can save money by buying something like the OnePlus Nord 2 or Realme GT instead. Or spend the same cash and get better low-light camera performance plus a punchier CPU. But if you like the idea of a phone which checks every spec of the ultra-expensive crowd for less, this Android handset could be the perfect fit.
Design & display: premium plastic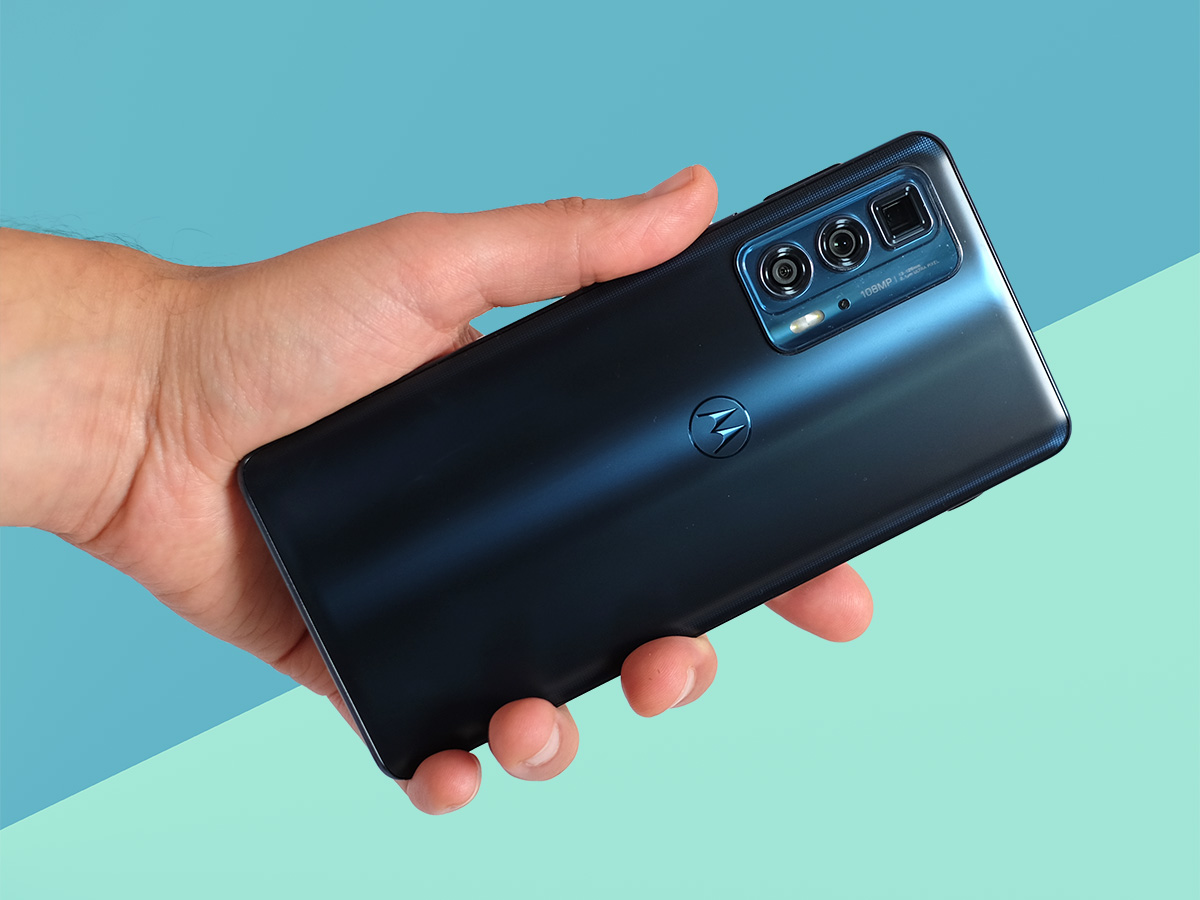 If you're looking for a smartphone status symbol in 2021, you probably won't want a Motorola Edge 20 Pro. The marque is nowadays best known for its cheaper Androids, particularly in the UK. And at first glance, this pricier one doesn't look a whole lot different from its more affordable cousins.
Get up close and you'll notice some important changes, though. The Edge 20 Pro has a curved glass back, not the plastic used in every cheap Moto. It's also significantly slimmer at 8mm. Motorola's Moto G100 is 9.7mm, and most of its lower-end models hover around the 9mm mark. They're chunky. The Edge isn't.
While the Edge 20 Pro hasn't been designed with heaps of dynamism or creativity, it feels a lot slicker than the Moto norm when you remove it from the bundled silicone case. But just like the OnePlus 9 and base Samsung Galaxy S21, there is some penny-pinching plastic on the sides. If you'd prefer that true flagship feel, the Oppo Find X3 Neo (complete with metal shell) isn't a bad bet at £50 more.
The Edge 20 Pro's screen is a 6.7in OLED with a borderline ridiculous 144Hz maximum refresh rate. This means the image can be changed up to 144 times a second, the kind of speed you might see in a gaming monitor. In reality, though, it's simply a good mid-range display. Refresh rates that don't actually offer a very noticeable benefit over the more common (and still very high) 120Hz. And the Edge 20 Pro doesn't have the ridiculously high peak brightness levels of something like the iPhone 12 Pro.
Outdoor visibility is fair, but no better than what we see in some £250 phones. The OLED panel does offer superb contrast as always, plus super-vivid colour if you want it. There's also a "natural" mode that tones things down a bit.
Features: mono music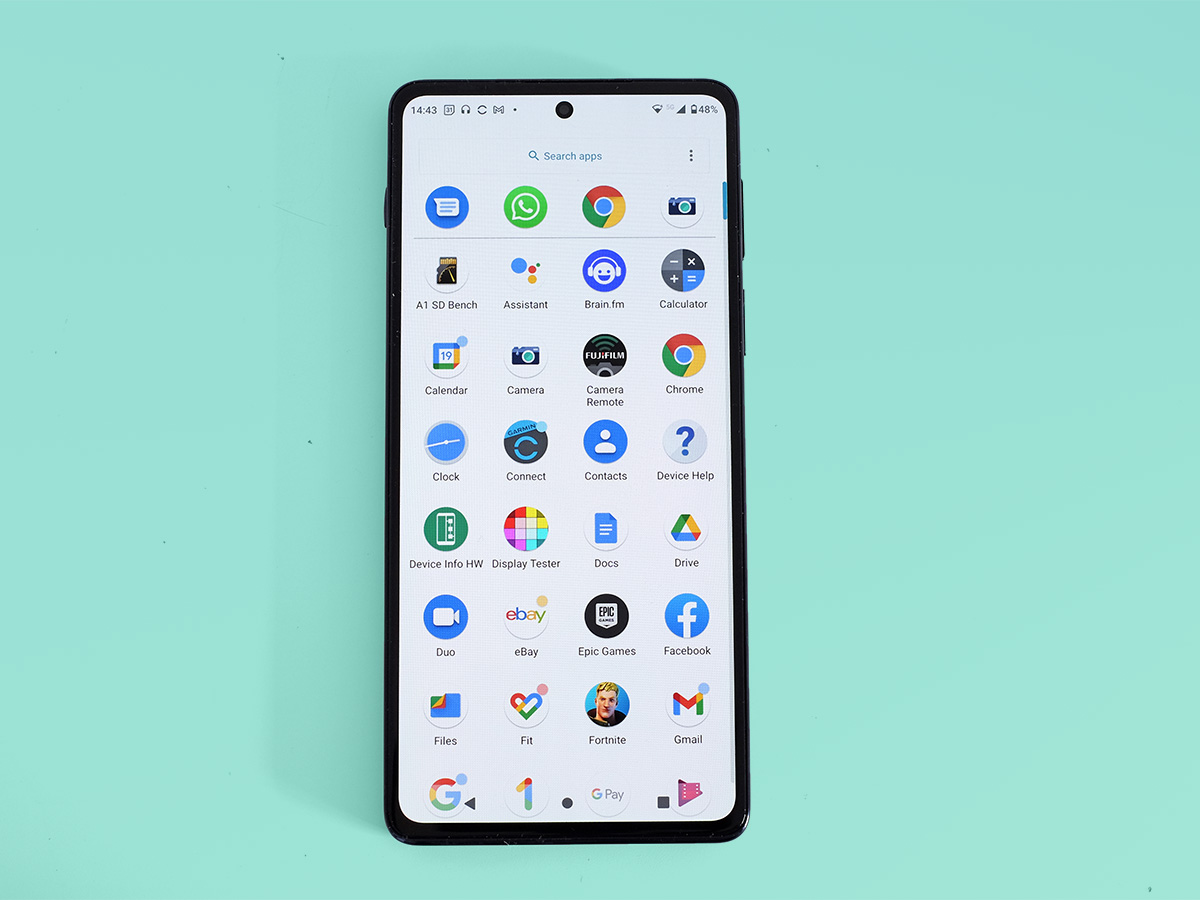 Motorola also saved a few quid by using a side fingerprint scanner instead of an in-screen one. It's fast, so this one is only an issue if you think it is.
Just like most phones above £400, the Edge 20 Pro does not have a headphone port. That alone is not headline news; more limiting is the mono speaker. It's loud, but a stereo array is always better for playing games or watching YouTube without headphones.
The Edge 20 Pro also only has the same level of waterproofing as some of Motorola's cheaper Androids. It has a "water-repellent design", but that doesn't extend to an IP rating that tells you it's fine to be half-drowned in a pint of water for 30 minutes. But for most of us, it'll do the trick.
Any other features to note? This is an Android One device, meaning you get the default Android interface with just a couple of Motorola tweaks pasted on top, like a custom lock screen. It also has something Google seems to love and we, frankly, don't: a Google Assistant hardware button.
However, this is one of the best Google Assistant buttons ever put on a phone. The geniuses at Motorola made it much, much harder to press than the other side buttons. And as a result we haven't pressed it accidentally a single time while the phone was in a pocket. Nice work, Motorola.
Battery life & performance: solid stuff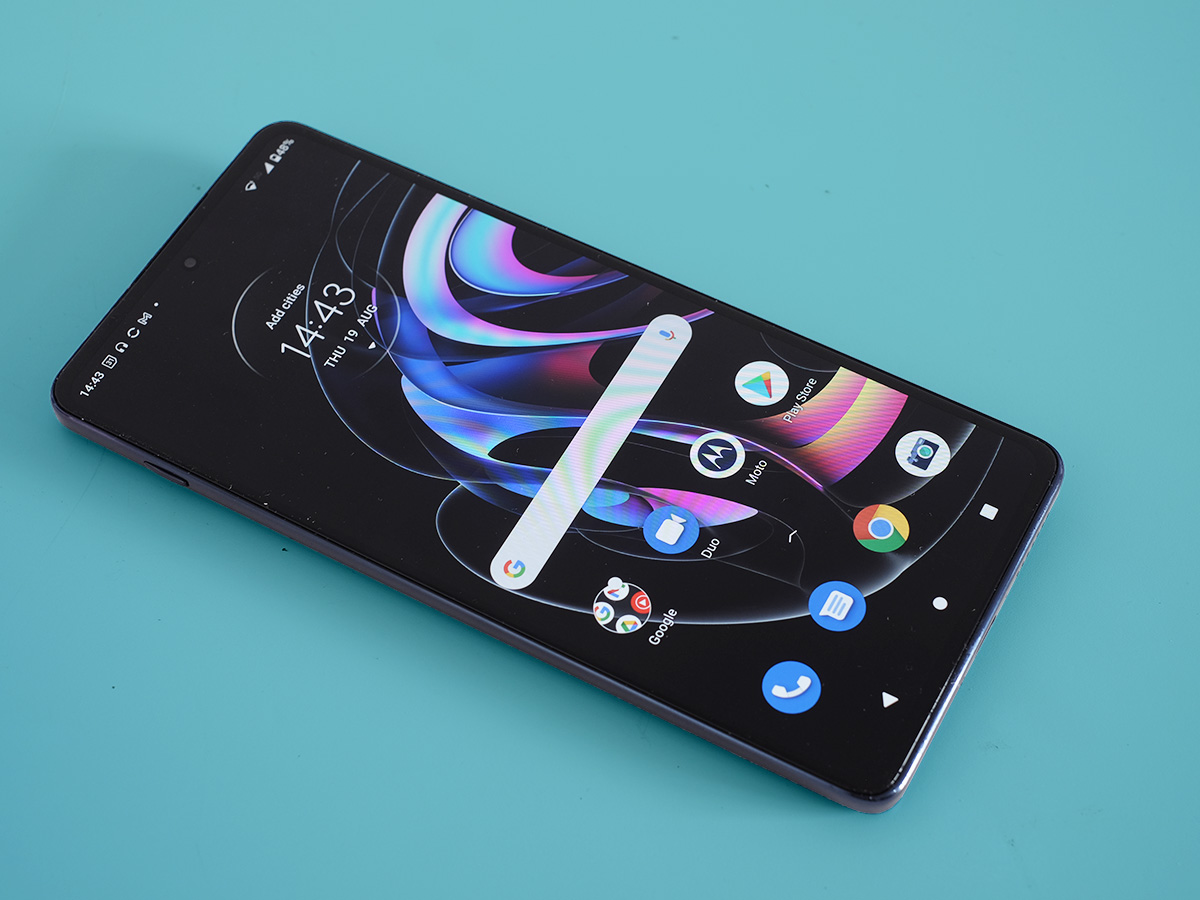 Things are similarly solid under the hood. The Motorola Edge 20 Pro uses a Snapdragon 870 chip, which is built to offer performance slightly better than last year's high-end Snapdragon 865, while not being as powerful (or expensive) as the Snapdragon 888. It's around 10-15% slower than the latter.
Although you can get Snapdragon 888 phones for this sort of cash, the Snapdragon 870 is still excellent. The one compromise we noticed was that Fortnite doesn't allow you to use the 60fps mode reserved for the fastest phones. But we've seen Androids less powerful given this option, so maybe it will be unlocked for the Edge 20 Pro in the future.
The use of a powerful processor and a large 144Hz screen made us question whether the Edge 20 Pro's 4500mAh battery was big enough. Motorola clearly seems to have cut down capacity from its favoured 5000mAh cell to make the phone slimmer, but – phew — there are no major stamina issues here.
While it's not a two-day warrior like the Moto G50, it can handle a fairly heavy day of use, no problem. We generally had about 30% left by the end of the day. And considering all the stuff inside, that's a good result. In our hands at least, it seems to outlast phones like the OnePlus 9.
That's a good thing, because Motorola isn't close to OnePlus or Realme in terms of charging speed. The Edge 20 Pro supports up to 30W, similar to a Samsung phone – but you can get much speedier 65W charging at this price.
Cameras: hits and misses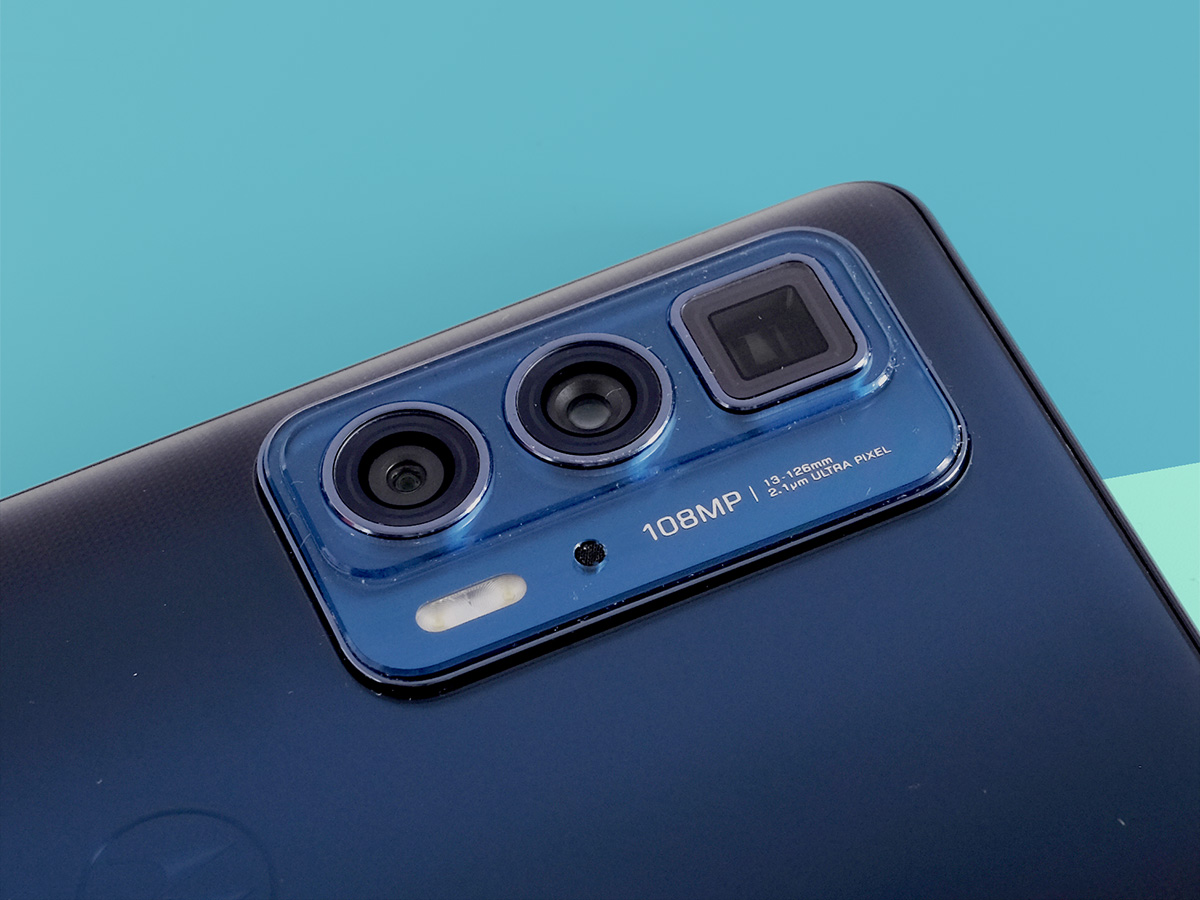 If there's one feature which justifies the 'Pro' label, it's the 5x zoom camera. This is so powerful that when you look into the lens, it appears way further back than the phone's 8mm thickness actually allows.
Powerful zooms like this are great. When you switch to 5x, you don't just get what seems like a cropped view of the main camera. You instead start to notice photo opportunities you simply wouldn't pick up at 1x. Objects you didn't spot visually suddenly become apparent. If you like to get creative with smartphone photography, the Edge 20 Pro is a versatile tool.
Is it a match for the Samsung Galaxy S21 Ultra, the emperor of phone zooms? Not even close. The Edge 20 Pro's zoom lens is attached to a sensor with a meagre 8MP resolution. If you try to use digital zoom to get to, say, 30x magnification, your photos will look like trash. Image quality quickly falls apart in lower light, too, even under the shade of tree cover.
Because the sensor is pretty tiny, detail turns mushy whenever the zoom needs to ramp up its light sensitivity. Still, in daylight you can capture zoomed images far better than 95% of phones in the £600 region. Despite some shortcomings, it's probably our favourite Edge 20 Pro feature.
The other two rear cameras are your standard 1x cam, powered by a 108MP Samsung sensor, alongside a 16MP ultra-wide. This wide-angle camera is decent, a cut above the 8-megapixel ones seen in a lot of mid-range phones. In fact, if any bit of the setup could be better, it's the one part that sounds most capable on paper: the 108MP primary sensor. While it can capture great images (and the high resolution means it can handle 2x and 3x zoom passably well), the Edge 20 Pro isn't a low-light star. And that's an issue when cheaper phones like the Google Pixel 4a 5G and OnePlus Nord 2 5G are.
The Edge 20 Pro does have a "night" mode which brightens up images well. However, you don't get the dramatic shadow detail and dynamic range boost that the best offer. This could be down to Motorola's software. Or it could be thanks to the Samsung HM2 sensor, which just isn't in the same league as the great HM3 chip Samsung stuck in the Galaxy S21 Ultra. Either way, it's an obvious weak point in a fairly camera-led phone.
Colour handling is occasionally inconsistent, too. Sometimes images look like sharper, more vital versions of the ultra-wide's take on a scene. That's what you want. A few times its pictures looked significantly cooler, though, and less charming as a result. The main cam's lens is also a little susceptible to flare when you shoot into the sun, in a scene that demands a lot of the Motorola Edge 20 Pro's HDR processing. This looks like a translucent red splodge. While the effect can appear neat, sometimes you just wish it would go away (a reminder: it only pops up in specific lighting situations). This camera may not be the flagship killer it can seem on paper, then, but it is a lot of fun to use.
Video recording is a similar story. The Motorola Edge 20 Pro can shoot footage at up to 8K resolution, but this mode isn't all that usable because it's non-stabilised. Film handheld and it'll look a mess. It uses a sensor crop too, rather than trying to distil all 108MP of data on-the-fly. Use it with a tripod and the footage sure is detailed, but you'll want to stick to 4K most of the time.
The 32MP selfie camera is also just OK. It tends to leave fine facial detail looking fuzzy in anything but very good lighting, despite the use of pixel binning. This is where four sensor pixels are taped together to improve low-light performance. You can use the night mode to improve things quite dramatically, but this takes a couple of seconds and some rivals get to this level of performance more quickly using Auto shooting.
Motorola Edge 20 Pro comparisons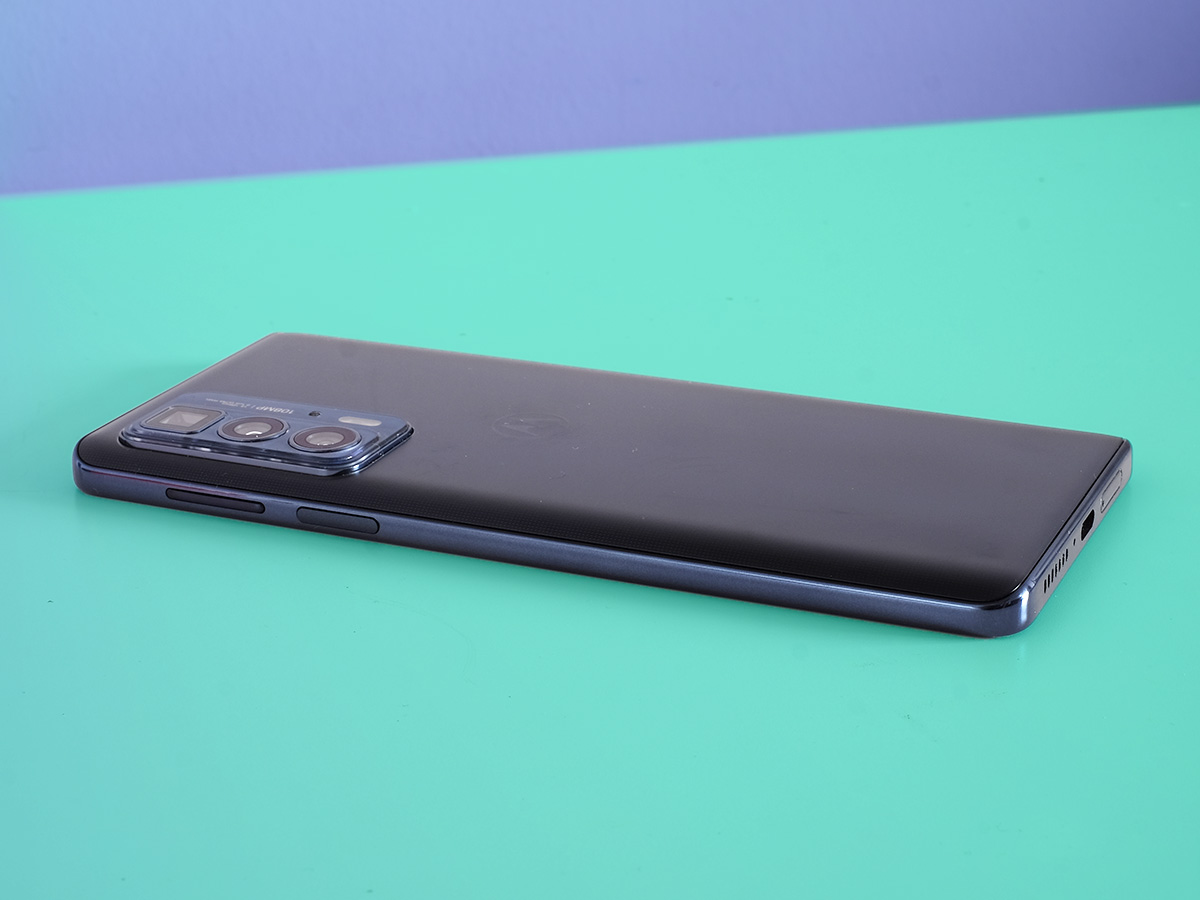 Around the £600 mark, some of your best options include the OnePlus 9, the Samsung Galaxy S20 FE and Xiaomi Mi 11 5G.
None of these phones has the kind of superzoom camera seen in the Motorola Edge 20 Pro. And to get them with 256GB storage, which this Moto includes, you'll generally have to spend a little more. But they all have other advantages.
The Xiaomi Mi 11 has a sharper screen, a faster Snapdragon 888 processor, quicker charging, stereo speakers and a brighter OLED panel. Its curved glass front will appear more luxurious to some, too.
We think the OnePlus 9 takes more alluring images with its main camera, and has a significantly better ultra-wide. It's the more stylish phone and, again, it packs that punchy Snapdragon 888 CPU.
The Samsung Galaxy S20 FE 5G is the only one of the three with a somewhat comparable zoom, a 3x lens. However, its Snapdragon 865 processor is slightly less powerful, and the back is plastic. It does come with the Samsung street cred some buyers want, mind.
There's also the step-down Motorola Edge 20 to consider – the non-Pro version. It's significantly cheaper at £429, but has a less powerful CPU, a more ordinary 3x zoom camera and a smaller 4000mAh battery. We like the sound of this phone, as it nets you three distinct focal lengths at a reasonable price. But that battery capacity is an eyebrow-raiser as it may leave the phone struggling to stay awake by midnight on busy days.
Motorola Edge 20 Pro initial verdict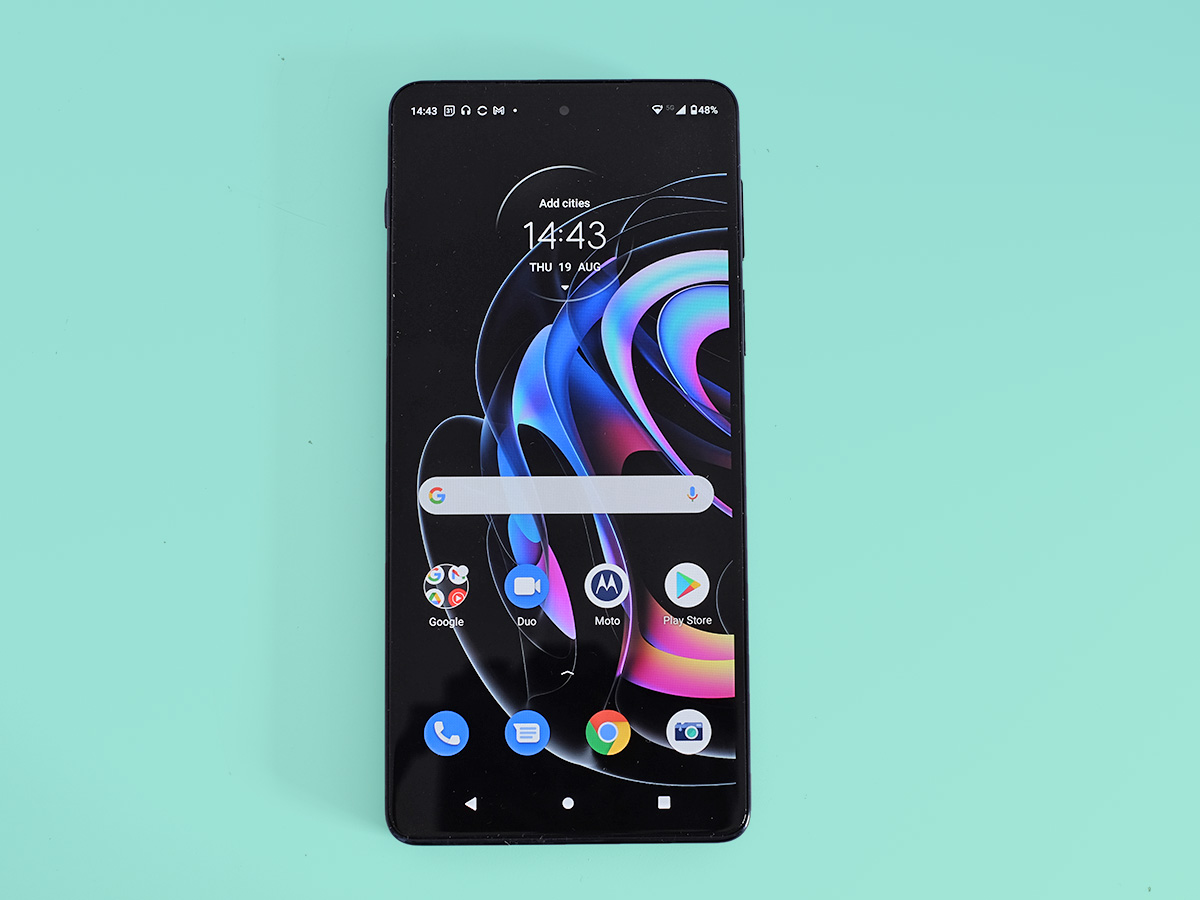 The Motorola Edge 20 Pro doesn't set bold new quality standards in any area. It's not the most stylish, you can get more power for the same money if you want it, and low-light pictures are far from best-in-class.
However, it's one of the few mid-range phone that offers just about every bit of the £1000+ phone experience, thanks to its super-zoom 5x camera. It's one of the most expensive-to-implement pieces of tech – and one of the most fun to use, too.
Don't care about capturing high-up autumnal leaves from the ground, or papping cute daschunds from 20m away? You can get similar performance for less elsewhere. But we're going to miss that zoom when the Motorola Edge 20 Pro goes back in its box.
Tech specs
| | |
| --- | --- |
| Screen | 6.7in 2400×1080 144Hz OLED |
| CPU | Qualcomm Snapdragon 870 |
| Dimensions | 163x76x7.99mm |
| Battery | 4500mAh, 30W charging |
| Cameras | 108+8+16MP (rear), 32MP (front) |
Stuff Says…
A handset that deals in breadth, offering almost every core feature you get in phones costing twice the price
Good Stuff
One of the most affordable 5x zoom camera phones
144Hz OLED screen
Good gaming performance
Chunky 256GB storage
Bad Stuff
So-so low light photography
Mono speaker
Not as powerful as some rivals