Motorola Moto G50 review
Wallet-friendly 5G done the Moto way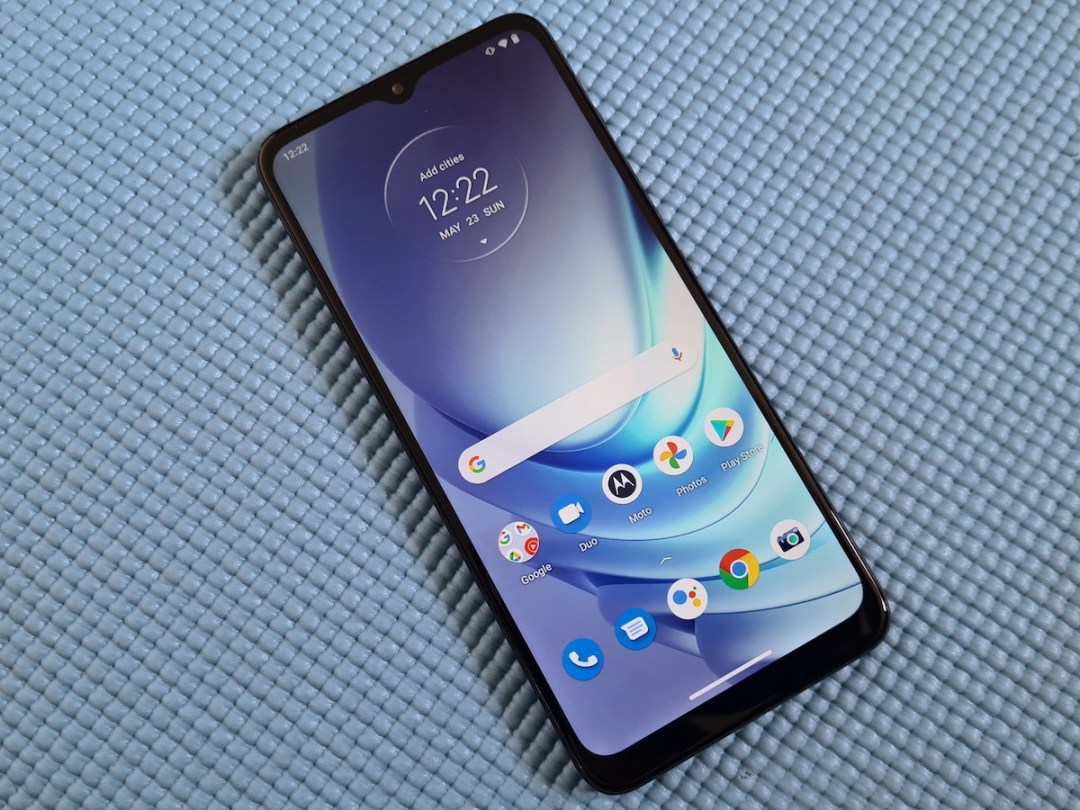 Want a cheap but good smartphone? Ain't nothin' but a Moto G50 thang, baby. Motorola's long-running G series is always a go-to option for anyone looking to save a buck, even now that 2021 has seen the formula shaken up.
Big batteries and quick-refresh displays are the order of the day, and there's even a 'flagship' version if you're that way inclined. The Motorola Moto G50 slots in towards the top of the pile, above the more traditional Moto G30, but below the productivity-minded, quad-camera G100.
It brings 5G support to a previously unheard of price, which should appeal to data-hungry streamers and social media addicts – but also makes some cuts along the way.
MOTOROLA MOTO G50 DESIGN & FEATURES: PLASTIC FANTASTIC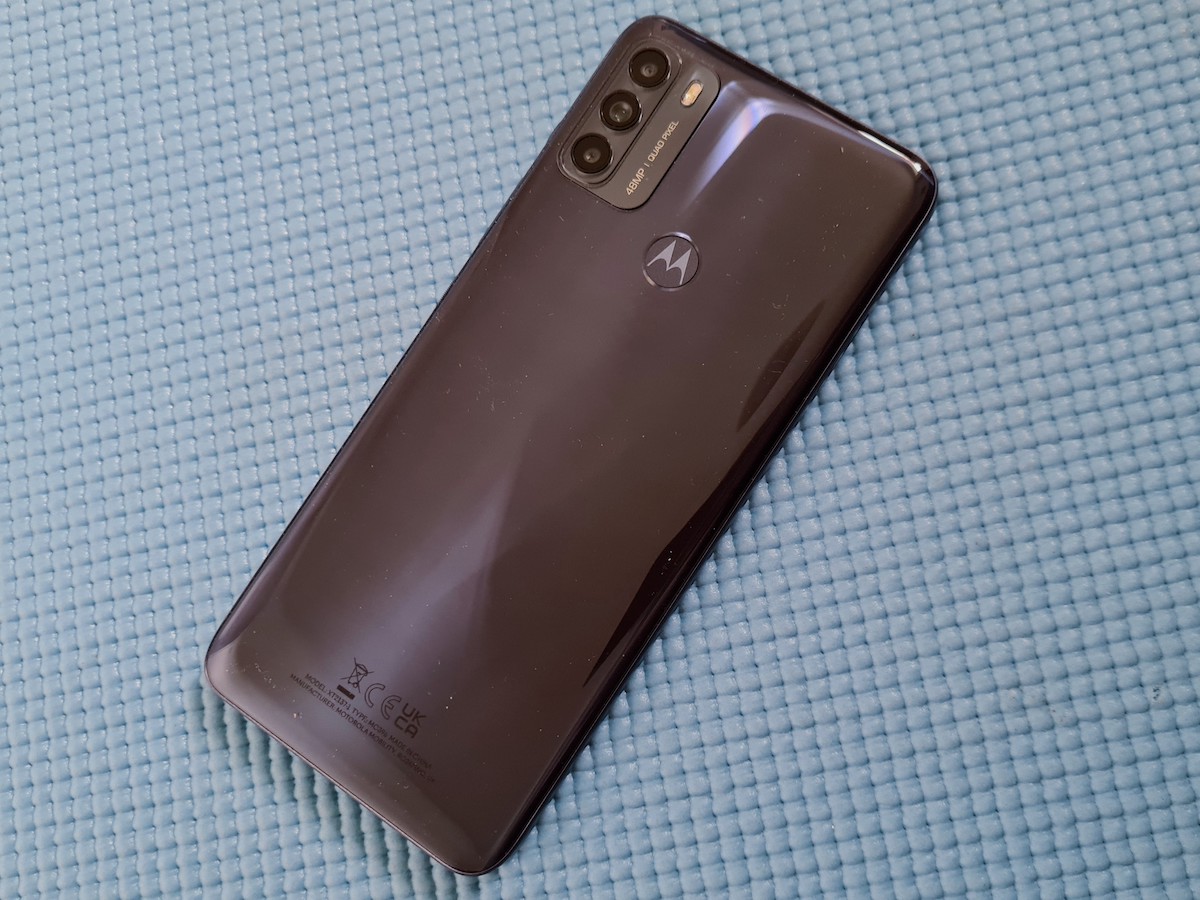 There's more than a little family resemblance with the Motorola Moto G50, with the same plastic construction, hardware layout and general heft as the Moto G30. This is no lightweight, although the rear-mounted fingerprint sensor is placed within easy reach and the 20:9 aspect ratio makes it comfortable enough to hold.
NFC, microSD storage support and a 3.5mm headphone jack make the Motorola Moto G50 about as well-connected as budget phones get, and you also get a dedicated Google Assistant button. Like on the Moto G30, though, it's placed very high up the side of the phone.
There's still no way to customise it for extra shortcuts, either – but we're guessing that's at Google's insistence so as not to confuse people that aren't power users.
Around back, the off-centre camera bump borrows more than a little from Apple and Samsung's latest flagships, but it does admittedly give off a premium vibe. The shiny finish looks pretty slick too, with minimal branding and a coating that hides fingerprints.
MOTOROLA MOTO G50 DISPLAY & SOUND: LOOKS FAMILIAR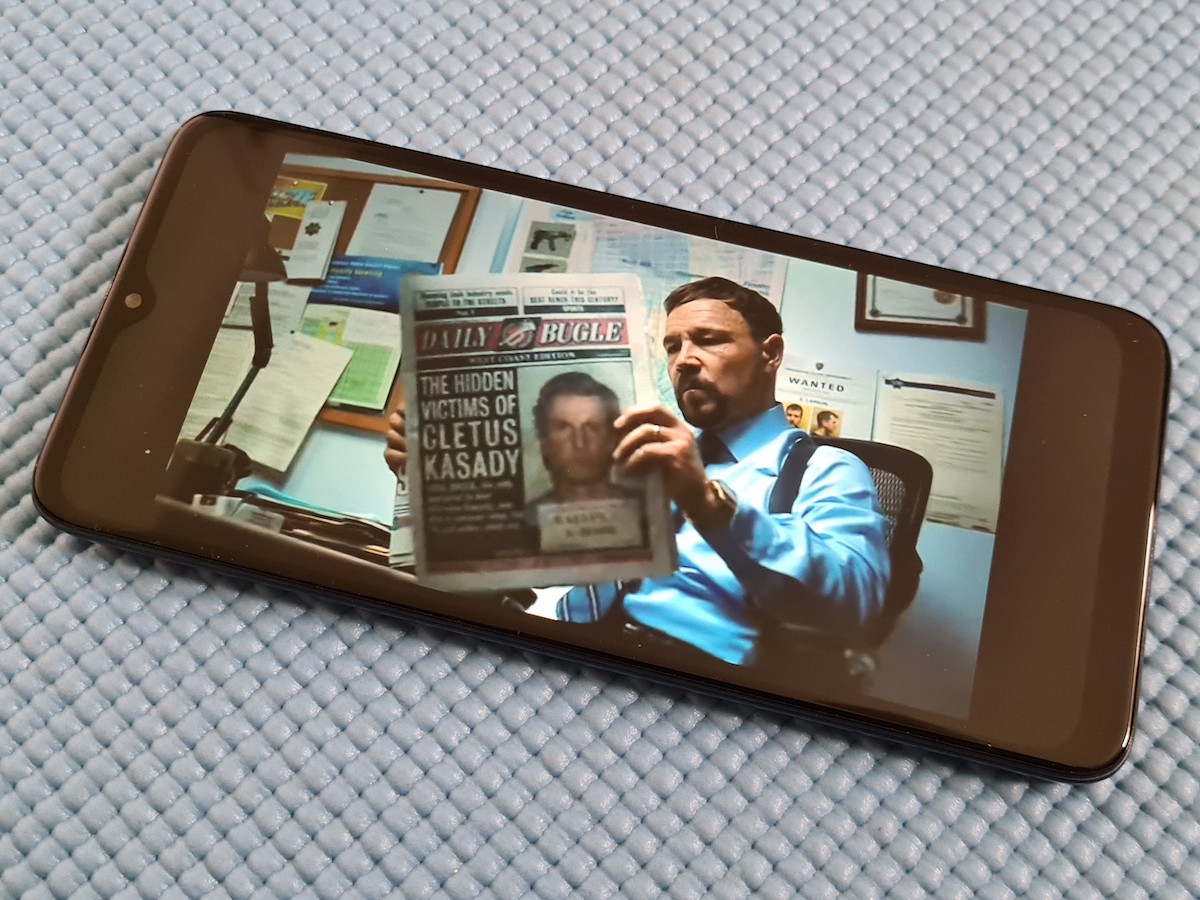 Similarities with the cheaper Moto G30 continue with the 6.5in screen, which is just as much of a handful here and topped with a teardrop notch that manages to avoid being too obtrusive.
Both phones have the same big, bright LCD display, with a 1600×720 resolution and 90Hz refresh rate. It's a welcome step up from the standard 60Hz screens you'll find on cheaper phones, but not quite as buttery smooth as 120Hz panels you'll find on pricier handsets.
Interestingly, 90Hz feels like a more worthwhile inclusion here than it did on the Moto G30, which would stutter when scrolling through image-heavy websites. The Motorola Moto G50's CPU might seem less capable on paper, but the newer silicon is more efficient and does a better job at keeping up with your taps and swipes.
The phone can decide when to ramp up to 90Hz to save battery, but the added smoothness is worth a few hours less between trips to a plug socket. A higher resolution would have been a nice addition, as text and images aren't particularly sharp, although you only really notice with your nose pressed against the glass.
It at least delivers on outdoor brightness, so you shouldn't struggle to read WhatsApp messages while out and about. Don't go expecting HDR support or cinema-grade image quality and you won't be too disappointed with the Motorola Moto G50's image quality, which is decent enough for a £200 phone.
Colours are a little muted on the default setting, and the two other options don't make a major difference. Contrast is only OK, too, which saps movies of visual punch, but YouTube clips look decent enough.
Sound quality remains a disappointment, with the single down-firing speaker at its best when playing spoken word podcasts. Most music sounds rather harsh once you crank the volume, so you'll definitely want to use the 3.5mm headphone port.
MOTOROLA MOTO G50 PERFORMANCE & SOFTWARE: NEW NORMAL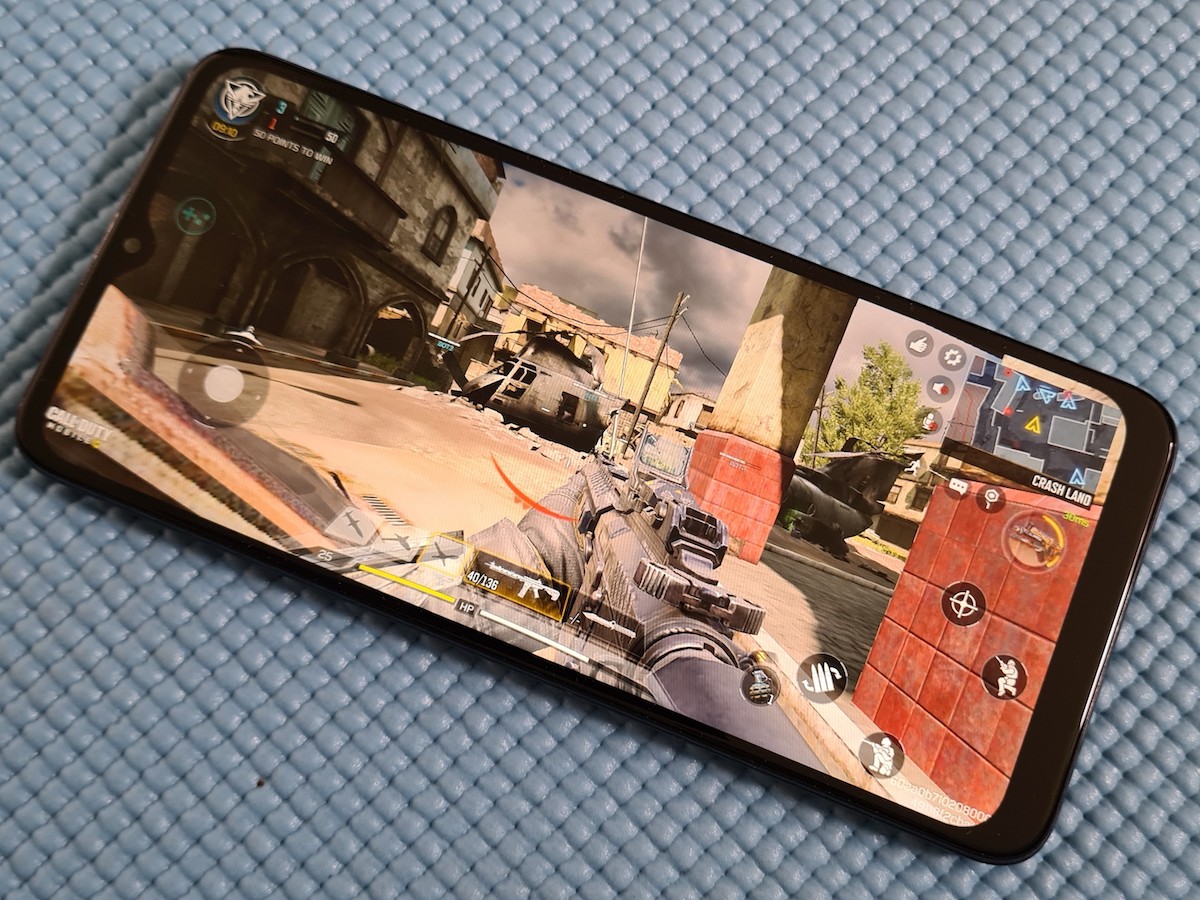 The Motorola Moto G50 was our first chance to check out one of Qualcomm's latest 400-series CPUs, which have baked-in support for 5G. Previously you'd pay a premium for that kind of connectivity – now you can get streaming at super speed for under £200.
Lower model numbers usually mean worse performance, but the Snapdragon 480 used here is much newer silicon than the 662 chip you'll find in the Moto G30 – meaning it's more efficient, and should be speedier in all situations. That was definitely true in our testing, with apps opening quicker and animating smoother than they did on the Moto G30.
You can still expect a short wait when running more demanding apps, and with 4GB of RAM the bare minimum for smooth Android performance these days, you won't be able to quickly swap between lots of apps without the phone needing to relaunch them. Still, performance is definitely a welcome step up from the Moto G30.
The Motorola Moto G50 is largely up to the task when it comes to gaming, too. Call of Duty Mobile defaults to High graphics settings, and while the frame rate can judder a bit when first loading into a new map, things are perfectly playable once the action gets going.
Only more demanding titles like Genshin Impact will force lower quality settings in the name of smooth gameplay. Motorola's stripped-back take on Android certainly works well on budget handsets like this, with no CPU-intensive skins or software tweaks to slow things down.
You get the full suite of Google apps out of the box, but only a handful of Motorola ones that focus on functionality, leaving more of the 64GB on-board storage available for your apps and content. Even so, 128GB would have been nice, seeing as that's what you get on the cheaper Moto G30.
MOTOROLA MOTO G50 BATTERY LIFE: SWEET SPOT
All four new Moto G handsets have a 5000mAh battery, but it's particularly well suited to the Motorola Moto G50's combination of hardware. It has a lower resolution display than the Moto G100, and uses a less power-hungry processor than the Moto G30.
That basically means it'll go far longer between top-ups. We regularly made it through a day and a half of regular use without needing to plug in, while avoiding intensive games and sensible use of the power saving modes can stretch that even further.
That's handy, given the 15W charging speed is a little anemic. Some rivals now manage up to 60W wired charging, and yet here the bundled charger is only good for 10W. Expect between two and three hours for a full charge.
Naturally for a sub-£200 handset, there's no wireless charging. Using the Motorola Moto G50 on a 5G network won't drain your battery any faster than a 4G connection – although it can feel that way. When the speeds are that much quicker, it's easy to find yourself using mobile data a lot more than you did previously.
MOTOROLA MOTO G50 CAMERA: CAPABLE WHERE IT COUNTS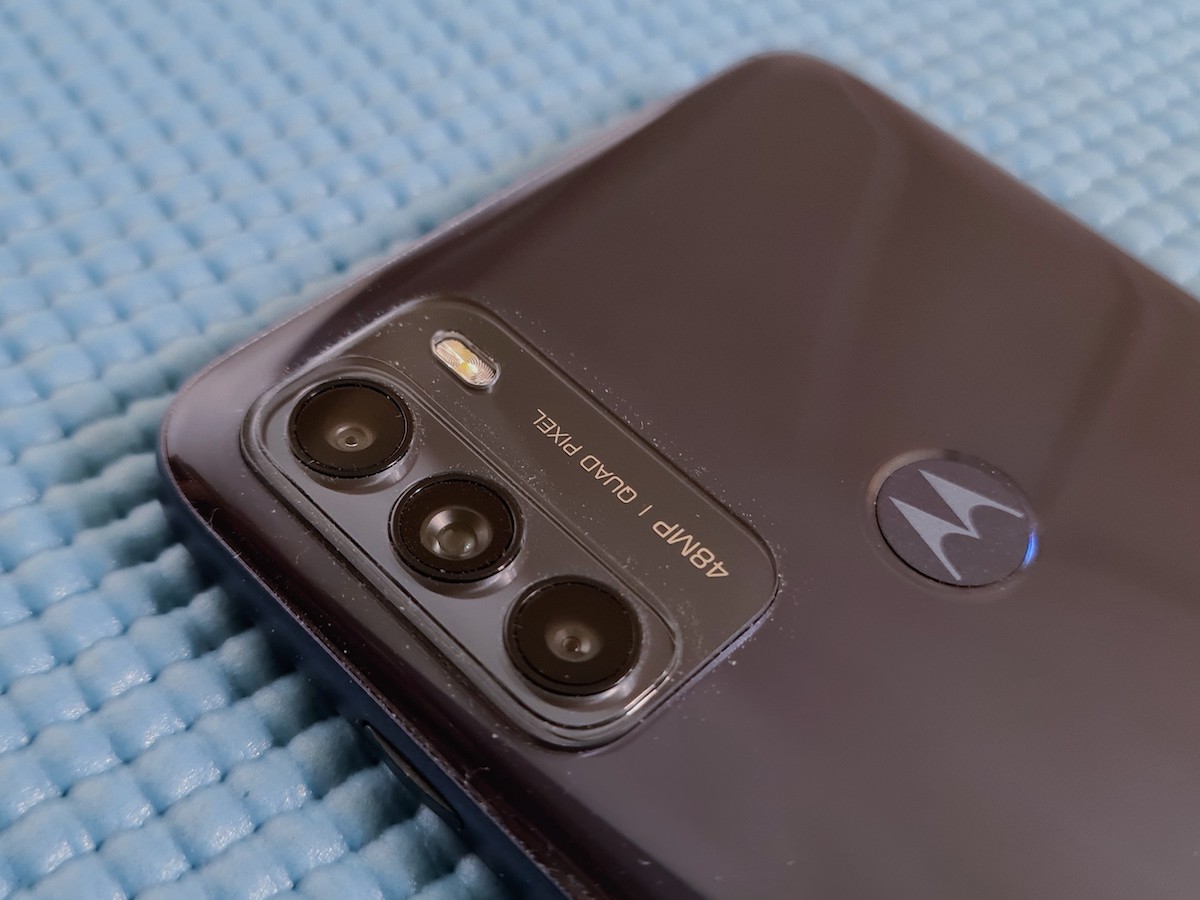 In most areas, the G50 either matches or bests the Moto G30, but is arguably less capable than even the entry-grade Moto G10 in the camera stakes. Both the G10 and G30 have four rear cameras, including an ultra-wide.
You only get a triple-lens setup here: a 48MP main snapper, 5MP macro and 2MP depth sensor. It loses out in terms of raw detail to the G30 and its 64MP sensor, with fine patterns in particular being a struggle.
Grass, foliage and brickwork can appear disappointingly splodgy once you look closely. Still, it produces decent enough pictures for a budget handset, with well-judged colours and balanced exposure.
HDR takes care of brightly lit skies, even if it can be caught out when the majority of a scene is more dimly lit. A dedicated night mode can only do so much with long exposures, leaving low-light images looking grainy.
Few sub-£200 phones can do better, but you don't have to spend flagship money to get a superior shooter – just look at the Google Pixel 4a. Macro shooting sees the G50 pull ahead thanks to a higher pixel count, but only just.
Results are a lot sharper than what's shown onscreen before you hit the shutter button, which means you're never sure if a shot will be usable or not, and this is still only a 5MP sensor.
There's not a lot of detail and there's plenty of noise, even when shooting in bright environments. As ever, the depth sensor adds questionable value, with portrait shots being caught by fairly simple shapes and producing unconvincing bokeh blur once to look closely.
The camera app at least feels more responsive than it did on the G30, although there's still a visible delay as the image is rendered when previewing your recent snaps.
MOTOROLA MOTO G50 VERDICT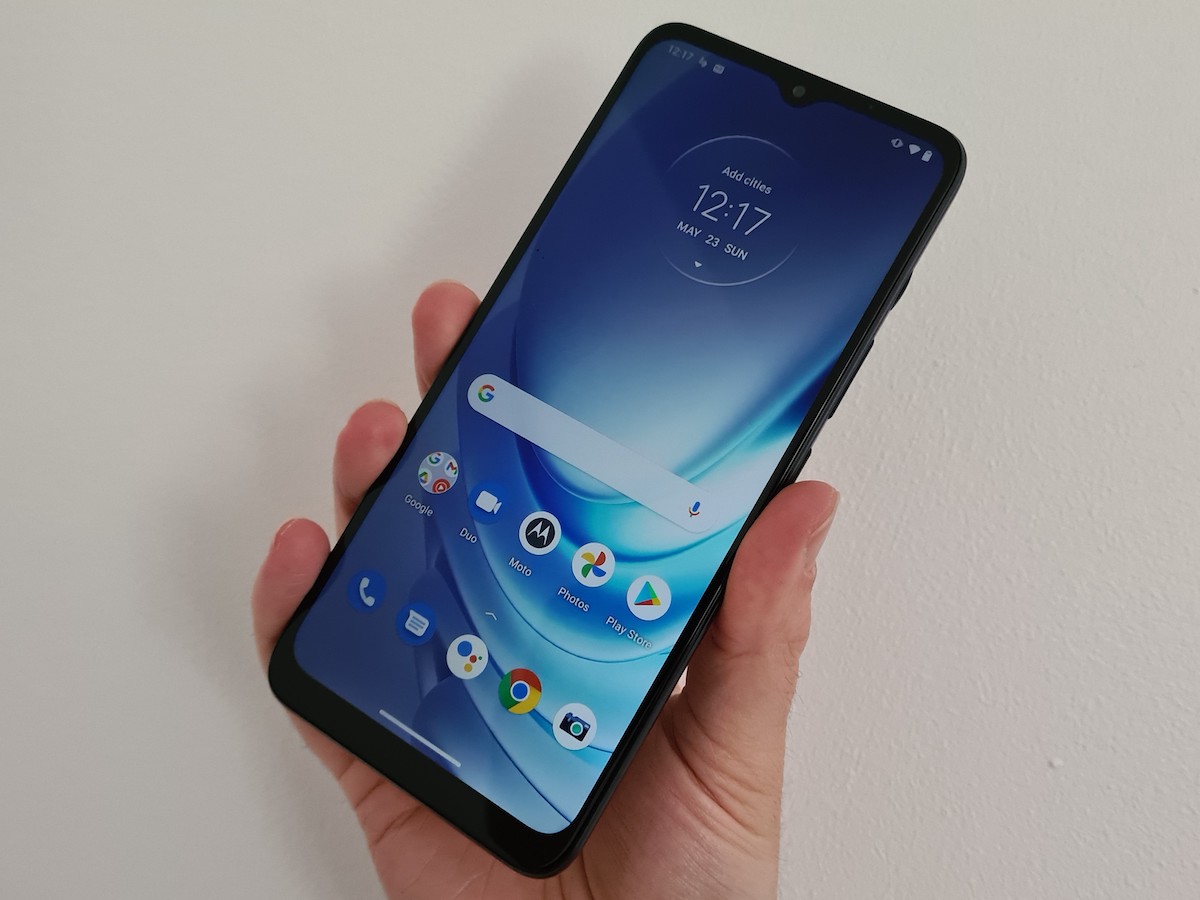 Are you on a fairly tight budget, but have 5G connectivity at the top of your smartphone shopping list? The Motorola Moto G50 is a seriously affordable option for rapid downloads and stutter-free streaming.
It's almost as well-rounded as the 4G-only Moto G30, yet packs in a little extra processing pep for just £40 extra. It sacrifices storage space and an ultra-wide camera in the process, but makes up for the former with microSD card support, and the latter was merely average on the Moto G30 anyway.
Close competitors like the Redmi Note 9T cost more and force you to use quirky custom versions of Android. For anyone content with 4G speeds, though, there are plenty of options that outmuscle the Moto for similar cash.
The Poco X3 NFC and Realme 8 bring AMOLED screens, more storage and faster charging, which we'd prefer over the Motorola Moto G50's admittedly impressive staying power.
The Competition
Packs in a lot for anyone on a tight budget, even if not every feature adds a lot of value. The Moto G30 is ultra-affordable and its performance won't frustrate, but if you can stretch just a little further, rivals offer an even slicker experience.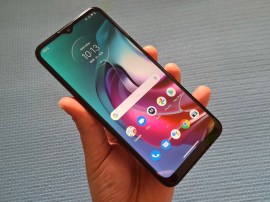 Tech specs
| | |
| --- | --- |
| Screen | 6.5in, 1600×720 IPS LCD w/ 90Hz refresh rate, 20:9 aspect ratio |
| Processor | Qualcomm Snapdragon 480 octa-core |
| Memory | 4GB RAM |
| Cameras | 48MP, f/1.7 main w/ PDAF autofocus and LED flash, plus 5MP, f/2.4 macro, 2MP, f/2.4 depth sensor rear. 13MP, f/2.2 front |
| Storage | 64GB on-board, microSD expansion |
| OS | Android 11 |
| Battery | 5000mAh non-removable |
| Dimensions | 165x75x9mm |
| Weight | 192g |
Stuff Says…
A capable mid-ranger that squeezes in 5G support for less than you expect. The G50 isn't an absolute bargain like previous G series phones, but it largely delivers in all areas for the price
Good Stuff
Punchy display with smooth frame rate
5G connectivity at a sensible price
Solid battery life
Bad Stuff
Only one of the three cameras worth talking about
Charging not the fastest
Storage down on cheaper G30