Motorola Moto G30 review
A smooth operator with enticing pricing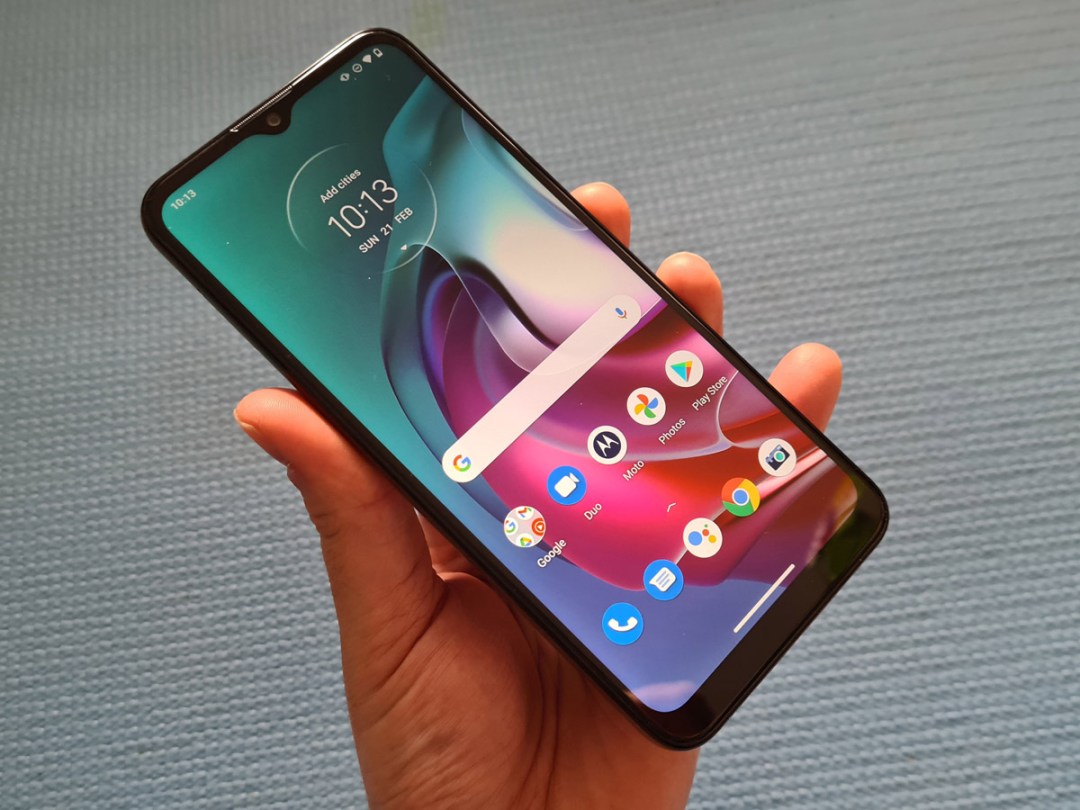 It's fair to say Motorola's approach to affordable smartphones has felt a little scattergun in recent years. With Power, Plus, Play and 5G variants to choose from, things were getting a little complicated.
That all changes for the new generation, with the entry-grade Moto G10 and step-up Moto G30. Bigger numbers mean better features, see. Simple. Huge batteries and high resolution cameras are the order of the day, with the G30 getting a more powerful processor, extra onboard storage and faster charging than its baby brother for just a little more cash.
It's also Motorola's most affordable phone with a high refresh rate screen. At £160, that could make it something of a steal.
DESIGN & FEATURES: PURPLE PHASE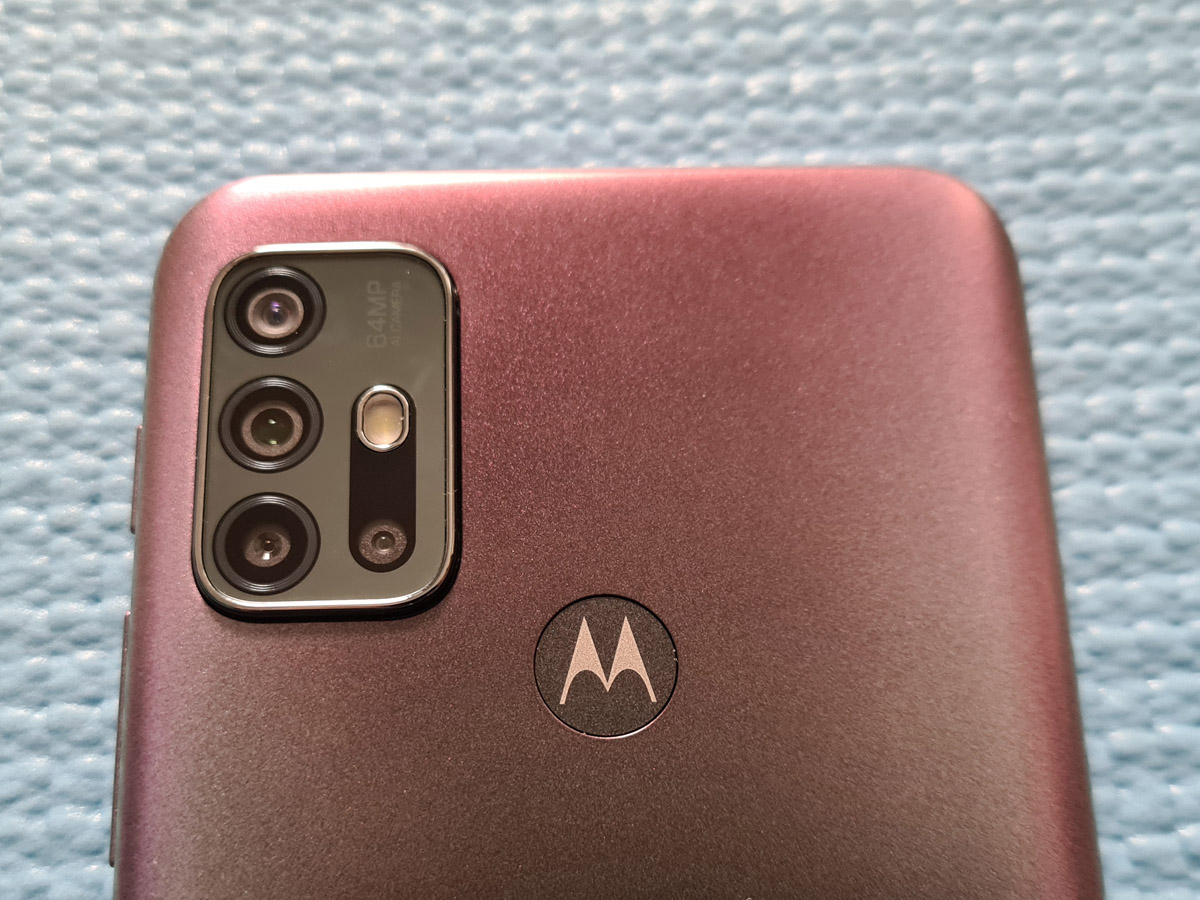 It might be made entirely from plastic, but the G30 certainly looks the part. The screen takes up the entire front of the phone, while the rear is delightfully minimal – just a Motorola logo that acts as a fingerprint sensor and the chunky camera module.
The shiny finish hides fingerprints well, and if you aren't besotted by the purple hue of our review sample, Motorola will also sell you one in black. Does the off-centre camera bulge try a little too hard to mimic last year's Samsung Galaxy S20? Maybe, but as it makes this sub-£200 phone look like a much more expensive one, we'll give it a free pass.
At 200g it's a hefty bit of kit, and large enough it'll poke out of a lot of jeans pockets, but the skinny screen aspect ratio means it's not uncomfortable to hold.
It's a 4G phone, but that's hardly a surprise at the bargain basement end of the smartphone spectrum, but Motorola hasn't skimped elsewhere: a 3.5mm headphone jack is a welcome addition, and NFC is onboard.
Given the tech's lack of popularity in China, it's frequently missing on budget handsets from the region, so thumbs up for its inclusion here. The dedicated Google Assistant button might come in handy, if you have dexterous digits.
It's a little too high up the side of the phone to be comfortable – or a lot too high if you're left-handed. There's also no way to customise it: a double-tap or press and hold to launch certain apps would have been a nice little bonus.
DISPLAY & SOUND: QUICK ON THE DRAW
High refresh rate screens have been slowly trickling down from flagship phones for the last year or so, and now you can get one for less than £200. The Moto G30 opts for a 90Hz panel, which isn't quite up there with Samsung, OnePlus and the like, but should still create a slicker user experience than a more basic 60Hz phone.
At least, that's the idea. Scroll rapidly down a web page and the G30 takes its sweet time to load in images, detracting from the sense of smoothness. Even swiping up the app drawer isn't particularly butter-like, though things do improve if you force the screen to its highest refresh rate, rather than letting it decide when to boost up and when to relax down at 60Hz. Sure, there'll be a battery hit, but not a significant one.
At 6.5in and with a 20:9 aspect ratio, the G30's display is a real chunkster, one you'll need two hands to use comfortably. The teardrop notch isn't all that obtrusive, and the bezels are fairly slim for a budget phone.
The 1600×720 resolution is something of a letdown, though. 1080p screens aren't uncommon in budget phones any more, and with relatively fewer pixels stretched over a sizable panel, text isn't especially crisp.
Colours are quite restrained out of the box, and the LCD panel gets plenty bright when you step outdoors, but contrast is merely average and darker video scenes don't have an awful lot of detail. There's also no HDR support. Go in expecting to be blown away by its clarity and you'll be disappointed, as even at the lower end of the price spectrum, screen quality is merely OK.
That's true of the single down-firing speaker, too. It gets fairly loud, but is easily muffled depending how you hold the phone, and sounds tuned to vocals, so gets particularly shrill when you crank up the volume.
CAMERA: LESS IS MORE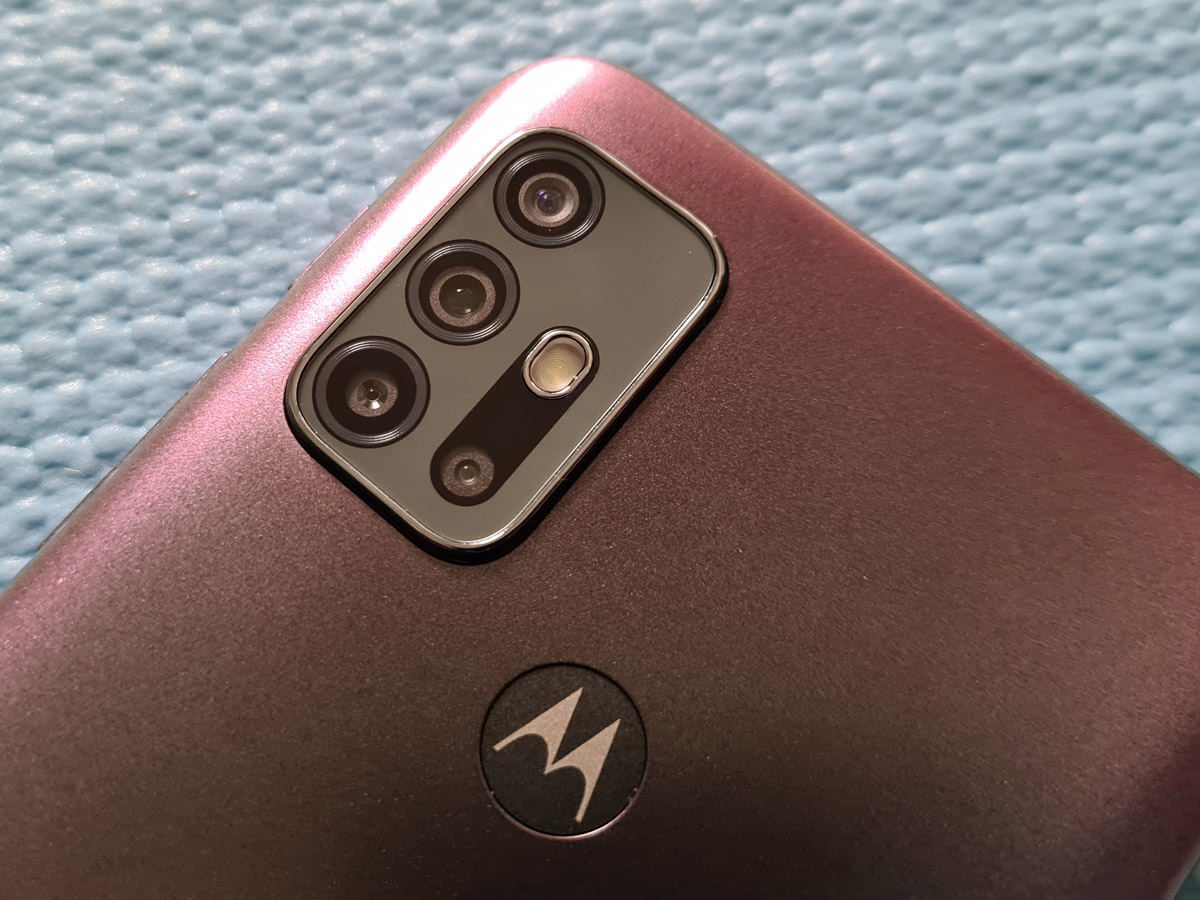 With a huge 64MP main sensor, the G30 has one of the highest-resolution cameras you'll find on a budget phone. It uses four-to-one algorithmic cleverness to deliver 16MP photos, using the extra data to strip back image noise, boost details and capture more light in darker scenes.
Daytime shots are impressively clear and well exposed, with auto HDR helping balance bright skies without blowouts. Textures like brickwork, foliage and grass (often a challenge for small camera sensors) look crisp at first glance, and hold up as you zoom in to your shots. Overall quality still dips behind that of a mid-range phone, but the G30 is far from disappointing in terms of budget handsets.
Low light shooting isn't up to the same standard, even with such a high pixel count. The image processing isn't anywhere near the same standard as Google's £349 Pixel 4a, even with Night Mode enabled and a very steady hand, though results are still usable – which is something you wouldn't find from a budget phone even a year or two ago.
The G30 also has three secondary snappers along for the ride, but only one of 'em is worth your time. The 8MP ultrawide helps put a new perspective on your pics by fitting more of a scene onscreen. Image quality is a noticeable step down from the main camera, with a fair amount of noise, but the results are still usable enough in daylight conditions.
The 2MP macro lens, on the other hand, adds very little in the way of value. It's low resolution and very noisy even in good light. The depth-sensor also feels superfluous, given the bokeh effects it creates look no more convincing than a purely software-driven handset can produce. More isn't always better.
If Motorola had stuck to just two cameras, maybe the G30 could have used a more powerful CPU – one that supported 4K video recording, perhaps, which this phone doesn't.
PERFORMANCE: QUICKLY OUT OF PUFF
If all this talk of high refresh rate screens and huge pixel count cameras had you thinking the Moto G30 was the bargain of the century, its underlying hardware should set things straight.
You get a Qualcomm Snapdragon 662 CPU, paired with 4GB of RAM. It's an eight core chip, but one that's slower than Snapdragon 665-powered mid-rangers like the Nokia 5.3, and left in the dust by Snapdragon 732G phones, especially on the gaming front.
'PUBG Mobile' defaults to its lowest settings, and even then the level of texture pop-in is dramatic. Frame rates are decent enough, but you'll struggle to take advantage of the 90Hz display refresh rate.
Motorola likes to leave Google's vision for Android practically untouched, so the Moto G30 gets a stock interface, familiar icons and easy to navigate settings screen.
Google Assistant is also just a swipe away, and gesture navigation is on by default. The minimal approach was definitely called for, as there's not a lot of extra CPU grunt to spare on flashy launcher effects and the like.
Homescreen animations can sometimes stutter and swapping between apps takes a little longer than you'd hope. It takes over a second to switch between lenses in the camera app, and media-heavy web pages judder under your thumb as pictures load in. Even the onscreen keyboard takes just a little bit longer to appear than it would on a mid-range handset.
Given the price point, this kind of performance isn't a huge surprise, and it doesn't exactly ruin social media apps, web browsing or YouTube playback, but means the smoothness of the high refresh rate screen often goes to waste.
As a largely stock handset, all of Google's usual suspects come preinstalled, along with a couple of Moto exclusive apps that let you customise shortcuts, gesture controls and the UI colour scheme. About 20GB of storage is accounted for out of the box, leaving at least 100GB for you to fill with apps, games and media. Get through all that and there's a microSD card slot for adding more capacity later.
BATTERY LIFE: WEEKEND WARRIOR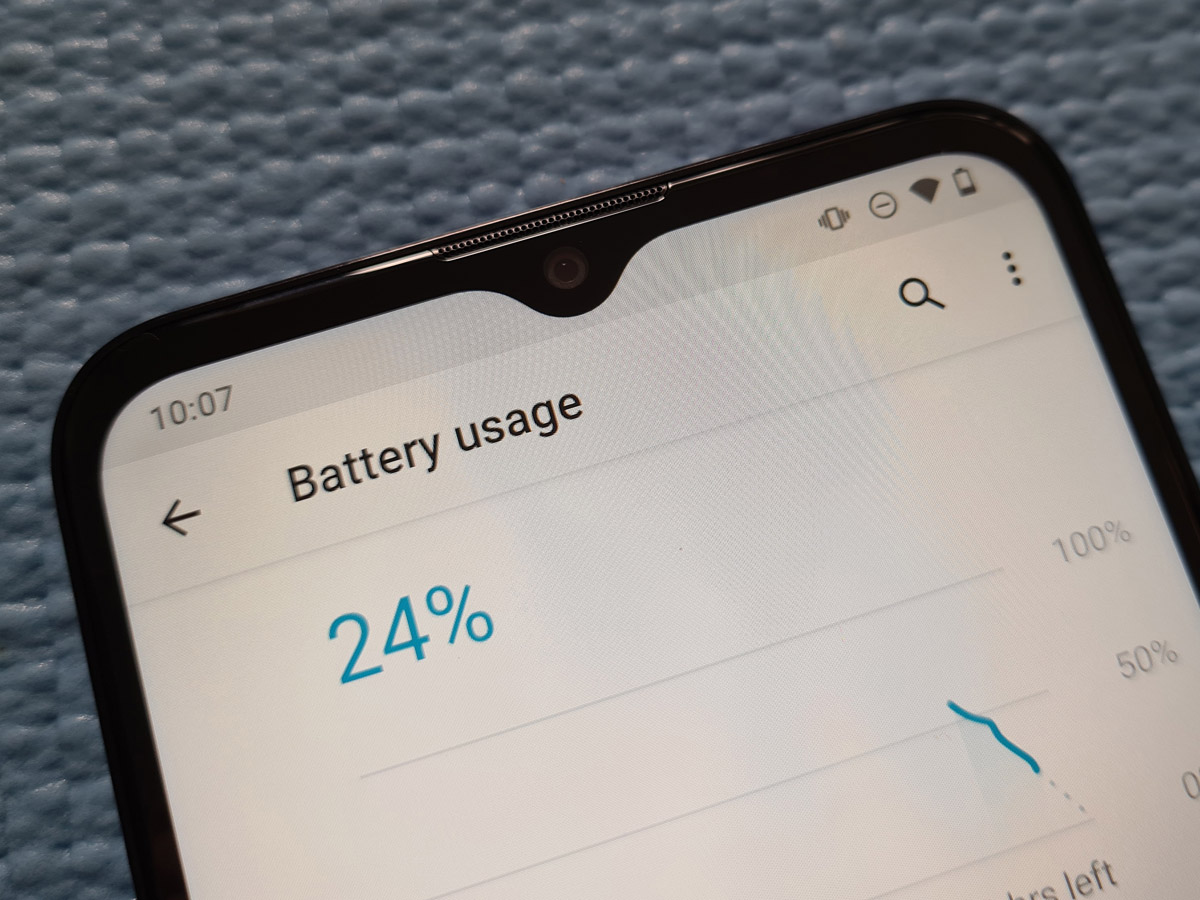 A whopping 5000mAh battery sounds impressive, but when paired to a low-end CPU that sips power rather than guzzle it like a flagship chip might, the Moto G30's staying power is mighty impressive.
Even with the large LCD screen ticking away at 90Hz, you'll never be caught short in a single day of use. For the kinds of daily duties we use our phones for, 48 hours between trips to a power socket isn't all that hard to manage. Through our testing a day and a half was common, and we're not exactly the lightest of users.
Stay away from games, lower the brightness and use wired headphones instead of Bluetooth, and you might even manage more. Heavy gamers can naturally expect to drain those Duracells a lot faster, with a full round of PUBG battle royale seeing our percentage dip 5% in 40 minutes.
You don't get niceties like wireless charging at this price, but at least USB-C makes the cut, and 20W charging means you won't be twiddling your thumbs for more than a couple of hours while you top up.
MOTOROLA MOTO G10: MORE AFFORDABLE ALTERNATIVE?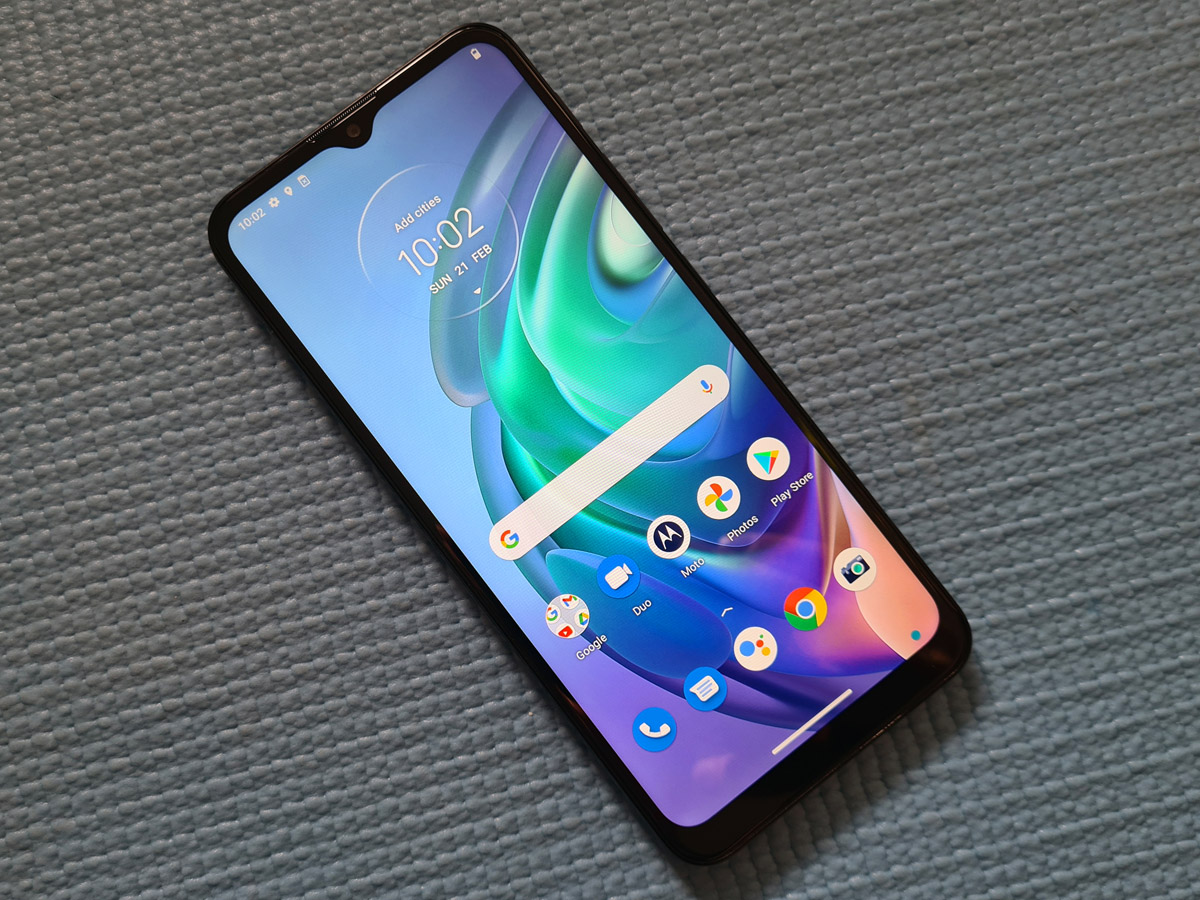 If £160 is a little too rich for your blood, Motorola has the even more wallet-friendly Moto G10. With the same size screen and matching design, it's all but identical to the G30, but strips back the feature list to squeeze in at under £130.
You get a 60Hz refresh rate for your cash, as well as a lower-resolution 48MP main camera and 64Gb of onboard storage. Charging isn't quite as fast, and the processor drops down to a Snapdragon 640.
Those sound like small changes, but performance is noticeably more sluggish across the board.
If you're coming from even a mid-ranger from a year or two ago, the responsiveness on show here will quickly frustrate. Display resolution is a match, so still images and videos look very similar across both handsets, but the pricier G30's 90Hz refresh rate really does make a difference – even if it can't quite take advantage of the tech like a more powerful phone can.
At least the camera still takes a good photo, with pixel-binning delivering 12MP images from the 48MP sensor. Detail isn't quite so clear, and image processing is slower, but the results are still a leg up over true entry-level phones.
The G10 struggles to make a case for itself when the G30 isn't significantly more expensive – if you can stretch your budget that little bit further, you absolutely should.
STUFF SAYS: ★★★
Treads a middle ground between sub-£100 bargains and more capable budget phones, but when the G30 is barely any extra, this Moto doesn't make all that much sense.
MOTOROLA MOTO G30 VERDICT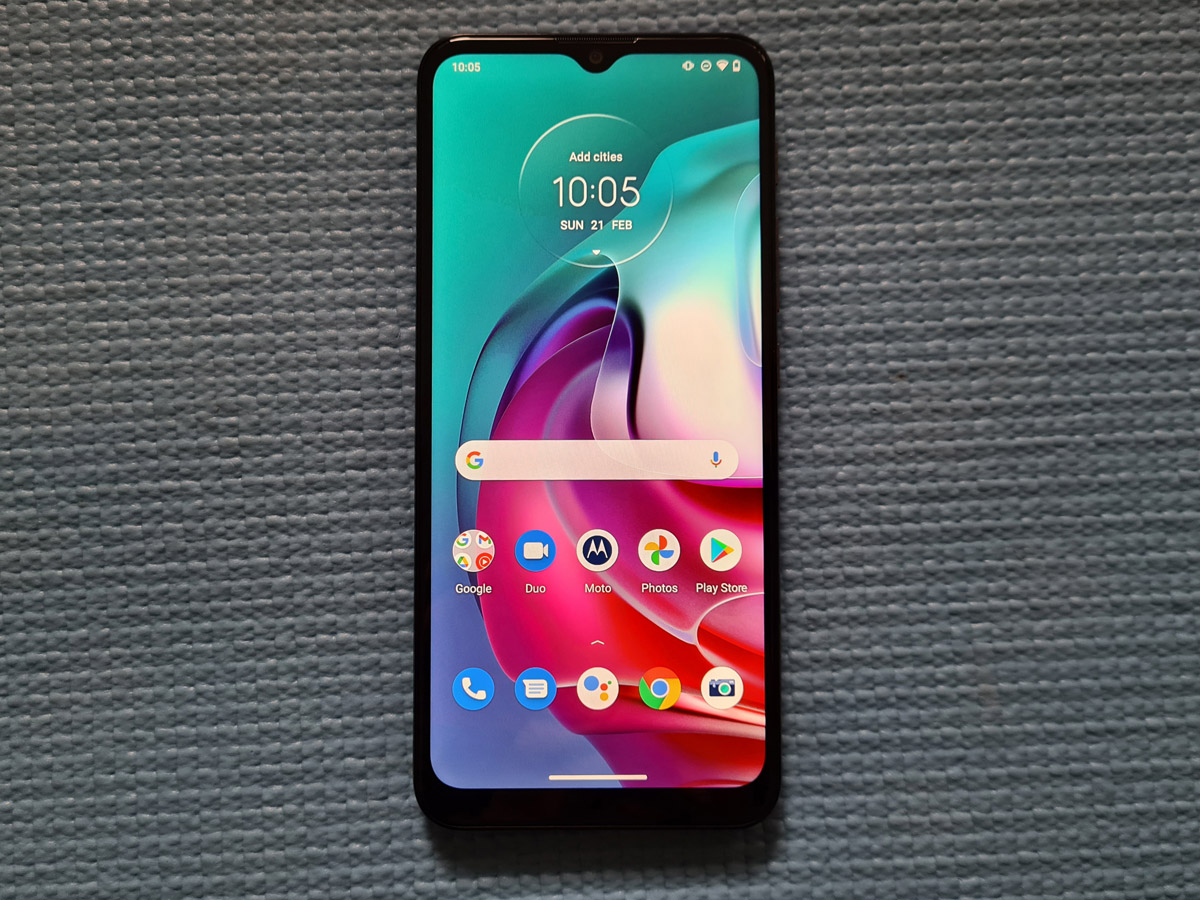 The combination of low price and high refresh rate screen was always going to turn heads, but the Moto G30 is impressively well-rounded for such an affordable phone.
We love the massive battery and ample onboard storage, and it can take a decent photo, as long as you stick to the main camera sensor. Performance is just acceptable, though, with the odd stutter when jumping between apps, and long loading times when playing games.
The Poco X3 NFC delivers a smoother experience with its beefier Snapdragon 732G CPU for just £40 more. If your budget won't stretch that far, however, the Moto G30 is still a heck of a lot of phone for the cash.
Tech specs
| | |
| --- | --- |
| SCREEN | 6.5in, 1600×720 IPS LCD w/ 90Hz refresh rate, 20:9 aspect ratio |
| CPU | Qualcomm Snapdragon 662 octa-core |
| MEMORY | 4GB RAM |
| CAMERA | 64MP, f/1.7 26mm + 8MP, f/2.2 ultrawide + 2MP, f/2.4 macro + 2MP, f/2.4 depth-sensor rear w/ phase-detect autofocus (main sensor only), LED flash. 13MP, f/2.2 front |
| STORAGE | 128GB on-board, microSD expansion |
| OPERATING SYSTEM | Android 11 |
| BATTERY | 5000mAh non-removable |
| DIMENSIONS | 165x76x9.1mm, 200g |
Stuff Says…
Packs in a lot for anyone on a tight budget, even if not every feature adds a lot of value. The Moto G30 is ultra-affordable and its performance won't frustrate, but if you can stretch just a little further, rivals offer an even slicker experience.
Good Stuff
Great value hardware
Stellar battery life
Vanilla Android at its best
Bad Stuff
Performance merely OK
Gimmicky cameras add little value
Refresh rate doesn't equal smoothness