Google Pixel 4a review
Google's latest affordable Android puts software first - for better or worse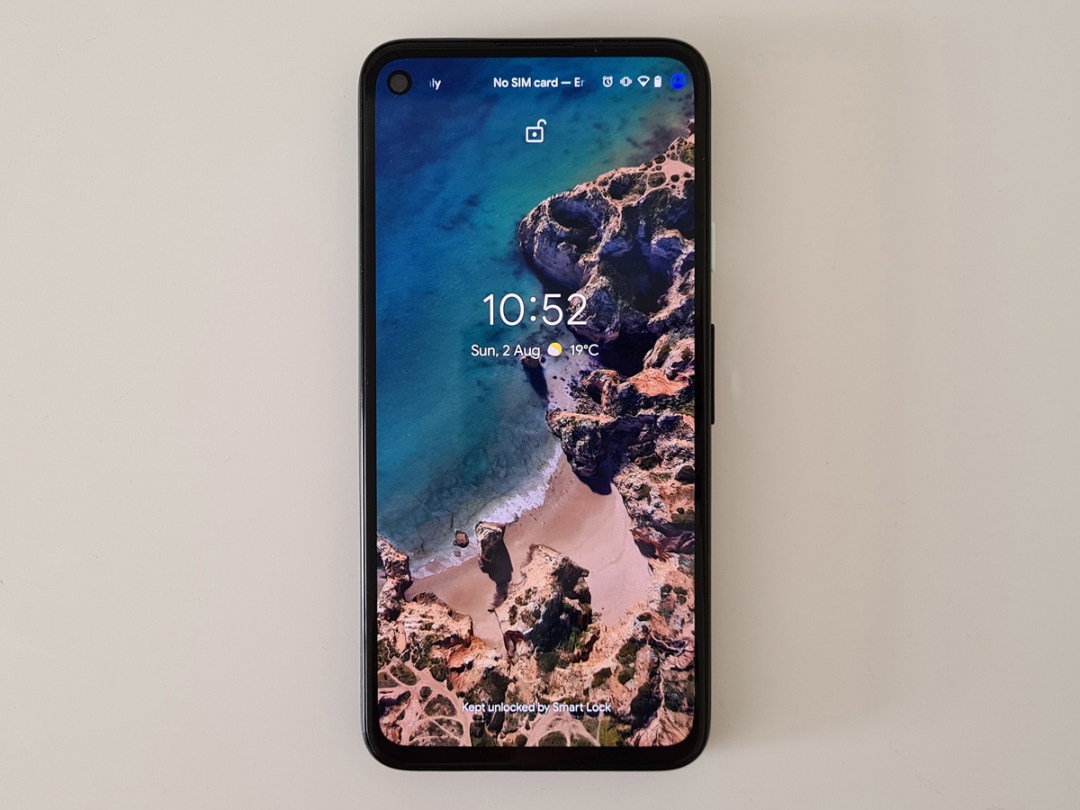 The best Google phones were always found at the affordable end of the price spectrum. From the bargain-tastic Nexus range to last year's Pixel 3a, they proved you didn't need to spend a fortune to get a great handset.
This second spin on an affordable Pixel aims to continue that trend, borrowing elements from the premium Pixel 4 but ditching the gimmicks to arrive at a very wallet-friendly £349. Modest specs match the modest price, but importantly, the Pixel 4a keeps a flagship-grade camera and Google's purest form of Android.
Had it turned up a month ago, it would have seemed like a bit of a steal. But then the flagship-busting OnePlus Nord arrived with a spec sheet to salivate over. Can software smarts and photography skills do enough to outmuscle more potent hardware? Time to find out.
DESIGN & FEATURES: FUNCTION OVER FORM
Low-key looks have been something of a Pixel phone staple for years, and that hasn't changed here – although the materials have.
If the glass and metal Pixel 4 was a catwalk trend-setter, the 4a is a high-street alternative: get your hands on one and it's obvious which is the cut-price model. The pocket-friendly polycarbonate shell doesn't feel cheap, mind, and it actually stands out in a phone world filled with giant glass slabs. There's a satisfying heft, considering its size, even if it isn't especially skinny.
A fingerprint sensor makes a welcome return after the Pixel 4 ditched it for facial recognition, although a physical sensor on the back of the handset feels a bit behind the times when the OnePlus Nord made room in the budget for an in-screen scanner. Still, it detects your digits very quickly.
The square camera housing mimics the Pixel 4, although it only holds a single sensor here instead of two. It protrudes enough to warrant a case to keep it scratch-free when laying the phone down on a desk, but not so much it'll snag on your pockets.
DISPLAY & SOUND: SMALL YET MIGHTY
With a modest 5.8in panel, the Pixel 4a bucks the trend for ever-increasing screen sizes – and we're all for it. The phone fits perfectly in your hand, and without the Pixel 4's motion sensing tech there's no 'fat lip' to worry about.
Bezels still aren't the skinniest, but the rounded display edges look pretty premium to us, and the hole-punch camera in the top-left corner isn't too distracting, even when playing full-screen games.
The better-than-1080p resolution gives great definition, and it's an OLED panel, so contrast is impeccable. None of the three colour modes (Adaptive, Natural and Boosted) look as saturated or vibrant as any of Samsung's recent Galaxy phones, instead leaning to more lifelike hues.
It's brightness where the 4a disappoints, particularly in direct sunlight. Samsung, Huawei and LG phones all boost brightness levels dramatically when you step outside, but even on its highest setting the Pixel looks dim in comparison. Indoors, we typically settled on 70% of maximum, which still wasn't as bright as a Galaxy S20 set to 45%.
Don't forget this is a 60Hz panel, either. The OnePlus Nord goes one better with a 90Hz refresh rate, which makes motion look much smoother.
We can't fault the 4a's speakers, though. The stereo setup combines a down-firing main speaker with the phone earpiece, with good balance and impressive clarity. Vocals sound clear, and there's even a bit of bass, although once you crank the volume there's noticeable resonance through the handset. Serious listening still calls for headphones, but thankfully the 3.5mm port means you don't need a dongle to do it.
CAMERA: SIMPLE, SUBLIME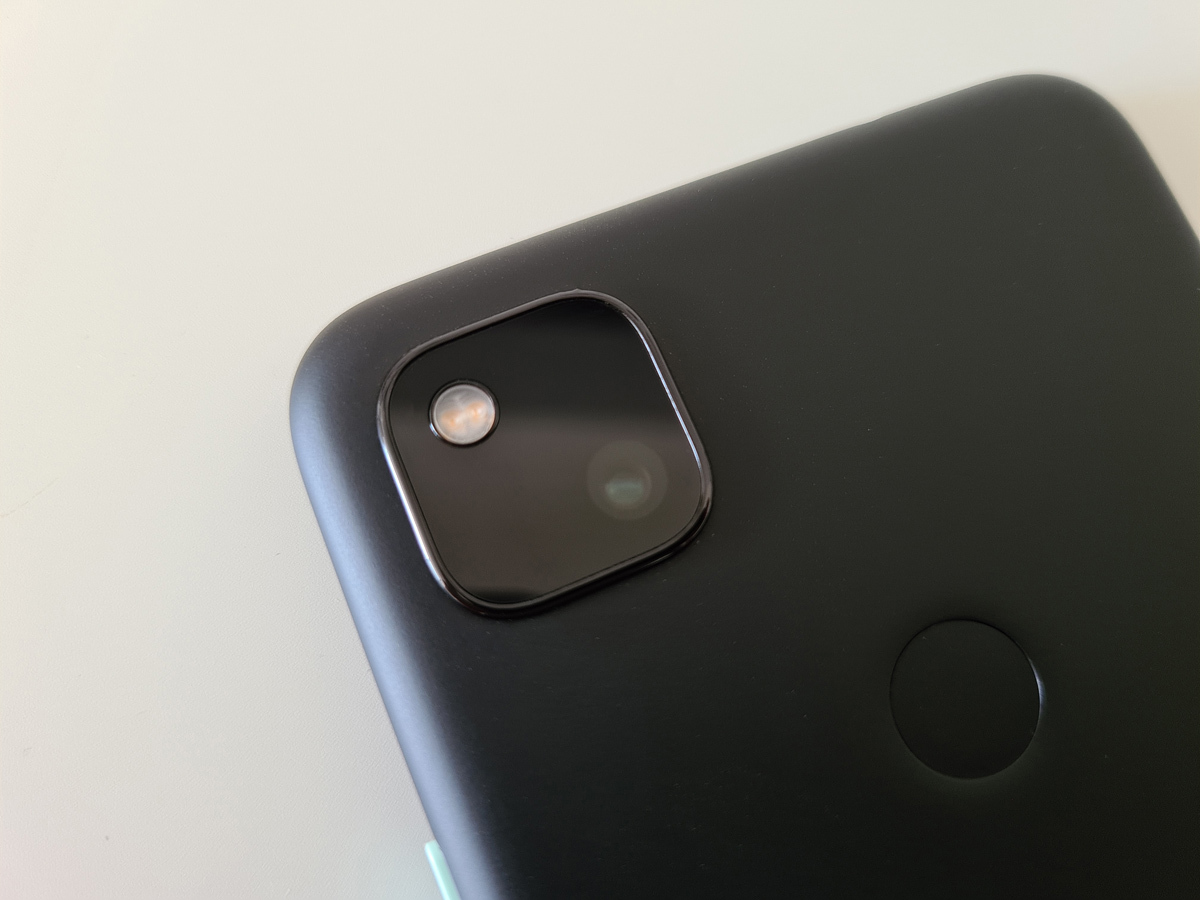 Previous Pixel phones didn't need massive camera sensors or a grab bag of different lenses to impress. Even the Pixel 4's secondary snapper was merely the cherry on top of an excellent main camera, which used a combination of machine learning, multiple exposures and HDR to maximise image quality.
The 4a sticks with what Google does best: a single 12.2MP sensor inherited from the more premium Pixel 4, backed up with some of the best image processing in the business. And wouldn't you know it? The pictures it takes are some of the finest you'll find on any phone – not just the sub-£400 ones.
Across just about every scene, lighting condition and subject, the 4a takes fantastic photos that easily compete with the best Samsung, Apple and Huawei have to offer right now. Dynamic range is incredible, with blue skies and bright highlights mixing with dark shadows.
Details are excellent, facial features have real clarity, and noise reduction doesn't introduce unwanted sharpness. Crucially, it does all this automatically, with no need to tweak settings or make edits after you press the shutter button.
Play around with the available shooting modes and you'll discover a respectable portrait mode that copes well without relying on a depth-sensor for edge-detection, and the 8MP front-facing camera takes a great selfie, although it's a little more vulnerable to noise in low-light.
The zoom mode may only be digital, but it produces results that are more impressive than they have any right to be up to 7x – even if they can't match flagships with dedicated telephoto optics.
Night Sight continues to work wonders in low light, producing images that are easily on par with the class leaders (Apple's night mode and Huawei's night shooting). Astrophotography mode also returns from the Pixel 4, and the four minute exposure still warrants a tripod, but in the right conditions results can be incredible for a phone.
Rival phones are more willing to boost exposure, which can lead to slightly less shadow detail and slightly darker images here, but you'll only notice in a side-by-side comparison. And with no wide-angle sensor, the 4a is arguably less versatile than the OnePlus Nord – which can also shoot 4K video at 60fps. The Pixel makes do with 4K at 30fps, or 1080p at 60.
In all other respects, though, the Pixel 4a takes better photos – and can happily mix with phones costing three times its price.
OS & SOFTWARE: PURE AND SIMPLE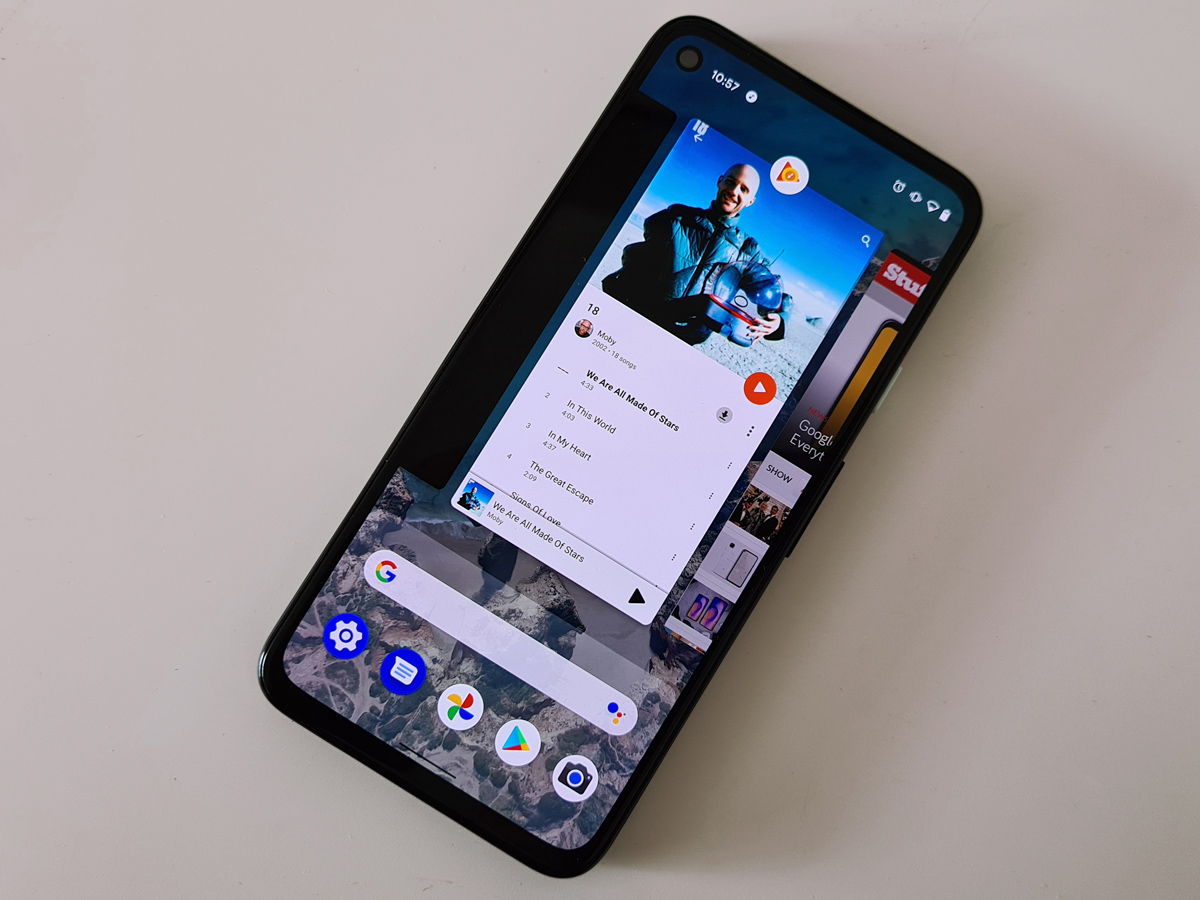 The Pixel 4a isn't just Android as Google intended; it's better, with no pre-installed bloatware and some Pixel-only features you won't find anywhere else.
Beyond Android 10's standard selection of goodies, including a system-wide dark mode, streamlined sharing menu and a Focus mode that mutes distracting apps while you're trying to get work done, the 4a now pulls up Google Pay with a long-press of the power button.
This is also where the new Safety app makes an appearance, putting medical details within easy reach in an emergency.
There's also Google Recorder, which can perform spookily accurate live transcriptions that can then be searched for via Google Assistant. Oh, and it'll be first out the gate with Android 11, naturally.
It sensibly skips out on the Pixel 4's Motion Sense gestures, which felt gimmicky rather than useful, and the sides aren't squeeze-sensitive for waking Google Assistant. A flick up from the bottom corner of the screen does that job now, or you can use your voice like before.
Three-button navigation is still on hand if you want it, but the now-default swipe controls are much slicker. Apple might have got there first, but there's a reason other phone makers have been so quick to adopt them.
PERFORMANCE: ALL YOU NEED TO GET BY
With the Pixel 4 rocking a top-spec Snapdragon 855, its baby brother was always going to rely on mid-range silicon – but Google's choice of chip might come as a surprise.
The 4a uses a Snapdragon 730, not the Snapdragon 765 currently doing the rounds in the OnePlus Nord. That means there's no 5G support, clock speeds aren't quite as zippy, and gaming performance is slightly lower-tier too. But none of that really matters in day-to-day use, where the Pixel 4a feels very responsive for an affordable phone.
It comfortably punches higher than last year's Pixel 3a in synthetic benchmarks, and 6GB of RAM certainly helps with multitasking. You won't notice any stuttering or lag while swiping through homescreens, and apps open without any visible delay. Impressively, some even started quicker here than on a Samsung Galaxy S20. Remind me again why you'd want a power-hungry flagship CPU?
The most demanding games in the Play Store run smoothly enough, with Call of Duty Mobile defaulting to 'high' details and keeping frame rates fairly consistent. The 60Hz panel and Full HD+ resolution don't tax the hardware too much, as long as you're realistic with in-game settings. Only mobile Fortnite pros should seek out the extra grunt of the Lenovo Legion Duel or Asus ROG Phone 3.
Google would still rather you store your files in the cloud than on a microSD card, so there's no expandable storage here, but 128GB of on-board memory should be plenty for most people.
BATTERY LIFE: WORKS SMARTER, NOT HARDER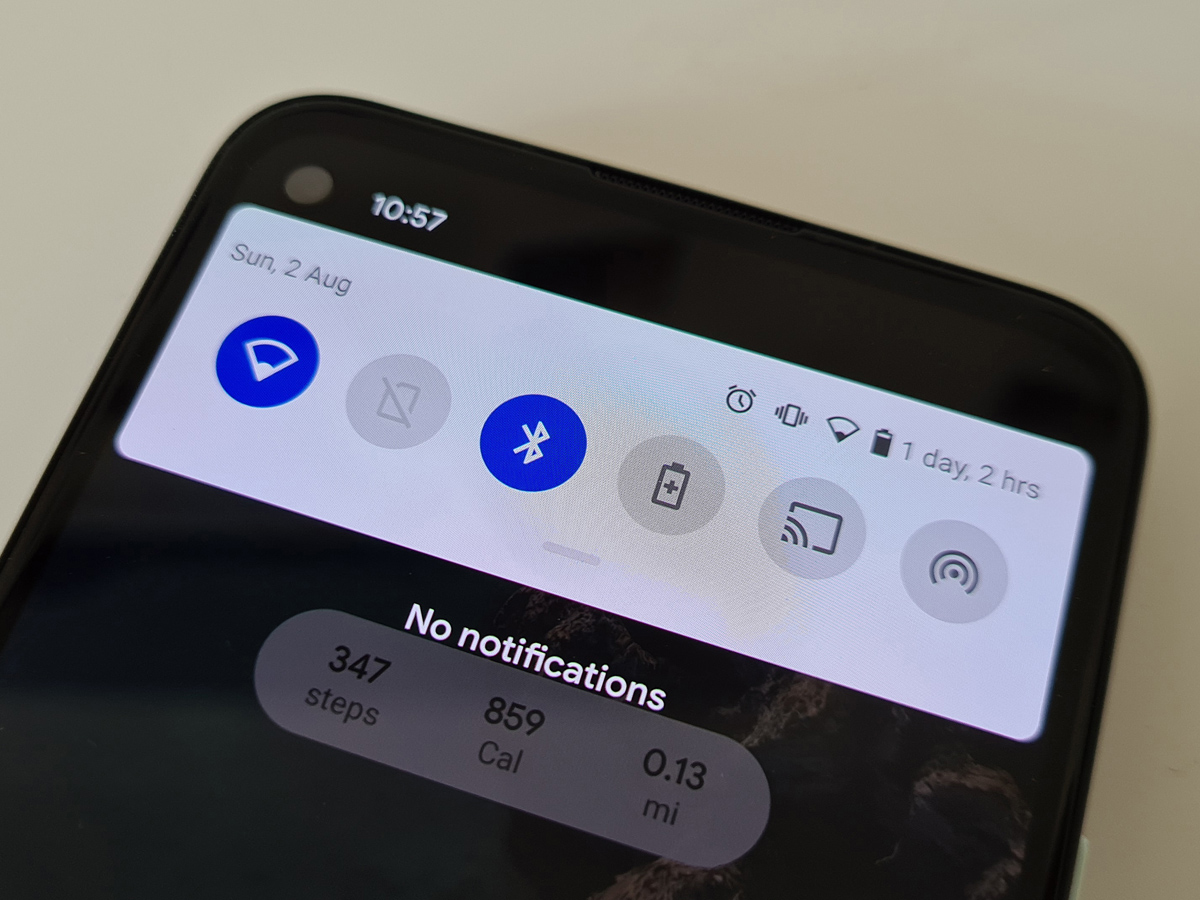 Longevity hasn't really been a Pixel phone strength recently, and at least on paper, the 4a's relatively small battery doesn't look too promising. Then again, it only has modest hardware and a relatively small screen to keep juiced up.
For most people, that should translate to an entire day of mixed use, from social scrolling to selfies and streaming, but you'll want to plug in by bedtime. At least until the improved Adaptive Battery system gets a handle on the kinds of apps you like to use. This arrived in Android Pie last year, but for 2020 it can predict when you're going to run dry, and automatically shut off background activity or switch into low power mode before you do.
The always-on display can still be a bit of a killer, and heavy gamers or weekend warriors that like to travel without a power brick may be disappointed, but at least the bundled fast charge adaptor lets you get back up to 100% in a little over an hour.
Wireless charging doesn't make the cut, of course: you'll need to step up to the Pixel 4 for such luxuries.
GOOGLE PIXEL 4A VERDICT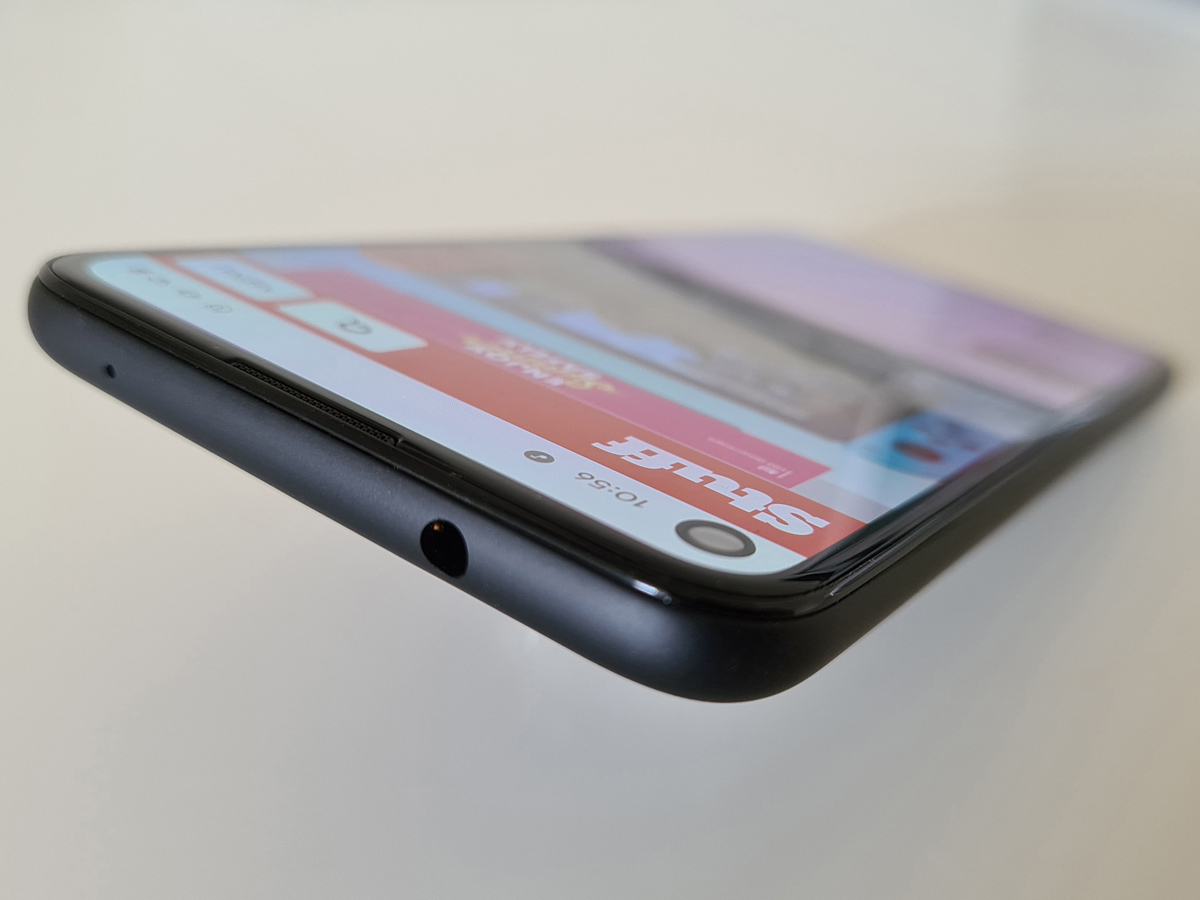 The Pixel range has long been our top choice for anyone wanting the purest form of Android, even when rivals offer more cutting edge hardware. That's still true here: the Pixel 4a is everything you could need from an affordable phone – but nothing more.
That's a problem when the OnePlus Nord offers superior specs for hardly any more cash. 5G support and a high refresh rate screen are both tasty additions, even if camera quality isn't quite on par with Google's algorithmic excellence.
There's real appeal to the Pixel 4a's pocket-friendly dimensions, though, and it's comfortably among the best phones for photography – at any price. If you don't mind making a few spec sheet sacrifices, it leaves very little not to like.
Tech specs
| | |
| --- | --- |
| SCREEN | 5.8in, 2340×1080 OLED |
| CPU | Qualcomm Snapdragon 730 octa-core |
| MEMORY | 6GB RAM |
| CAMERA | 12.2MP, f/1.7 rear w/ dual pixel PDAF, OIS, LED flash. 8MP, f/2.0 front |
| STORAGE | 128GB on-board |
| OPERATING SYSTEM | Android 10.0 |
| BATTERY | 3080mAh non-removable |
| DIMENSIONS | 143x69x8mm, 143g |
Stuff Says…
Google nails the software side of its no-frills phone and camera smarts give it an edge over costlier competitors, but the 4a's restrained hardware can't set pulses racing like the OnePlus Nord
Good Stuff
Streamlined Android experience with guaranteed updates
Camera quality competes with flagship rivals
All-day battery life
Bad Stuff
Few standout features on the hardware front
Plastic build gives away budget nature
Expandable storage still a no-go