Meta Quest Pro review: I am in The Sims 
A high-resolution headset hero or mixed reality muddle?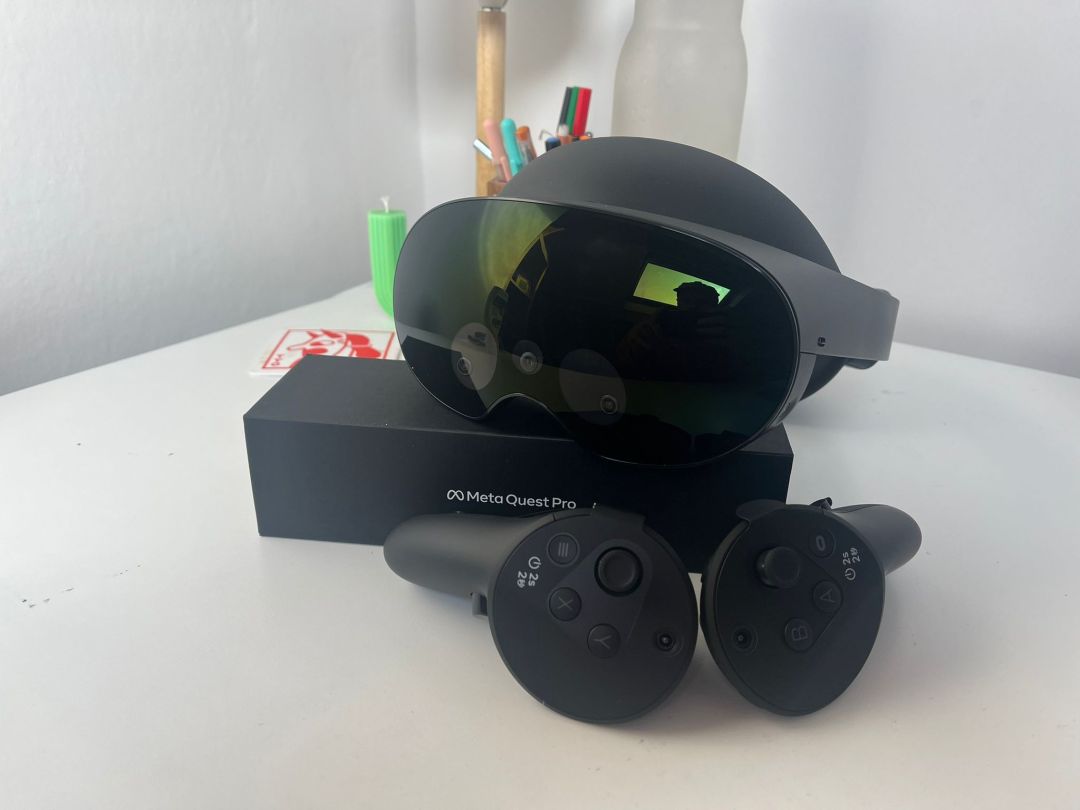 Meta has gone to some lengths in making its latest VR effort, the Meta Quest Pro, the best it can be. There are upgrades galore, a redesigned headset and controller, and wider focus on augmented and mixed reality. Not to mention a marketing drive that pitches it as the ultimate workplace productivity tool.
It's almost too obvious a point to make, but make it we will: Meta is betting big on virtual reality. Last year the company lost a whopping $13.7 billion on dedicated division Reality Labs, and as we type is gearing up for a fresh round of job cuts, having laid off 11,000 staff in November.
The Quest Pro was launched for a price tag of £1500 ($1500). From 5 March though, four months after its original release, the price of the Meta Quest Pro will be slashed to £1000 – NB This review was written and published before the price of the Meta Quest Pro was reduced by a third.
Is the Quest Pro the key to making Meta's gamble pay off?
Design and build: Heavy is the head
Rather than the crisp white packaging of the Meta Quest 2, the Quest Pro arrives in a slick moulded black casing. As well as the headset itself, it includes two controllers, a charging lead, protective cover, and light blockers (which we'll get on to later). There's also a circular charging dock for the headset and controllers, which is a lot neater than a rat's nest of cables.
The headset's padded cushion rests on your forehead, while an adjustment wheel on the rear tightens the strap for a snug fit. The Quest Pro is fairly heavy, at 722g with strap, which you're going to feel after a relatively short stretch in VR. Moving the battery to the strap means it's not as front-heavy as a Quest 2, but it still feels like most of the pressure is concentrated on your forehead.
Unlike other VR headsets, the Quest Pro has open peripheral vision – an intentional choice by Meta, which has big plans for mixed reality. It means coming in and out of VR isn't as jarring an experience, but also means you're not entirely in the real world, or fully immersed in the virtual one. We found this conflict made us a little queasy at times. The bundled left and right light blockers alleviate this issue a little, but Meta wants an extra £50/$50 for a full light blocker.
A case in point is the Horizon Workrooms virtual meeting room. Meta wants the Pro to help workers hash out ideas and collaborate in its version of the metaverse. But we found simple tasks like typing harder to grasp in VR, and we imagine many would prefer to use a laptop. Looking down to send a quick Slack message quickly causes eye-strain, as does looking left or right to jot down a quick note on paper. Doing this is not advisable, though, as the VR workspace should be free of obstacles; we sent a few glasses flying while testing. This all makes the Pro experience, as it's intended at least, a convoluted one.
Setup, performance and usability: Express yourself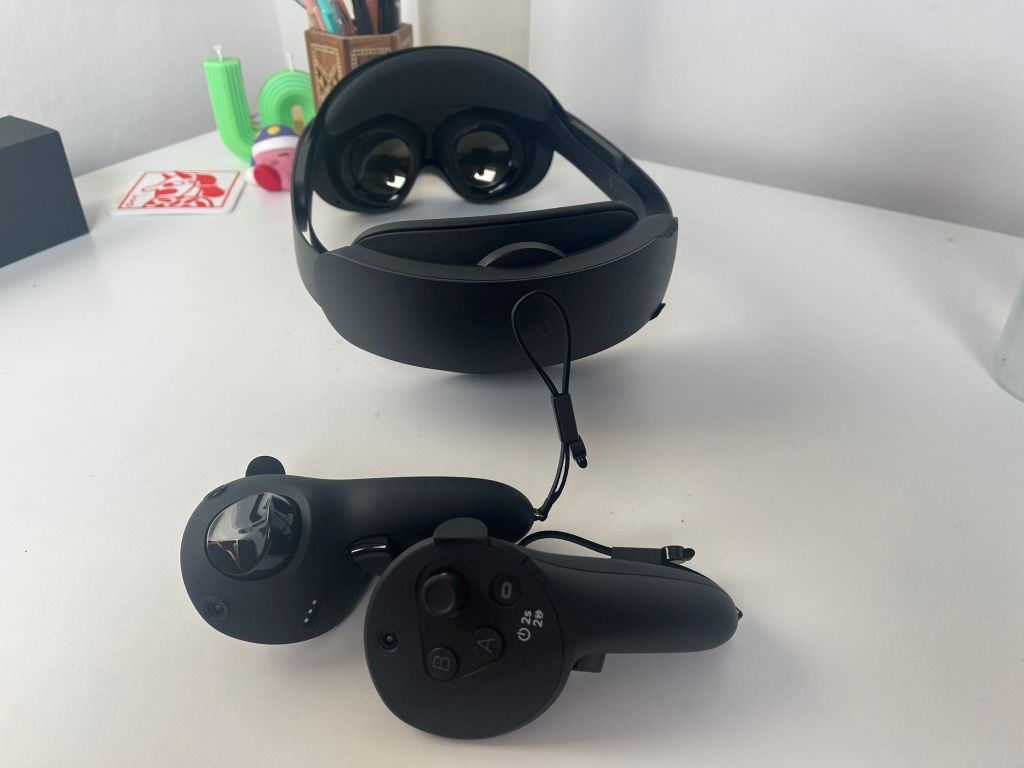 Comfort factor aside, the headset looks fantastic. It's sturdy, well made and surprisingly compact. The face mask is shallower than the Quest 2, but the 'power' and 'volume' buttons are a little difficult to find when you're plugged in.
There are improvements beneath the hood, too. It's powered by a Qualcomm Snapdragon XR2 Plus processor, has 12GB RAM and 256GB storage as standard, compared to 128GB or 256GB for the Quest 2.
The Pro comes with a per-eye resolution of 1800×1920, which is a 37% pixels-per-inch boost over the Quest 2. It also has full colour pass-through, which a major improvement on past models. Compared to the low clarity, greyed hues of the Quest 2, it's the most noticeable upgrade when first putting on the headset.
Beyond the five outward cameras (three facing fowards and two side-facing), which have four times the pixel count of the Quest 2, the Pro also has five infrared eye and face trackers. These have a 120-degree field of view for capturing your facial movements, which can then be mapped onto your metaverse or in-game avatars. We get Black Mirror vibes: could bosses also use the tech to make sure you're paying attention when these arrive in the workplace?
The twin controllers have their own camera sensors (three each) for a 360-degree range of motion in virtual space. Tracking works separately to the headset, and is much improved on the Quest 2 (which is already pretty accurate). Meta has also got rid of the rings that would occasionally clatter together when using them, and the controllers now come with rechargeable batteries. They don't seem to last as long as standard batteries, but it's better in every other way.
Meta says a two hour charge will power the headset for between one to two hours. That's mostly accurate but not fantastic, with simpler, less expensive standalone headsets managing slightly more. Though to be fair, we struggled to spend much longer in VR before wanting a break anyway.
Content: Avatar: The Way of Worker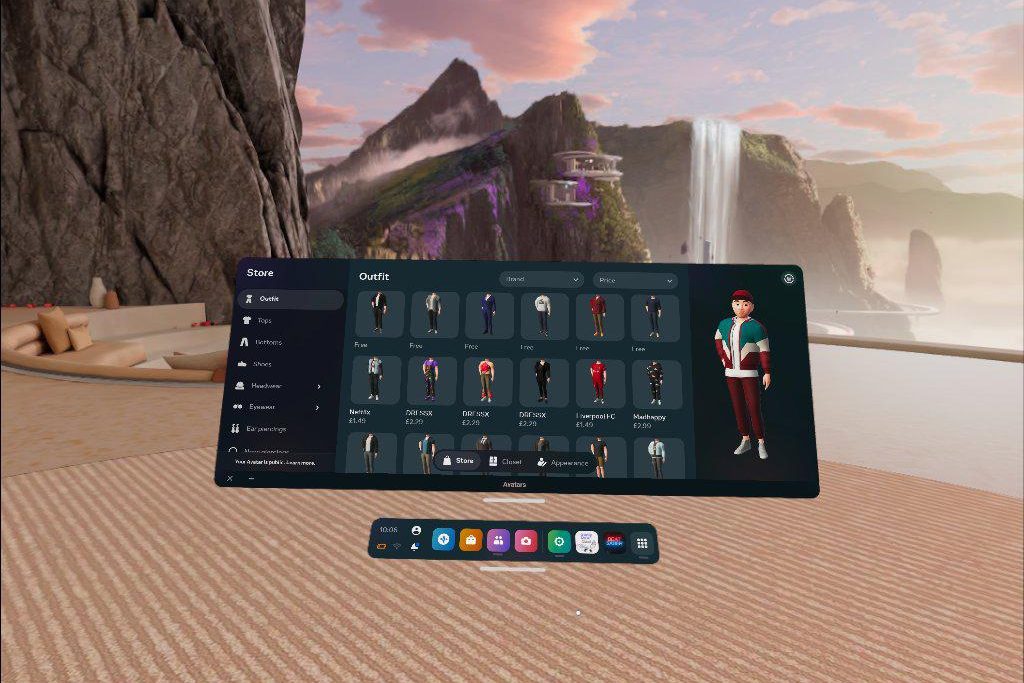 Considering Meta is so keen to stress its avatars are an extension of your physical self, the customisation options are pretty basic. The avatars themselves, which resemble the lovechild of a Sim and a Pixar character, don't offer too much in the way of detailed tweaking.
You can choose a generic body shape, eyes, nose, facial hair and other commonly customisable features, but there's very little room for personality beyond 'business casual'. There's no wacky wig or hot dog costume to wear as you wander the metaverse. New outfits can be obtained for free or for purchase, including full Liverpool FC kits for £1.49 to Prada and Balenciaga outfits for £6.99. But it reeks of enforced corporate fun, like a dress down Friday or ping pong tables in the break room.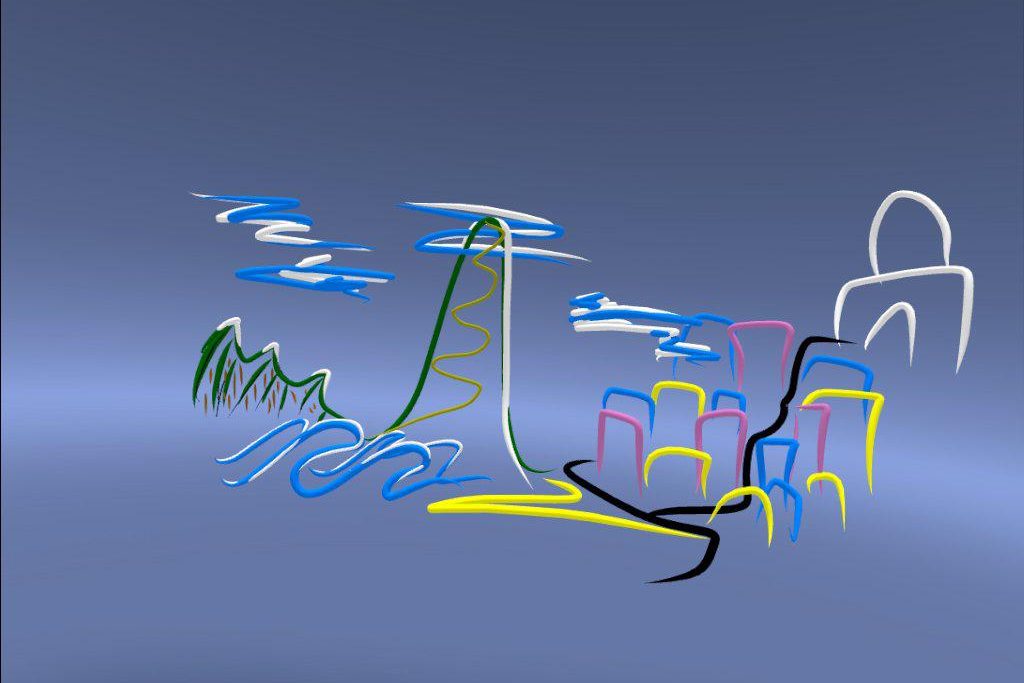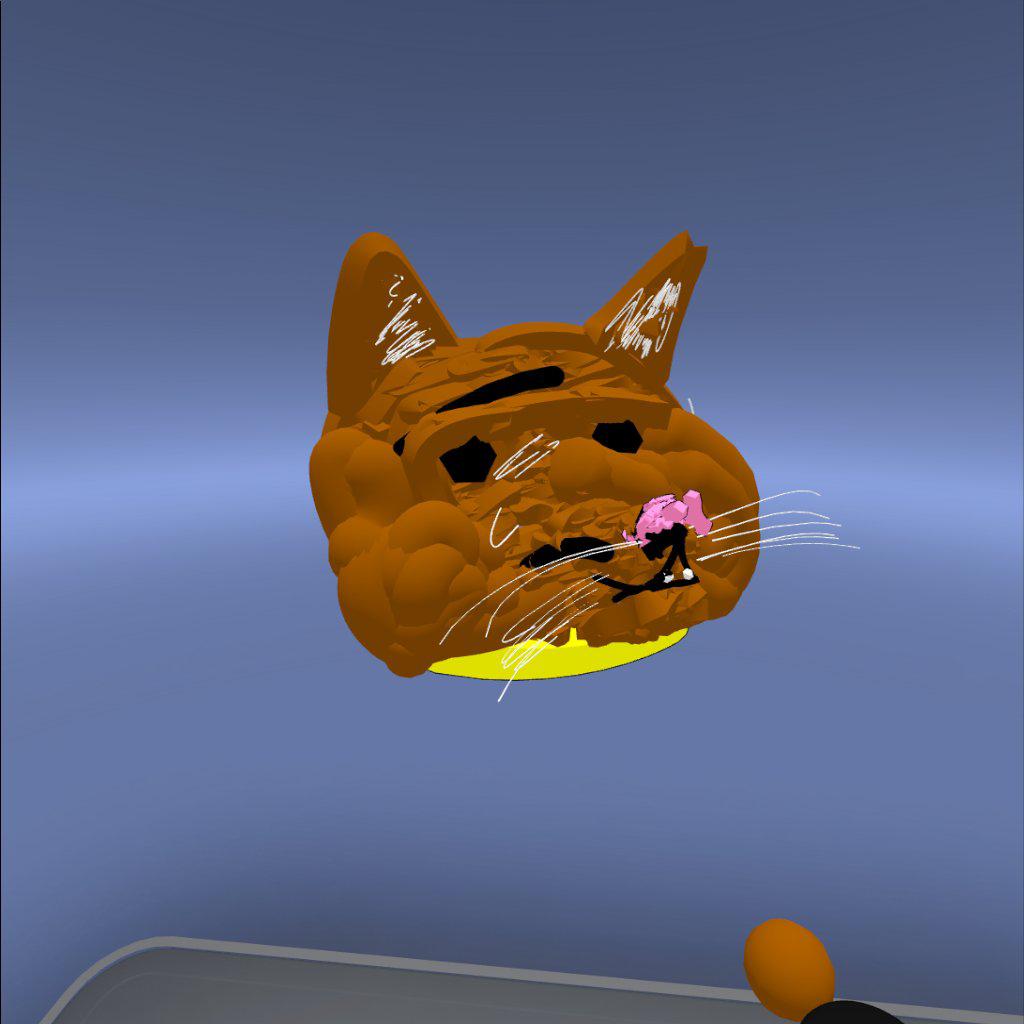 But what about the apps? Meta is very much billing the Quest Pro as a perfect tool for architects, engineers and creatives. As the Pro is primarily for use in work environments, the apps naturally aim to cater to workers. Architects can build in mixed reality with Arkio, DJs can practise on official Pioneer equipment in Tribe XR, and the self-explanatory Painting VR is a novel way to doodle. We spent a good amount of time enjoying the 3D design platform Gravity Sketch, a fun app for drawing landscapes, pizzas and laughably bad images of cats. But does any of this content have any real, practical, game-changing uses? At this moment, we're not sure they do.
It's intentionally not designed for gaming, so is unfair to judge against, say, the upcoming Playstation VR 2. But the Quest Pro does have easy access Oculus Quest store, either through the headset or the smartphone app. The resolution boost makes games like Beat Saber look crisper, but they're a chore to play without light blockers.
The Pro does have spatial audio, with Meta recently adding immersive audio capabilities for developers through the Presence Platform. This could help make gaming on the Pro a fantastic experience, but it's just not there yet.
Meta Quest Pro verdict
Smartphones, laptops and earbuds have all diluted the "Pro" label, but it feels very appropriate for Meta's latest headset. The Quest Pro is primarily a collaborative tool aimed at workers, rather than a gaming gadget for players to immerse themselves in virtual worlds.
Right now, the headset has quirks that make it more suited to personal use, but the price puts it beyond the reach of the average VR user. Meta's 'build it and they will come' approach means it's also early days for software that takes advantage of its mixed reality abilities.
It's certainly high spec for a standalone headset, and will surely power some great apps in the future. But right now most VR fans will be better served by the simpler, cheaper Quest 2 – or waiting for the upcoming Quest 3 instead.
Stuff Says…
It's powerful and has potential, but there's a long way to go before the Meta Quest Pro takes over the workplace
Good Stuff
Great controller tracking
Aesthetically pleasing
Bad Stuff
Far too heavy
Far too pricey
Little practical use for new features
Might put casual users off VR
Meta Quest Pro technical specifications
| | |
| --- | --- |
| Resolution | 1800×1920 per eye, 90Hz |
| Optics | 106° pancake lenses w/ 55-75mm inter-pupillary distance adjustment |
| CPU | Qualcomm Snapdragon XR2+ |
| Memory | 12GB |
| Storage | 256GB |
| Operating system | Android |
| Connectivity | USB-C, Wi-Fi 6E, Bluetooth 5.2 |
| Battery | 4500mAh (est) |
| Dimensions | 265x127x196mm, 722g (with strap) |