Meta Quest 3 review: an impressive, unnecessary upgrade
Can the Meta Quest 3 bring the metaverse to the masses?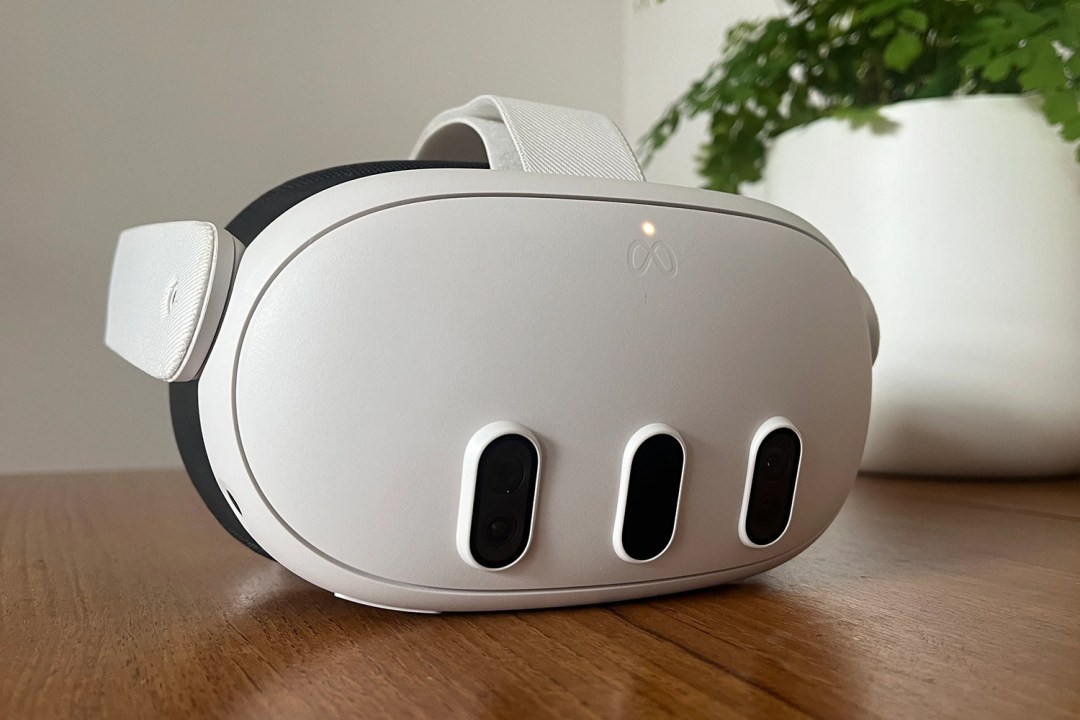 Stuff Verdict
A fantastic headset but with few reasons to exist, the Meta Quest 3 is impressive, yet unnecessary upgrade
Pros
Best graphics from a Meta Quest yet
Smooth setup
Improved load times and hands-free control
Cons
Jack of all trades, master of few
Not enough mixed reality apps
Quickly causes fatigue
Introduction
The VR wars are truly upon us. In 2023, we saw PlayStation enter the market with the PS VR2, while Apple is branching out from smartphones and laptops to bring us its first ever VR headset in the Apple Vision Pro. In a crowded field, it's important to stand out. And Meta is looking to do just that with the Quest 3.
Meta's success in VR may be overshadowed by its lofty aims for the metaverse, but the Zuckerberg company hit gold with 2020's Quest 2. It offers immersive gaming and access to virtual worlds for a reasonable price. In the Quest 3, Meta has promised that pretty much every nut and bold has been upgraded. But is that the case? Read our review to find out.
How we test VR headsets
All virtual reality headsets tested on Stuff are put through their paces with days' worth of play time. We use our years of testing experience to judge areas such as display, sound, build quality, software experience, battery life and other features. Manufacturers have no visibility on reviews before they appear online, and we never accept payment to feature products.
Find out more about how we test and rate products.
---
Design & comfort: the triclops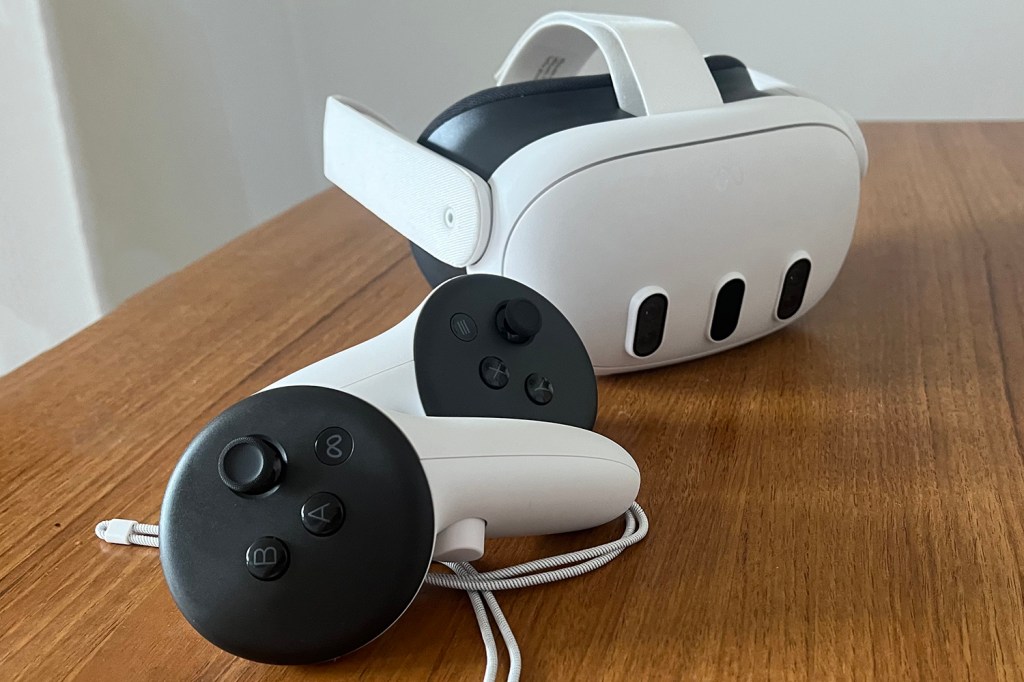 When it comes to a redesign, three things immediately stick out. That'll be the two front-facing cameras and an infrared sensor, which makes the wearer look like a futuristic triclops. Beyond that, the Meta Quest 3 largely resembles the models that came before it (discounting the Quest Pro, that is). A smooth outer shell is held in place by a supple Y-shaped strap. Padding on the inside of the visor fits snugly, but not too tight.
At 515g, including headset, strap and interface, it's 13g heavier than the Quest 2 but the overall balance has been improved. The weight of the Quest 3 doesn't feel like it's resting entirely on your forehead, something we couldn't say about the Quest Pro. A persistent issue remains, however. The Quest 3 still feels unnatural to wear, with some fatigue creeping in after around 45 minutes or so, especially at the top of the neck.
Setup: plug in, play
Initial setup doesn't stray too far from past Quest headsets. You pop it on, choose your language, join the WiFi and from there, all personal settings can be tinkered with through the Meta app.
Room scanning is impressively intuitive and natural. Spin around 360 degrees and the Quest 3 will scan your environment, obstacles and all. It'll draw a border around any bookshelves, tables or awkward corners, and optimise the space for a more reassuring VR experience. There's always a risk of knocking a glass over when enthusiastically playing Beat Saber, but that's more a case of human error than a technical one.
Flipping between mixed and virtual reality has also been streamlined. Double-tapping the side of the headset will enable either passthrough or immersive mode. It's a novel feature that switches between modes with a satisfying 'swoosh'.
Performance: enter the (snap)dragon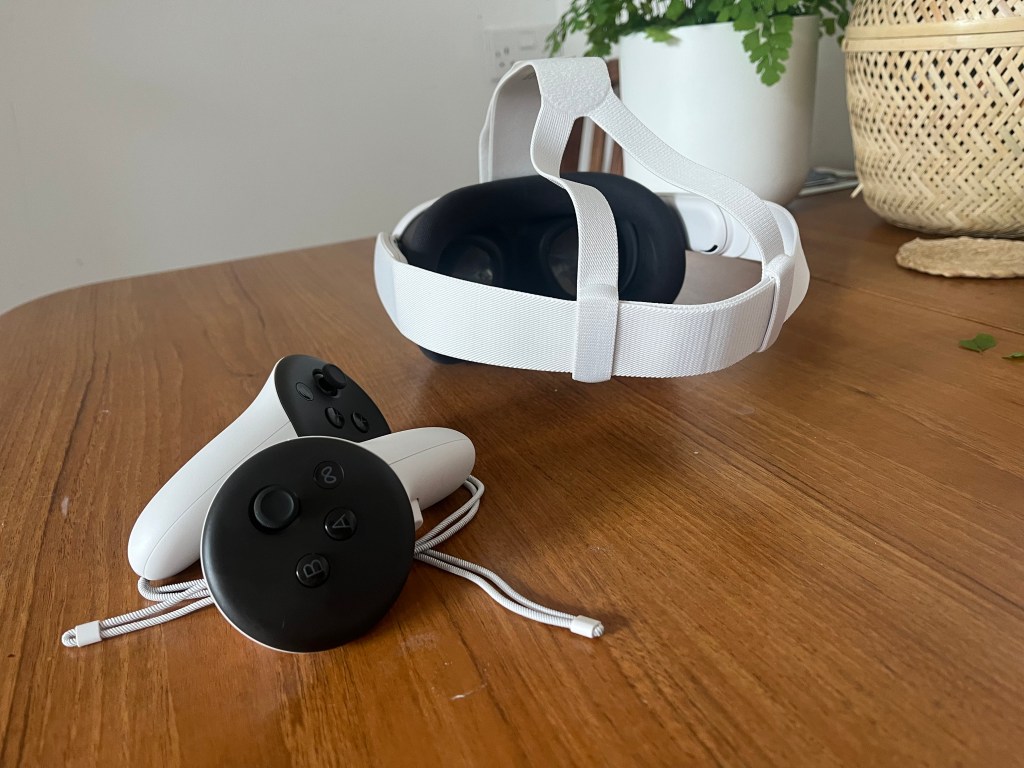 Our Quest 3 comes with 512GB of storage, but a cheaper 128GB headset is available. Both models run on the next-gen Snapdragon XR2 Gen 2 chip, a major upgrade on the Quest 2 and Quest Pro. The chip, says Meta, provides two times faster graphics performance, speedier load times and a more fluid gameplay experience over the Quest 2. In practice, that mostly checks out.
Graphics have been given a decent polish. Expansive landscapes have greater depth. Games are noticeably richer in colour and detail, even if many titles are still running PS3-era graphics. Load times have been improved, but are still a little too slow for seamless gameplay. Some titles, such as the dungeon crawler Dungeons of Eternity, made us feel queasy after five minutes of gameplay. Overall, the Quest 3 is an improvement, but the flaws of past VR headsets remain.
Lens, camera & screen: mixed feelings
The pancake lens in the Quest 3 is 40% slimmer than previous models, which makes for a less jarring VR experience. Although our vision is still wrapped in a layer of shimmering pixels, the thinner lenses lessen the intensity. A 4K+ screen with 2 LCD displays at 2064×2208 pixels per eye makes for crisp images with depth. It comes with something called an 'Infinite Display optical stack', which Meta says enhances resolution by almost 30% compared to Meta Quest 2.
Field of vision has been improved, too. A 110-degree horizontal and 96-degree vertical view makes landscapes richer and more immersive than any other Quest we've tested. This is around 15% wider than Quest 2, says Meta.
The dashboards and menus remain largely the same as past Quest iterations. Rather than having to re-centre the menu if you move location, the menu follows your head movements. It's a small change, but gets rid of a recurring annoyance.
The Meta Quest 3's mixed reality features The first thing we immediately notice is a vastly improved mixed-reality see-through. Our surroundings are detailed and rich with colour, but there's an almost computer generated feel to it. It's not quite uncanny valley territory, but looking down at our hands resemble a Skyrim NPC. We're fairly successful in completing real life tasks while in mixed reality mode. We can type on a laptop keyboard with vague success, and the chances of spilling a cup of coffee have been reduces.
At the time of our review, there are frankly not enough games or apps available to give the mixed reality feature a good run for its money. If that's still the case at launch, we'd imagine quite a few unhappy customers.
Controllers: hands free
A major upgrade to the Quest 3 is the addition of haptic controllers. Sadly, they fall short of our expectations. We fail to feel any real impact of an axe hitting zombie flesh in The Cabin, or the tension of pulling back a bow.
To us, the most fun to be had is in the hand-tracking tech. This was a feature for the Quest 2, but it missed the mark a little. Hands would often disappear, and navigating menus was more frustrating than freeing. But hand tracking has been majorly improved on the Quest 3. Tapping the two joysticks together enables the hands-free feature, which took a few attempts to achieve. But when activated, it's like experiencing VR anew.
We tap objects with a finger and swipe through the menus like we're in Minority Report. Gaming is given an extra layer of realism. On a few occasions, we found ourselves simply staring at our hands in awe. In many ways – comfort, ease of use, enjoyment – it beats the Touch Plus controllers.
Features, content & gameplay: split personalities
If you've ever used a Quest before, you'll hit the ground running with the Quest 3. The user interface remains the same. We can our legless, slightly jarring avatar is the mirror, and navigate the menus with a click of the trigger.
There's a healthy amount of games and apps to explore straight out of the box. In our relatively short time with the Quest 3, we've already pumped an unholy amount of hours into the Dungeons & Dragons-esque RPG Demeo. We furiously shake our maracas to the beat in Samba de Amigo, and blast the undead in the face in The Cabin.

It's typical VR fodder, but is it a vast improvement on the Quest 2, or the Quest Pro? We're not sure. Many of the games and apps are fun, but offer little in returnability. It's often like experiencing a theme park ride. There's an immediate thrill, but it's fleeting.
Many of the upgrades are there to provide a faster and more fluid gaming experience, but as it stands, without the means to really test the limits. Beat Saber is a fantastically addictive game, and has been in the Meta charts top ten for as long as we can remember. That's perhaps a little telling of the content that's on offer. As a gaming headset, it's competing with the PS VR2. Sony's headset has more mainstream exclusives, and can play non-VR PlayStation games in cinematic mode. It's still light on content, but arguably offers a more reliable release timeline for games over the Quest 3.
Perhaps the Meta Quest 3's biggest flaw lies in what it's trying to be, which is everything. It's a gaming headset that can also send WhatsApp messages. It's a business tool, but doubles as a fitness gadget. The metaverse was built as a platform for virtual interaction and productivity, but may soon be outranked by the forthcoming Apple Vision Pro. Simply put, the Meta Quest 3 has an identity crisis.
Meta Quest 3 verdict
There's no disputing that the Meta Quest 3 is an improved headset in almost all metrics. It's faster, lighter, brighter and more sophisticated. It's certainly worthy of four stars.
But many of the gripes we had with past Quest headsets remain. It's still cumbersome and favours immersiveness over practicality. More than anything though, the Meta Quest 3 doesn't quite know what it wants to be. If you're already a Quest convert, then the Meta Quest 3 is a worthy upgrade. However, if Meta are hoping to enlist more users to its VR world, the Quest 3 isn't going to do it.
Stuff Verdict
Verdict…a fantastic headset but with few reasons to exist, the Meta Quest 3 is impressive, yet unnecessary upgrade
Pros
Best graphics from a Meta Quest yet
Smooth setup
Improved load times and hands-free control
Cons
Jack of all trades, master of few
Not enough mixed reality apps
Quickly causes fatigue
Stuff Says…
A fantastic headset but with few reasons to exist, the Meta Quest 3 is impressive, yet unnecessary upgrade
Pros
Best graphics from a Meta Quest yet
Smooth setup
Improved load times and hands-free control
Cons
Jack of all trades, master of few
Not enough mixed reality apps
Quickly causes fatigue
Meta Quest 3 technical specifications
| | |
| --- | --- |
| Resolution | 2064×2208 per eye, 90/120Hz |
| Optics | Pancake lenses w/ 110-degree horizontal, 96-degree vertical FOC |
| CPU | Qualcomm Snapdragon XR2 Gen 2 |
| Memory | 8GB RAM |
| Storage | 128/512GB |
| Operating system | Quest operating sytem |
| Connectivity | Wi-Fi, Bluetooth, USB-C |
| Battery | 2-3hrs (typical use) |
| Dimensions | 184x160x98mm, 515g |