Meta Quest 2 review
Accept another Quest?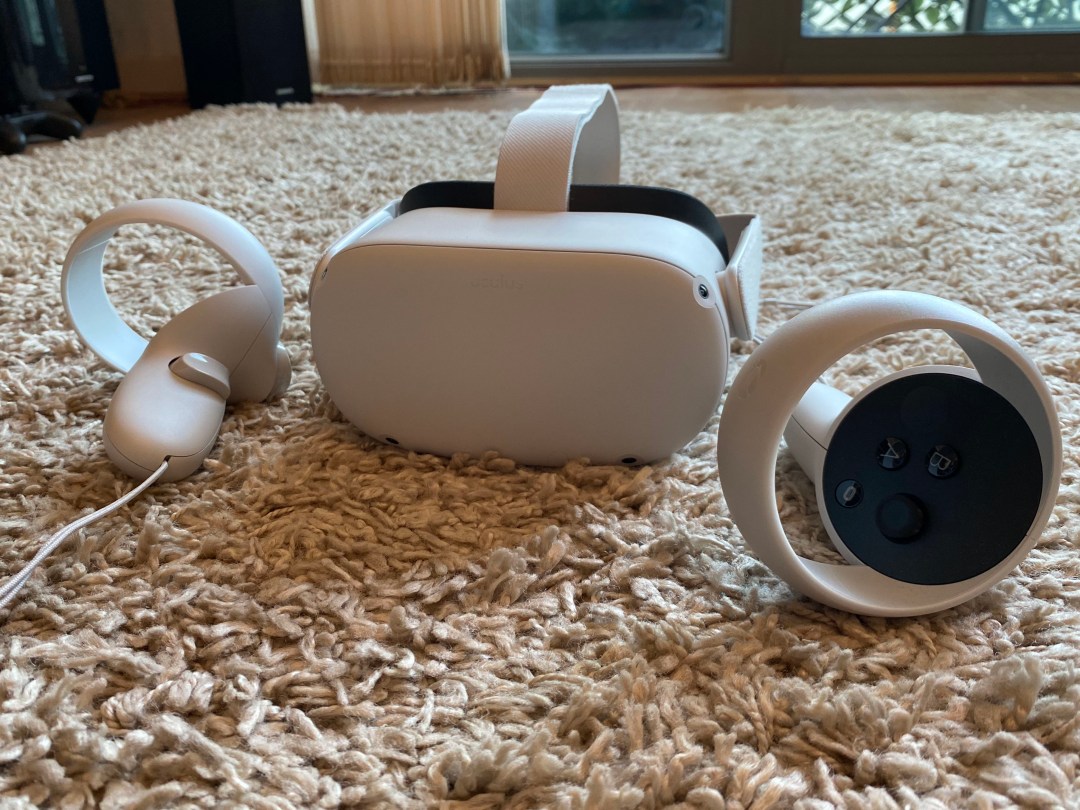 It's fair to say we quite liked last year's Oculus Quest. We were so impressed, in fact, that after much debate and only a brief bout of fisticuffs, we bestowed upon it the coveted honour of being Stuff's 2019 gadget of the year.
The all-in-one VR headset blew us away with its high-end performance that wasn't dependent on a supremely powerful PC, nor a roomful of sensors and wires.
It was VR, then, without any of the faff and barriers to entry that understandably put people off, and provided the easiest and cheapest way to experience the best of what this exciting new medium has to offer.
But the Oculus Quest is last year's uber-toy. Replacing it is a brand new headset with a design overhaul, a beefed-up spec sheet and, perhaps most impressively of all, a lower entry-level price.
Naturally, we were only too happy to take the Quest 2, which has been subsequently redubbed the Meta Quest 2, for a spin.
Design and build: Smaller, lighter, faster, stronger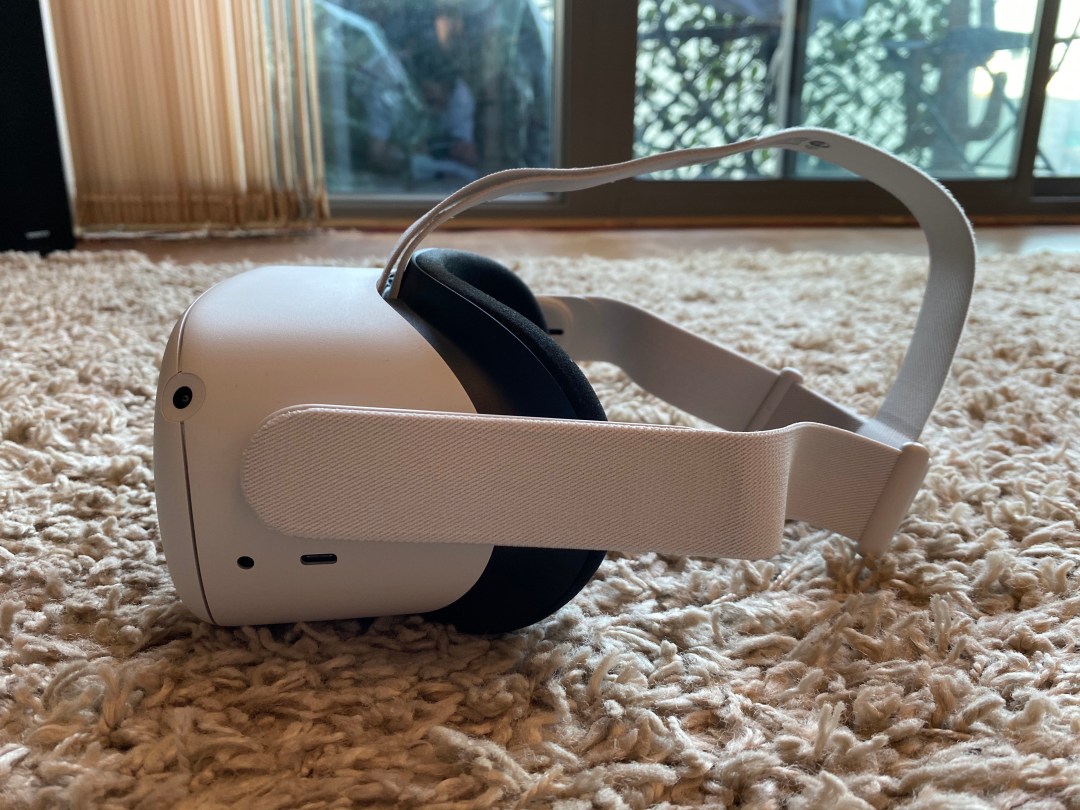 Oculus wants you to enjoy its very impressive take on virtual reality, but only after confusing you a bit. You see, while the original Quest adopted a dark grey colour scheme to possibly mark it out as a more serious piece of tech than the company's first wireless headset, the Oculus Go, the off-white Quest 2 looks more like the Go than its predecessor.
As well as the lighter colourway, the Quest 2 swaps its forerunner's rubber and velcro head straps for the soft elasticated fabric ones Oculus favoured for the Go. That said, its matte plastic build and nicely cushioned facial interface mean the Quest 2 is a more premium-looking headset than both, and we think the Facebook-owned company has found its winning design formula.
Smaller and over 10% lighter than the 571g original Quest, Oculus' new headset is the most comfortable we've worn, but it's still a VR headset. Spend more than 30 minutes wearing the thing and you will start to feel both the grip and the weight. We also have to do a fair bit of reshuffling to get the optimum facial positioning. Luckily, the straps make it easy to do so without taking the headset off your head.
This time, Oculus is offering various customisable facial and headstrap accessories, such as the Fit Pack, which is designed to better accommodate wider or thinner face shapes. Wisely, Oculus is letting you decide for yourself if you need one.
The original Oculus Quest included an interpupillary distance (IPD) slider on the bottom of the headset to allow the wearer to adjust the alignment of the lenses according to their eyesight, which is crucial for comfortable VR. This time, you can physically move the goggles between three different settings, with a clicking sound signalling you've changed to a different one. This means you actually have to remove the headset to make adjustments, which we're not sure is better, even if it is simplified.
Like the headset before it, the Quest lets in a little bit of the outside world through the bottom. That might sound like an immersion-killer, but it disappears when you boot up a game, and being able to see out of the headset makes it a lot easier to spot your abandoned controllers.
And on the subject of controllers, Oculus' are still pretty superb. The new Touch controllers have the same layout button as before: two lettered buttons, an analogue stick and a pair of triggers on each, with a menu button on the left controller and the Oculus home button on the right. This time, though, both have a thumb rest and ever-so-slightly wider tracking rings for improved tracking. There's a bit to get your head around, but pretty quickly the controller feels as natural in the hands as a DualShock.
Once again, Oculus has gone for built-in spatial audio, with a headphone jack for those wishing to keep the noise down. Oculus tells us that by changing two audio outputs to a single one you're getting more immersive overall sound, and while we're not 100% on such a claim, we can say that the headset sounds more than good enough for the majority of VR apps and games.
Everything else is pretty much as it was before, save for the USB-C port, which is now located a bit further back. You've still got an easily locatable volume rocker on the underside of the headset, and the four ultra-wide angle sensors are positioned, as before, on each of the four corners of the front faceplate.
Setup: permission from a Guardian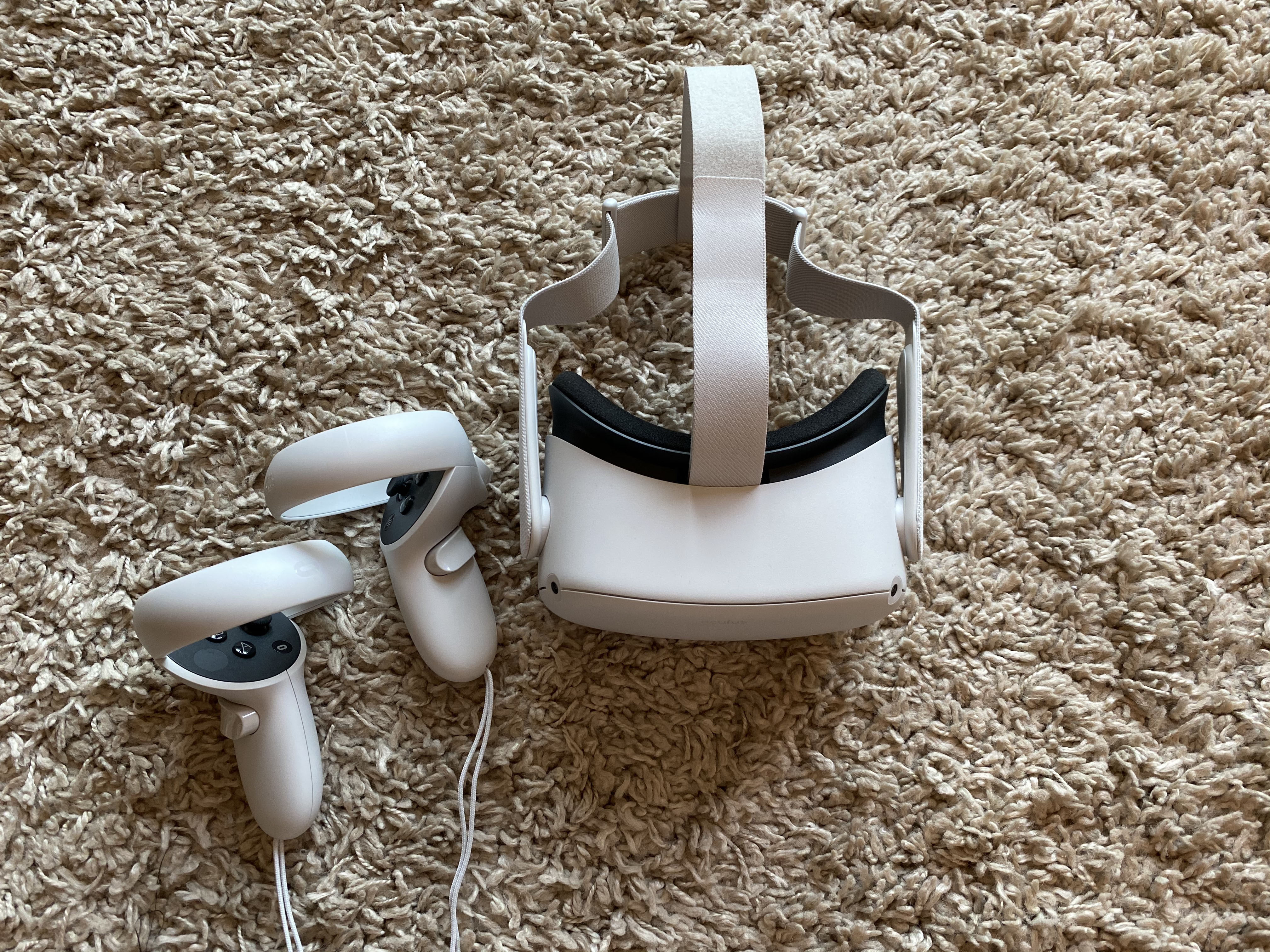 With an Oculus Quest 2 on your head you can be in your own Star Wars movie, box with the best and climb mountains before you start work, but just setting the thing up remains as satisfying as pretty much anything else it can do.
Once you've turned the headset on (remember, no wires to worry about), found the right fit, hooked it up to your Wi-Fi and paired it with the Oculus app on your phone, you'll be asked to follow the on-screen instructions to set up your Guardian. This is where you draw a virtual outline around your playspace to create boundaries. If you get close to breaching your Guardian's perimeter you'll see a red wall of warning, and if you step through it entirely you'll see a real-time view of the (boring) physical world around you.
This way, you can lose yourself in the occasionally nauseating thrills of VR without worrying about punching a hole in your telly.
Oculus offers recommended measurements for roomscale apps and its headset will be sure to warn you if yours doesn't match up. There are plenty of excellent stationary VR experiences but be aware that to get the most out of the Quest 2 you'll need a fairly sizeable room.
You should also know that this is the first Oculus headset that requires you to log in with your Facebook account, even if you already have an Oculus account. If you don't, you can't use the Quest 2 at all. Those who don't want to hand even more of their data to Zuckerberg and co. might have to think twice before investing in the device, though at the time of writing, our very infrequent visits to Facebook haven't seen us bombarded with VR game ads.
Performance and battery life: More pixels, more fun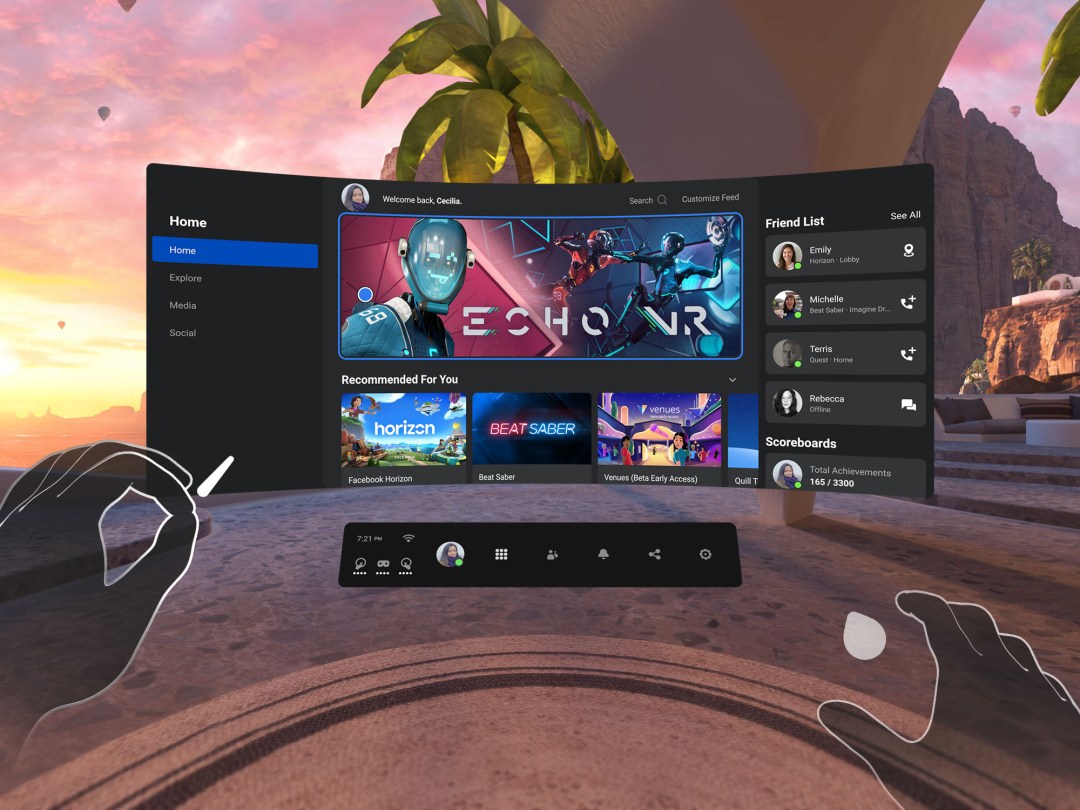 While the Oculus Quest 2 is not a radical reimagining of the first headset, inside or out, it has been given a notable spec bump. With a resolution of 1832 x 1920 (nearly 2K), it has 50% more pixels than the Quest and more than the PC-powered Rift S, with performance aided by a new custom-built Snapdragon XR2 chip and a 2GB RAM boost, up to 6GB.
And the difference is noticeable, particularly when we compared the Quest 2 with the Rift S. Text is undoubtedly sharper, and the overall image is just crisper. Do games look mind-blowingly good? No, but they look pretty damn good for a medium that still at times feels like science fiction.
Perhaps even more exciting is the refresh rate of the fast-switch LCD display, swapped in for the first Quest's OLED panels, which will soon enable 90Hz for smoother gameplay and, due to the reduced lag, hopefully less motion sickness. And as VR users who are sadly susceptible to the dreaded hot face/wobbly legs combo that a bad experience can bring, we're all for anything that shuts out the sickies.
Unfortunately we were only able to test the standard 72Hz that apps currently run at by default at launch. Until then, it's just the home screen running at 90, and it definitely makes a big difference.
Oculus has decided to stick with its 6 degrees of freedom (6DOF) tracking, and it works as brilliantly as before. Whether sitting, standing or patrolling our Guardian boundary, the Quest 2 rarely fails to register a movement. And that goes for the subtle ones too, like perfectly lining up a sniper shot, or adding backspin to a forehand in a game of virtual table tennis.
Earlier this year Oculus added support for hand tracking, which registers button inputs by getting you to pinch your fingers together. Again, it feels almost magical at times and only takes a minute or two to set up, but inevitably isn't quite as reliable as using the Touch controllers.
You can expect a longer battery life from the Quest 2's controllers, but the headset will still conk out after 2-3 hours. On paper it doesn't sound great, but as we said in our original Quest review, anyone spending more than a few hours at a time in VR is probably going to become confused about which reality they actually belong in. Or, you know, just get a bit of a headache. And if you are feeling hardcore, there will be an optional headstrap with a built-in battery that doubles the headset's life.
Oculus says the Quest 2 will charge fully in 2.5 hours, and this seemed to be accurate in our testing.
Content: Lose yourself
As you'd expect, the entire Oculus Quest library to date will be playable on the Oculus Quest 2, and really, VR classics like Beat Saber, Moss, Job Simulator, Vader Immortal and the masterful Superhot VR are the first apps you should be be booting up with your new headset, with the latter still being the best example of how game-changing roomscale VR can be.
We're also big fans of the Alice in Wonderland-inspired Down the Rabbit Hole, in which you're placed inside a 360 degree diorama and control a girl who has stumbled into Wonderland looking for her lost pet. It's brimming with charm and inventive gameplay and is one of the more comfortable VR games to show off to newcomers.
Eleven Table Tennis is genuinely as good as the real thing, and if you haven't yet experienced the trippy euphoria of Tetris Effect, you really need to do so in VR.
As for new and upcoming games, The Walking Dead: Saints and Sinners lets you fulfill your zombie-slaughtering fantasies, while Population: One is a multiplayer battle royale shooter entirely in VR. And if you've ever wanted to visit Jurassic Park without the risk of getting your head eaten by a raptor, well, you can get your virtual head eaten in Jurassic World Aftermath.
In truth, you shouldn't be expecting to buy an Oculus Quest 2 and get the same volume of new content as you would with an Xbox One or a PS4. VR remains a niche hobby and big-budget, fully-formed titles don't come along every other week. And lot of the best apps are more tech demos than proper games anyway. But the Oculus Quest store is bursting with variety and hooking up the Quest 2 to a PC with the Oculus Link cable unlocks even more.
Not a big gamer? Big-screen Netflix and YouTube are thankfully as good as they sound on the Quest 2, with the latter containing a sizeable library of 360 videos for your viewing pleasure.
Oculus Quest 2 Verdict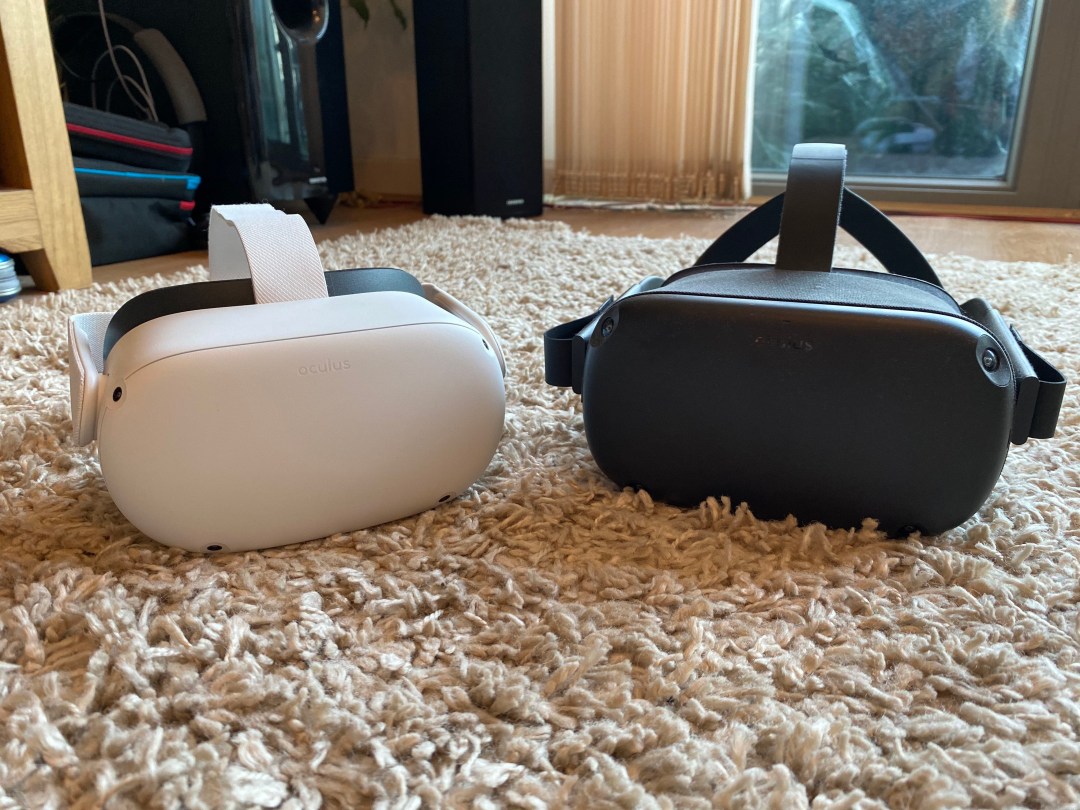 Of the original Oculus Quest, we said there are times when using it feels almost too good to be true. Naturally, the new headset lacks the same wow factor, but the new design is a win, and who can argue with a more high-res display and upgraded processor for less money?
Are there more powerful headsets out there? Is motion sickness still an issue developers haven't managed to eradicate for a lot of people? Yes to both, but the all-in-one Oculus Quest 2's superb inside-out tracking, roomscale capabilities and total absence of wires make it our favourite overall VR package to date.
Now if you'll excuse us, we've got a ping pong champion waiting for a game in the living room.
Stuff Says…
Not a reinvention, but our favourite VR headset is now even better (and cheaper)
Good Stuff
Improved resolution
Lighter than the Quest
90Hz support coming soon
Large library of apps and games
Bad Stuff
No improvement to headset battery life
VR still makes us woozy
Requires you to log in through Facebook