Oculus Go review
The virtual reality headset you've been waiting for? Probably not...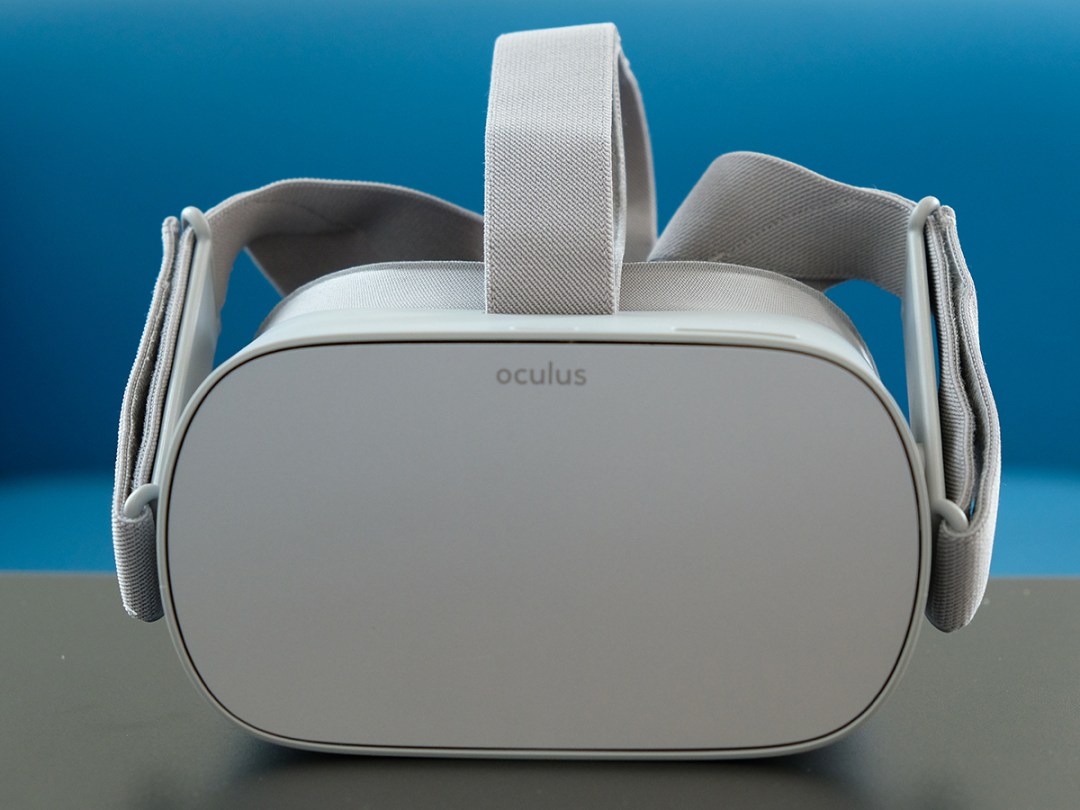 If you're reading this then chances are you don't already own a VR headset. Why? Because unless you're super into gaming or 'adult alone time' there hasn't been much reason to jump on board the bandwagon.
So that means the Oculus Go is the closest thing yet to a VR headset for the masses. A reasonably-priced device that connects to your phone over Bluetooth and comes with a suite of content to enjoy, the Go does a lot to make virtual reality accessible in a way it's never been before.
Even so, it feels like the first iteration of a product that's more of a novelty than anything else. If you're looking to enjoy in VR fin bite-sized chunks, it's a solid purchase.
Otherwise you're better off sticking with bog standard reality, for now…
Design: Padded to the max
The more VR headsets I've tried, the more I've become accustomed to their annoyances. Whether it's the PlayStation VR, HTC Vive Pro or Oculus Rift, the same thing always happens: my face heats up, my eyes dry out and the whole experience is fundamentally awkward after about an hour at the absolute most.
The better-designed the headset, the longer it is before this irritation kicks in. Thankfully, the Oculus Go does its utmost to compensate for any uncomfortableness.
Compared to the similarly-minded Samsung Gear it's a far superior proposition, both in terms of design and the fact it's a standalone device that doesn't use your phone as a surrogate screen.
Made from a combination of plastic, breathable fabrics and elastics, Oculus' Go is the most pleasant headset I've yet strapped to my face. Its velcro headbands are extremely easy to adjust, and at 467g the Go is lightweight enough that you don't feel your head constantly nodding forward while using the thing.
Glasses-wearers are catered for too with a rubber insert, while more dedicated Go devotees can purchase prescription lenses for their headset. Thanks to its standalone nature and reasonably diminutive dimensions (190mmx105mmx115mm), cramming this headset into a rucksack is eminently do-able too.
In essence, the Go is as hassle-free as VR headsets get and that ethos is even reflected in the buttons and ports it offers. You get a power buttons, a volume rocker, a 3.5mm headphone jack, a microUSB charging port and that's it.
The idea here really is that you should be able to don the Go and get cracking with your VR pursuits as soon as humanly possible. Alongside the Go headset itself, you also get an AA battery-powered controller for selecting content, shooting at virtual foes and, erm, other things.
A stubby chunk of plastic, with a trigger, two face buttons and a touchpad, it sits neatly in your hand and doesn't feel quite as flimsy as the Gear VR alternative.
As a package, it's hard to fault the Oculus Go. Until you get around to using it.
Screen and sound: Light and (kind of) magic
Once you're done with the few minutes it takes to setup the Go via Oculus' app, then you can dive into all the virtual experiences you please.
Whereas the vast majority of VR headsets to date use an OLED panel to stare at, the Go features a 5.5in fast-switching LCD panel with a 2560×1440 WQHD resolution instead. Why? OLED displays are more expensive to make than LCD ones.
That 'fast-switching' aspect to the Go's screen ensures your mind believes the experience it's been hurled into and doesn't make you throw up in response.
While this proved true even in the Oculus Store's most discombobulating downloads, the on-rails arcade game Coaster Combat is as good a test of your stomach as any, there's still less detail than I'd like here.
Watching Captain America: Civil War feels a lot like using a tablet from five years ago. It's fine but the colours aren't quite as pristine as you'd like and things can get a bit iffy when you throw a lot of motion into a scene.
Depending on the content you watch, resolution seems to take a hit as well. At least Next VR's highlights of Wrestlemania 34 don't compare in detail to what you'll get from the Netflix app.
In terms of sound the Go is a lot better, and that's even if you don't plug in your own buds or headphones. A pair of spatial audio-capable speakers are built into the headset's straps and these work surprisingly well.
Everything is crisp and clear to listen to, and this setup allows you to pass around the Go around your mates without having to do the same with a pair of earwax-caked buds. Unless you really bump the volume up, there's not much in the way of audio leakage.
Content: slim pickings
As much as the Go is a well-built headset with a few understandable cost-cutting measures, its real problems stem from the fact that there's not much to do with the headset once you strap it on.
Its software library is restricted to the same titles you can already play on Gear VR, and the very best Oculus Rift titles such as Lone Echo and Superhot VR aren't included on that list.
How come? Although it bears the Oculus name, this headset is powered by the Qualcomm Snapdragon 821 Mobile VR Platform instead of a top-of-the-range graphics card that's been baked into a PC. Hence the two-hundred quid price tag.
So the 1000 apps, games and experiences you can download for the Go all rely on an orientation-only system. This allows you to tilt your head and stretch out your hands to interact with a virtual space, although walking is a definite no-go.
How much mileage there is in these kind of experiences comes down to the novelty of doing them in VR. So if you never had much inclination to play the Catan board game in any format, then that's not going to change. Standing in the front row of KISS concert though? That's a fun way to spend three minutes.
Really, the Go is better thought of an additional purchase to your tablet, TV or console, especially since its battery life is two and half hours at tops. It certainly isn't going to replace that kit anytime soon.
That's why tries to go one further by offering stuff like Oculus Rooms, an app where you can hang out with your avatars of your friends playing card games and watching movies in 3D at a dubious quality.
If you want to hang out with your mates online, you're better off using FaceTime or squadding up for a game of Fortnite. So, yeah, you're best off sticking with the games and movies after all.
Oculus Go verdict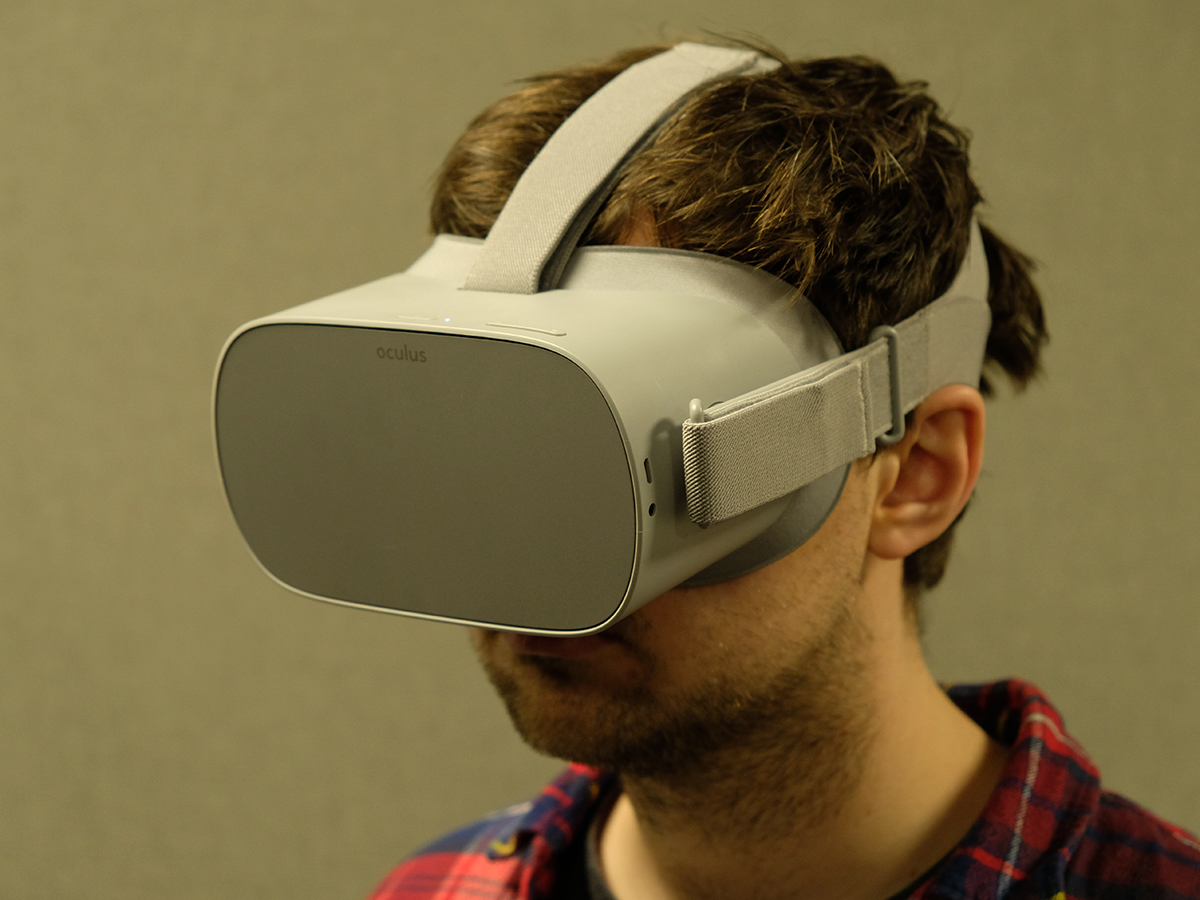 The Oculus Go is a really odd product. It's affordable, easy to use and as comfortable as you could expect for a limited amount of time. That's not something you can say about most VR headsets, which can can come across as flimsy, cost thousands of pounds to buy and require a decent knowledge of PC hardware to get up and running.
That said, the Go just can't get over its lack of truly must-see content. Granted, there are some good experiences that you can try out and might even come back to a couple of times, but there's also a lot of dross as well.
As ever, experiencing this mediocre stuff in virtual reality isn't revelatory enough reason to elevate it to must-see status for most people. So if the Go isn't a VR headset for the masses or the hardcore, who is it for? I don't honestly know, and that makes it tough to recommend.
Stuff Says…
A well-made VR headset that's once again lacking for content
Good Stuff
Comfortable in short doses
Easy to setup
Audio is well done
Bad Stuff
Lacking for content
Screen is so-so