Meta Portal Plus review: brilliant at the basics
A redesigned take on the smart display from Facebook, now with Alexa on-board. But do you want it in your home?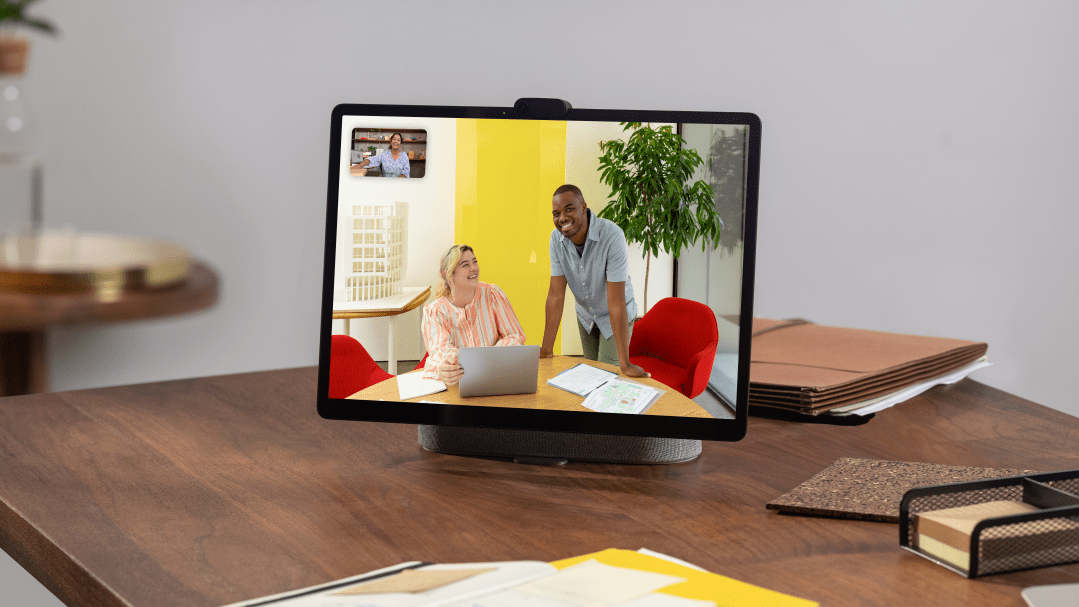 Paranoid about privacy? The Meta Portal Plus smart display probably isn't for you. But then we're all putting ourselves out there a bit these days.
If you use WhatsApp or Messenger on a regular basis, you're in the Meta kingdom whether you like it or not. Meta's Portal works with both services for straightforward video calling – WhatsApp uses your phone's contacts – while there's native Zoom support, too.
With those three services on board it's a better video calling prospect than Amazon's smart displays which use Amazon's own systems as well as Skype (but don't support Zoom in the UK yet, though they do in the US).
Only a handful of apps are available on the Portal Plus (Microsoft Teams, BlueJeans and Webex are other pro-calling options) but it's also pretty decent for music and brilliant as a rolling family photo gallery that can take pictures from your Facebook feed, your phone photos or a specific selection. There's also a new portable Portal Go available, which we've looked at below.
Features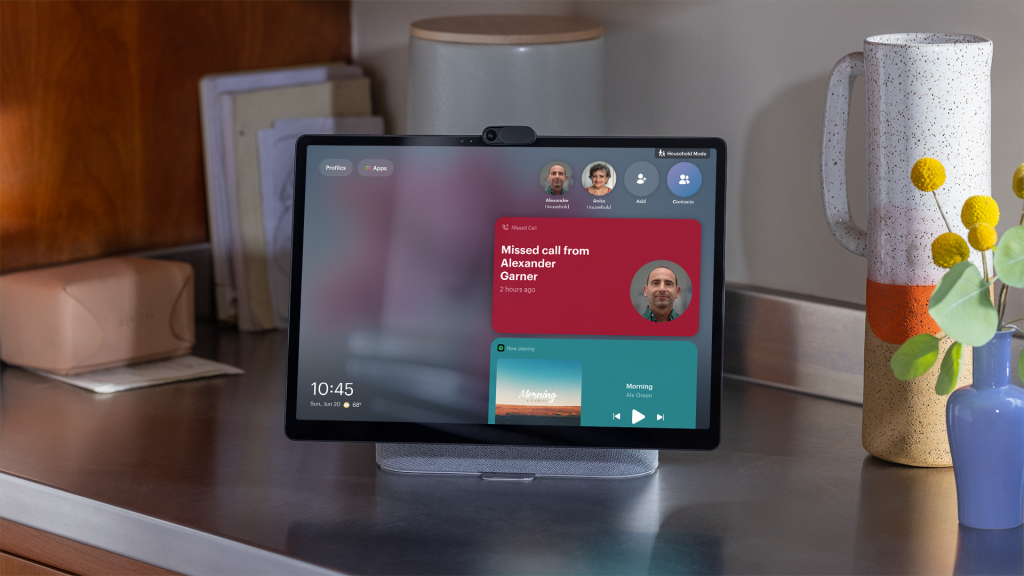 Right from the first Portal device, Meta decided to give them some fun bits too with AR masks and backgrounds so you can look like characters from Harry Potter among several others (it only works with WhatsApp calls to another Portal). Plus a feature called Story Time enables you to put yourself in a story for kids to enjoy… if you like that sort of totally impersonal thing.
As with Amazon's smart displays, the Meta Portal Plus enables you to slide a cover over the camera if you want privacy during calls – or simply want peace of mind that you can't be seen.
The display is a nicely thin 14-in HD (2160 x 1440) screen with super skinny bezels and it adds to what is a rather pleasant aesthetic. The base is quite compact, so there's no Amazon Echo Show 10-esque fruit bowl-sized blob at the bottom. It's all about the display.
As with other Portals, the 12 megapixel camera pans and zooms as you move around the room with a. 131-degree field-of-view, meaning you're always in the frame.
This sounds like a gimmick, but is surprisingly effective at keeping the focus on you as you cook your fajitas while calling your beau.
Software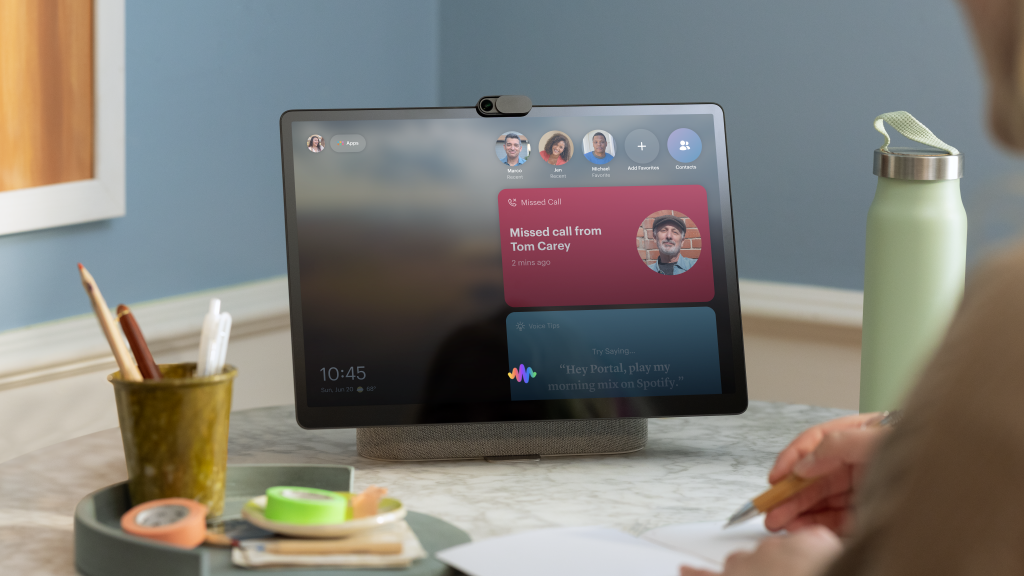 Portal has its own voice assistant, but it's very hit and miss. Thankfully someone at Meta had the bright idea of getting Amazon's Alexa on board and that's what you're going to want to use. You can do all the standard Alexa stuff such as catching up on the latest news and seeing who's pressing your Ring doorbell.
The Meta Portal Plus makes for a decent kitchen or family room speaker (two 5W speakers, one 20W woofer) and you can use it with Spotify Connect to easily play music to. There are Spotify and Deezer apps on board, too. Plus four mics mean there are zero problems with in-call audio.
This isn't a smart display in the purest sense, but the ability to use Alexa elevates it.
There's no doubt it's excellent as a standalone device for video calls if you use Messenger or WhatsApp already and especially if you use those services for regular chats with family. The filters are fun, too.
Stuff Says…
It might not be the smartest display around, but it's brilliant for calls.
Good Stuff
Thin bezels give it a sleek look
Decent slew of video services
Bad Stuff
"Hey Portal" smart assistant is poor
It would be good to have more apps
Tech specs
| | |
| --- | --- |
| Display | 14in HD display with tilt, 2160×1440 |
| Connectivity | Wi-Fi, Bluetooth 5.1 |
| Camera | 12MP |
| Audio | 2x 5W drivers, 1x 20W woofer |
| Dimensions | 319x251x80mm |
Alternatively… Portal Go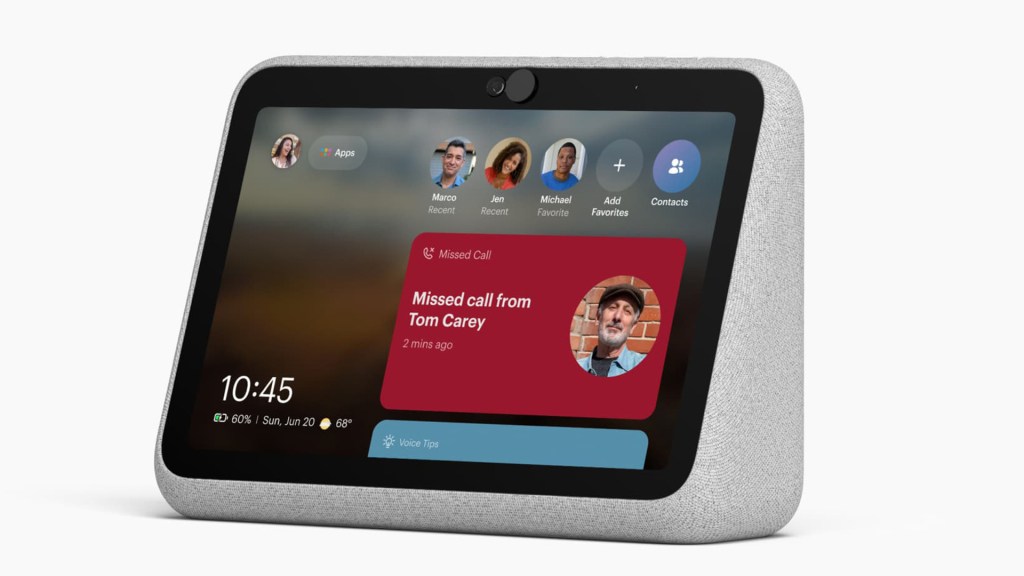 OK, so stop us if you've heard this one before – you can call people on this 10-in tablet-like device while you walk around your home. Chortles aside, Meta's ad campaign for the Portal lays bare the appeal for this device; grandparents calling grandkids. For good reason – it's easy to live with and very simple to use, especially for kids where you don't really want them accessing oodles of apps on the family iPad. The Portal Go is distinct because of its portability and five-hour plus battery though; there's nothing similar available from Amazon or Google. It's really tactile with a soft finish and, thanks to a wide base, stands up without you having to prop it against something (which can be a standard annoyance with iPad video calls). Of course, it can still do everything the static Portals can, so you can treat yourself to a bit of portable music or faff about with Alexa, too. The disadvantages are three-fold; it's heavy at 1.4kg. It isn't completely portable since it still needs to be connected to your Wi-Fi. And it's still costly for what it does. After all, for another £140 you can get the basic iPad…which does pretty much everything.
Stuff Says…
Ideal if you want a bit more flexibility than a standard static Portal