Amazon Echo Show 10 review
Pay to spin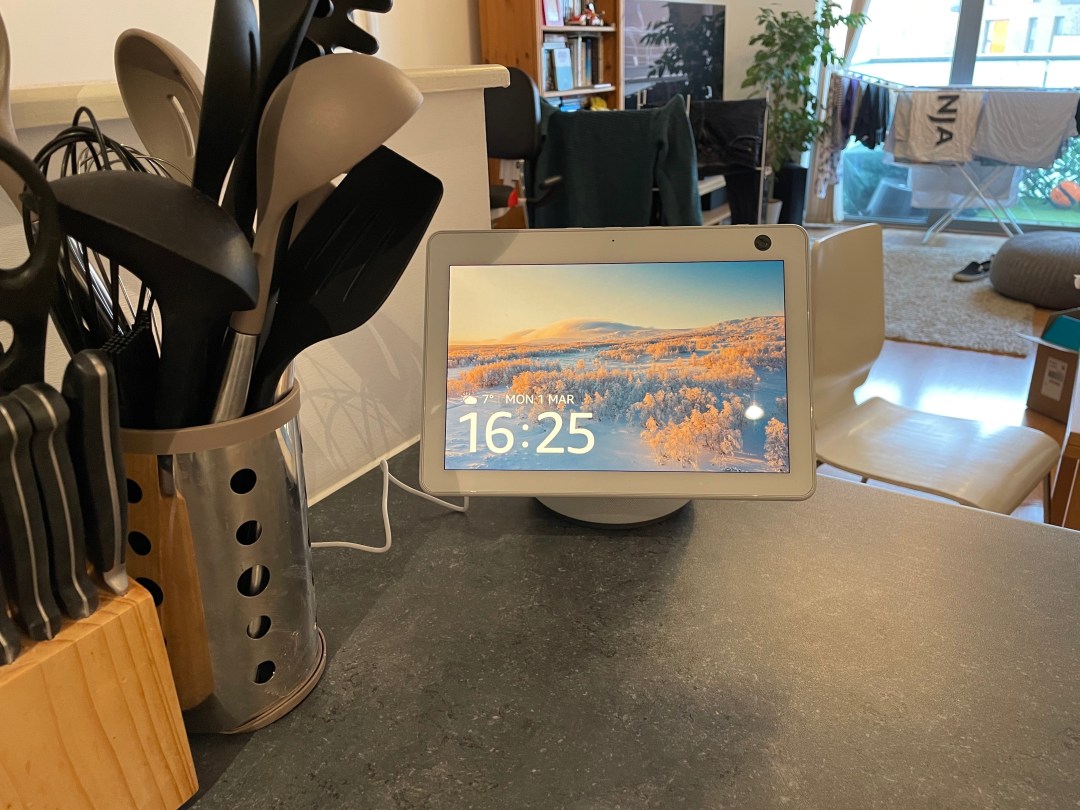 It hasn't even been around for four years yet, but it feels like Amazon's Echo Show has already had nearly as many iterations as Batman.
So to confuse you that bit more, the Echo Show 10 is here to expand the Alexa-powered smart display's capabilities even further. Like 2018's 2nd Gen Echo Show, it has a 10.1in touchscreen and a front-facing camera, but this time it's mounted to what looks a bit like a squashed down Echo Studio, and can follow you around the room using a silent (and therefore ever-so-slightly creepy) motor.
Given that this inevitably pushes the price up a bit, is the Echo Show 10 worth going for over its various still on-sale predecessors?
Design: the spinner takes it all
Unlike anything before it bearing the Show name, the Echo Show 10 is essentially two devices in one. First you've got the fabric-wrapped speaker, which houses a pair of 1in front-firing tweeters and a 3in woofer.
Underneath that is Amazon's nifty brushless motor, which allows the Echo Show's to spin nearly 360 degrees left or right so it's able to face you when you address it.
The power port is located on the bottom. Attached to (and not removable from) the speaker is a 10.1in display, which now looks like a floating tablet. It can be manually tilted back and forward, but understandably not so far back that it's facing the ceiling.
It's a tablet with a pretty sizeable bezel too, but that's probably not going to bother you here as much as might on a modern iPad. On the top bezel you have the front mic and a 13MP front-facing camera in the top right-corner.
Run your finger across the upper edge of the device and you'll find more mic cutouts, volume buttons, a camera on/off button and a camera shutter. Multiple ways to hide the all-seeing eye if you want to.
It's worth noting that the Echo Show 10 is quite a bit taller overall than the 2018 model. We know this because it has replaced that device underneath a kitchen cupboard, or at least was supposed to, before we realised that opening said cupboard door was no longer possible.
Like the 2nd Gen Show, it demands a fair bit space, and the Show 10 will ideally have ample room to rotate too. The Echo Show 10 is available in either charcoal or white. We were sent the former for review, and quite like its (whisper it) classic Apple-like appearance.
The black camera lens stands out like a sore thumb though, but that also serves as a frequent reminder that it's watching you.
If you're into your eco-friendly gadgets, the Echo Show 10 is built using 30% post-consumer recycled plastics, and entirely post-consumer recycled fabric and recycled die-cast aluminum. Low power mode will turn the screen off intelligently during periods of inactivity.
Features: Alexa's eye
Setting up your Echo Show 10 is a bit different to previous Echo Show devices. You'll still be adding it it to your Alexa app, adding services and selecting the content you want the screen to show you as you go about your day. But this time there's something called Device Mapping too, which is where you determine the device's range of motion depending on where it's going to live, as well as setting an idle position.
It doesn't take long and acts as a good demonstration of what the newest Echo is capable of, but Amazon recommends you repeat the process each time you move it. If the Echo Show 10 collides with something, it'll tell you to move the guilty object. Motion is turned on by default, but you can change this in the settings, and you're only ever an "Alexa, stop following me" from halting the Echo Show 10.
It works like this: when you say the wake word, the device will swivel (as long as it's within its designated zone of motion) to face you, and follow your movements from then on. If you're on a group call, following a recipe on BBC Good Food or watching a show on Netflix or Prime Video, it'll move with you without being told. This might all sound a bit creepy, but it's less so when you know the process.
The Echo Show 10 uses a combination of computer vision and echolocation to keep track of where you are, so it's not looking for your face. All the processing is done locally on the device and then deleted after the interaction, Amazon says, so nothing visual gets sent to the cloud such as voice commands. And it works really well most of the time; smooth, totally silent and rarely unable to locate you (a message pops up on the screen if you move out of the motion zone). We have encountered what we presume are some early performance bugs, but each time this happens you can tell the device, and it'll hopefully stop happening after a few firmware updates.
The Echo Show 10 only rotates when you've shown it that you've actually moved to a new position too, so it's not going to spin wildly every time you reach for the black pepper. If it does get confused by your jumpiness, you can just call it back to the right place.
The motion makes video calling on the Echo Show 10 much better than it was before, as the camera can pan and zoom to keep you in frame. Bear in mind that the person you're calling will also need either an Echo Show or the Alexa app to pick up, and you'll need to add them as a contact. Skype is supported for group calls, but no sign of Zoom integration in the UK, which is a shame.
The camera can also be used to turn the Echo Show 10 as a smart camera. Once you've enabled Home Monitoring on the device settings and selected it as a camera in the Alexa app on your phone, you can access a live feed and even rotate the display remotely to see more of the room. You just need your phone to be connected to the internet. Don't think of this as a security camera stand-in though; when you start viewing the camera feed a message will pop up on the Echo Show saying someone is using it, and you can't disable it. No covert snooping here.
Otherwise, the Echo Show 10 functions in much the same way as its forerunners. You can ask it questions, control connected smart home devices, check the news and listen to music. There are 100,000 skills, some useful, (many) others so useless that it's actually quite puzzling. Our most used feature remains the timer, which was probably about as exciting to read as it was to write.
The home screen can be customised so it cycles through weather updates, your photos and visual news headlines for trending stories, and keeps you up to date with your football team's latest results. As a Spurs fan, this writer already has a volatile relationship with that particular feature.
We like how the Echo Show 10 regularly suggests recipes too, especially useful over the last 12 months. A tweaked interface now shows you more information at once than on previous versions, but day-to-day it's largely the same user experience.
A host of music streaming services are supported, including Apple Music, Spotify and, obviously, Amazon's own. On the video side, you've got Netflix and Prime Video built in, but no iPlayer or Disney+. YouTube is possible but only through the Silk or Firefox browsers.
Screen and sound quality: Solid performer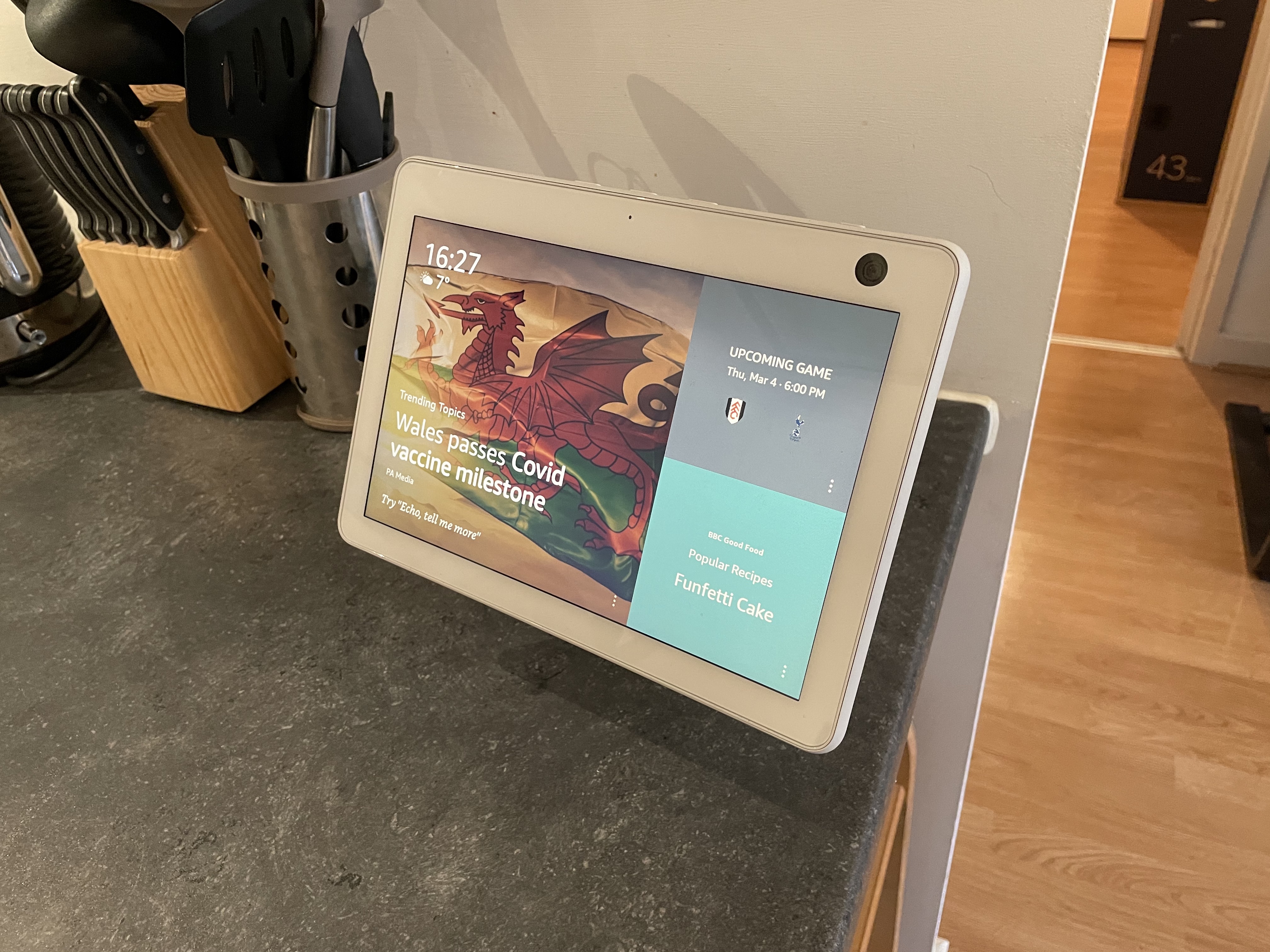 With what is essentially a standalone audio component for the first time in this line, the Echo Show 10 is a pretty capable kitchen or living room speaker, though not comparable in quality to the cheaper (but screenless) Echo Studio.
It's not 360-degree like the standard Amazon Echo, but the speaker rotates with the screen, so the front-firing tweeters can be pointed at wherever you are in the room for the optimum sound. If you find the standard output to be a bit bass-thick, you can tweak that in the Alexa app's EQ. We'd advise at least having a play to see what you like.
The 10.1in 1280 x 800 display isn't going to replace your TV, or likely even your regular tablet for streaming shows and movies, but we found it more than adequate for watching a few episodes of Netflix's Song Exploder while cooking.
You might want to turn off the Adaptive Brightness feature for entertainment though; while gentler on your eyes in regular use, it just dulls colour reproduction in a TV show. And while the bezel is barely a consideration most of the time, we immediately missed the iPad Pro once it became a Netflix machine.
Amazon Echo Show 10 verdict
The Amazon Echo Show is the best Echo Show yet, mainly due to its genuinely useful rotating ability. It makes apps that actually require you to look at the screen instantly more appealing, as they're always in front of you when you look up.
The speaker is also pretty good, making this is an impressively versatile Echo device. But £240 is a lot of money, and the motor doesn't dramatically upgrade the experience. With app support still limited, the Echo Show 10 remains a so-so entertainment device, and by and large we found ourselves using ours in the same way we've used previous devices in the line: catching up on news, loading the odd recipe and setting timers when something has just gone in the oven. Video calling is better than before, but without Zoom or FaceTime we suspect a lot of people won't use it much.
If money is no option, you've got a decent-sized space for it to live in, and you're all in on Amazon's ecosystem, then the Echo Show 10 is probably the ultimate kitchen companion. Otherwise, there are more affordable alternatives, both with screens and without.
Stuff Says…
A useful, but inessential upgrade to the Echo Show
Good Stuff
Spinning functionality works well
Large display
Doubles as a pretty good smart speaker
Alexa remains a great voice assistant
Bad Stuff
Expensive
Still lacking app support across the board
Large display bezels
Demands more room than ever