Huawei P50 Pro review: impressive imaging meets uphill battle
Huawei phones have been swimming upstream recently - do things change here?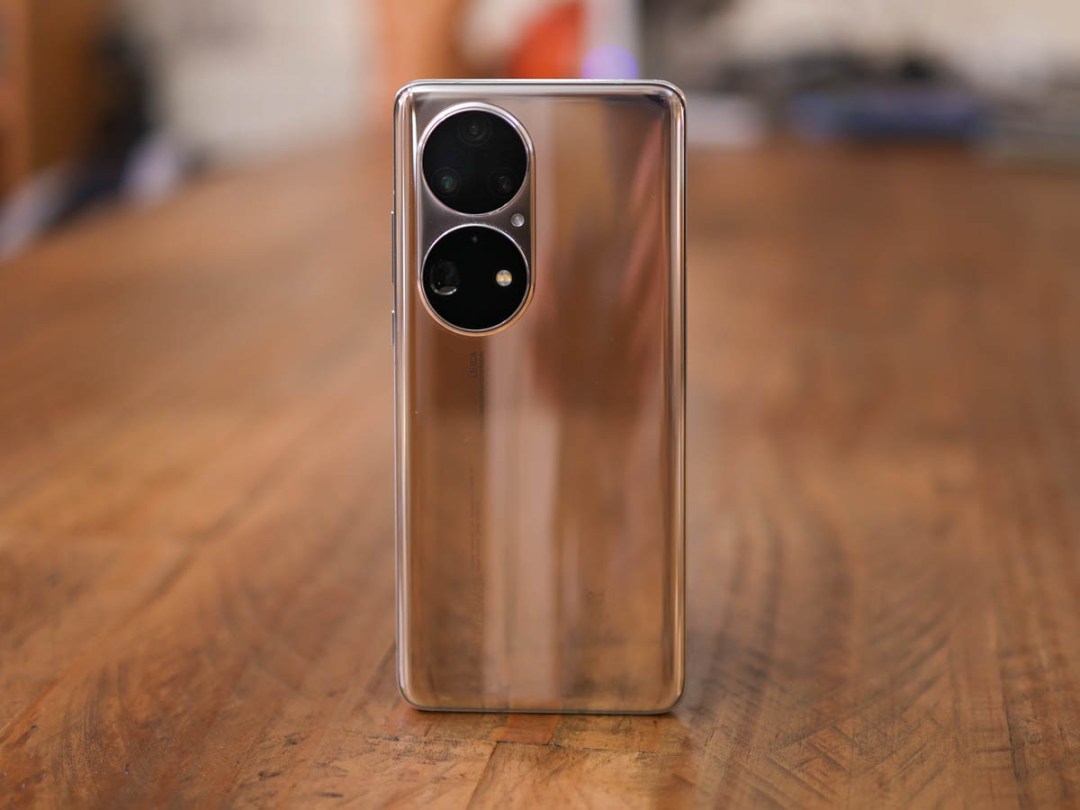 Huawei's new P50 Pro boasts some great features – no surprise given the P30 Pro was one of the best phones of its generation, and the P40 Pro's camera is still stellar (the P40 wasn't bad either). It's no secret though, Huawei's been swimming upstream over the last few years with no Google apps and limited access to components.
What's perhaps most unfortunate for Huawei is that while it's been on the defensive, trying to create entire ecosystems and still innovate its hardware, competition has been thriving. Google's Pixel 6 Pro is an decently-priced camera champ, OnePlus, Oppo and Xiaomi are operating outside China with no restrictions and great handsets, and Apple's doing better than ever.
The P50 Pro launches at €1,199, roughly £1,000. Can that high price be justified by its Dual-Matrix Camera with Fusion Pro image engine, smart EMUI 12 interface and sleek design? Or are the compromises – no 5G, no Google Play Store and a general lack of UX polish – too great for the latest P-series flagship?
Design: Mirror mirror
Huawei's P50 Pro looks more like the P30 Pro than the P40 Pro – curved screen, rounded glass back, metal frame – fancy smartphone by numbers. While it misses out on the all-sided curve of the P40 Pro (which we actually love), it still looks neat – updating the line with a small punch hole front camera, while keeping things slim, at 8.5mm.
As with most flagships, the P50 Pro is dust and water-resistant, and isn't too heavy or too light, weighing 195 grams – more than an iPhone 13, less than a 13 Pro Max. Available in Cocoa Gold and Golden Black with a mirror finish, the P50 Pro loves fingerprints so gets grubby-looking readily, though slip on the case it ships with, and you can keep it smudge-free and protected.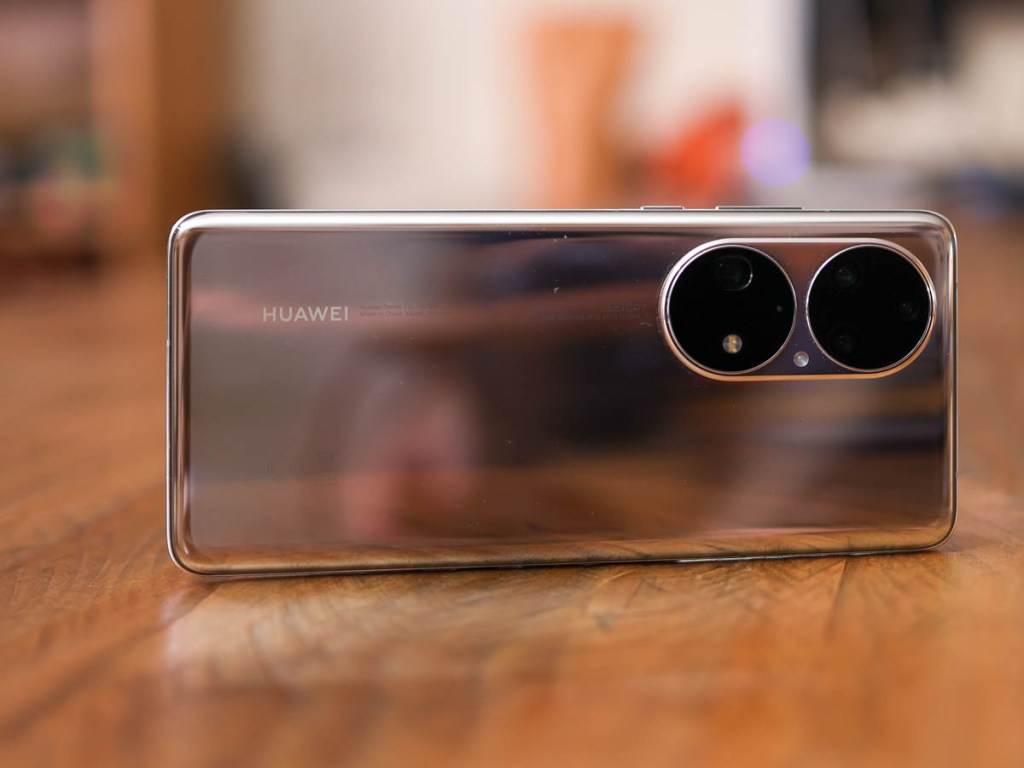 While the phone does feel a little generic, its camera surround does a good job of teasing Huawei's new imaging hardware. Made up of two stacked circles that form a figure-eight shape, the stepped top ring of the camera section houses the wide, mono and ultra-wide cameras, and the bottom ring introduces the new 64MP telephoto camera with a roughly 92mm focal length (3.3x optical zoom), as well as a flash.
Also of note, there's an IR blaster at the top, so the phone doubles up as a TV/AV system remote control, and there's no headphone jack, just a sole USB-C port for charging and data transfer.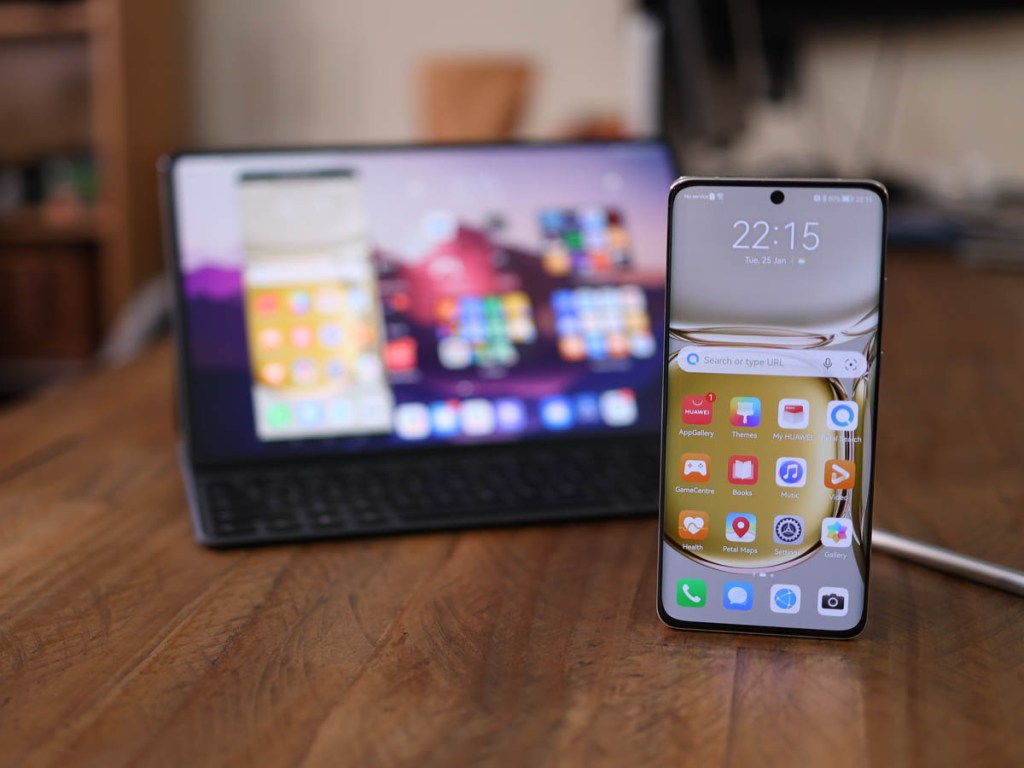 Screen: Checks boxes
A flagship screen today needs to be OLED for those deep, unctuous, inky blacks and punchy colours. It needs to have a 120Hz refresh rate so scrolling looks smooth, and a competitive touch sampling rate for responsive gaming. It also helps if the screen's 10-bit – that means it displays over a billion colours, so gradients look a bit smoother and is sharp too. Checking all those boxes, the P50 Pro's display is a treat.
The final frontier of flagship screen status is software, and with an Eye Comfort mode, control over display white balance, the P50 Pro doesn't drop any balls. With its 20:9 aspect ratio and ample 6.6-inch size, it's also great for watching movies on without being a behemoth in the pocket.
As for the under-display fingerprint scanner, it's accurate, fast, and can be doubled up with face recognition for speedy unlocking.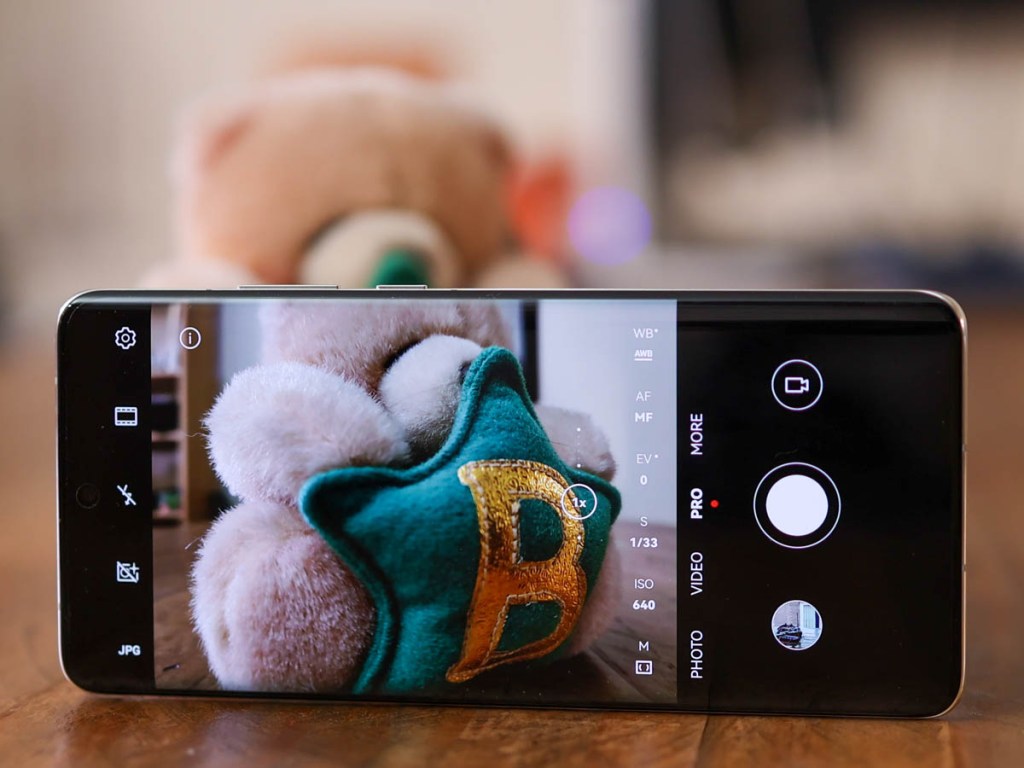 Camera: Huawei's still got it
The P50 Pro introduces a new camera set-up, with a 50MP primary camera at the helm, a 40MP monochrome sensor alongside it (matched with a wide-open f/1.6 aperture), a 13MP ultra-wide camera and a 64MP telephoto camera, which delivers a roughly 3.3x zoom.
Huawei pioneered computational smartphone photography years before Apple was touting portrait mode as the next big thing and Google was making night scenes look like day. In turn, the fact the P50 Pro's photos pack stacks of pop, look sharp, contrasted and ready for the 'gram is no surprise.
Side by side with the Pixel 6 Pro, the P50 Pro brightens things up a tad more and oftentimes produces a more pleasing photo, even if it isn't more true-to-life. The P50 Pro's zoom camera can't stack up to that of the Pixel 6 Pro or Samsung Galaxy S21 Ultra, however, it wipes the floor with the iPhone 13 Pro Max and OnePlus 9 Pro's telephoto cameras.
Huawei's ultra-wide camera doubles up as a macro camera for super close-up shots, while also grabbing entire scenes at an expansive 13mm focal length. It does a great job in well-lit environments, though falls down in the dark, even with night mode fired up.
Huawei also loads up the phone with a tonne of shooting modes: Monochrome, Dual-View, Snapshot, AR Lens, Story Creator and all your standards like Pro mode and Panorama. These all just add to a fundamentally reliable camera experience, and while the P50 Pro's photos don't look as natural and flat as those captured on Sony phones like the Xperia I III and the Xperia Pro-I, the results will be preferable for most.
As for selfies, the front camera on the P50 Pro is one of the most flattering we've used, and clocks in at 13MP. Meanwhile, video is captured at up to 4K resolution, 60fps, and it looks fantastic in well-lit scenes, and clarity, sound capture and image stabilization all come together brilliantly. In the dark, things get grainy, but no smartphone's quite cracked night video just yet.
Performance: Excellent and awful
What a mixed bag the P50 Pro's software is. On the one hand, it's got a nippy Qualcomm Snapdragon 888 chipset, which is good for gaming and day to day use, but on the other, thanks to sanctions against Huawei, its 5G is disabled.
While once, this wouldn't have been an issue – until recently, hunting down 5G signal's been like finding water in a desert – now, most big cities in the UK are 5G connected. In a flat in suburban London, our 4G download speeds on the P50 Pro were around a tenth of our 5G speeds on an iPhone 13 Pro Max.
It wasn't long ago Huawei was telling us we need 5G to live our best mobile lives, and this missing feature impacts the future-proofing of Huawei's new flagship.
Connectivity isn't the only limitation – before we even get to the lack of Google, the phone's interface is a beautiful vision of seamless multi-screen experiences loaded up with dead ends and contentious regional misfires.
We saw Chinese and French in the Wallet app, and Huawei Books is problematic at best, with its recommendation to read books like 'CEO Daddy, Don't Be Angry', 'Arrogant Wife, Don't Run Away', and 'Ex-Daddy, Don't be too Scheming', in addition to a host of raunchy-covered alternatives.
The Huawei Books app is just one example of a wider lack of polish – the stories recommended in Huawei's Assistant screen are oftentimes awful – from 'This is how farts can make you blind", to an image of someone bloodied after an injury as a lead photo for an article.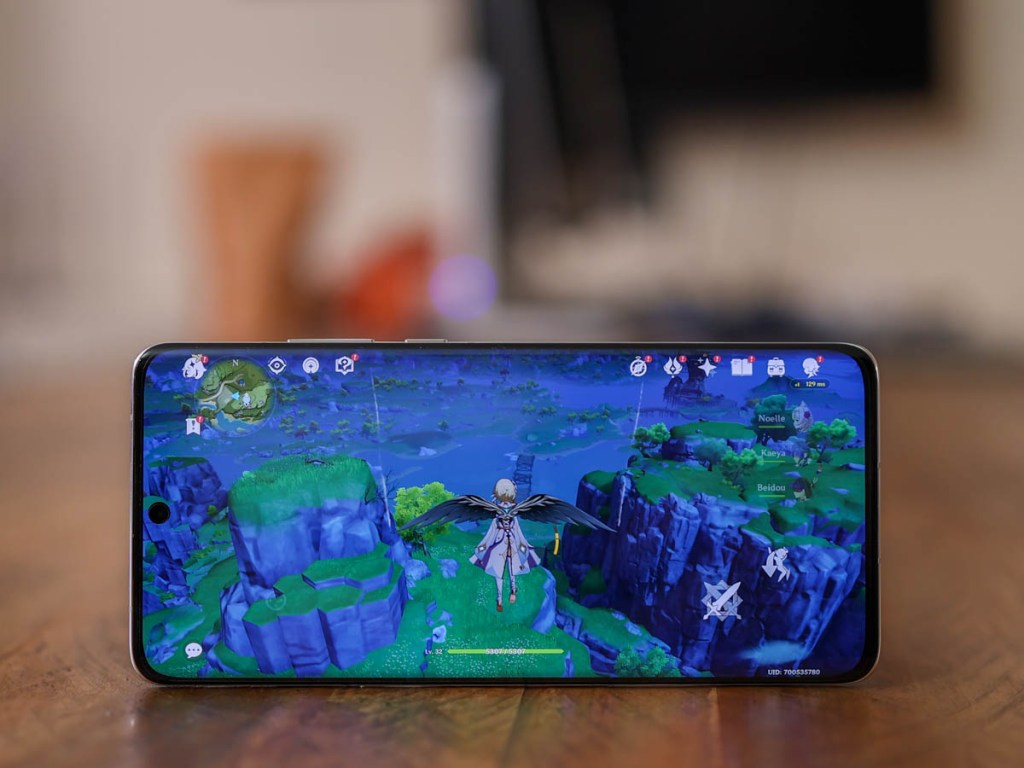 Then there's gaming. The game selection available in the Huawei AppGallery is poor compared to the App Store and Play Store, but when we tried one of the native AppGallery games out – Brain Test, adverts in the game directed us to the Google Play Store.
What's worse is that Huawei's clearly gone to great lengths to plug holes in its ecosystem. The phone runs smoothly, and much of the time, the UI is slick. The P50 Pro's multi-screen connect experience across MateBook and MatePad devices is also fantastic, giving you full control over your phone from a big screen.
Petal Search also made most of the apps we needed available, even if it does feel like a bit of a hack job – Instagram, Netflix, Genshin Impact – we were able to download most with relative ease.
That said, some apps still demand access to the Google Play Store: HBO Max for anyone in the US, Marvel Unlimited Comics, any paid-for game that uses Google Play Games (Final Fantasy, Monster Hunter and more). Most notably, you still can't use WhatsApp if you want to backup chats, and Google services like Docs and Meet won't work through apps, just the browser. Huawei's also removed USB-C video output, so plugging the phone into a big screen for a desktop view is out of the picture.
This all means that the P50 Pro is a serious hardware treat with some massive experience clangers, despite Huawei's best efforts.
More straightforward is battery life. The Huawei P50 Pro brings back the fast wired and wireless charging of the Mate 40 Pro and a similar-sized battery – 4360mAh. Without 5G, power drain is lower than much of the competition, so while the cell is small, we found the P50 Pro lasted us a comfortable day.
Huawei also competes with the best out there when it comes to charging speeds, with 66W wired and 50W wireless charging powering it up fully in less than an hour. There's also reverse wireless charging too, though that caps out at 5W. Finally, when it comes to storage, the onboard 256GB is exactly what we'd expect from a £1,000 flagship, and that's what Huawei delivers, along with 8GB RAM.
Verdict
If you're not big on apps and games, don't mind being fed sensationalist stories in your newsfeed every now and then, and can handle elements that feel like a work in progress, the Huawei P50 Pro gets a lot very right. It sports one of the most reliable cameras around, delivers the best multi-device collaboration experiences outside Apple's ecosystem, and it also looks and feels sleek – from screen to design.
In regions with no widespread 5G, where Google isn't as baked into the everyday of everyone, the P50 Pro would be a relatively easy phone to recommend. In the UK, however, in a 5G area, for a working professional relies on Google Docs, Meet and Sheets, despite its highlights, Huawei's latest phone just probably won't measure up.
Stuff Says…
Great camera plus sleek design minus no Google or 5G – it's a tough sell
Good Stuff
Great design and screen
Impressive camera system
Multi-screen collaboration is great
Bad Stuff
UI lacks polish
No Google Play Store
No 5G
Tech specs
| | |
| --- | --- |
| Screen | 6.6in 2700 x 1228 OLED, 120Hz refresh rate, 20:9 aspect ratio |
| Processor | Qualcomm Snapdragon 888 octa-core |
| Memory | 8GB RAM |
| Cameras | 50MP, f/1.8 (OIS), 40MP, f/1.6 monochrome, 64MP telephoto, f/3.5, 13MP, ultra-wide, f/2.2 |
| Storage | 256GB |
| Software | EMUI 12 on Android 11 |
| Battery | 4360mAh, 66W fast charging, 50W wireless charging |
| Dimensions | 158.8mm x 72.8mm x 8.5mm |
| Weight | 195g |