Huawei P40 review
Anything but entry-level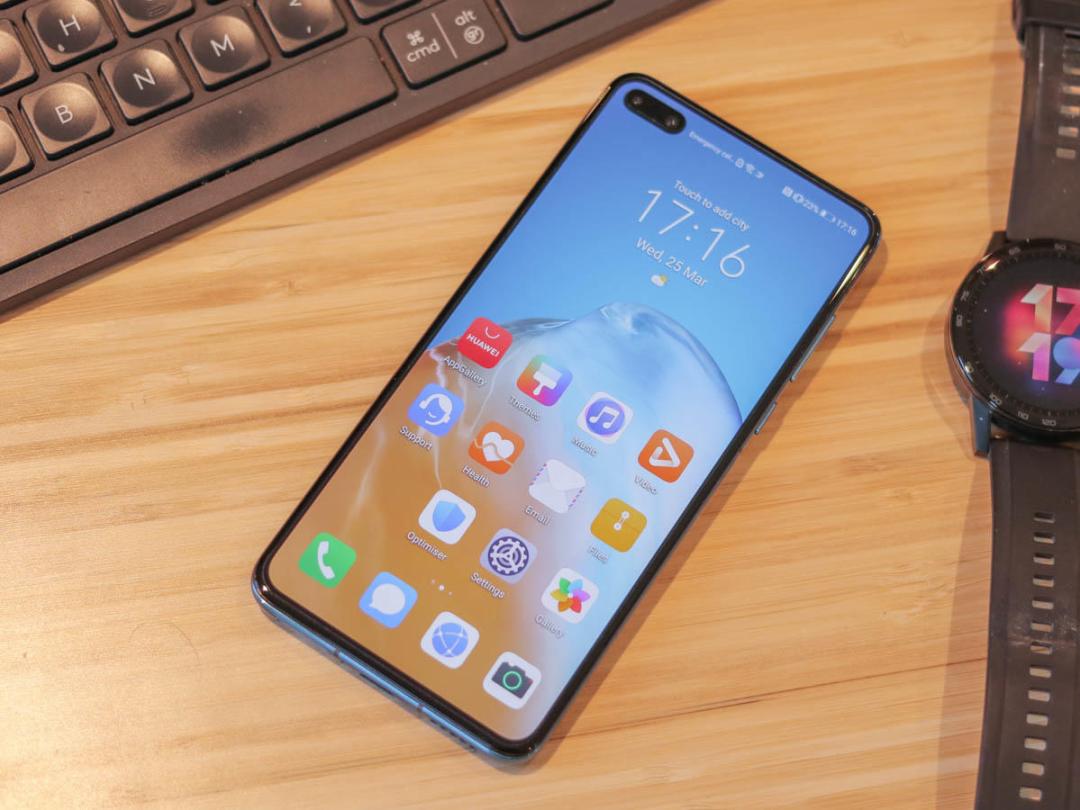 The P40's specs looks pared right back on paper when set aside the P40 Pro's – no wireless charging, a smaller, lower refresh-rate screen, less zoom and a more vanilla design.
After a couple of weeks self-isolating with the compact flagship though, the realisation sets in; this is a cracking phone with a best-in-class camera and top-tier power to boot. That said, none of this changes the fact that without Google services, Huawei phones aren't going to be for everyone.
While it may be the least flashy of the pack, the P40 keeps the Huawei P30's torch burning brightly, combining a premium fit and finish with flagship internals and slightly pared back camera tech.
At £699, the P40 (which packs 5G) undercuts the Samsung Galaxy S20 by £100, the S20 5G by £200 and the iPhone 11 (128GB, 4G) by £180 – all excellent phones. Huawei hopes a huge new 50MP camera sensor and a dual selfie camera can do the trick – and as far as we're concerned, it's off to a decent start.
Design and screen: good things etc
The Huawei P40 is smaller and lighter than the P40 Pro. It's actually incredibly cute, a bit short and stout, though still built like a unit – glass on the front and back plus a buffed metal frame; this thing is premium yet robust.
Design-wise, Huawei's colours are more standout than those of the S20 series, with our favourite – a breathing crystal, as found on the original P30 Pro, not to mention a traditional black version, and ocean blue, which is the colour option we got our mitts on. All these are high on gloss and fingerprint loving.
Key ports and buttons are very predictable – a USB-C port at the base alongside a loud-speaker, buttons are all on the right, and around the back is a camera bump which houses three snappers. As for the screen, it measures 6.1in, just a bit smaller than the 6.2in Galaxy S20, and with its OLED tech and FullHD Plus resolution, looks sufficiently deep and zingy, with great brightness levels for easy viewing, indoors and out. That said, it isn't quite as sharp as Samsung's finest, with a pixel density of about 422 pixels-per-inch (PPI) versus Samsung's 500+ PPI, and there's no high refresh rate goodness either, so it isn't as smooth as today's flagships.
Do we really notice the resolution being lower? No – not at 6.1 inches. If the phone was bigger, it would be more of an issue.
As for the refresh rate, in a bubble, the P40 is excellent. You'll only notice that it's UI is less 'floaty' when it's side by side with a P40 Pro, a OnePlus 7T or a Galaxy S20.
Camera: triple threat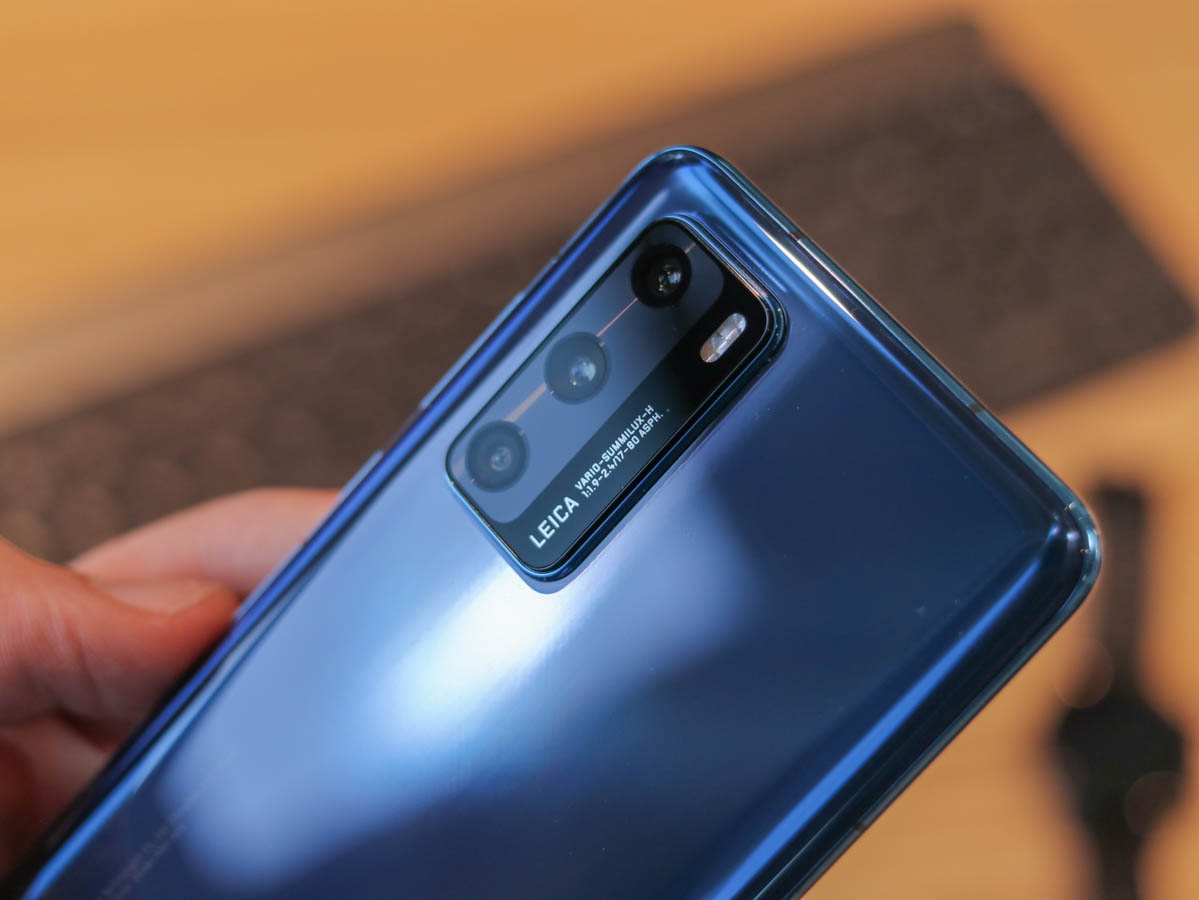 Loaded up with the holy trinity of focal lengths, the P40 packs a wide, ultra-wide and telephoto combo. The primary camera is almost the same as that found on the P40 Pro, a 50MP Red Yellow Yellow Blue (RYYB) sub-pixel sensor. This is Huawei's secret weapon in the war against image noise, and serves as a great start if last year's Mate 30 Pro and P30 Pro's RYYB cameras were anything to go by.
That said, on the P40, there's no OIS on the 50MP module. Next up, there's a telephoto camera that snaps with an 80mm equivalent focal length and luckily does feature OIS – infinitely more valuable when zoomed in. Speaking of zoom, this 80mm focal length equates to a roughly 3x zoom, which is paired with an 8MP resolution sensor.
Finally, the ultra-wide-angle camera is 16MP with an aperture of f/2.2. All the cameras perform well, but the two statement snappers are the primary 50MP sensor, and the 8MP telephoto camera. They outperform all the competition at the P40's price, and even better Samsung's Galaxy S20 and S20 Plus.
Shots have an uncharacteristically natural finish to them for Huawei, with their phones historically ramping up the saturation and contrast a fair bit. Dynamic range is excellent, and performance across lighting conditions impresses too.
It isn't just about traditional picture taking though. Huawei has refined the AI features of the camera to extend to photo editing. For example, after taking a photo, you can edit a passer-by out of the frame, remove reflections, and even haze from a scene. This works relatively well, but you can also pretend the feature doesn't exist and the P40 would still deliver a stellar imaging experience.
The P40 also grabs very good looking, stable video at up to 4K resolution across both cameras, and selfies at a whopping 32MP. Better yet, the selfie camera is matched with a depth sensor, so in addition to snapping painfully sharp pore-tastic shots, it can defocus the background like a champion.
Interface and performance: mixed bag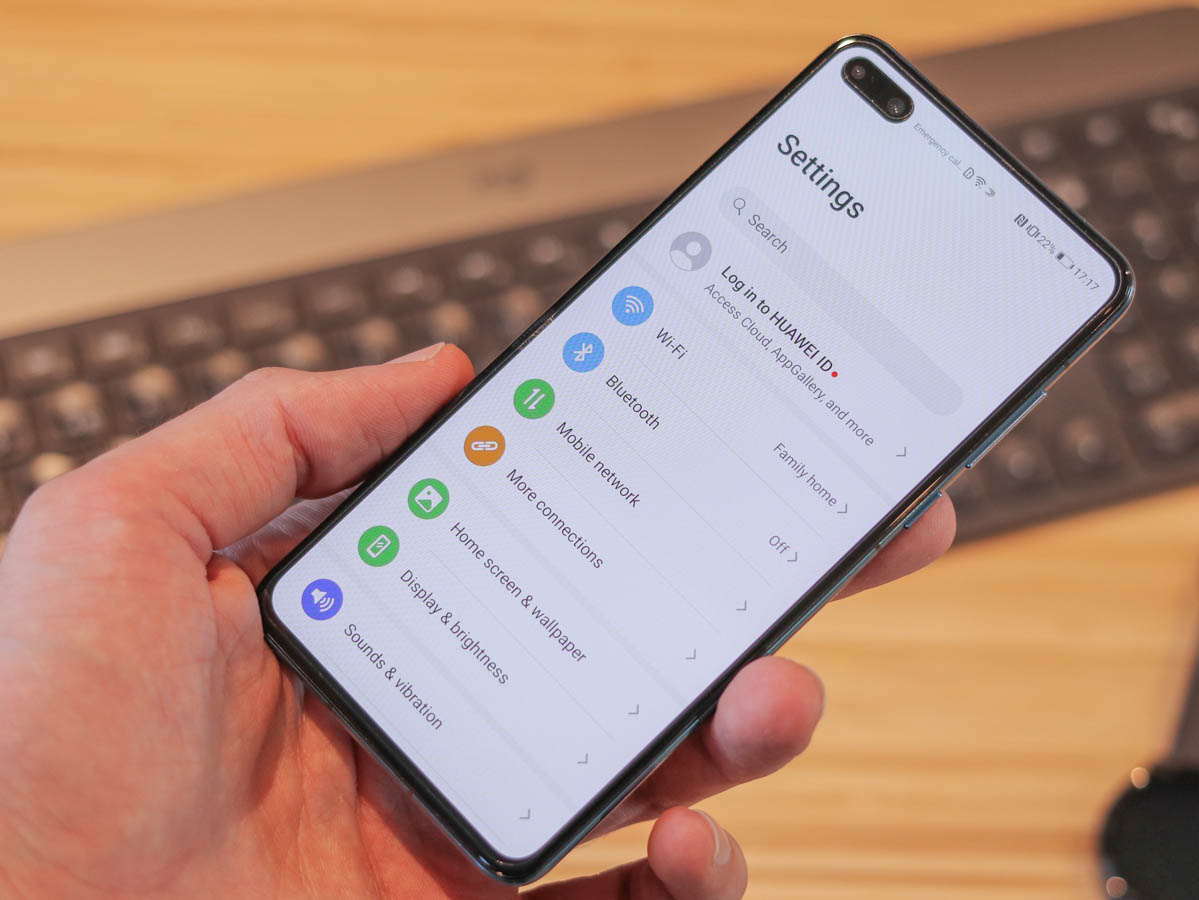 Running EMUI 10.1 on top of Android 10, Huawei's interface is familiar in essence, but if you haven't used a Google-free Huawei phone before, it'll take some getting used to.
The Google Play Store isn't accounted for, so you'll need to find other ways of getting apps on-board. This is actually a piece of cake. Set up the phone with Huawei's pre-installed Phone Clone tool, and most apps will transfer over. Next, you can download a third-party app store like APK Mirror to find any that didn't. That said, it'll get a bit more complicated when a few of your apps grump at you for not having a full-fat Google phone.
Uber, for example, won't work with mapping services on the P40 at the time or writing. Additionally, WhatsApp backups don't work without Google Drive – so you can use the chatting app, but you'll be starting your chats from scratch.
The Google-free Huawei experience is much better than it was – the app gallery is swelling nicely and some apps that once didn't work, like Snapchat, now do. This doesn't change the fact, however, if your work or personal life relies on Google services – Google Calendar, Meet, Hangouts etc – then you shouldn't pick up a Huawei phone.
Also worth noting, at the time or writing, Netflix isn't officially supported on it; though we got it working with a little sideloading. That said, the phone does run a fast, smooth, stable Android experience. Huawei's interface also has plenty of features that help you get the most out of the P40. This includes easier split-screen multitasking than standard Android, as well as a handy floating window feature.
The dark mode looks great on the OLED screen, not to mention smart integration with Huawei laptops if you happen to have one. Powered by a Kirin 990 processor, if you're after a more Google-free life, the P40's a powerful device to pick up.
It benchmarks a bit better than a Snapdragon 855 device, features 8GB RAM, and serves up 128GB storage too – plenty for most. Additionally, this storage capacity can be bolstered by a Huawei Nano Memory card, which sits in the second SIM slot when not in use.
Given the fact Huawei makes its own 5G radios, you can expect future-proofed internet speeds here, as well as WiFi 6+, enabling wireless speeds of up to 2400Mbps.
Battery: got your back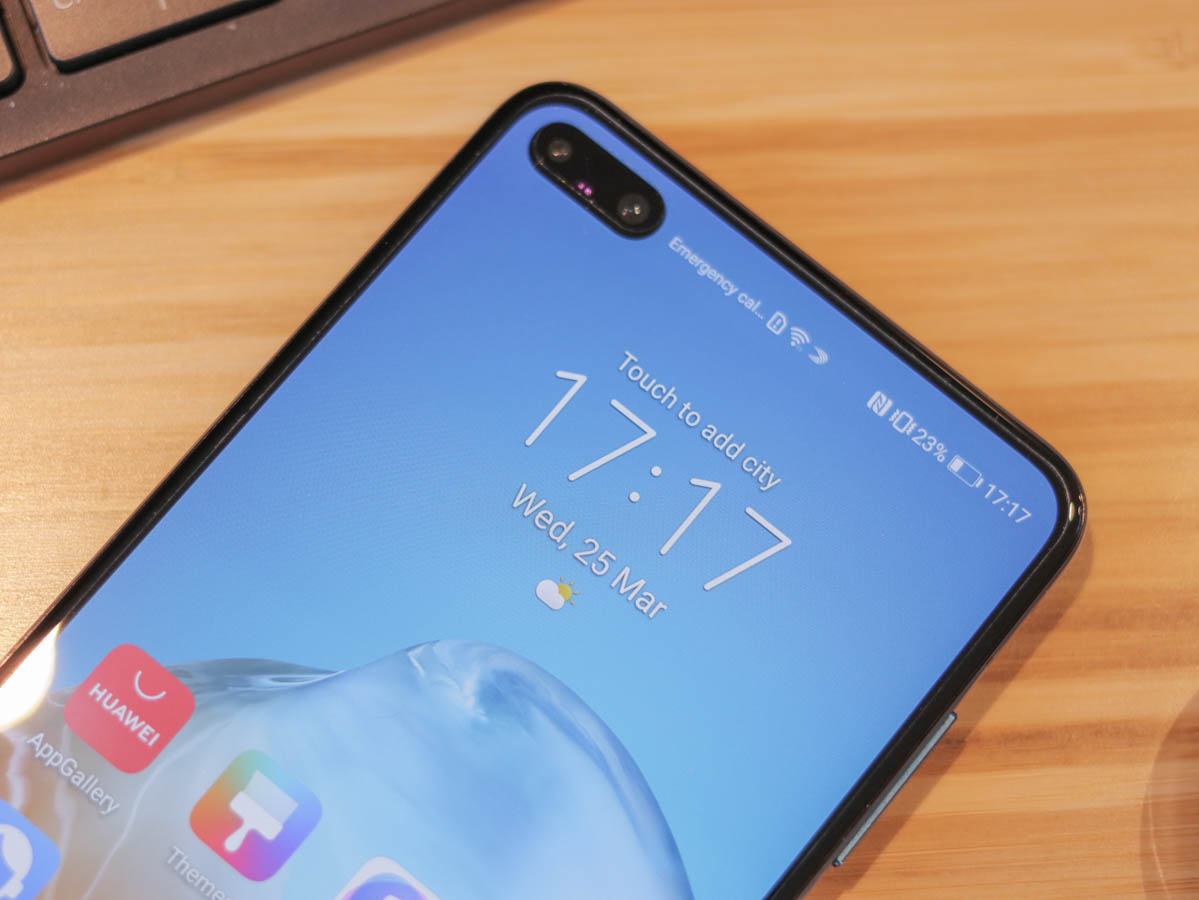 Fast 22.5W wired charging means you can fill up the Huawei P40's 3800mAh battery relatively quickly, and while there's no wireless charging on the P40 – supported on the P40 Pro and Samsung Galaxy S20, the phone does offer excellent battery life.
Screen-on time is fantastic, so the P40 is a great smartphone for anyone who loves watching movies or TV shows on their phone. There are also plenty of power saving features.
These include simple staples like dark mode which takes advantage of the phone's OLED screen's innate battery saving chops, and a more advanced trickle charge feature, that understands your charging habits and slows down the rate of charge to best preserve the battery's lifespan.
Huawei P40 verdict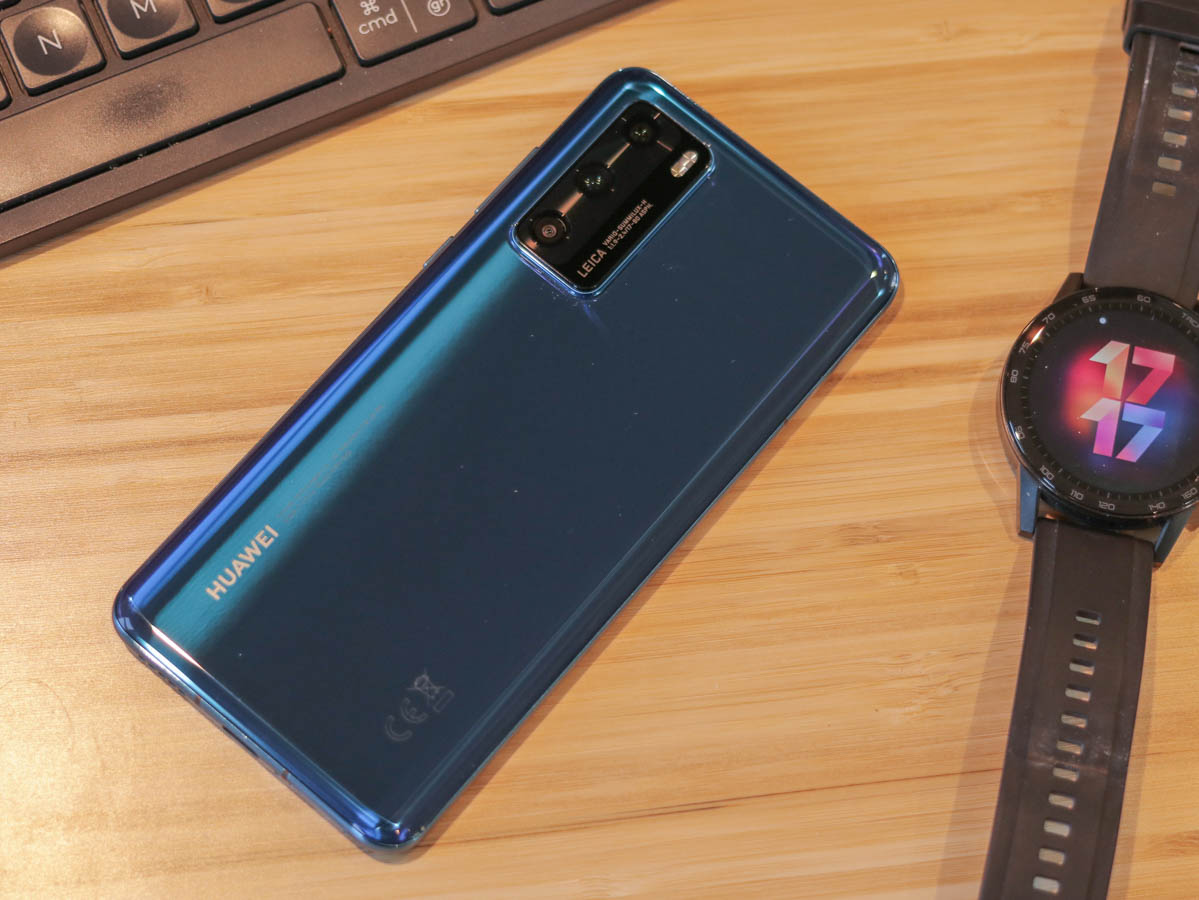 The Huawei P40 is a lovely, fun little thing, and a charming addition to the line. As with all Huawei phones, it'll be hampered from an app stability point of view until the brand can completely respond to the catastrophic hand it's been dealt by the US China trade woes.
In turn, the P40 could be a perfect, lower cost alternative to the Galaxy S20 for all; if it ran full-fat Google Android. As it stands, it's a mighty, best-in-class camera phone with a compromised software experience that will be usable for some, and unusable for others.
That said, Huawei is laying the right foundation, making hardware that still makes us coo with delight. So if the price is right and the lack of Google doesn't put you off, the vanilla P40 could be just the ticket.
Tech specs
| | |
| --- | --- |
| Weight | 175g |
| Display | 6.1in |
| Processor | Kirin 990 |
| RAM | 8GB |
| Camera | 50MP, f/1.9 + 8MP, f/2.4 (OIS) + 16MP, f/2.2 rear |
| Front camera | 32MP selfie camera, f/2.0 + IR sensor |
| Memory | 128GB onboard, Nano Memory expansion |
| Dimensions | 148.9 x 71.6 x 8.5mm |
| Software | Android 10 / EMUI 10.1 |
| Battery | 3,800mAh non-removable |
Stuff Says…
A great phone that's hampered by Huawei's Google restrictions; irrespective, the Huawei P40 is without a doubt, the best camera you can get for the price.
Good Stuff
Best in class camera
Solid design
Great performance
Bad Stuff
No Google support
No wireless charging
60Hz screen