Google Pixel 6 Pro review
Previous Pixels delivered on the camera front, but conservative specs left them on the back foot. Good news, Google fans: that all changes here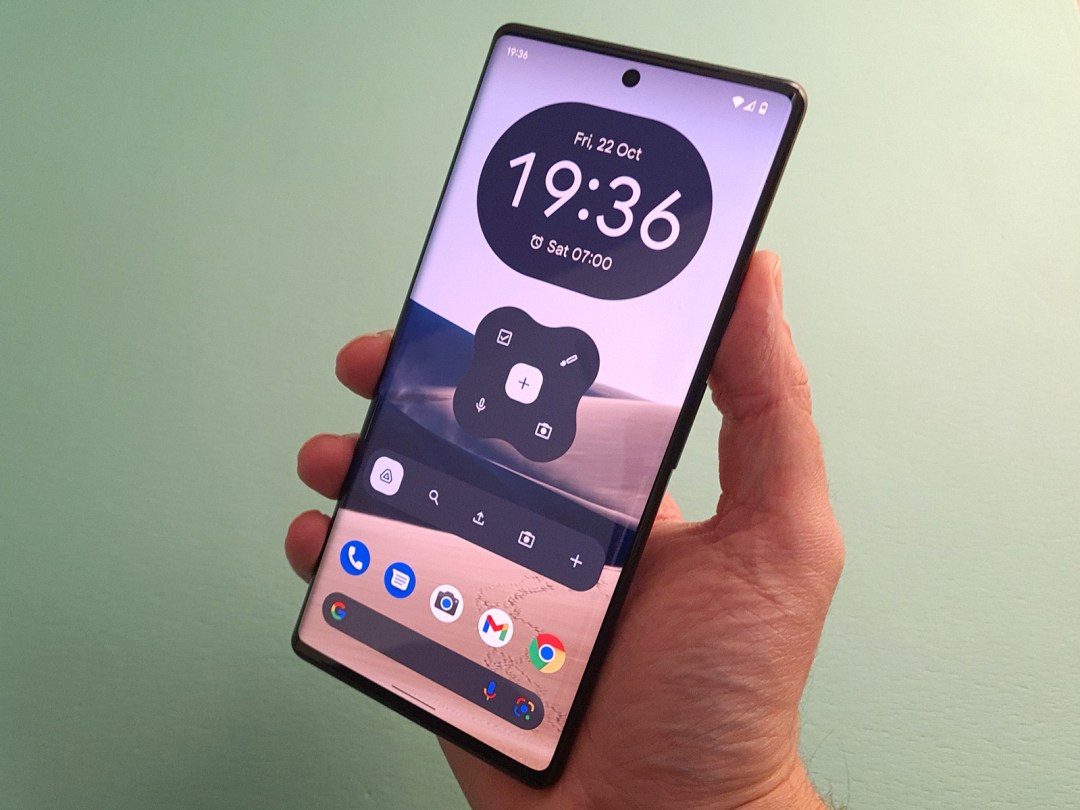 We all like getting our money's worth, but sometimes there's just no beating a long list of gotta-have-it hardware.
Previous Pixel phones usually got the first part right, and always delivered on the camera front, yet conservative specs elsewhere left them on the back foot against flagship rivals. Good news, Google fans: that all changes here.
The Pixel 6 Pro combines top-grade internals with an all-new version of Android, and doesn't skimp on the design front. It even gets a bespoke CPU designed by Google to be a machine learning beast – yet somehow doesn't entirely abandon the affordable focus.
It's only one half of the story, too. This larger, pricier headliner goes big on the photography front (already something of a Pixel strong point), but is only half the story: there's also the smaller Pixel 6 , that reigns things in a little to push the price down.
So, is it worth paying extra to go Pro?
Design and features: Dare to be different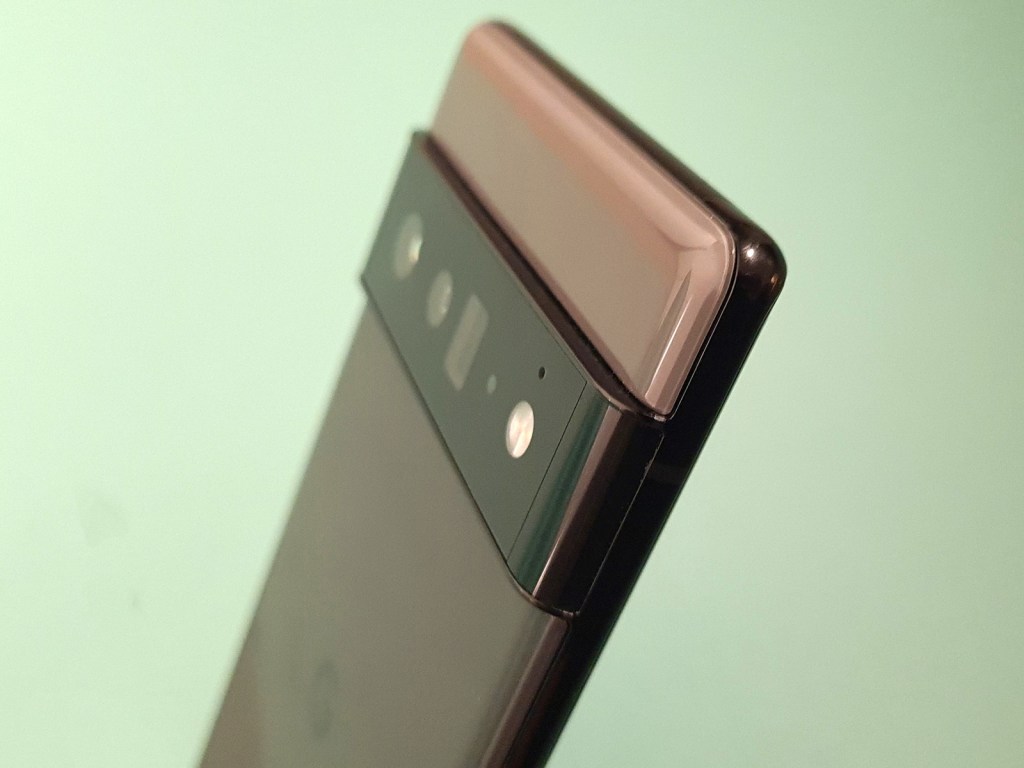 Seeing how every modern flagship phone is basically a glass and metal sandwich, it's refreshing to see Google take some risks on the design front. The camera bump is no more: meet the camera shelf.
The Pixel 6 Pro's camera-packing visor carries more tech than the one worn by Star Trek's Geordi La Forge, and stretches across the entire width of the phone. Sure, it protrudes out a fair bit, but not enough that you'll struggle to slide it into a pocket, and it gives the phone a truly distinctive appearance.
Is the Pixel finally on par with Samsung and Apple's best, at least visually? We reckon so – even in conservative Stormy Black colours, which highlight how the rear glass is an absolute magnet for fingerprints. The rounded edges and smooth materials feel properly premium, but it's an undeniably hefty device. An iPhone 13 Pro is skinnier.
Everywhere else, Google hasn't strayed far from what we expect of a premium handset. You get a front that's almost entirely screen, complete with curved edges that merge seamlessly into the frame on all sides. We're not sure why Google moved the holepunch camera to the top-centre of the screen, though – the Pixel 5's corner placement was less distracting.
The fingerprint sensor sits under the display, and while accurate, it isn't especially fast at detecting your digits. Or rather the two-stage haptic feedback you get each time you unlock the phone makes it feel a split-second slower than rival devices.
The whole thing is IP68 water resistant, which is de rigueur for a 2021 flagship phone. As is the lack of a 3.5mm headphone port, abandoned in favour of USB-C. There's also no microSD card support, which has long been the case for Pixel phones. 128GB not enough storage? You'll have to spend extra for a 256GB or 512GB model.
Display and sound: Curve Ball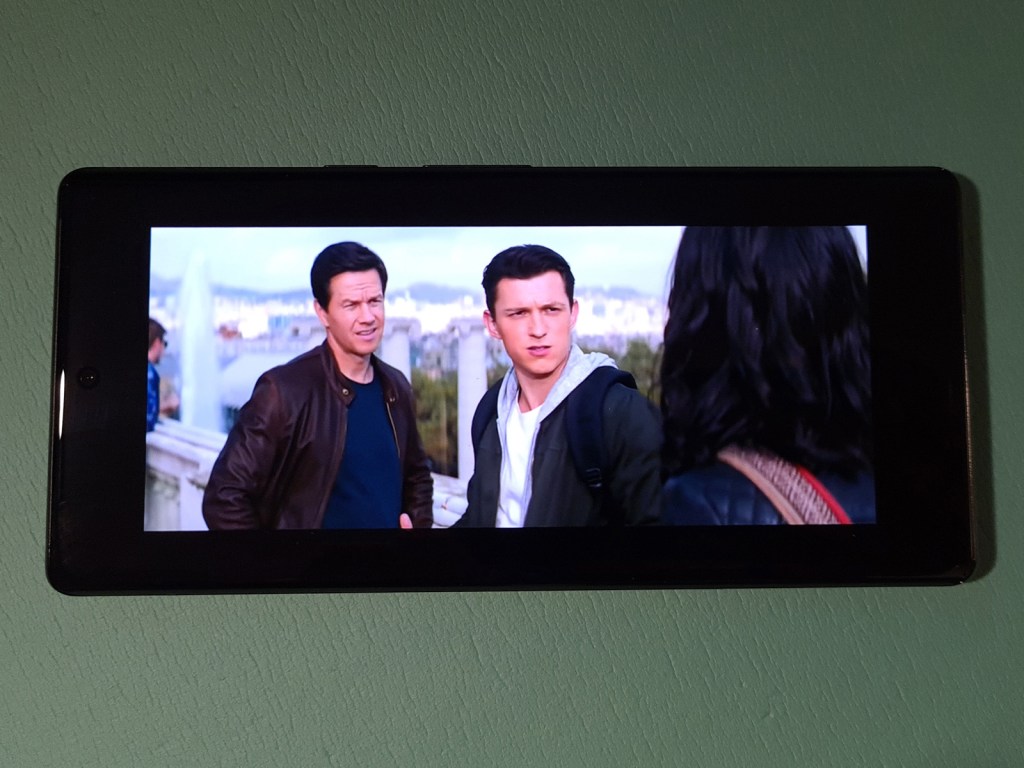 At a palm-stretching 6.7in, the 6 Pro has the biggest screen of any Pixel to date – and Google hasn't cut any corners on the underlying hardware, with an HDR-ready OLED panel packing a generous pixel count. There's also some variable refresh rate cleverness thrown in for good measure.
Rather than simply crank the screen to 120Hz and take a big battery hit, LTPO tech dynamically alters the refresh rate, so you get both smooth scrolling and clear motion for moving content, and low battery drain when reading static text. The phone automatically decides which content is deserving of the full 120Hz, or what can be dropped to as low as 10Hz – your only option is whether to use variable refresh at all, or stick to plain old 60Hz. This works great for the most part, with Google Chrome looking silky smooth, but other apps didn't want to play ball: the official Twitter app was often jerky.
Naturally you get the impeccable contrast, deep, inky blacks and vibrant colours we expect from OLED displays, with a default colour balance that just about stays on the right side of realistic. The QHD+ resolution ensures everything looks pin-sharp, and viewing angles are excellent, with very little colour variance.
Peak brightness doesn't reach the searing highs of a Galaxy S21 Ultra or iPhone 13 Pro, but still does justice to HDR content, and is perfectly readable in direct sunlight once you step outdoors.
The 6 Pro does have one quirk we've not seen on other curved screen handsets: a visible shadow at the edges of the glass. It's only noticeable against white backgrounds, and even then isn't particularly distracting, but does detract from what's an otherwise excellent display.
On the audio front, the Pixel 6 Pro's stereo speakers pack quite the punch. Most of the heavy lifting is done at the base of the phone (even if the pair of speaker grilles is only hiding a single down-firing driver), while the earpiece speaker helps out with the highs and mid-range.
The mix is impressively balanced, with some actual weight to the low-end, so you won't mind cranking up the volume instead of reaching for a pair of earbuds. Which will either need to be Bluetooth or dongle'd-up, given there's no 3.5mm headphone port.
Camera: Killer combination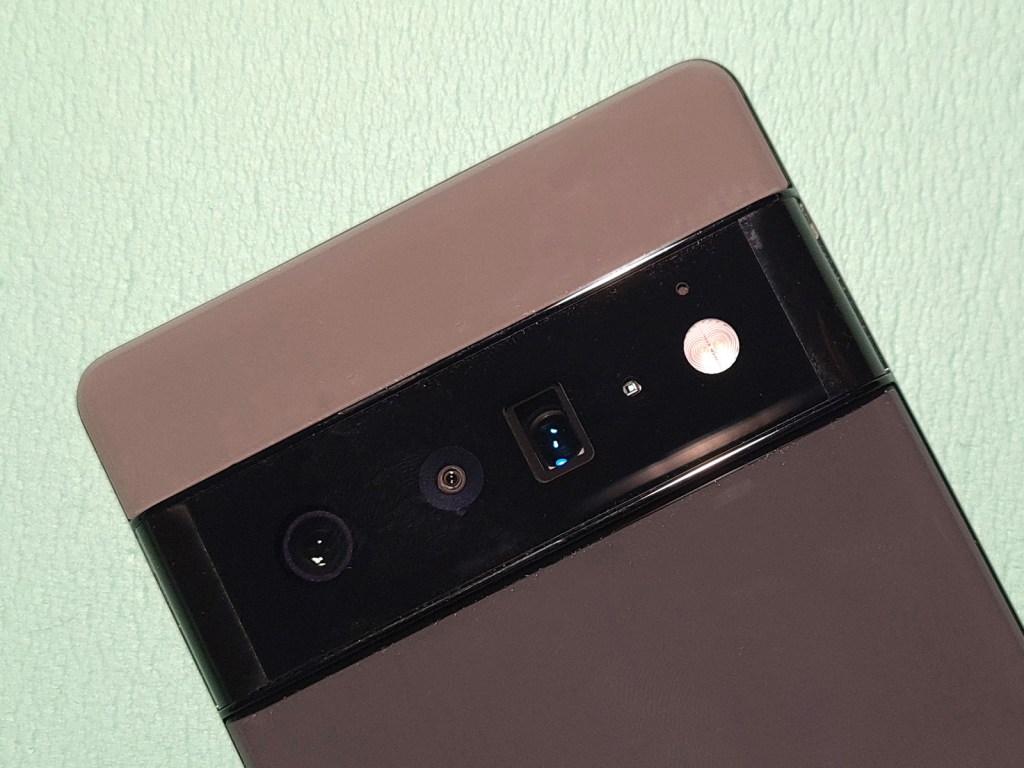 Pixel phones have been using the same camera hardware for years, bucking the trend for increasingly high pixel counts in favour of software optimisation. But software will only get you so far – and the time has finally come for a new sensor. Or three.
The main shooter now has a whopping 50 megapixels, and because it's also physically larger than the Pixel 5's snapper, up to 150% more light gets captured with every tap of the shutter button.
Now no flagship phone worth its salt takes a bad photo in good light, but even here the Pixel is mighty impressive. Every image is packed with detail, exposure is almost always on point, and HDR consistently balances highlights and shadows, even in tricky conditions. Noise is almost nonexistent here, and autofocus is fast and accurate. Work has also been done to improve how the phone processes different skin tones: it's baked into the camera ISP, so there's no way to compare with it turned on and off, but all the photos we took of people appeared very well judged.
Low-light performance is even more impressive, the larger sensor able to capture realistic-looking images while keeping noise to a minimum. Night Sight continues to do its thing, making up for shaky hands with multiple exposures, and the results are comfortably on par with the latest iPhones.
Both Pixel 6 handsets get a second ultrawide camera, with a 12MP sensor and 114° field of view. It's capable in just about all lighting conditions, and while there can be some colour temperature variance between it and the main sensor, it excels at preserving details. On the downside, it just can't macro like an iPhone can.
Only the Pixel 6 Pro gets a third, periscope-style telephoto lens, which has 48MP to play with. Its folded lens arrangement lets you snap at between 2 and 4x optical zoom with no loss of image quality. Need to get even closer to your subjects? Optical and electronic image stabilisation work together to allow for up to surprisingly stable 20x digital zoom.
Even at the full 20x, photos are impressively clean thanks to Google's processing magic, which uses multiple stacked exposures and AI-assisted upscaling. Start pixel-peeping and you'll spot artificial-looking textures that only imply detail, rather than reproduce it, but the overall effect is very convincing – and gets you closer to the action than the iPhone 13 Pro's 15x zoom.
It's no shocker that Google has delivered on the software front, with two new additions: Magic Eraser and Motion Mode. The former is like having a Photoshop clone tool built into your photo gallery, automatically detecting photobombers or background distractions and removing them with a few taps. It works best on scenes with simple backgrounds, like beaches and parks, but the way it can tell which objects are the focus of a shot and what's probably not wanted is almost like magic.
Motion mode lets you pick between action pan and long exposure, mimicking the slow shutter speed of a digital camera. Action pan can give moving subjects a real sense of speed, while long exposure can create convincing light trails without needing a tripod. Neither one is truly on par with a DSLR, but they get damn close – anyone with a Pixel 6 Pro in their pocket will be able to take arty shots – not just pros that understand manual shooting settings.
Video isn't really the focus this year. Sure, you can shoot in 4K at 60fps with live HDR, but there's none of the focus-pulling cleverness or pro-grade file formats found on the latest iPhone.
Performance: Seriously smart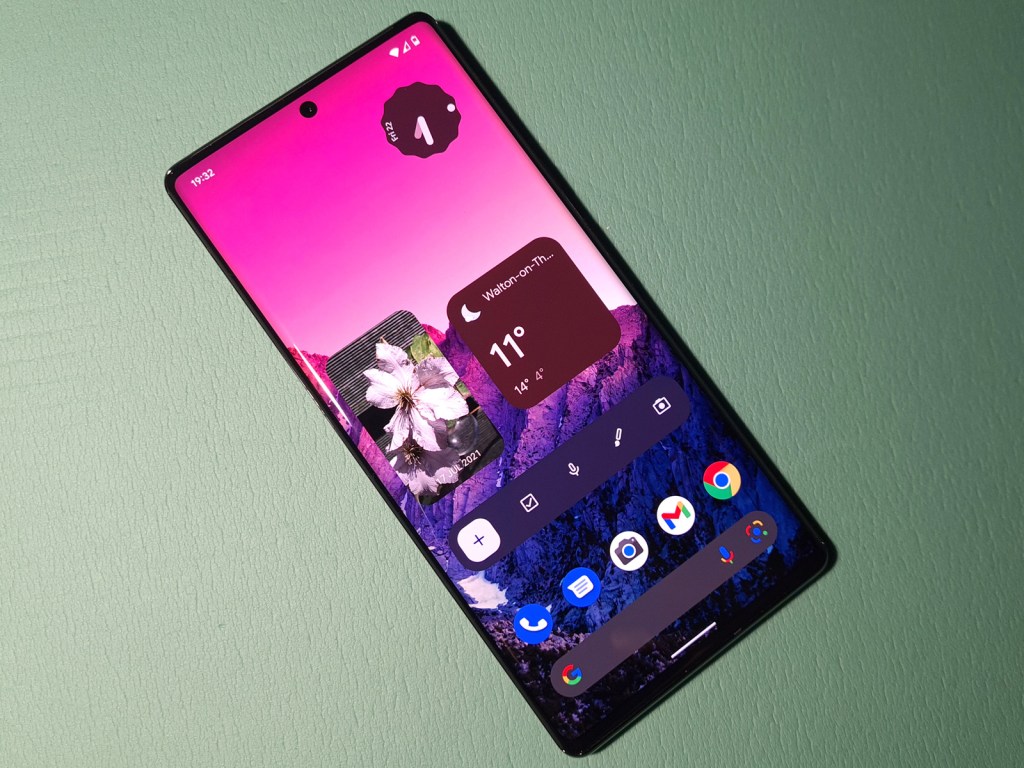 A premium Android phone sans Snapdragon CPU might sound like sacrilege, but don't panic. The Pixel 6 Pro's Tensor silicon is easily on par with Qualcomm's top-grade chips in most ways – and a whole lot faster in others.
Instead of the typical 1-3-4 combo of high-, midrange- and low-power CPU cores, Google has gone for a 2-2-4 split to handle daily duties. Then it handed machine learning to a dedicated TPU (Tensor Processing Unit), while device security and image processing also got their own dedicated cores.
It's no slouch in regular use, with Android 12 being buttery smooth even when jumping between demanding apps and games. There's a whopping 12GB of RAM onboard, so multitasking is a breeze, as apps stay in memory rather than reloading every time you head back to the homescreen.
Gaming isn't an issue either, with enough grunt to play the most intense titles at high frame rates and detail settings. Notoriously demanding gacha RPG Genshin Impact defaults to medium quality, but can be cranked up to full without any major performance hit, and Call of Duty Mobile was all but flawless even when the onscreen action got hectic.
More impressive is how the Pixel 6 Pro uses its TPU-enabled AI smarts. Speech recognition is shockingly accurate now, with Live Caption able to keep pace with a video played at double speed. It works system-wide, so there's no missing out even if your favourite streaming service doesn't have closed captions. Messages in foreign languages are translated in real-time as they arrive, across most of the major chat and social media apps (not just Google's own), and while live speech-to-text transcription is limited to just a few languages right now, it's very effective for the ones it supports.
Of course this all helps Google Assistant understand you that much better, with more accurate voice typing and contextual quick phrases that don't first need an "OK Google" keyword to activate. Could another handset do all this without dedicated hardware? Maybe. But right now, it's exclusive to the Pixel 6, and as slick as voice integration gets on a phone.
OS and Software: Poster child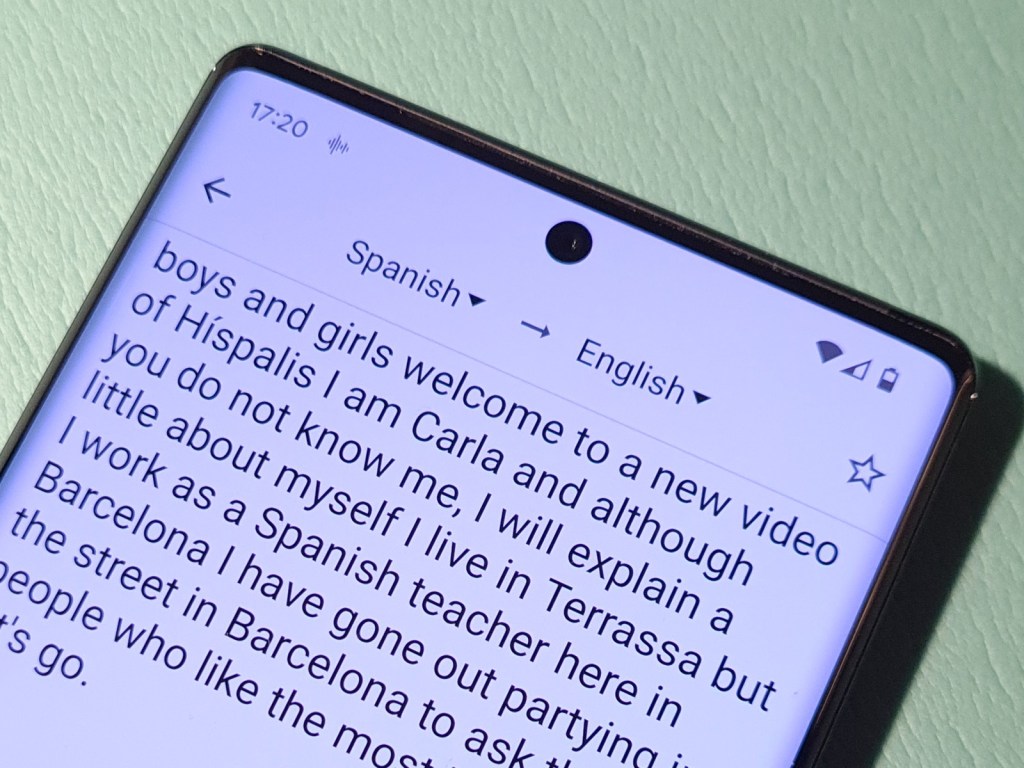 Android 12 is arguably the biggest shake-up Google's mobile OS has seen in years, with an all-new visual style, dynamic themes that change colour based on your wallpaper, and a renewed focus on homescreen widgets.
It's really slick in action, adapting the icons and text to match your preferred background to give the impression your device is unique to you, rather than identical to everyone else's.
The Pixel 6 Pro is one of the first devices to ship with it out of the box, and naturally you're getting the pure, as-Google-intended experience. The only pre-loaded apps are Google's own essentials, all reskinned to match Android 12's new look. Assistant is integrated everywhere: two factor authentication codes are automatically pulled from the messages app as they are delivered, and search works across multiple apps and settings.
Security is a big deal this year, with a new privacy dashboard making it obvious when apps are using the camera and microphone, with quick toggles to revoke permissions if you'd prefer to stay incognito.
Other phones will get Android 12 eventually, but you'll be waiting a while, and there's no guarantee the manufacturers won't slap a custom skin over the top. If you want an undiluted OS, the Pixel is your best bet. Google has committed to three years of Pixel updates, along with 5 years of security updates. That's far better than you'll get on many rival Android handsets, but Apple still has the lead here: a six-year old iPhone 6S can run the latest version of iOS. Them's the benefits of using your own silicon, apparently.
Battery life: No longer a footnote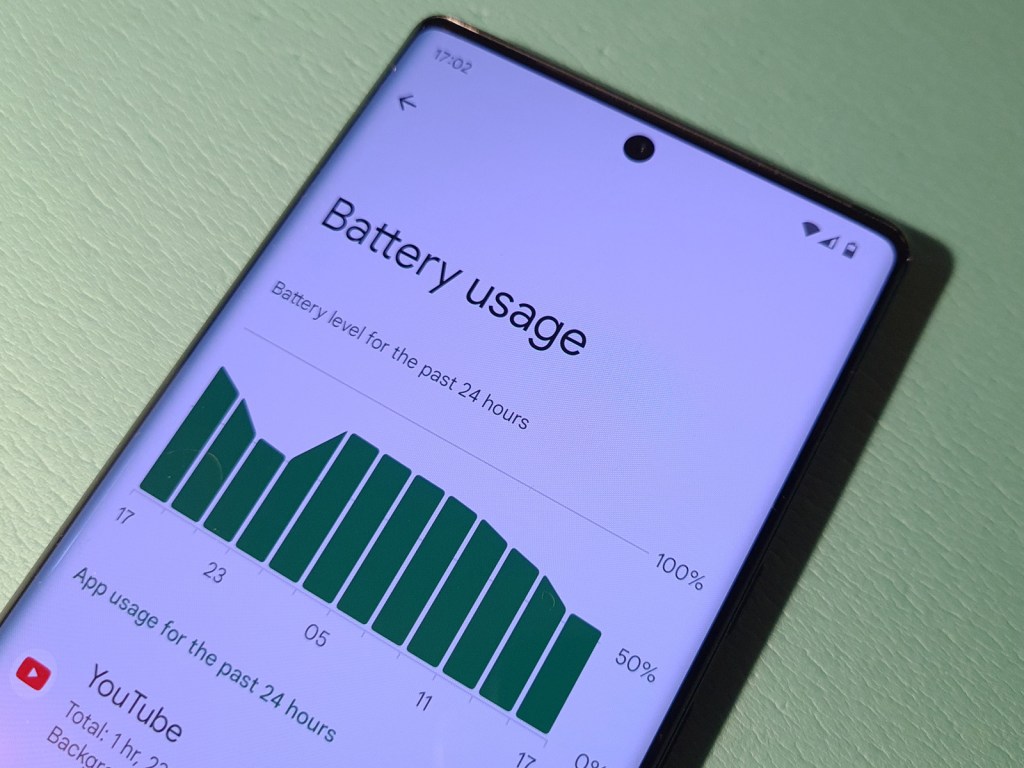 ---
Longevity has never really been a Pixel strong point, with some models being downright dire away from the mains. That's not something to worry about with the 6 Pro.
There's comfortably enough juice here to last all day away from the mains, and if you're sensible with power-hungry apps and games, it'll still be hanging on the next morning. It's not as long-lasting as certain rivals, although if you're in a pinch the extreme battery saver mode can help stretch the 5000mAh battery closer to 48 hours between top-ups.
There's a choice of wired or wireless charging, with the latter working in both directions in case you need to give another device a boost. You'll need the official Pixel Stand for the fastest 23W wireless speeds, with regular Qi charging pads topping out at 12W.
30W wired charging isn't the fastest around either, but it's still enough to keep pace with the latest iPhone and Galaxy handsets. If you've got the right adaptor, anyway: Google doesn't include one in the box. It'll regain 50% in about half an hour on a compatible charger.
Google Pixel 6 Pro verdict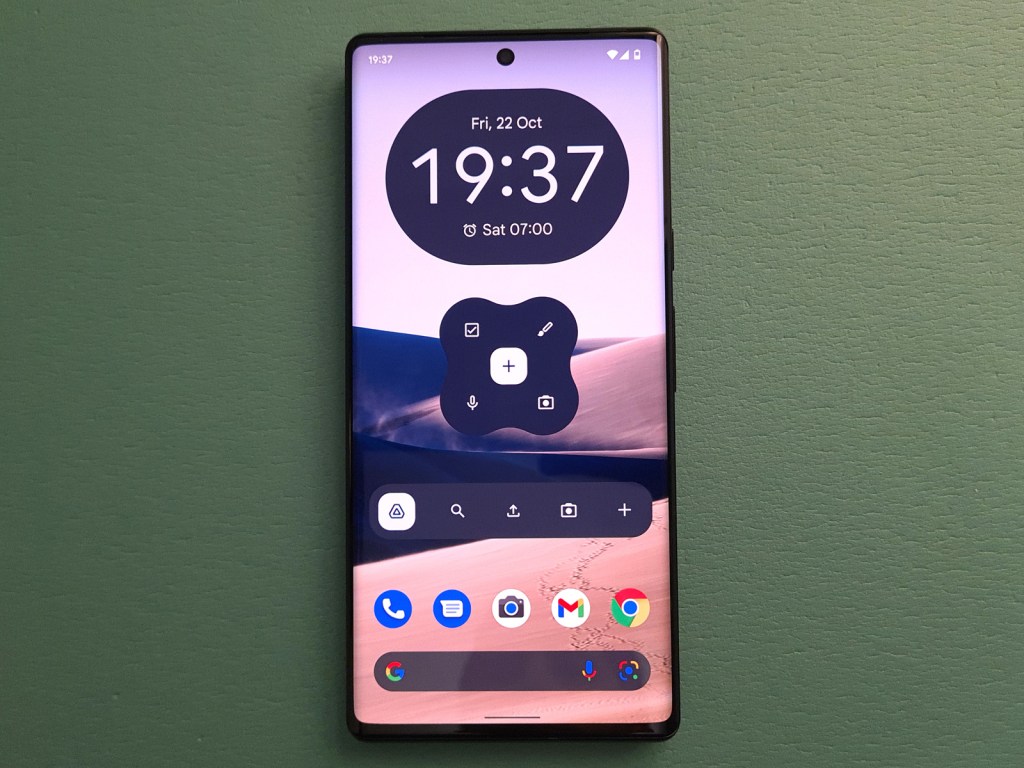 Pixel phones have always had the cameras to compete with full-blown flagships, but made compromises to stay on the right side of affordable. The Pixel 6 Pro finally has the top-shelf hardware to match its photographic ability.
With algorithm-assisted shooting modes adding flexibility and a trio of lenses delivering delightfully detailed images under every kind of lighting, Google is trading blows with the best Apple can offer. The iPhone might have the edge in areas like macro shooting and video, but the Pixel has superior zoom and uncanny editing abilities.
It's the fact that cameras are now only part of the package that will give Apple and Samsung owners serious pause for thought – even with a few display quirks and a design that not everyone will find endearing. The vanilla Pixel 6, which makes a few sacrifices in the name of value, delivers a very similar experience for significantly less cash. But given the 6 Pro still undercuts both the Galaxy S21+ and the iPhone 13 Pro, there's little doubt you're getting an awful lot of phone for your money.
---
Tech specs
| | |
| --- | --- |
| | |
| Screen | 6.7in, 3120×1440 OLED w/ 120Hz refresh rate, HDR support |
| CPU | Google Tensor Octa-core w/ Titan M2 security coprocessor |
| Memory | 12 GB RAM |
| Camera | 50MP, f/1.9, 26mm main (PDAF, Laser AF, OIS) 48MP, f/3.5, 104mm telephoto (PDAF, OIS), 12MP, f/2.2, 114-deg ultrawide rear. 11MP, f/2.2, 20mm front |
| Storage | 128GB on board |
| Operating system | Android 12 |
| Battery | 5000mAh non-removable, 30W wired charging, 23W wireless charging |
| Dimensions | 164x76x8.9mm, 210g |
Stuff Says…
Ambitious, uncompromising and with incredible photographic ability, the Pixel 6 Pro is the best Google phone yet, and a true flagship device. It has one or two weak spots, but Android 12's slick user experience mostly makes up for them.
Good Stuff
Awesomely capable cameras
Premium hardware competes with the best of them
Slick, streamlined OS
Bad Stuff
Beaten by its smaller brother for sheer value
Curved display curios
Charging could be faster