Huawei Mate 20 X review
Palm-stretching mega-phone is as big as they come - but there's more to the X than a big screen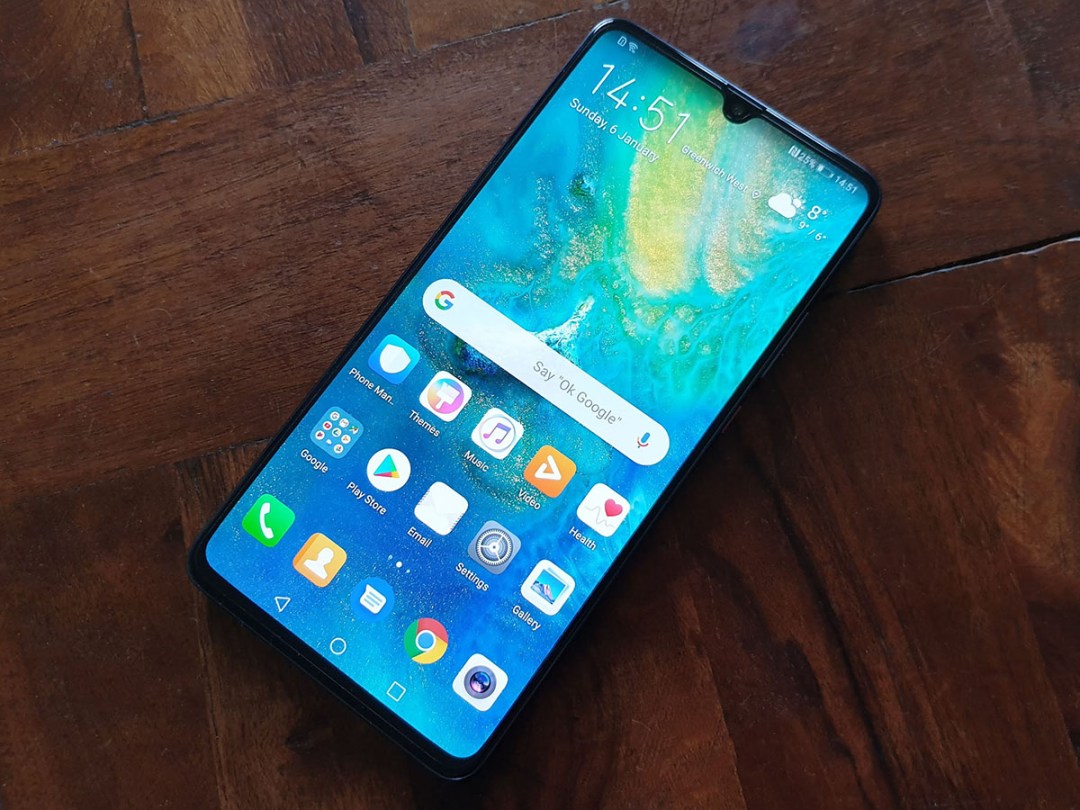 There's big, and then there's Huawei Mate X big.
Here's a phone that takes everything good about the brilliant Mate 20 Pro and supersizes it, with a giant screen bigger than just about every other handset out there right now.
Huawei reckons it's just what gamers and multimedia addicts are after, but the optional digital stylus hints at plans to challenge the Samsung Galaxy Note 9, too.
But with a few stripped-back specs, is it really worth expanding your horizons with a flagship phablet?
DISPLAY & SOUND: DON'T SHED A TEAR
The screen really is the star of the show, and at 7.2in, there's no missing it. The panel is absolutely massive, and with ultra-slim bezels on all four sides, it makes a fantastic first impression.
It's an OLED panel, meaning impeccable contrast, deep, inky blacks and vibrant colours, although Huawei hasn't been as restrained as Samsung has with its latest phones – things look a little oversaturated and not quite true-to-life out of the box. A bit of tweaking can reign things in, though.
It plays nicely with HDR, so gets plenty bright when you feed it a compatible video. Visibility outdoors is nothing to worry about, either. Because OLED only uses power for the pixels it illuminates, there's also an always-on display mode, for showing the time, date and any incoming notifications at a glance.
Huawei has used a teardrop-style notch to accommodate the selfie camera, which is nowhere near as intrusive as the iPhone-style wedge seen on the Mate 20 Pro. It's great to see some bespoke styling, instead of just copying what Apple is doing. It rarely gets in the way, and you can always hide it with black bars in the Settings menu.
A 2244×1080 resolution is a little bit better than Full HD, on account of the stretched 18.7:9 aspect ratio, but a long way off the best of the bunch, including Samsung's Galaxy Note 9 and Huawei's own Mate 20 Pro.
Not that you can spot the individual pixels without a magnifying glass, of course. Unless you demand the very best, this is a great screen.
DESIGN: GENTLE GIANT
There's no question the Mate 20 X is a big bit of kit.
Yes, you really do need big pockets to fit one of these, and no, I'm not just happy to see you. It even makes a Galaxy Note 9 look small, which is quite the achievement, but is still surprisingly usable.
That's mainly down to the slim bezels and slightly curved rear glass, that sits as comfortably in your hands as a slab of smartphone this size can hope for. It's certainly a hefty thing, but you shouldn't be getting wrist ache just carrying it around.
It borrows the same micro-etched finish as the smaller Mate phones, which is supposed to stop it from slipping out of your mitts. It does a decent enough job, but this is still glass (and a lot of it) so you'll want to avoid introducing it to the pavement.
There's a fingerprint sensor on the back underneath that distinctive square camera array. No fancy pants in-screen sensing here, unfortunately, and the sensor can be quite a stretch to reach for anyone that lacks giant-sized hands.
You get plenty of goodies at either end of the handset, including proper stereo speakers, an IR blaster and even a headphone jack – something you won't find on the more high-end Mate 20 Pro.
On the other hand, you only get IP53 water resistance here, which is nowhere near as good as any of the current smartphone champs.
Still, with the slim bezels and notched display, it looks every bit the flagship phone.
CAMERA: THREE WAYS TO PLAY
The leica branding is a dead giveaway that this is one smartphone with a snapper to take seriously. Or three, in fact: the square array on the rear holds three separate lenses and a flash, which make the Mate 20 X as flexible as they come.
The main camera has a massive 40MP sensor, but defaults to 10MP snaps using clever pixel-binning tech. A second 20MP wide-angle lens lets you fit in a whole lot more into every photos, and a third 8MP telephoto acts as a 3x optical zoom. Think of it like a camera bag filled with lenses, only you can slip it into your pocket.
In bright sunlight, you can shoot 40MP snaps and capture impressive amounts of detail, while 10MP supersampling takes care of indoor shooting and trickier scenes.
The dedicated night mode is on hand for the darkest of settings, merging multiple shots together with truly impressive results. You lose a bit of sharpness, and need a steady hand, but it's currently a toss-up as to whether the Mate has the edge, or Google's Pixel 3 XL.
The Mate comfortably bests the Galaxy Note 9 when it comes to zoom, and its wide-angle snapper is superior to the LG G7 ThinQ's, with optical image stabilisation helping to cut down on camera shake.
Huawei's image processing is more aggressive than Samsung, Apple or Google though, which can lead to some photos looking unnaturally sharp. The results are still impressive, and largely boils down to personal preference as to which is best overall.
The same can't be said of the front snapper, which might have 24 megapixels on tap but can't quite capture a candid selfie as well as the Pixel 3 XL and its dual 8MP cameras.
PERFORMANCE: DRAGON-SLAYER
If the Road Runner needed a smartphone to outwit Wile E Coyote, it would use a Mate 20 X – this thing is blazing fast.
That's largely down to Huawei's 7nm Kirin 980 CPU, which is a more advanced architecture than you'll find on the rival Snapdragon 845. Of course, the Snapdragon 855 is waiting just around the corner, but for now, this is the performance champ.
It takes the top spot in synthetic benchmarks, and more importantly runs just about everything you can throw at it flawlessly. There's no lag when swiping between screens, apps open in an instant, and there's no waiting around for your images to process when scrolling through the Gallery.
Things aren't quite as clear-cut when it comes to gaming – something Huawei reckons the Mate 20 X was built for. PUBG Mobile does indeed run better here than on a Snapdragon-powered phone, but that's largely due to GPU Turbo software tweaks made with help from the game's developers.
In apps that support it, you'll get smoother frame rates because the phone's resources are used more efficiently. That means a largely consistent frame rate even when you've got the detail settings cranked to full, so there's no excuse for missing out on that chicken dinner.
Other games aren't as optimised, meaning a Google Pixel 3 or Galaxy Note 9 might have the edge, but for the most part the Mate 20 X still plays very well. Is Huawei's graphene vapor cooling system to thank? It's impossible to say, although after an hour of gaming it barely felt warm to the touch.
128GB of on-board storage is more than enough for all your apps, games, photos and music, but if you feel like adding more later, you're tied in to Huawei's proprietary Nano Memory format – which means paying twice the price you would for an equivalent microSD card.
OS & SOFTWARE: EMUI MEETS PIE
Just like the rest of the Mate 20 range, the X arrives with Android 9.0 Pie and a liberal helping of EMUI on the side. Huawei's custom skin isn't as intrusive as it used to be, but still borrows an awful lot from iOS, rather than Google's operating system.
That means no app drawer out of the box, just multiple home screens filled with apps. You can make the swap if you prefer Android's way of doing things, at least.
Not following all of 9.0 Pie's changes can be a good thing, mind. Split view is still tied to a long-press on the Recents button, which is far easier to use than Google's new, more fiddlier onscreen menu.
You still get plenty of pre-installed apps, which largely mimic Google's own, and since they don't take advantage of the larger screen, there's no incentive to use 'em if you're already tied in to Gmail, Google Play and the like.
Huawei didn't have a stylus for us to try with the phone for this review, so right now the Galaxy Note 9 is still the de facto phone for pen lovers.
There's a disappointing amount of bloat offered up when you first set up the phone, but you can at least skip the downloads – they aren't waiting for you on the homescreen like they would have been in the past.
Small improvements, then – things are still different enough to irk the Android faithful, but not so much that it should be a reason to avoid the phone.
BATTERY LIFE: LASTS LONGER THAN THE ENERGIZER BUNNY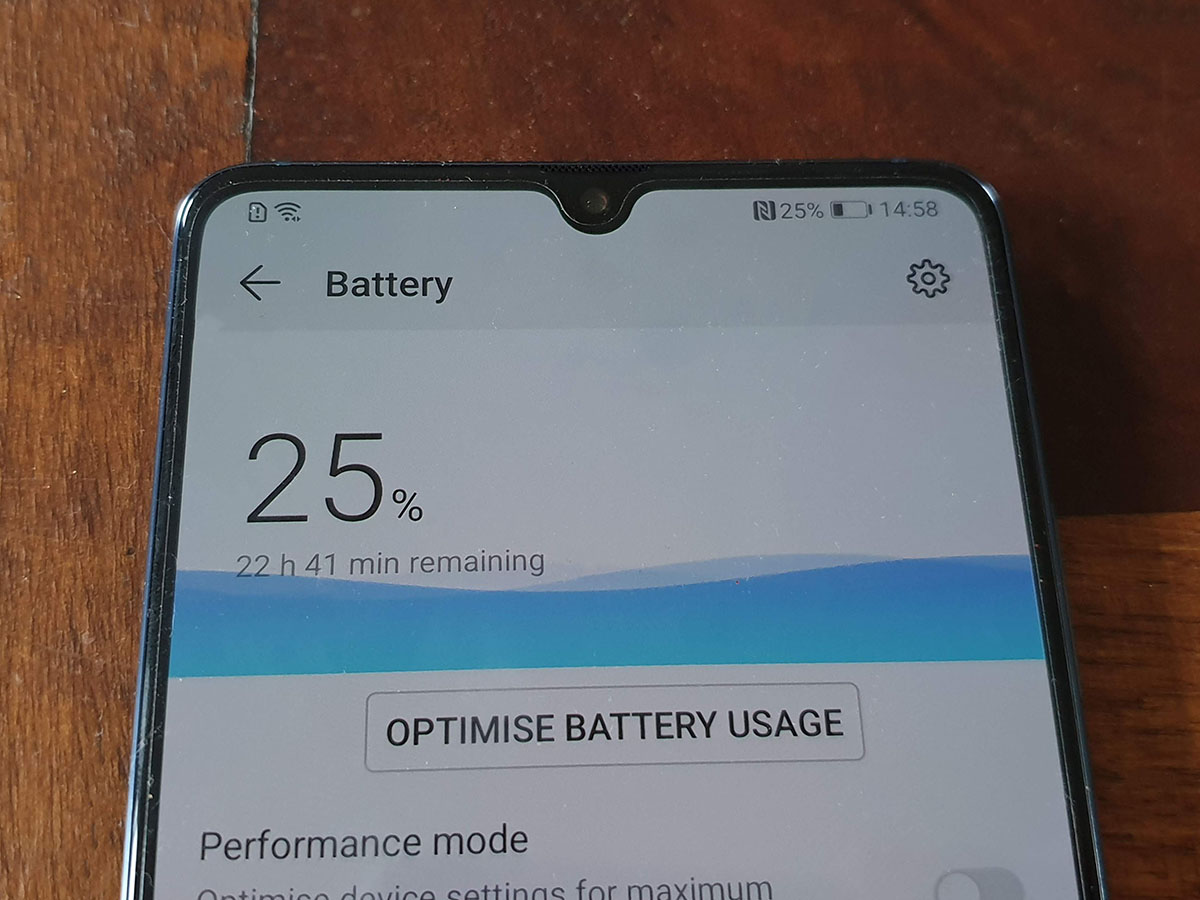 The benefit to going big? Loads more room underneath the screen for cramming in a battery.
The Mate 20 X does just that, with a whopping 5000mAh of juice to keep you going. That's a big leap from the Mate 20 Pro's already impressive 4200mAh, and a major step up from the Galaxy S9 Plus and iPhone XS Max.
It lasted an incredible 22 hours playing a looping video, and an hour of Playerunknown's Battlegrounds Mobile only made a 10% dent in the remaining total. Huawei reckons this'll last three hours longer than its closest rivals when it comes to gaming, and based on that result, we can believe it.
For daily use, you'll comfortably get through an entire day of talking, texting, social media scrolling and multimedia playback, and expect to have as much as 40-50% charge remaining the next morning. There's not really any other phone out there from a mainstream maker that'll last as long as this.
When it is finally time to top up, you'll have to plug in, as there's no wireless charging like you'll find on the Mate 20 Pro. The bundled 40W supercharger should get you back up to 70% in around 30 minutes, so there's no excuse for running low on juice.
HUAWEI MATE 20 X VERDICT
The Mate 20 X is a monster of a phone, and not just because of its mammoth size.
Huawei's latest CPU is super quick, the three-lens rear camera is one of the best and most versatile you'll find on a phone right now, and even goes one better than the Mate 20 Pro by finding room for a headphone jack.
Still, bigger isn't always better, and Huawei has stripped back a few features that flagship fans may lament. There's no in-screen fingerprint scanning, no wireless charging, no curved glass, and right now there's not enough difference in price.
When you can pick up a Mate 20 Pro for an X-matching £799, you've really got to ask yourself whether inch or so of screen space is worth the trade-off.
Stuff Says…
An absolutely gigantic screen and some winning features, but overkill for most and not as well-rounded as the Mate 20 Pro
Good Stuff
Huge AMOLED screen looks fantastic
Superb triple-lens camera up there with the best
All the performance you'll need
Bad Stuff
Colossal size makes it impractical for many
Misses out on some top-end tech
Proprietary expandable storage