GoPro Hero 12 Black review: more like version 11.5
Deja vu strikes with GoPro's latest action cam, and that's no bad thing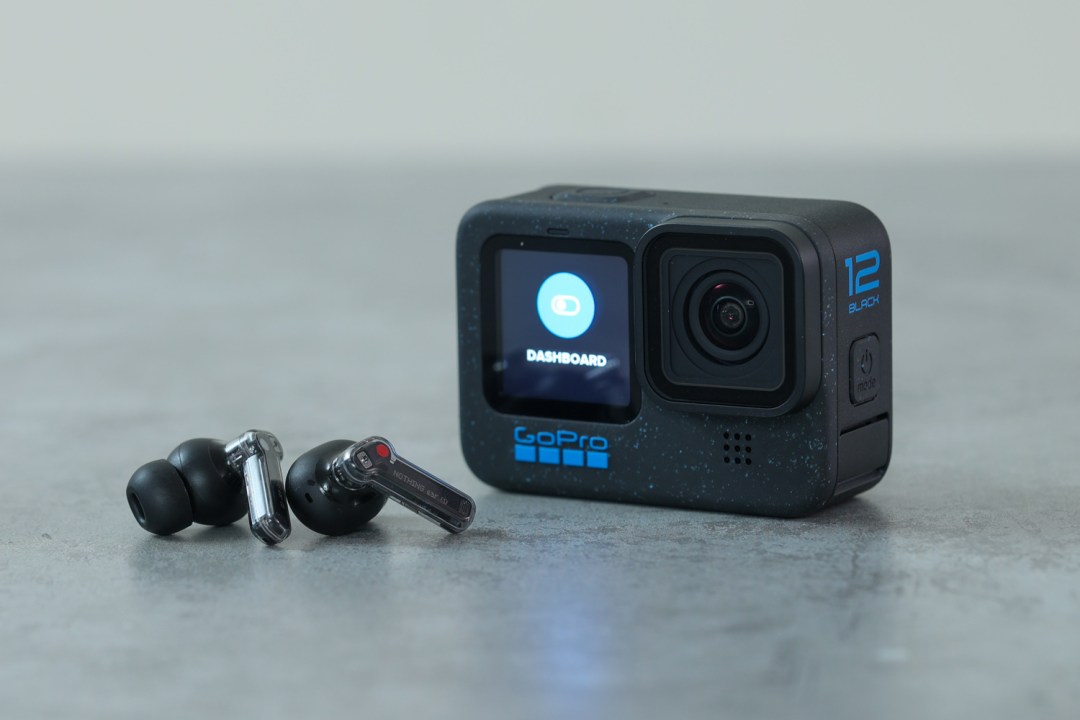 Stuff Verdict
An iteration rather than a revelation, the 12 Black is nevertheless a seriously powerful and intuitive action camera.
Pros
Crisp footage in bright scenes
Fantastic stabilization
Useful new features for pros
Cons
Noisy low light video
Battery life isn't great
No magnetic mounting
Introduction
GoPro has long been the de facto action camera for anyone wanting a helmet- or handlebars-eye view of their adventures. The firm cemented that status last year, while at the same time turning into a compact vlogging system and kid-proof family cam. The GoPro Hero 12 Black builds on that success by making it even easier to use.
It's largely packing the same guts as the excellent Hero 11 Black, only now with added HDR video support and Bluetooth wireless mic recording in the mix, amongst other updates. That means it can pick up what you say through your wireless earbuds, even if you're tearing through a ravine or skiing down a mountainside. Thermals have been tamed to allow for longer clip lengths, and the UI has been given a visual touch-up too.
There's no ignoring that with almost identical hardware, photo and video quality are largely unchanged from last year. With strong competition from the DJI Osmo Action 4, do the GoPro Hero 12 Black's new features add a crucial new string to the line's heavily iterated (and imitated) bow?
How we test action cameras
Every action camera reviewed on Stuff is tested in a range of lighting conditions, with a variety of subjects and scenes. We use our years of experience to compare with rivals and assess ergonomics, features and general usability. Manufacturers have no visibility on reviews before they appear online, and we never accept payment to feature products.
Find out more about how we test and rate products.
Design and screens: Splatter chic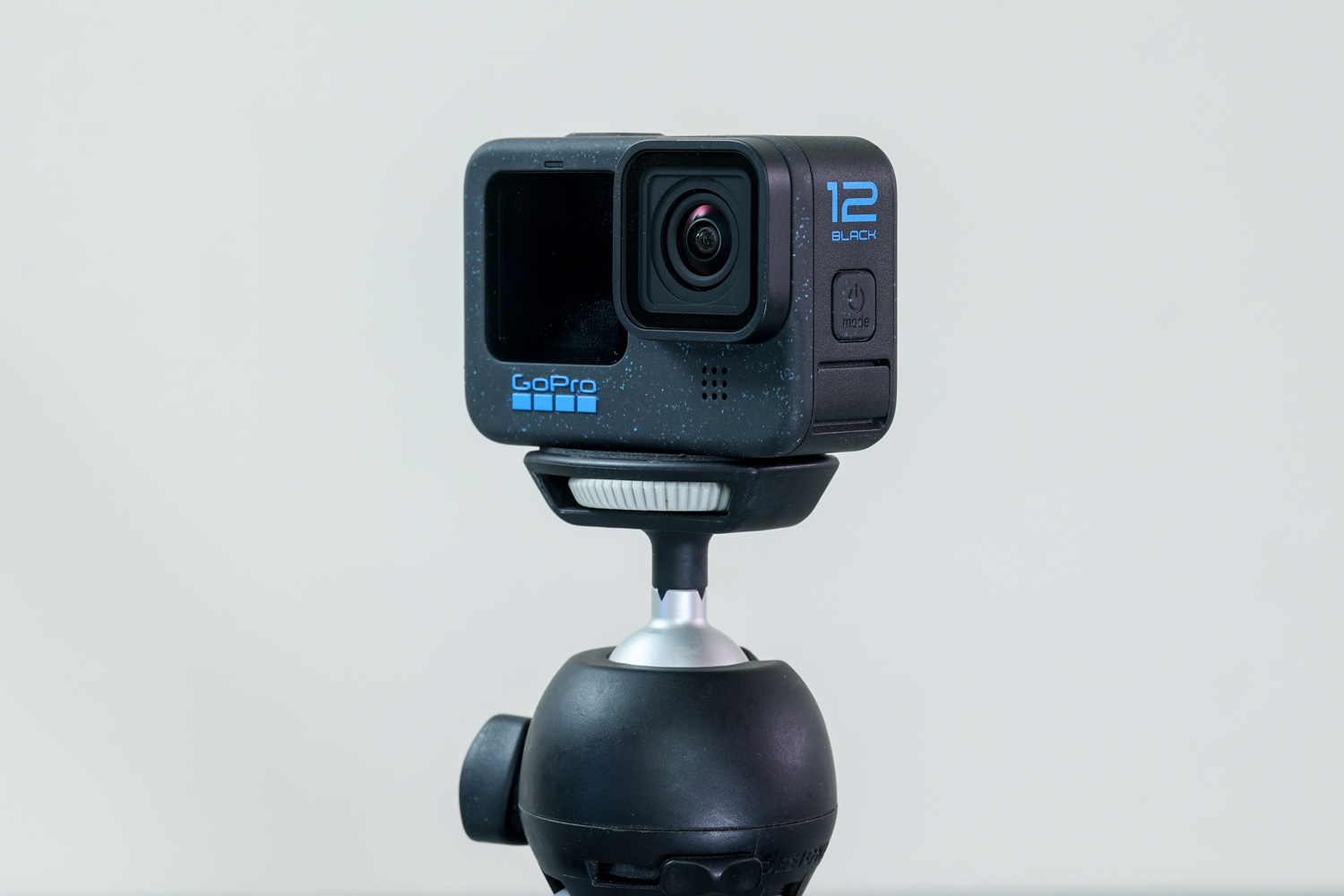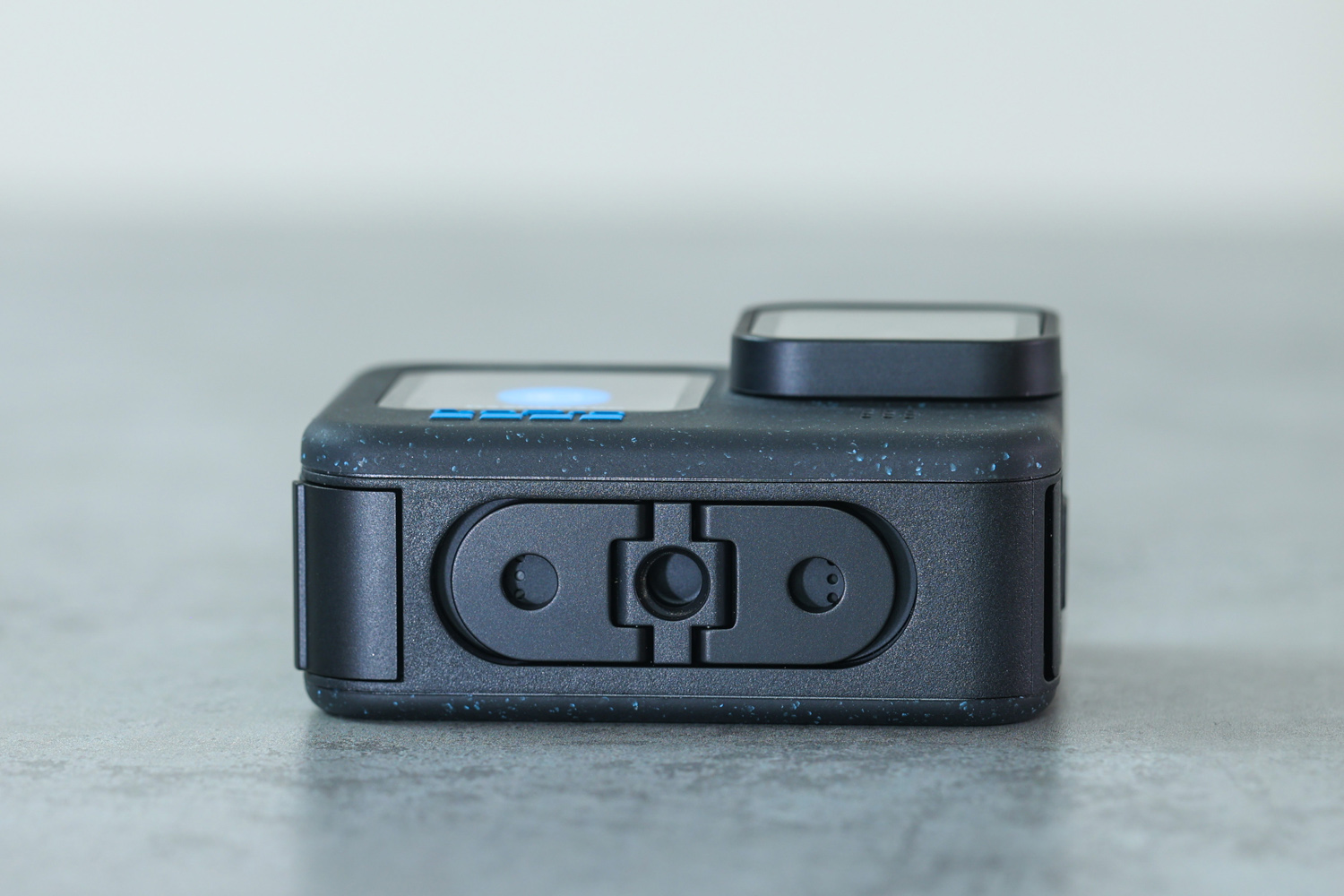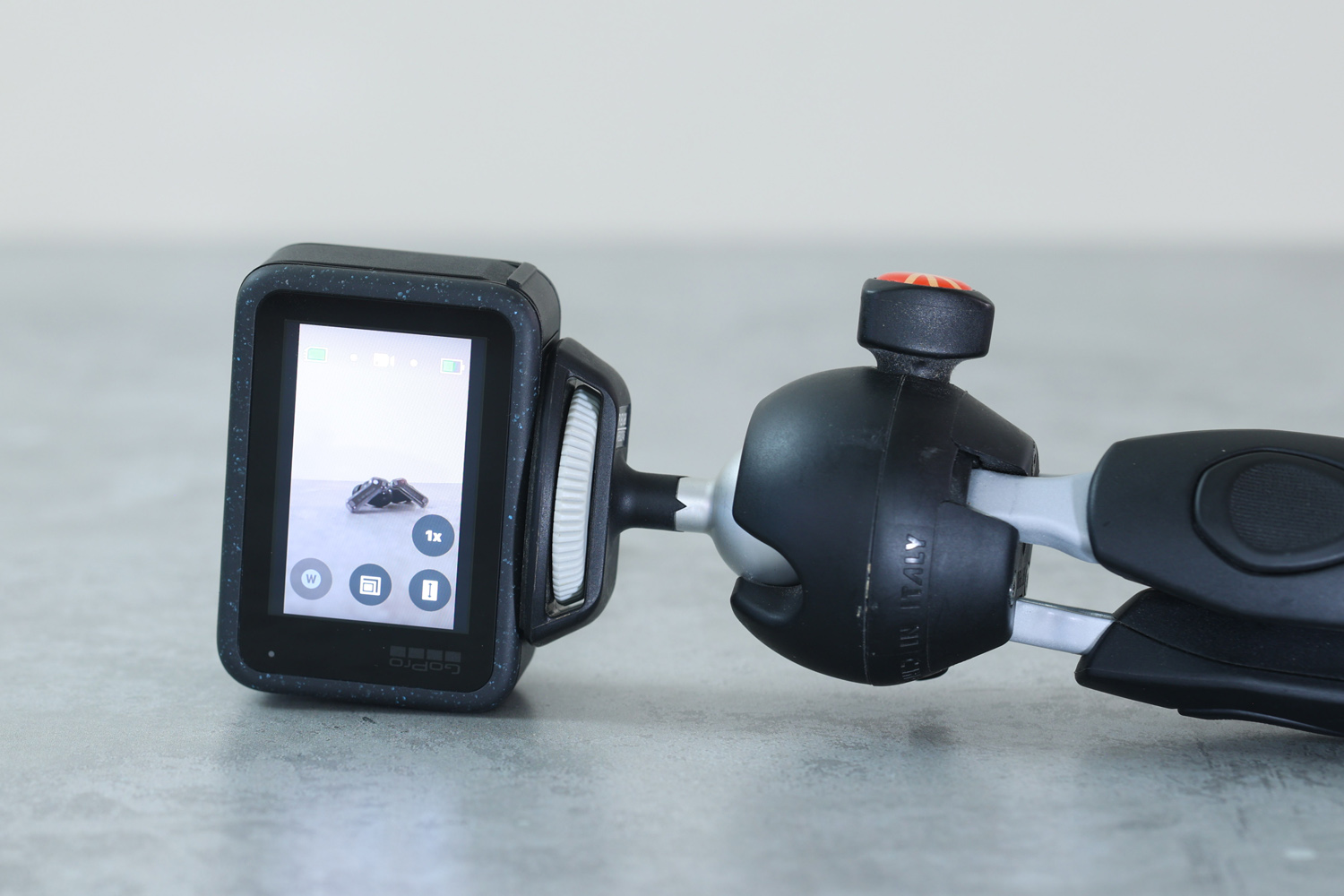 If you've used a Hero 9, 10 or 11 Black, you'll feel right at home with the Hero 12. There's a 1.4in vlogging screen up front, a 2.7in touchscreen at the back. Sliding open the battery door lets you switch out the battery and microSD card, just like on older models. The physical buttons are all in the same places as usual.
The power button turns the camera on and cycles through shooting modes, while the record button starts shooting – whether the camera is on or not, which can be handy when time is of the essence.
The big change is the 1/4in tripod thread between its flip-out feet, which means you can screw the Hero 12 Black onto an old-school tripod plate as well as GoPro's familiar action camera mounting. It misses out on the magnetic mounting found on the Osmo Action 4, though, which some might have preferred, but by not shaking things up too much it doesn't break support for GoPro's extensive accessory line. That includes the Media Mod, Max Lens Mod (and the new Max Lens Mod 2.0), and GoPro Volta.
For field of view fiends, the new Max Lens Mod 2.0 could be a great buy. Pop on the lens and you can expand your field of view to 177º – the widest single-camera FOV available you'll find on any action cam. Here it makes for seriously immersive footage.
Just like the Hero 11 Black, the 12 Black can be dunked in up to 10m of water without any special housing. The rubberised corners also make it relatively scuff-proof, and the changeable lens means scrapes and scratches don't necessarily spell disaster.
Interface and performance: Easy does it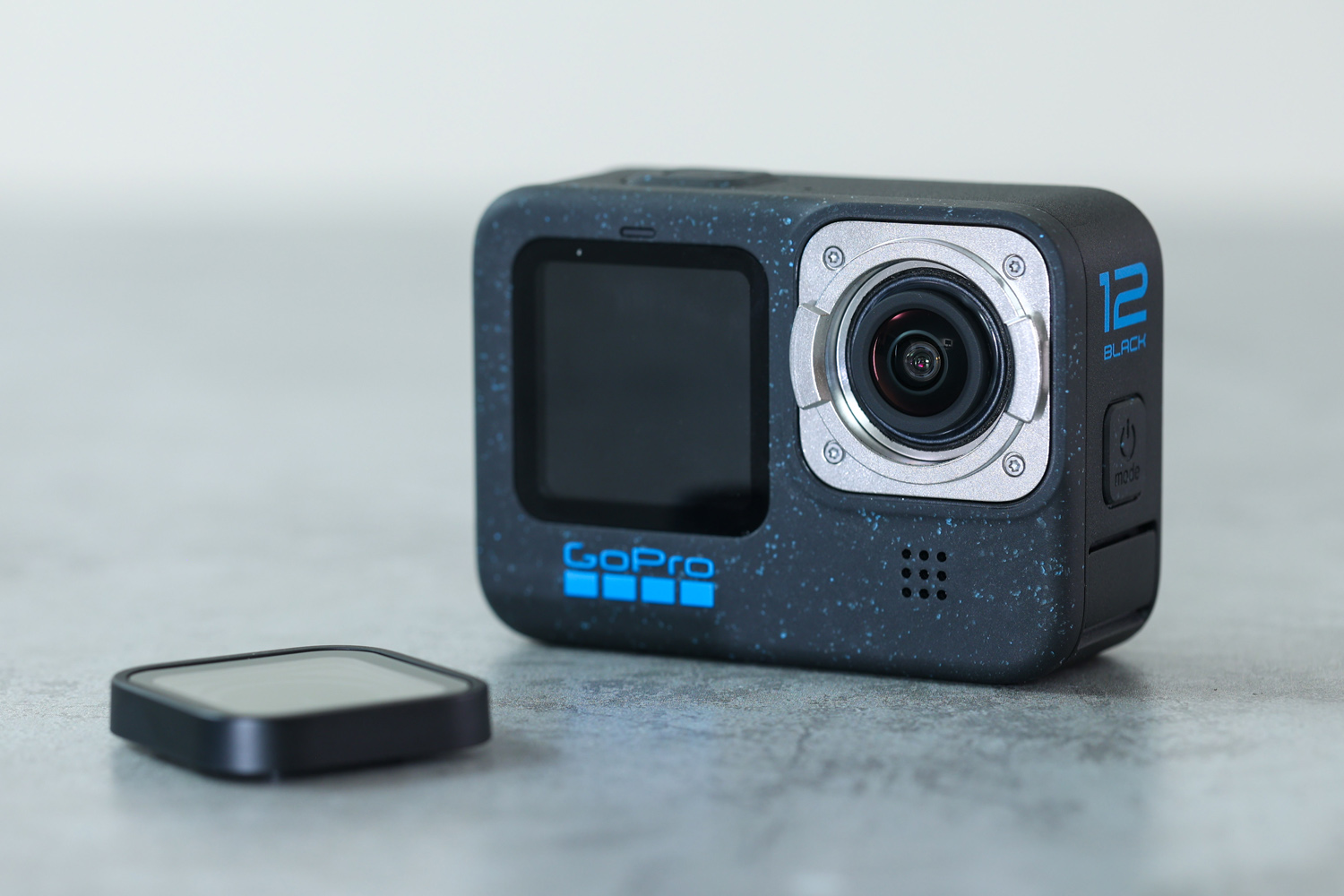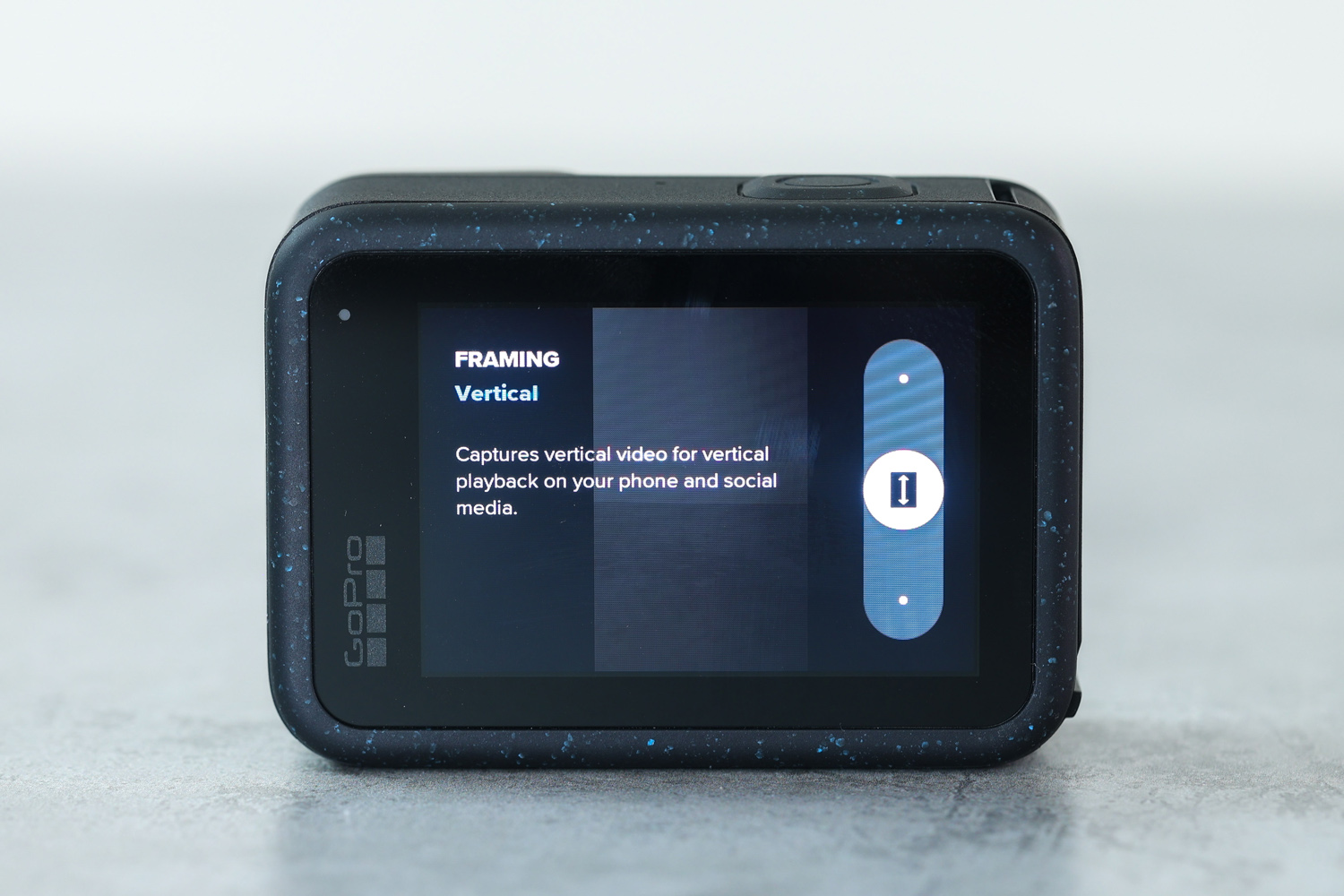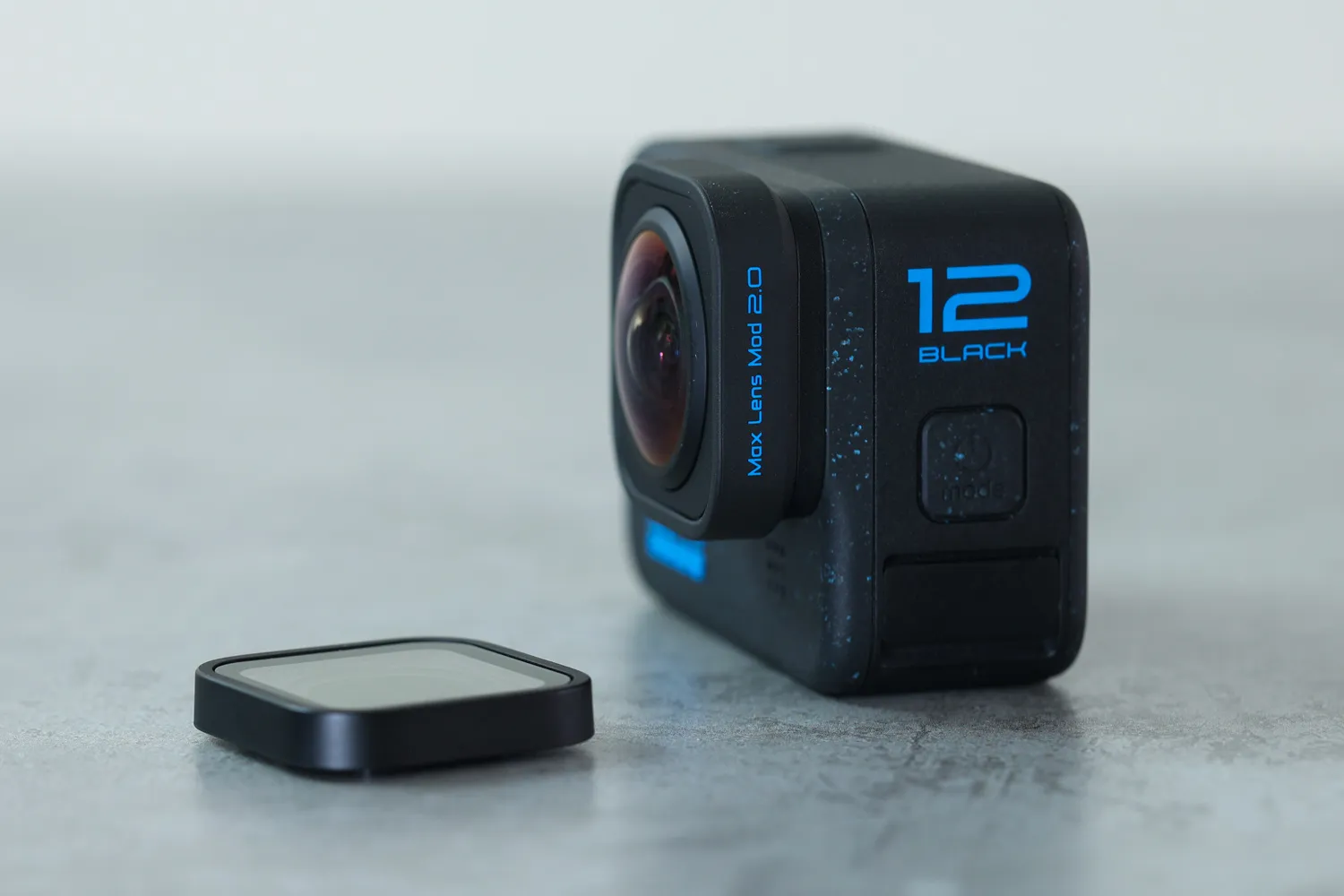 The 12 Black fires up in Easy mode. Once a pared-back mode for novices, it's now a capable, user-friendly way to grab incredible-looking footage at maxed-out quality in a range of formats. The new HDR and GP-log features are found in Pro Mode; despite the name, this mode is still relatively straightforward, and adds native 8:7 capture across all shooting modes on top of the new colour profiles.
It's easier than ever to switch between landscape, vertical, and 8:7 video, and thanks to the almost square sensor, the Hero 12 Black's 8:7 5.3K footage can be losslessly cropped into tall or wide 4K video. This returns from the Hero 11 Black, and means you don't even need to flip your camera sideways to shoot a tall video.
Unlike older GoPros, the touchscreen is responsive, so after an initial setup, it was a breeze to customize the shooting modes and turn an out-of-the-box Hero 12 Black into a very personalised action camera.
The 12 Black has 2.4GHz and 5GHz Wi-Fi, so can upload footage to GoPro's cloud storage if you have a GoPro membership. Alternatively, you can just plug the camera into your phone via the USB-C port and enjoy even nippier transfers. This also works with the new iPhone 15 series.
Battery: Enduro athlete
While the camera comes with GoPro's higher-capacity Enduro battery, it will support the older SPBL1B battery, which also works with the Hero 9, 10 and 11 series. If you're coming from one of those, you'll be hitting the ground running with spares.
GoPro has also upgraded battery management, with our 5.3K clips recording for over 30 minutes without any issues. In hotter climes, you may struggle with thermal shutdowns, but in overcast England, we didn't. Battery performance was fair, but not excellent, making a cumulative hour or so of capture on a single charge at topped-out resolutions possible, shooting clips of 3-5 minutes at a time.
App: Quiky and sweet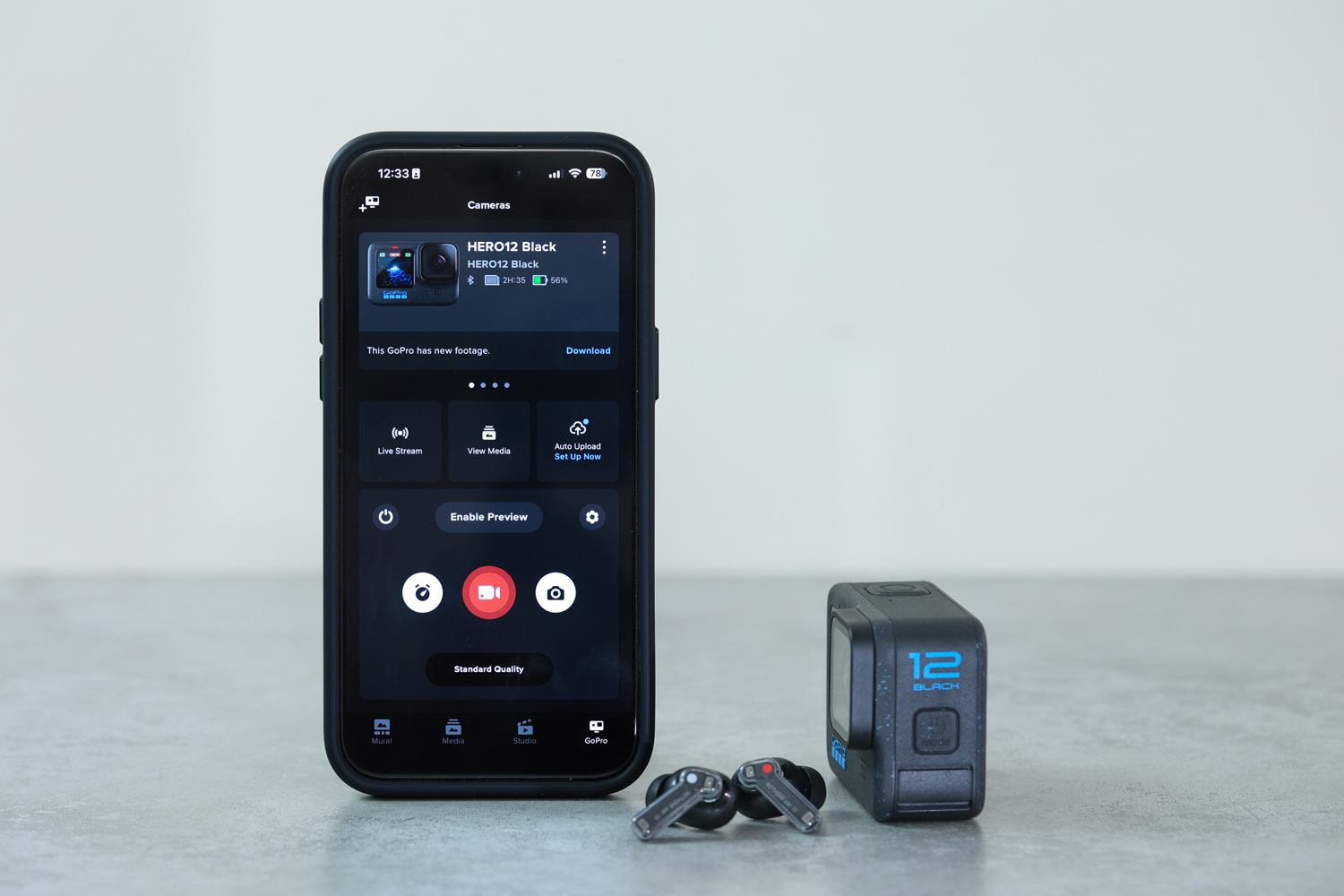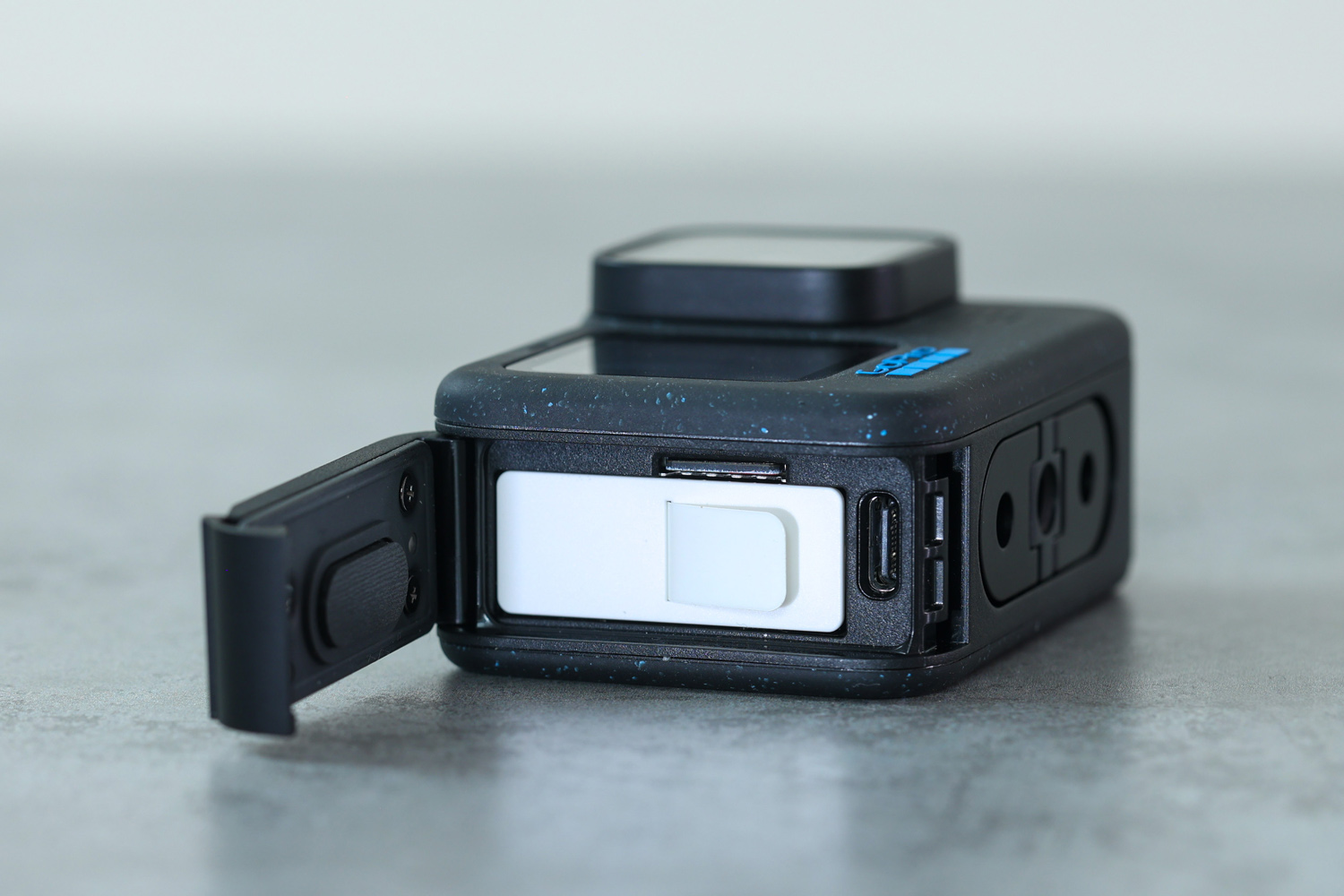 GoPro's Quik app is probably the best action camera app around. Getting footage onto the camera is quick and easy now it supports wired file transfers, it reliably finds our GoPro and gives us control over it on cue, and the editing tools are relatively straightforward.
It's easy to splice GoPro and smartphone footage in one clip, with Quik giving users the option to import both, and the editing tools are poised to create lively clips in a range of aspect ratios and resolutions.
You need a GoPro subscription to benefit from unlimited cloud storage and auto uploading, as well as automatically generated highlight clips. But even without this, the Quik app is a powerful companion.
Image quality: Sun's out GoPros out
The Hero 12 Black has resolution on its side when set against the DJI Osmo Action 4, and so does a better job when it's sunny, grabbing loads of detail and incredible stabilisation.
With HyperSmooth 6.0 and GoPro's new AutoBoost dynamic stabilisation, the Hero 12 Black scrubs out vehicle bumps and boat tilts with deft precision. The 360º Horizon Locking at up to 5.3K resolution means you can even spin through a loop, and your audience would be none the wiser.
The new GP-Log profile captures super flat, low-contrast footage with minimal saturation. This sounds awful – we know – but when you splice it in with footage shot on other cameras, it makes editing, matching colours and creating your perfect look much easier.
HDR capture, the other new shooting mode, is a welcome addition to the Hero line. It does a brilliant job of dialling back the searing sun, though in more overcast scenes can make footage look flat, so you won't want it to be your default shooting mode.
When the sun is done for the day, so is your GoPro, at least in standard video mode. The Hero 12 Black is loaded up with fun, night timelapse tools and light painting modes that capture photos and videos well. But if you want old-school, linear video, just use your phone and import the footage into the Quik app for an edit. If you're desperate for a better nighttime action camera, then look to the DJI Osmo Action 4.
Sound quality: Bluetooth. Audio. Action!
By connecting to as many as four Bluetooth devices, the 12 Black can be controlled by a remote shutter, pick up your wireless audio from earbuds, and be connected to your phone at the same time. This might make you think the Hero 12 Black plus a set of AirPods are a vlogger's best friend – excellent audio time – but curb your expectations.
Bluetooth audio quality was very mixed in our experience. If the Hero 12 Black is far away, of course, using wireless buds will be a smart move. If you're at arm's length from the GoPro, though, its excellent microphone and voice isolation won out compared to a range of buds, from AirPods Pro to the Huawei FreeBuds 4, and the OnePlus Buds Pro 2. Of the three, the FreeBuds interestingly delivered the best sound, possibly owing to their longer stem.
GoPro's new wireless Bluetooth microphone support isn't just for recording audio, it also lets you control the 12 Black with voice commands from a distance which is handier than you might think if your Hero's attached to a car bonnet or bike handlebars.
Gopro Hero12 Black verdict
The Hero 12 Black is a fantastic first action camera and a solid upgrade for anyone with a 9 Black or earlier.
The new features refine a very complete system, and while GoPro hasn't made a lowlight video champ like DJI's Action 4, its class-leading stabilization, resolution, stellar software, upgraded audio and pro features make the 12 Black the most accessible action camera around.
Stuff Says…
An iteration rather than a revelation, the 12 Black is nevertheless a seriously powerful and intuitive action camera.
Pros
Crisp footage in bright scenes
Fantastic stabilization
Useful new features for pros
Cons
Noisy low light video
Battery life isn't great
No magnetic mounting
GoPro hero12 Black technical specifications
| | |
| --- | --- |
| Sensor | 1/1.9in, 8:7 aspect ratio |
| Resolution | 27MP |
| Stabilisation | HyperSmooth 5.0, 360º horizon levelling up to 5.3K (16:9) |
| Storage | microSD |
| Durability | 10m |
| Dimensions | 72x51x34mm, 154g |