DJI Osmo Action 4 review: GoPro getter
This action cam excels in low light conditions
When you think of camera drones, you think of DJI; and when you think of action cameras, you think of GoPro. DJI wants to change that, and with the new Osmo Action 4 it's gunning for GoPro in a big way – and with a bigger sensor.
This compact action cam packs a new CMOS image sensor that's 1/1.3in in size, making it significantly larger than the sensors on both last year's Osmo Action 3 and the current GoPro flagship (and our current favourite action camera) the Hero 11 Black. That, next to improved image stabilisation, 10-bit colour depth and a slightly higher asking price than previous Osmo action cameras, shows that the Osmo Action 4 is built to compete directly with the Hero line rather than sit in its shadow as a cut-price alternative.
Has DJI toppled its rival off the summit of the action camera podium? Let's jump in and find out.
Design & build: mounting excitement
The Osmo Action 4 looks and feels virtually identical to its predecessor, the 2022-released Osmo Action 3. Both cameras weigh a feather-like 145g, share the same 70.5×44.2×32.8mm dimensions, front and rear touchscreen setup, huge record button on top and removable lens protector. So far, so similar.
They also come supplied with similar accessories, including the Horizontal-Vertical Protective Frame that debuted with the Action 3. This clips firmly around the already-sturdy camera body to offer additional drop protection, but its appeal really lies in its mounting versatility: with magnet-assisted clips on the bottom and side, it can be quickly detached from its mount, rotated 90º then re-attached in a different orientation. This is DJI's way of ensuring you can record both 16:9 and 9:16 content easily and it's certainly handy – if not nearly as slick as the Hero 11 Black's method of recording everything on a big square-ish sensor and letting you crop to your taste later on.
As with the Action 3, it's compatible with the popular screw-based mounting system used by GoPro, so there's a truly enormous range of mounting options for it already out there – not only made by DJI but by GoPro and a legion of third-party manufacturers. DJI sells the camera in a variety of 'combos' aimed at specific use cases like road cycling, mountain biking, surfing, diving and vlogging, so you can grab it with a useful mounting option right off the bat should you wish. When it comes to mounting flexibility, this is every bit as versatile as a GoPro.
And in terms of toughness, the Action 4 feels hardier than most. Its removable battery will function at temperatures as low as -20ºC, and even without a special dive case it can be used underwater to a depth of 18m, handily beating the 16m offered by the Action 3 and the GoPro's 10m limit. Add the dive case (a £59 optional extra) and it'll go all the way to 60m.
Features and performance: steadier than ever
Many of the features here are retained from the Osmo Action 3. The 1.4in front and 2.25in rear touchscreens are the same size and resolution, and just as useful (while both support touch control, the rear screen's larger size and rectangular shape make it better for control than the tiny, square-shaped front screen). One thing to note is that the front screen preview is disabled while you're recording video at 4K/60fps or above, which is one area we'd like to see improved in future Osmo Action models.
Electronic image stabilisation was good on the Action 3; it's even better here. You get RockSteady and HorizonSteady, the latter of which keeps the frame level with the horizon (up to 45º in either direction). The new RockSteady+ mode increases the anti-shake tech's smoothness and effectiveness at the cost of a quite severe crop to the image frame, so it might not be an option you always use. Overall, it's an impressive array of tech that'll keep your videos looking strong and stable – but we couldn't say with any conviction if it's better than the Hero 11 Black's implementation.
The swappable rechargeable battery has the same 1770mAh capacity as the Action 3's and delivers a very respectable 160 minutes of video 1080p/24fps recording on a full charge. That will decrease with higher resolution, higher frame rate recording, and we found the camera can overheat when recording this more demanding footage too, even after just 20 minutes or so of use. So our advice would be to stick to lower resolution, lower speed recording if you want to capture longer clips on the Osmo Action 4.
There's a USB-C port for charging, image transfers and webcam use, as well as Bluetooth 5.0 and dual-band Wi-Fi. The wireless connections can be used to pair the camera up with a smartphone or tablet running the DJI Mimo app, which then allows you to remotely control the camera, change settings and transfer and edit files. As with the Osmo Action 3, there isn't any built-in storage space, but the microSD card capacity has been upped from 256GB to 512GB.
Video and photo quality: seeing in the dark
Whether or not the Osmo Action 4 succeeds as a GoPro killer really resides in its video quality. Does it do better than the Hero 11 Black when it comes to clip quality? Well, yes – and no.
Firstly, we can confirm that the big new sensor does give it a low-light boost. It's far better in dark (or at least near-dark) conditions than any action camera we've seen before, delivering more contrast and more detail than the Hero 11 and Osmo Action 3. It's better than most smartphones too, even if it can't touch the results you'd get with a good mirrorless or DSLR camera and a fast lens.
In good lighting conditions, however, we think the Hero 11 Black still edges things. Its sensor may be a little smaller, but it can deliver 5.3K footage at 60fps at 2.7K at 240fps, and its unedited, ungraded standard footage just looks more attractive to our eyes than the Action 4's equivalent.
The Action 4's maximum resolution is 4K, which it can record at up to 120fps, but it needs to drop down to 1080p for 240fps speeds. Demanding users can now record footage with 10-bit D-Log M colour depth, however, offering up more scope for colour correction and grading in post-production, which means that you should be able to tweak footage quality to your preferences.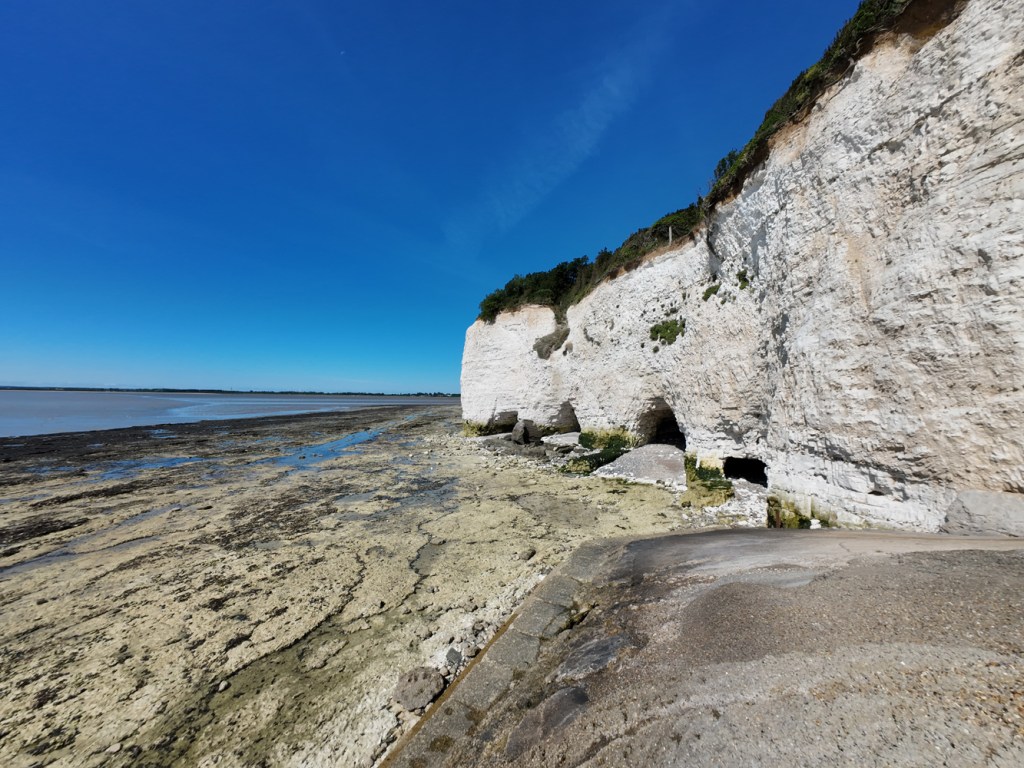 For still images, the Action 4 is just about adequate and will probably only get used out of convenience or necessity. Photos are relatively small at 10MP (the Hero 11 Black's are 27MP) and in most cases a smartphone will do a better job. You can shoot in RAW as well as JPEG, however, which is a nice touch, and there's nothing truly awful about the image quality here: it's just that, like most action cams, the Action 4 is prioritised towards wide-angle video rather than still photos.
DJI Osmo Action 4 verdict
Despite the Action 4's strong all-round performance, we'd say the GoPro Hero 11 Black remains the overall best action camera on the market – just about. Those interested in recording better low-light footage, however, should definitely consider DJI's new model – even if we suspect that group is fairly small when it comes to action cam users.
Regardless of whether or not it's the best action cam around, the Osmo Action 4 is a very solid all-round performer with excellent build quality and 'mountability' and solid battery life, video performance and image stabilisation.
Stuff Says…
The best low light action cam around, but not the best overall
Good Stuff
Strong low light image performance
Beats GoPro on dive depth
Good image stabilisation
Bad Stuff
Front screen disabled at times
9:16 recording requires physical rotation
DJI Osmo Action 4 technical specifications
Sensor
1/1.3-inch CMOS
Resolution
3840×2880 at 24/25/30/48/50/60fps
1920×1080 at 100/120/200/240fps (video)
3648×2736 (stills)
Stabilisation
RockSteady 3.0+ EIS
Storage
microSD
Durability
18m waterproof (60m with case)
Dimensions
71x44x33mm, 145g