The weird and wonderful from the Wearable Tech Show 2016
Pet fitness trackers, smart shoes and a few bizarre extras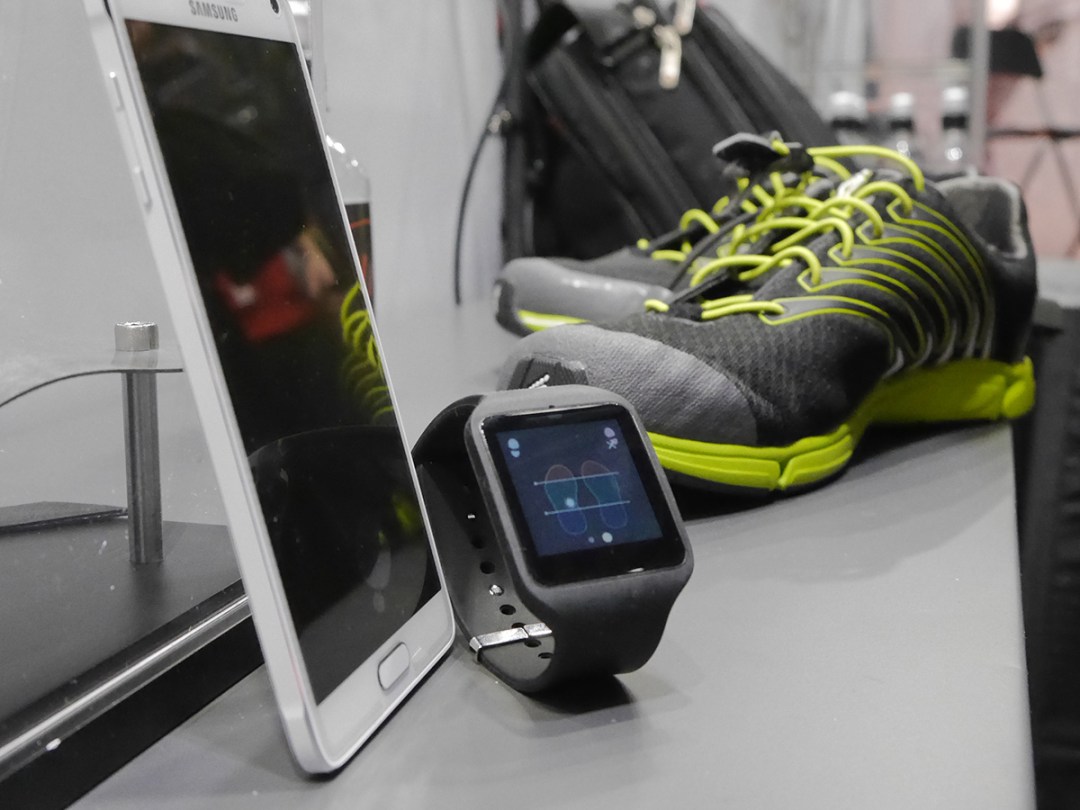 Wearable tech is still a pretty new concept, but that doesn't mean there's not enough smartwatches, fitness trackers and other wacky gadgets to fill a trade show.
Big hitters TomTom and MyZone both launched new products today at the Wearable Tech Show over at London's Excel – but we're guessing you've heard of them already, and if you aren't into golf it's not all that exciting.
It's the obscure and unusual that kept us roaming the halls; hopefully we've managed to dig out a few gizmos that you haven't heard of yet.
Whether or not you'd actually want to buy them is a whole other story, though.
Sole trader
One of the biggest surprise entries at this year's show, Arion is a smart insole built for runners.
Designed by Dutch company ATO-gear and still very much under development, each insole has six sensors that measure your gait and the amount of pressure you apply to different parts of your feet when running.
The companion app can feed real-time data back to you, either through a phone or a smartwatch, and the results can be shared with a coach for more in-depth analysis.
The soles look super-thin, so won't be uncomfortable, and the beta version of the app looks packed with features too.
It looks like a real alternative to buying an entire pair of smart shoes from one of the bigger athletics companies.
There's no word on a price or release date, but you can sign up for updates on the ATO-gear website.
If you liked it…
When it comes to rings, Beyoncé knows what's up. Smart rings, though? That's Oura's game.
This smart ring first broke cover at CES, but this is the first time it's arrived in the UK.
It smashed a US$100k goal on Kickstarter, raising well over US$650,000 in 30 days, and seeing how it packs in a lot of tech yet still slips on your finger, we aren't surprised.
Sleep tracking, heart rate, motion and temperature measuring are all squeezed into the ring, but it doesn't look huge on your finger.
The design is fairly stylish, and black and white colours should suit men and women alike.
The simple charging stand means you don't have to mess around with captive cables when it's time to juice up, either.
You can order one now for €299, with rings expected to arrive in 4-6 weeks.
Puppy love
It's pretty disappointing to head over to a stand specialising in wearable tech for pets, only to discover there's nothing to give a belly rub to (we didn't think the PR would appreciate it).
At least Pitpat's robotic dog toys could demonstrate how the doggy activity tracker works.
It clips onto your pet's collar, then pairs up with your smartphone over Bluetooth LE. You tap in the breed, age and weight of your dog, and it'll let you know how much exercise it gets every day.
You'll be able to tell if the dog walker really is giving fido the full 30 minutes, or if you should stretch out those evening walks for an extra 15 minutes.
If this all sounds a bit familiar, it's because Pitpat originally launched as a start-up back in 2014. It's now working on new tech for other pets, though; nothing's confirmed yet, but a cat tracker that uses GPS and even a wearable for horses are in consideration.
For dog lovers, though, you can pick up a Pitpat fitness collar right now for £40.
Under the hood
Now this is a wearable in every sense of the word. It might look your everyday, can't-justify-getting-properly-dressed hoodie, but the hoodiebuddie has a hidden pair of headphones stitched into its fabric.
That basically means you can slip a phone into the zip pocket on the side and plug it straight into the 3.5mm cable – with no need to worry about running cables underneath your clothes.
It's got an inline mic, too, so you can take calls on it. The button half-way down the cord lets you skip tracks on an iPhone as well, but Android sadly misses out.
If you're worried about putting electrical cables through the wash, Hoodiebuddie reckons it has tested the design for over 30 washes. That hopefully means audio quality won't take a dip when your clothes do.
Speaking of sound, the buds aren't top-end by any means. If quality is crucial, you're probably out of luck.
At least there are plenty of colours available, and prices aren't too bad either; they start at £40 and hit £80 if you want a waterproof jacket version.
Rockin' Roll Baby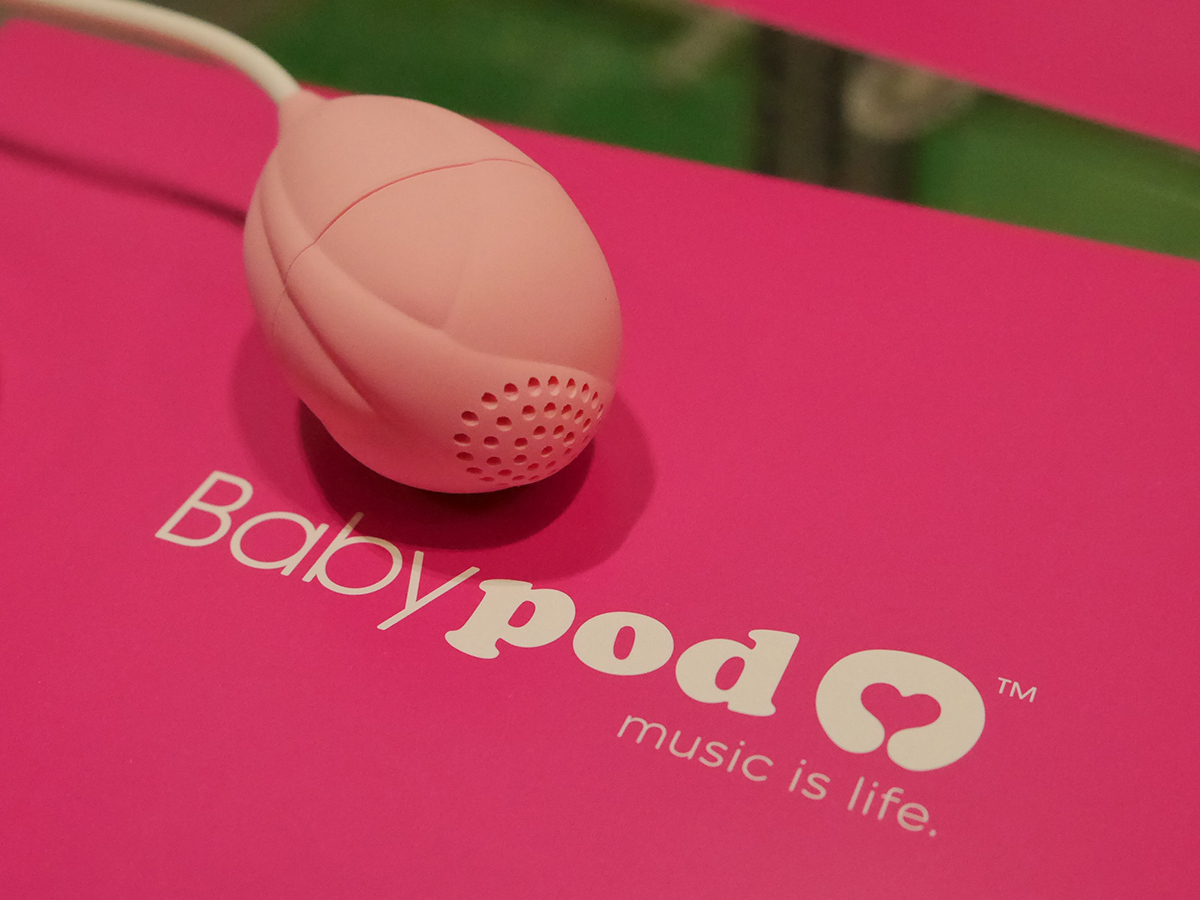 Another CES launch that might have fallen under the radar, Babypod is a speaker that lets mums-to-be share their tunes. Only this doesn't sit on your stomach.
We guess that technically makes it an insertable, rather than a wearable?
Unborn babies can hear from as early as 16 weeks, and apparently playing music stimulates development.
Speakers placed againt mum's tum have been proven not to be as effective as something like Babypod, and ultrasound scans have shown unborn babies trying to vocalise in the womb.
There's no evidence your kids will be a shoe-in for the next season of X-Factor, though.
You can buy one right now for £98.