The Dyson Purifier Big+Quiet will whizz purified air over 10m across the room
Clue's in the name – Dyson's latest purifier goes super-sized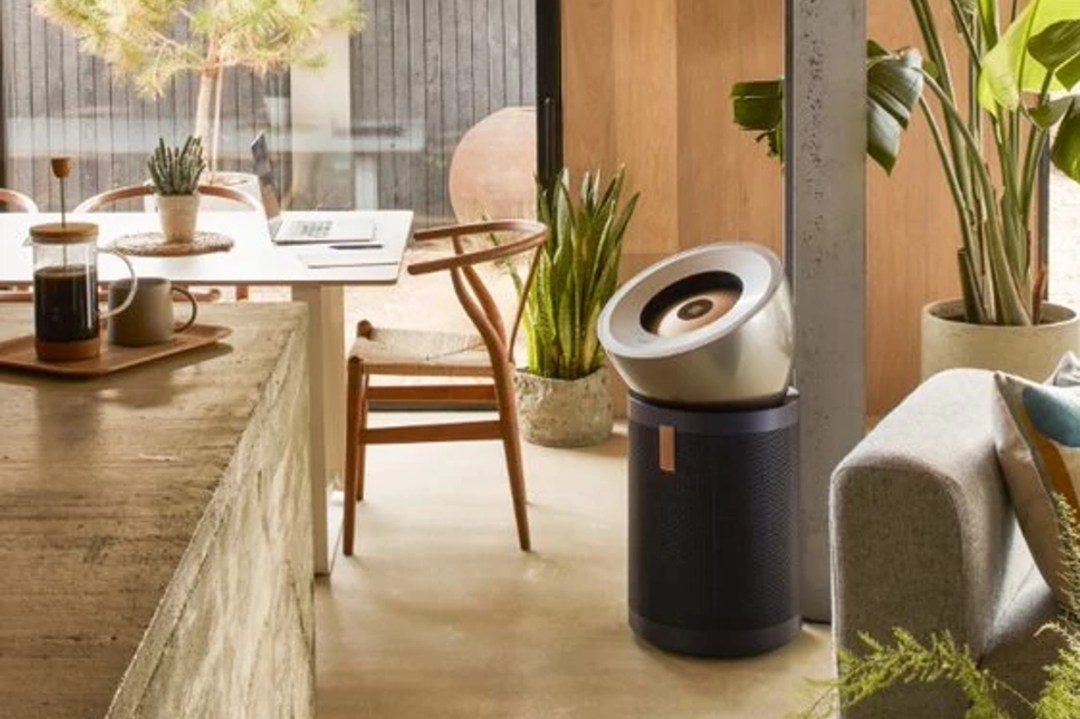 If ever there was a product that's accurately described, this is it. The Purifier Big+Quiet was revealed at Dyson's Future of Clean event in Singapore and is both big – designed for larger homes and office spaces – and extremely quiet, though we don't currently know how much it will cost or when it will appear. Indeed, it's difficult to work out if it's even on, with 56dB operation when in use.
The unit marks a definite change from recent Dyson purifiers but it does resemble some of the past – it looks so different because it uses a completely different method of shooting air up to 10 metres across the room. It can pass double the amount of air as previous Dyson purifiers (87 litres per second) at a variety of angles.
The Big+Quiet uses a big cone to project the air. Called Cone Aerodynamics, this utilises the Coanda effect which Dyson has used in other products such as the Airwrap. It essentially merges two streams of air which creates a powerful jet of air that's propelled further. The projection is designed to displace dirty air back towards the machine.
The Big+Quiet has a new triple filter system which has been improved by five times and can last up to five years. The HEPA H13-grade particle filter takes up the equivalent area of 127 pieces of A4 paper. It captures 99.95% of particle pollutants. A new K-Carbon filter is designed to remove 3x more Nitrogen Oxide than previous versions of Dyson's carbon filter. Finally, the Dyson Selective Catalytic Oxidation (SCO) filter breaks down Formaldehyde into water and Carbon Dioxide. There's also a new Carbon Dioxide sensor, too, so the Big+Quiet knows if more air circulation is needed.
The machine also has a powerful breeze mode generated from a single jet of air that oscillates in an up-and-down motion to mimic natural breeze patterns.
We spoke to Matt Jennings, engineering director for environmental care at Dyson, who talked to us about the challenge of making the Big+Quiet more powerful but also more efficient. "What we've seen is that there's a trend towards open plan living and also at the same time, there's more concern about the air quality in office spaces. So we wanted to make sure we had [something] powerful enough to clean those kind of larger environments.
"But we've done it in a non-disruptive way because it's very easy to clean a lot of air and project it around a room if you're happy to be loud and energy inefficient. So the challenge was making sure we were really powerful but also going lower than the current noise level on our existing, less powerful purifiers.
"We have small, very high-speed compressors [for other machines]. That's OK when it's running for short bursts to do a specific function. If that's running in the background to keep your air quality clean all day, I think it starts to become a bit annoying.
"We want our customers to feel like happy to put the product in automatic mode and look after the air quality and not find it irritating. So noise is a big part of that. With the filter, you can make it smaller, but it's potentially going to have a shorter life as a result."