The BMW iX5 Hydrogen makes total sense (if you can fill it up)
An EV-flavoured driving experience like no other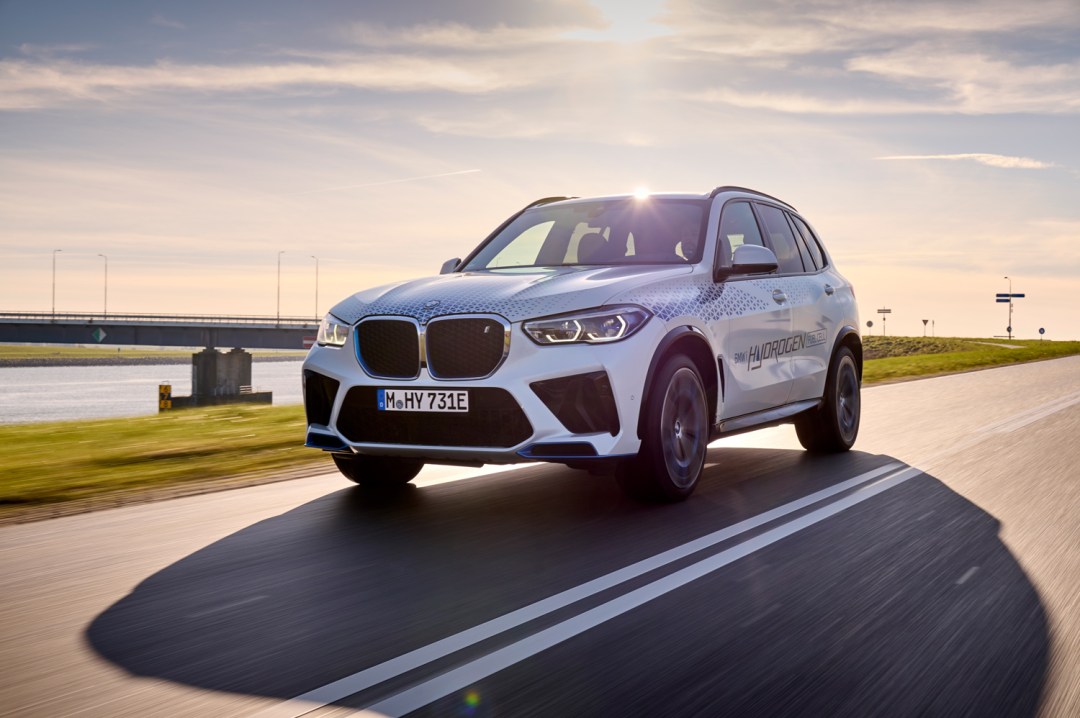 BMW has been showcasing its iX5 Hydrogen SUV in the port city of Antwerp, Belgium, where supplies of H2 are plentiful thanks to a dedicated facility at the docks that produces the fuel. Only a scant 100 iX5 Hydrogen models have been produced as a means for showing off hydrogen's potential.
For those on the continent, the prospect of a hydrogen-powered SUV makes an awful lot of sense, with Germany in particular having a pretty good infrastructure when it comes to refuelling. Here in the UK however, there are fewer H2 stations than ever, after Shell closed down its outlets last year.
That's a shame, because once you've driven it the iX5 Hydrogen is a wonderful surprise that feels just like an EV, but comes without the range worries: with a full tank, it can cover just over 300 miles.
Refilling the 6kg capacity tanks takes mere minutes using a high-pressure 700 bar system, so there's no hanging around waiting for a battery to charge like you get with a BEV. Better still, once you're out on the road, the BMW iX5 Hydrogen drives like any other electric car, with plenty of torque thanks to the electric motor's 401bhp combined output.
Central to this is the fuel cell itself, the core of which contains multiple metal wafers bought in from Toyota. The compressed fuel cell stack produces a chemical reaction from the combination of hydrogen and oxygen, the energy from which then powers the motor that drives the rear wheels. Also housed at the rear end is a relatively small lithium-ion battery, which can be replenished by the electric motor.
What all that means is you can take on long or short drives without hassle. It'll consume 1.19 kg for every 100km travelled according to WLTP figures, and hydrogen can cost as little as 10 Euros per kilo. At the pump in Antwerp we saw 17.99 Euros a kilogram, underlining that it can be affected by pricing fluctuations in the same way as traditional fossil fuels.
Performance-wise, the BMW iX5 Hydrogen can get from 0-62 mph in 6 seconds with a top speed of 112 mph. Getting there is done in the usual effortless way you'd expect from an EV. The only tell-tale sign you're driving a hydrogen car is from the gauge on the dashboard showing how much you've got in the tank.
So, why bother when less than 100 cars have been built? BMW's pilot scheme will see the cars shown around the globe and used as a profile-building exercise to extol the benefits of hydrogen cars. With 100 hydrogen stations in Germany alone, the potential for hydrogen cars in mainland Europe definitely has legs. Unlike the UK, which at the time of writing is down to 11.
BMW experts reckon hydrogen vehicles definitely have a place in the automotive landscape. They're ideal for people who don't have easy access to electric charging and are particularly useful for frequent travellers who need more flexibility than a BEV provides. Hydrogen vehicles aren't hindered by cold climates either, and anyone who tows things will also be much better off with a hydrogen vehicle than a battery powered one.
"Hydrogen is a versatile energy source that has a key role to play in the energy transition process and therefore in climate protection. After all, it is one of the most efficient ways of storing and transporting renewable energies", said Oliver Zipse, Chairman of the Board of Management of BMW AG.

"We should use this potential to also accelerate the transformation of the mobility sector. Hydrogen is the missing piece in the jigsaw when it comes to emission-free mobility. One technology on its own will not be enough to enable climate-neutral mobility worldwide."
Lot's of potential then. Just not here in the UK it seems.