Porsche Cayenne set for Taycan-inspired interior tech makeover
Upcoming SUV shows off its cabin ahead of global debut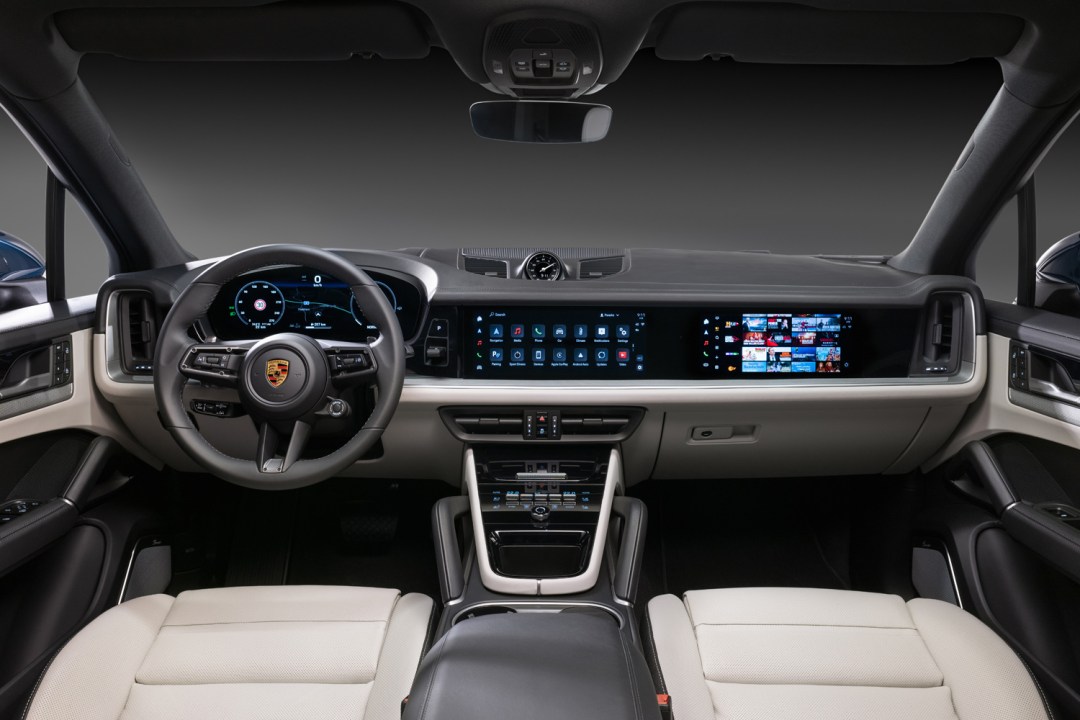 Tech-savvy motorists wanting the latest and greatest on-wheels gadgetry will soon have a new SUV to add to their shopping lists. Porsche has shown off the interior of the upcoming refreshed Cayenne, ahead of its global reveal next month, and it's positively packed with cutting-edge cleverness.
The revised model will be the first petrol-powered Porsche to inherit the all-digital instrument cluster from the firm's Taycan EV, which takes pride of place in a newly driver-focused cabin. Shifting the gear selector from the centre console to the dashboard (just to the side of the steering wheel, 911-style) has also freed up space for a full suite of climate controls, including haptic touch-sensitive panels, physical switches and digital displays showing the precise cabin temp.
An all-new steering wheel inspired by the 911 also puts more controls at the driver's fingers, with the signature Porsche driving mode dial now set to come as standard on all Cayenne models, regardless of spec.
Front seat passengers haven't been forgotten, either: they get a second infotainment touchscreen (if the driver remembers to tick that particular options box in the dealership) built into the dashboard. It'll let you adjust the sat-nav or control media playback so the driver can concentrate on the road, or even stream videos mid-journey; a special coating means the onscreen action will be invisible to the driver, meaning guilt (and distraction)-free viewing.
Both Android Auto and Apple CarPlay are supported, with apps like Spotify and Apple Music built into the Porsche Communication Management (PCM) user interface. Siri can also change certain functions if you ask her nicely after you've paired your iPhone.
There's also a full compliment of USB-C ports dotted throughout the cabin, plus a smartphone storage area with wireless charging. It's even chilled to make sure your phone doesn't get toasty during any cable-free top-ups.
Porsche fans will get their first look at the updated Cayenne at the Shanghai Motor Show in April. Expect it to arrive with a selection of pure petrol and plug-in powertrains, in both regular and Cayenne Coupe. fastback forms.