PC gaming, upgraded: Windows 10 includes streaming games from Xbox One, DVR functionality, and cross-platform play
New built-in Xbox app for Windows 10 shows Microsoft putting a bigger focus on gaming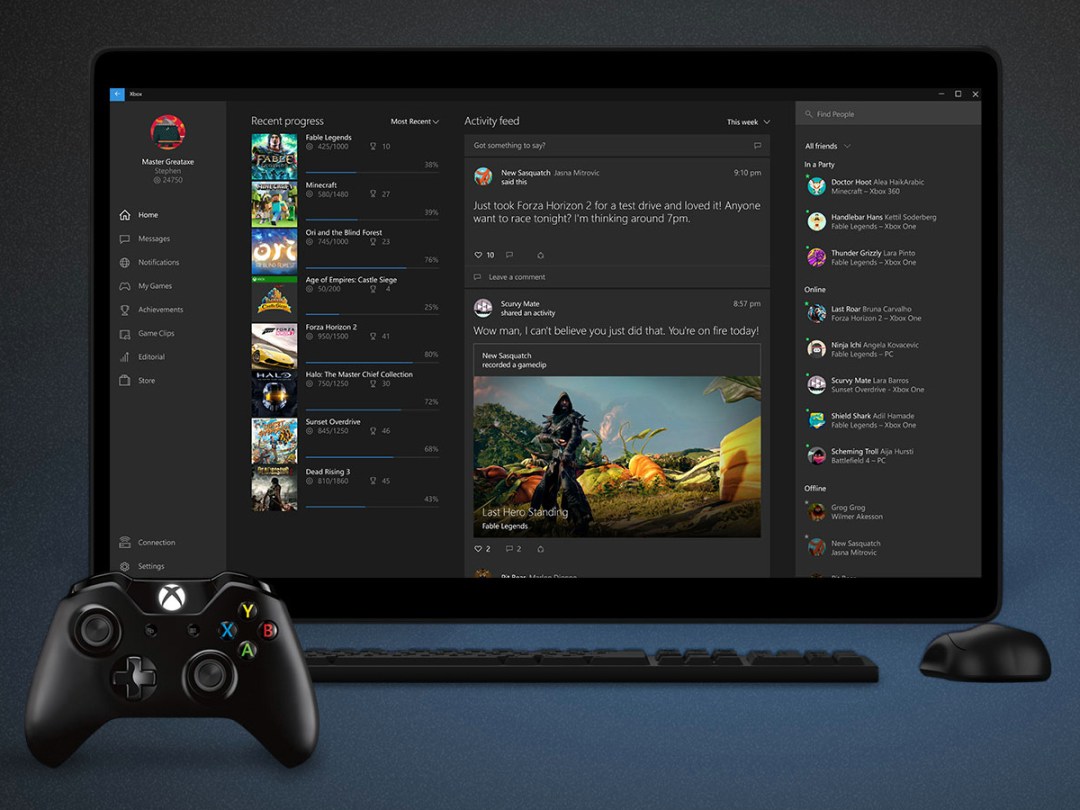 Amidst revealing new features and functionality for Windows 10 and showcasing an incredible-looking holographic headset, Microsoft took time at today's event to highlight the future of PC gaming.
Microsoft's commitment to PC gaming has had peaks and valleys over the years, but this looks like the most focused, useful set of features for computer gamers to interact and play together on all sorts of devices – as well as bring the Xbox One into the fray.
The new built-in Xbox app for Windows 10 will deliver a detailed hub that lets you chat with friends, track your progress and Achievements, create and join a Party, and jump into games. And it'll link up to your existing Xbox One profile for more than just messages and chat.
In fact, you'll be able to stream Xbox One games from your console to your Windows 10 PC or tablet within the home, and the demo shown today seemed rather seamless. You can even turn the console off remotely from the PC/tablet. It doesn't appear to work outside of the home network, but the ability to play Xbox One games on various devices should be a really great perk.
And Microsoft seems poised to bring more of its own games to PC, and with cross-platform multiplayer to boot. Fable Legends will launch day-and-date on PC and Xbox One alike this year, and you'll be able to play co-op across platforms. Can Halo 5: Guardians for PC be far off? We wouldn't be surprised, considering Microsoft's new emphasis on having its software on all platforms.
Another handy Xbox One feature is coming to PC, as well: the Game DVR feature will let you record any moment in any game on the fly, simply by pressing Windows+G. You can do it on Steam and other services, as well, and then share the clips with friends.
Finally, Microsoft says that Windows 10 will come to Xbox One, although more details will be announced later. While that probably doesn't mean we'll all be working on spreadsheets and presentations using gamepads, it will allow game makers to more easily port their games to Xbox.
For a first taste of the Xbox app in Windows 10, anyone running the Technical Preview can check it out in a new build launching next week.
[Source: Xbox Wire]
READ MORE: Microsoft's incredible HoloLens headset fills your world with interactive holograms