New Toyota C-HR brings concept car looks to the road
Japanese head-turner lands next year in hybrid and PHEV forms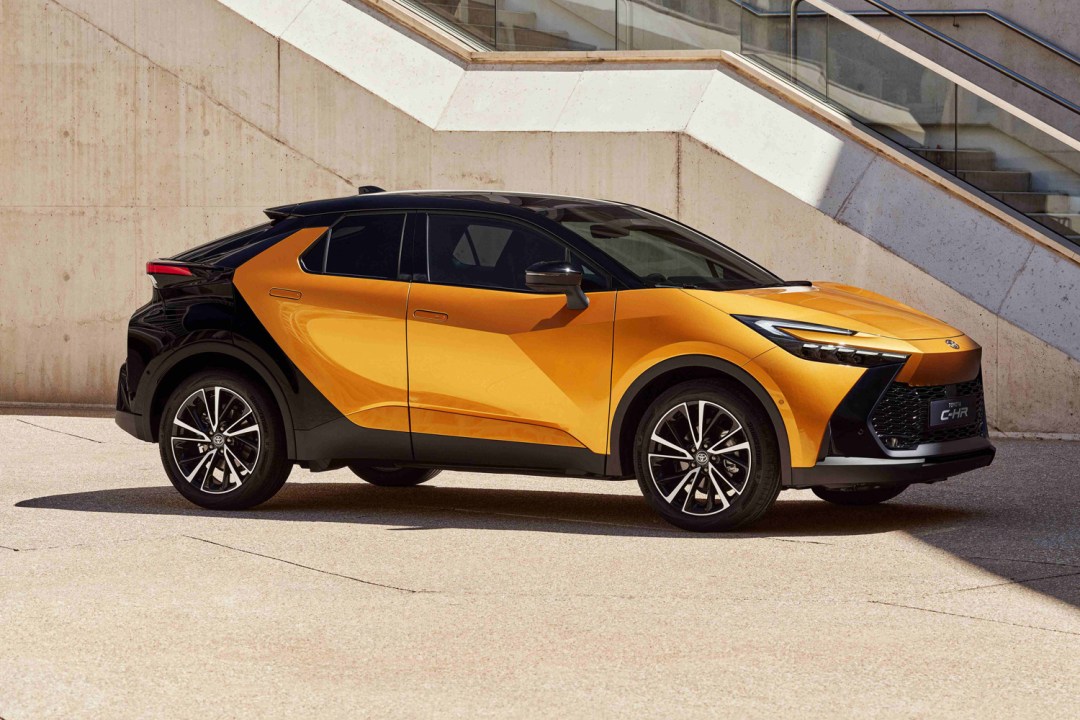 Toyota has pulled the covers off the all-new C-HR compact crossover, ahead of sales kicking off next year, and it's a bit of a stunner. Borrowing more than a little design inspo from the firm's electric bZ4X, the dramatic new shape is a step up from the original C-HR's already distinctive outline.
That car has long been a hit, with over 750,000 worldwide sales to date, but has proven so popular in Europe that this new generation has been carefully tailored to suit the tastes and needs of European drivers. It was developed here, rather than on Toyota's home turf, and will be built in Turkey.
This latest incarnation is wider, at 1.83m, and taller at 1.56m, while ramping up the bold design lines and keeping many of the C-HR Prologue concept car's most interesting features. That includes the striking bi-tone paint scheme, which gives the C-HR a very distinctive look from any angle. Diamond-cut highlights also appear all around the exterior and extend into the cockpit.
Thanks to the design, the new Toyota C-HR is more aerodynamic, with refinements to the front bumper and rear spoiler helped with flush door handles.
The Toyota C-HR will come with three different electrified powertrains. There are 1.8L and 2.0L hybrids, along with a 2.0L plug-in hybrid with as much as 66 miles of electric range. Engineers have been hard at work to improve power output and lower emissions, through a new transaxle and power control unit, along with a beefier high-voltage battery. The PHEV also gets a Regeneration Boost feature, which delivers more of a 'one pedal' driving experience.
It'll also dynamically adjust the drive mode to suit different conditions, help with recharging using the navigation system, and automatically switch over to full EV mode as the car enters a low emission zone, depending on whether the car has sufficient battery charge.
However, there are currently no plans to bring an all-wheel drive variant of the car to the UK market. Domestic customers will get front-wheel drive only.
While the nature of its 'super coupe' stance feels a little less roomy in the rear, Toyota has opened up the interior a lot with a panoramic glass roof. Infrared-reducing materials were picked to remove the need for a blind.
The cockpit is much improved thanks to a cool wraparound 'wing' design that runs across the dashboard and downwards into the door panels. Dynamic ambient lighting helps to boost the cool interior vibes. It'll also automatically adapt as the day progress, changing tones and intensity as the hours roll by.
There's a 12.3in touchscreen, which Toyota reckons is designed with simplicity and ease of use in mind. Depending on the model grade, owners will be able to dip into the Toyota Smart Connect multimedia package, as well as tweaking the JBL sound system. Voice control, wireless smartphone connectivity and, natch, Apple CarPlay and Android Auto also feature in some options.
Driver aids come via the Toyota Safety Sense package, which offers the likes of Acceleration Suppression, slowing the car in the event of a potential collision, along with the new Proactive Driving Assist or PDA. This has been engineered to work at lower speeds and allows dynamic deceleration as you ease off the throttle or head into a bend.
Toyota has also been working to make the new C-HR greener too, with a careful use of materials designed to reduce weight, while keeping the car taught enough to improve its handling. Recycled plastics form a big part of its construction, with seating that features upholstery made from recycled PET bottles.
Full details on the car, along with pricing and its expected arrival date later this year or early in 2024, look set to be announced in due course.