Toyota bZ4X review: new-era EV
Families with lots of gear and a love of the rough stuff, take note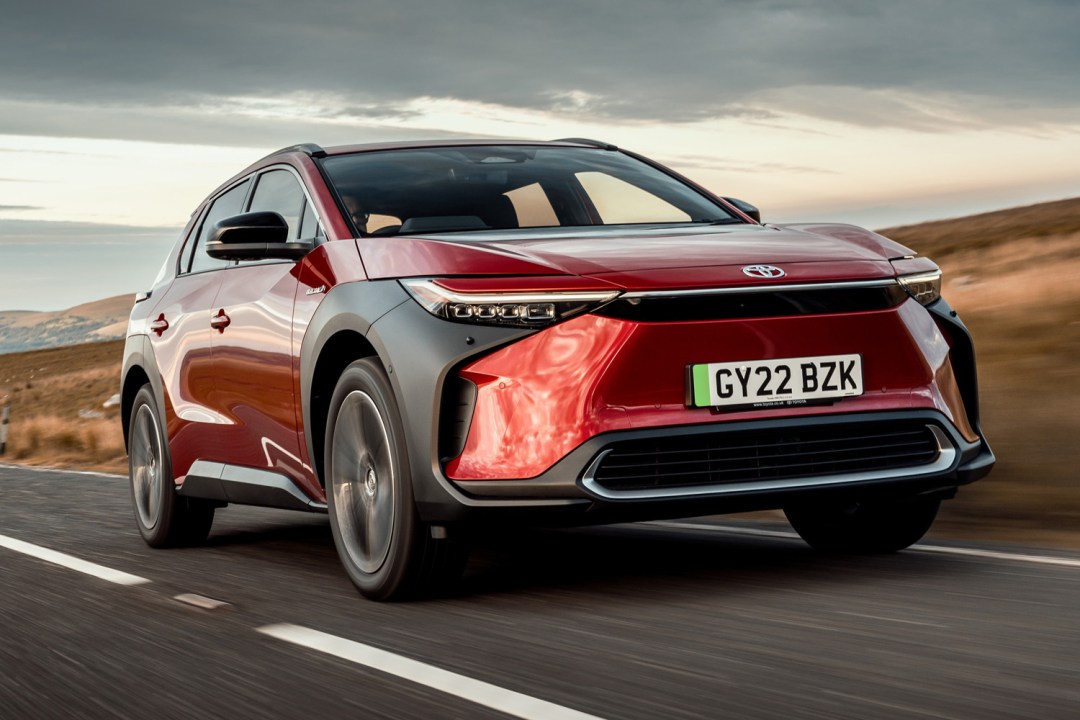 If you think the new Toyota bZ4X is a bit of a mouthful, just be glad you don't have to type it a lot. There's a method to Toyota's madness though, because the acronym-tastic name signals the Japanese carmaker's move towards a carbon-zero future. As in 'beyond zero', see?
It's the first car based on Toyota's new eTNGA platform, so the '4' probably indicates there'll be other models to follow later – but it's the X that's of most interest. Well, if you want to do more with your SUV than the school run, anyway.
Having just tried the bZ4X out on a range of Tarmac roads, then a quick amble around, over and through a variety of faux off-road challenges, Toyota's newest looks to be rather good at taking on unusual driving conditions. Will that make it a hit with families who like to go off the beaten track on weekends?
The styling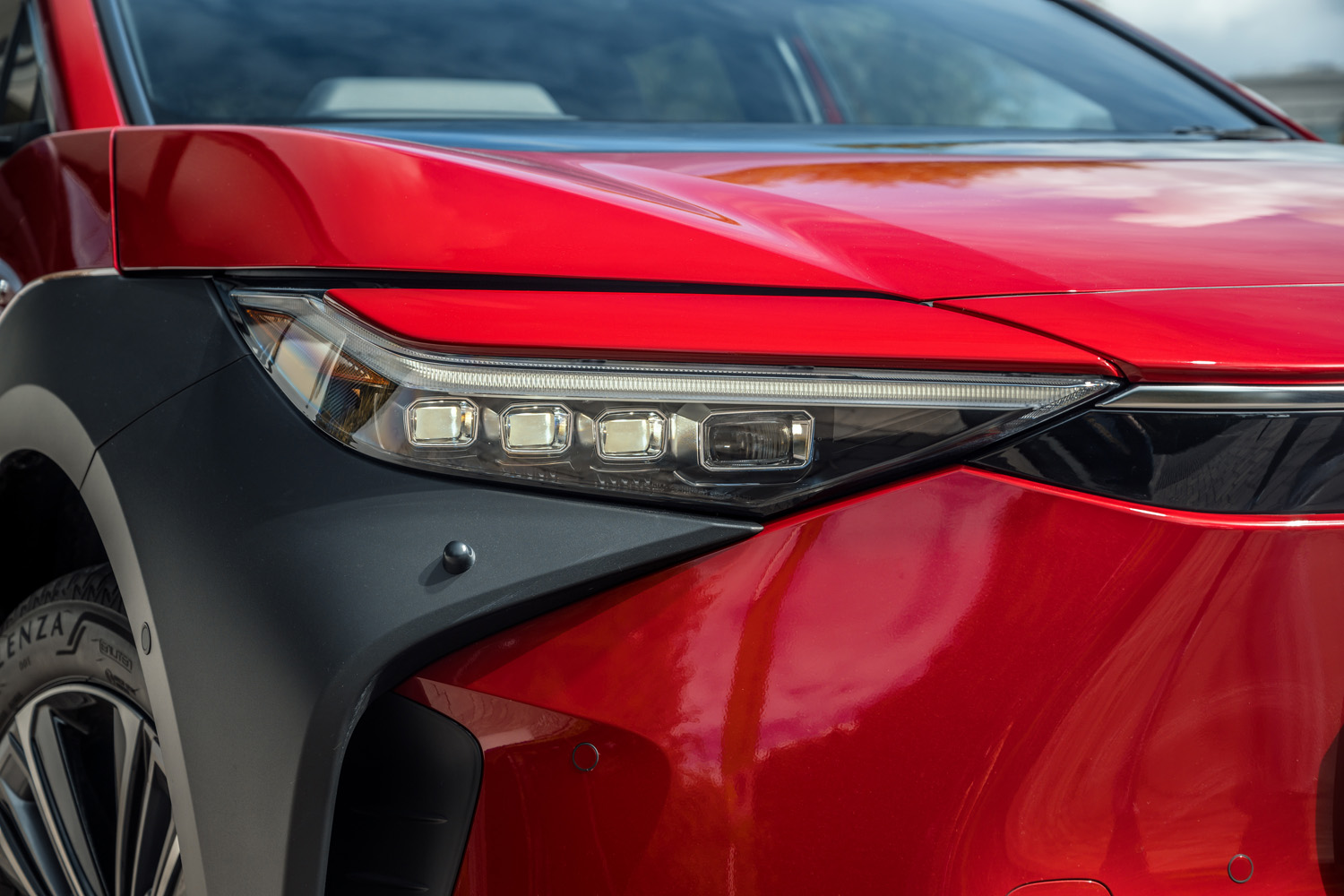 Toyota has taken its time bringing a bespoke electric SUV to the party, almost like it's been sitting back and keeping an eye on what everyone else has been doing first. The bZ4X is going up against some stiff competition, after all, including the Hyundai Ioniq 5, Skoda Enyaq, Volkswagen ID 4 and the soon-to-arrive Nissan Ariya. It's also in the realms of Toyota's own RAV4 hybrid and PHEV, which might make a good alternative if you're not quite ready for a full-blown EV.
The bZ4X's design has a lot of on-trend touches, including some "I'm rugged, honest" plastic wheel arch mouldings, but it's also got a nice look about it, especially the front end. It's easy to see how Toyota will fettle the car into the upcoming luxury Lexus RZ. In fact, there's an overhanging rear spoiler jutting out from the roof that comes straight from the Lexus camp. This helps keep rain and dirt off the rear windscreen, which is handy given a lack of rear wiper – that's a regular thing with these SUV-sized creations now, but we'll need more time with the car to see if it stays clear over time.
It looks quite big and feels much the same once you get into it, but that means there's also plenty of space, which underlines its appeal for anyone with a family. There's a generous 452 litres to play with in the boot before you think about flopping down the rear seats.
Toyota has done a great job with the interior design too. A lot of the surfaces felt like they could be easily wiped over with a damp cloth without ruining anything, which could be handy for those with particularly messy kids.
The drive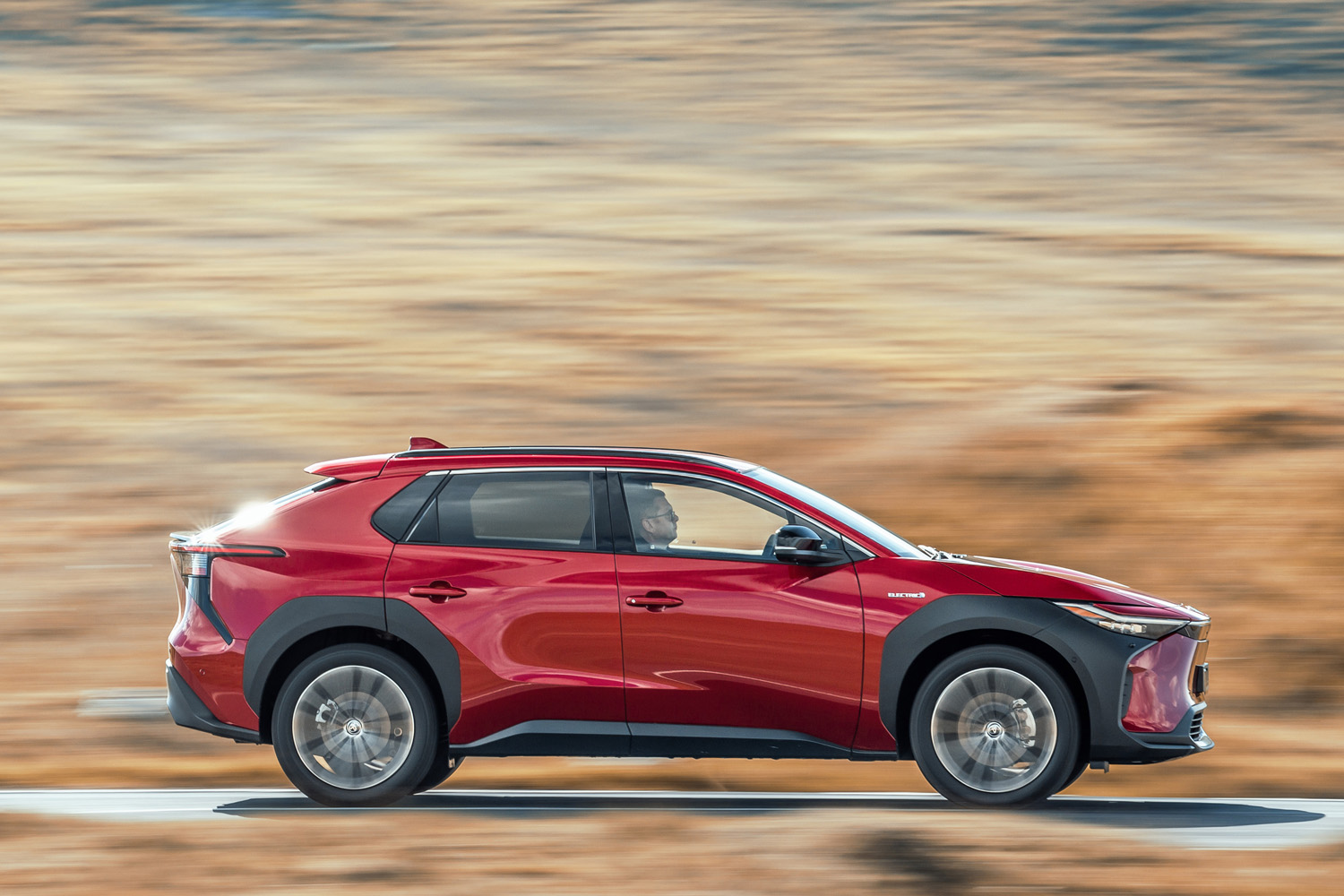 Toyota keeps things simple when it comes to powertrain options. There's a single motor, front-wheel drive version that delivers 201bhp, paired with a 71.4kWh battery, or the dual-motor, all-wheel drive variant we drove. It has a healthier 215bhp, but more importantly ups the torque from 195lb ft to 248lb ft. Handy for low-grip surfaces, steep gradients and overtaking, sure, but it does also suffer on range. Toyota says to expect 286 miles instead of 317 – although what you get depends on how you drive it.
Much like every other electric SUV out there, the bZ4x is a doddle to drive. There's a standard drive mode, plus Eco if you're aiming to be frugal with your battery levels. Controls are simplistic too, with no way of changing the regeneration levels although a collaboration with Subaru to develop the system suggests they may well offer a variation on the theme. Once you've got the driving position right everything else falls nicely into place. Being high up, the view is decent and the ride is pretty forgiving, which will come in handy on knackered British roads.
Coming back to what we hinted at earlier though, it's the X-Mode button on the centre console that's worth a push if you've got challenging surfaces or dodgy weather conditions to content with. Toyota let us tackle some mad little ramps, followed by a dip through a large pool of water, which it coped with brilliantly. The bZ4X can dunk itself in up to 500 millimetres of the wet stuff, so those determined to make it through unexpected flash flood puddles may well emerge the other side.
The bZ4X looks like it'll be handy in the winter months when there's snow or ice around. EVs aren't normally good here, with lots of torque being tricky to control on slick surfaces.
Also impressive was the Downhill Assist Control. Having first used the Grip Control mode to scale a steel slope, the car did all of the thinking and hard work on the way back down. Quite how much use this will get from owners remains to be seen, but at least these are features that could get you out of a sticky situation. Or provide some fun if you're lucky enough to have a very large back garden to play in.
The technology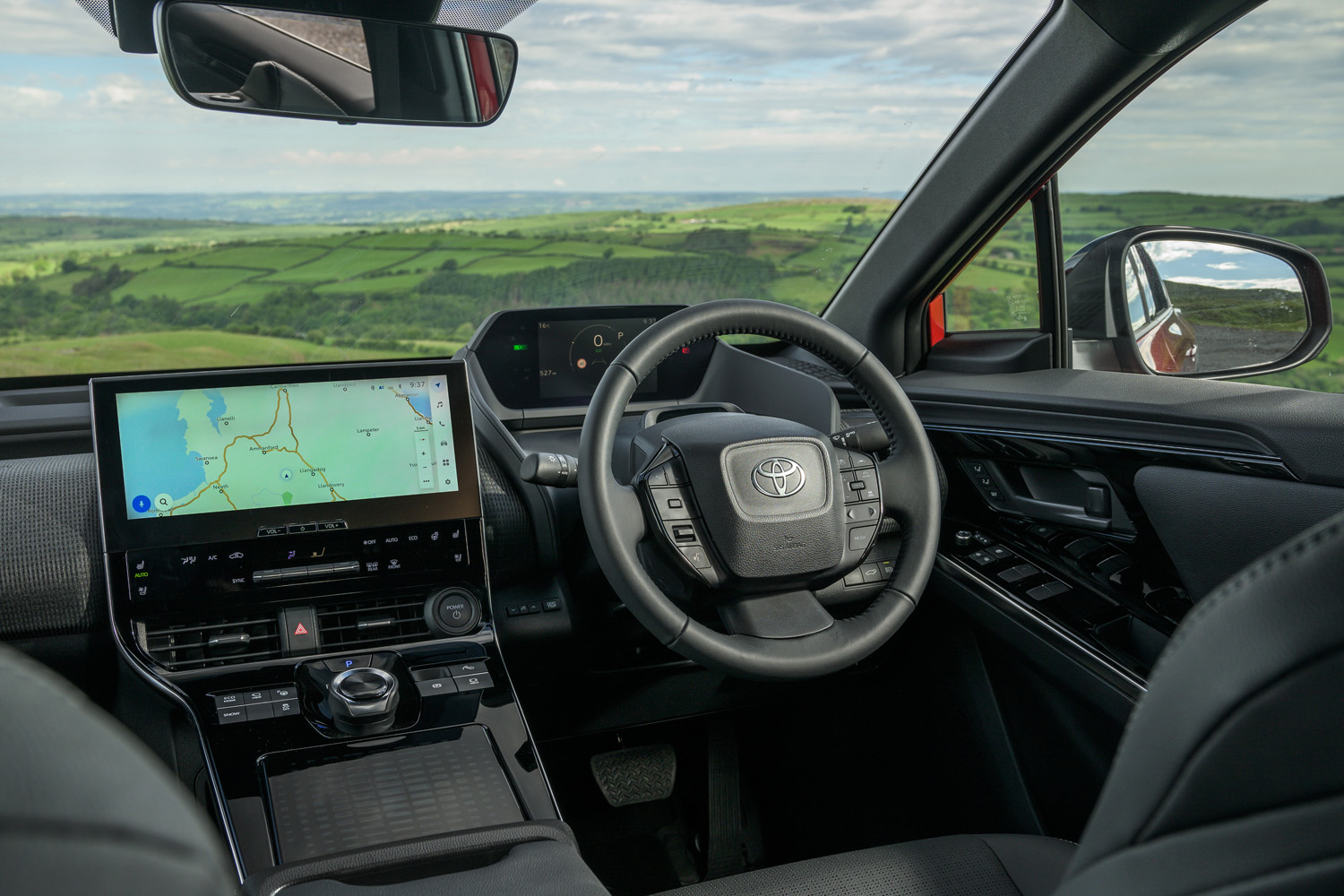 Up front, the driving position is slightly quirky. The steering wheel, packed with lots of buttons, sits far from the 7-inch digital display, making you feel like you're almost in a fighter jet. You get used to it, but some fiddling with the steering column and seat is required so the instruments stay in your line of sight.
There's no glovebox, though a sizeable cubby space underneath the central console makes up for it, with room to chuck everyday essentials. There's wireless charging in here for your phone, too.
Splitting driving duties with a copilot gave us good opportunity to try the infotainment system. The 12.3in touchscreen has a fairly run-of-the-mill menu selection filled with all the usual fingertip-activated controls. Some actual buttons underneath let you tweak the basics, though – always appreciated when it comes to heating and cooling options. The shiny plastic surfaces reflected the sun a fair but, but otherwise underline the durability aspect of Toyota's design approach.
Interestingly, the driver attention alert seemed to be particularly active with one driver more than the other, suggesting it's not too flexible on who's behind the wheel or able to adjust to match their driving style as a result. It was also quite hard to stop said alerts. Aside from that, the Toyota bZ4X comes with a healthy array of driving aids, with an automatic emergency braking system working as a handy backup in case of unforeseen cyclists on the Danish roads we were exploring.
Toyota bZ4X Verdict
Simply put, Toyota has done a great job with the bZ4X. It delivers the goods on most fronts, especially if you've got children, and all the usual kit that tends to come with 'em. Design flourishes aren't too extreme, and it's sensible on the inside too, save for the driving position, which might take some getting used to.
Power and performance feel about right on the AWD edition we tried, and electric range is solid across the board. It's not a true off-roader, but it'll happily go places you'd be afraid to take a Tesla Model Y.
Three different equipment levels let you tailor the bZ4X to meet your needs, with the entry-level Pure model starting at £41,950. Pack in the extras with a Vision edition and you'll pay over 50k, but that does net you 20in alloys over the standard 18's, and a host of comfort options like heated front seats. Anyone looking to drown out the kids' wailings can plump for the £51,550 Premiere Edition we drove that adds a 9-speaker JBL audio system. Not bad value, all things considered.
Stuff Says…
A brilliant addition to the all-electric SUV options out there and all the better for lots of practical family-friendly touches
Toyota bZ4X technical specifications
| | |
| --- | --- |
| Motor | Dual-motor, all-wheel drive |
| Battery | 71.4kWh |
| Power | 201bhp |
| Torque | 196lb ft |
| 0-62mph | 6.9sec |
| Top speed | 100mph |
| Range | 317 miles |
| Charge rate | 150kW |
| Kerb weight | 2060kg |
| Cargo volume | 542 litres |