The new Mercedes AMG GTS is sent to Earth to slay Porsches
Stunning styling, petrifying performance figures and an ear splitting exhaust note set to shake up the sports car market
That looks remarkably like a Mercedes SLS AMG…Shhh, don't say that to the men and women of AMG who have invested years of their life sculpting the sensationally smooth surfaces of Mercedes' latest sports car. This is only the second vehicle Mercedes has allowed tuning firm AMG to create completely in house – the first was the SLS, hence the similarities.
How is it different, then?The AMG GT is a lot smaller than the SLS, for a start; an all-new 4.0-litre V8 engine, which develops 456bhp in the 'standard' model and a blistering 503bhp in the GTS variants, now powers it. Smaller, in this instance, is certainly not a bad thing because it means it's lighter more agile and almost as quick as its big brother.
Does it look as good on the inside?
Yes it does, because Mercedes and AMG designers have completely overhauled the cockpit of their latest creation. Beautiful leather surfaces wrap around the two occupants, while a sleek 8.4-inch central display takes care of most of the car's functions. Surrounding the display are a number of buttons arranged in a 'V' formation, a nod to the brutal V8 engine that lies beneath the elongated bonnet.
That's nice but surely it won't be better than a Porsche 911…
It's going to be difficult to beat the Porsche 911 Turbo for all-round greatness, plus it falls into the same price range as Audi's soon-to-be refreshed R8 and Jaguar's ace F-Type R. It'll be a tough fight – but the slinky Merc has got all the makings of a champion. It's also got a much larger boot than most of the aforementioned, if that swings it for you?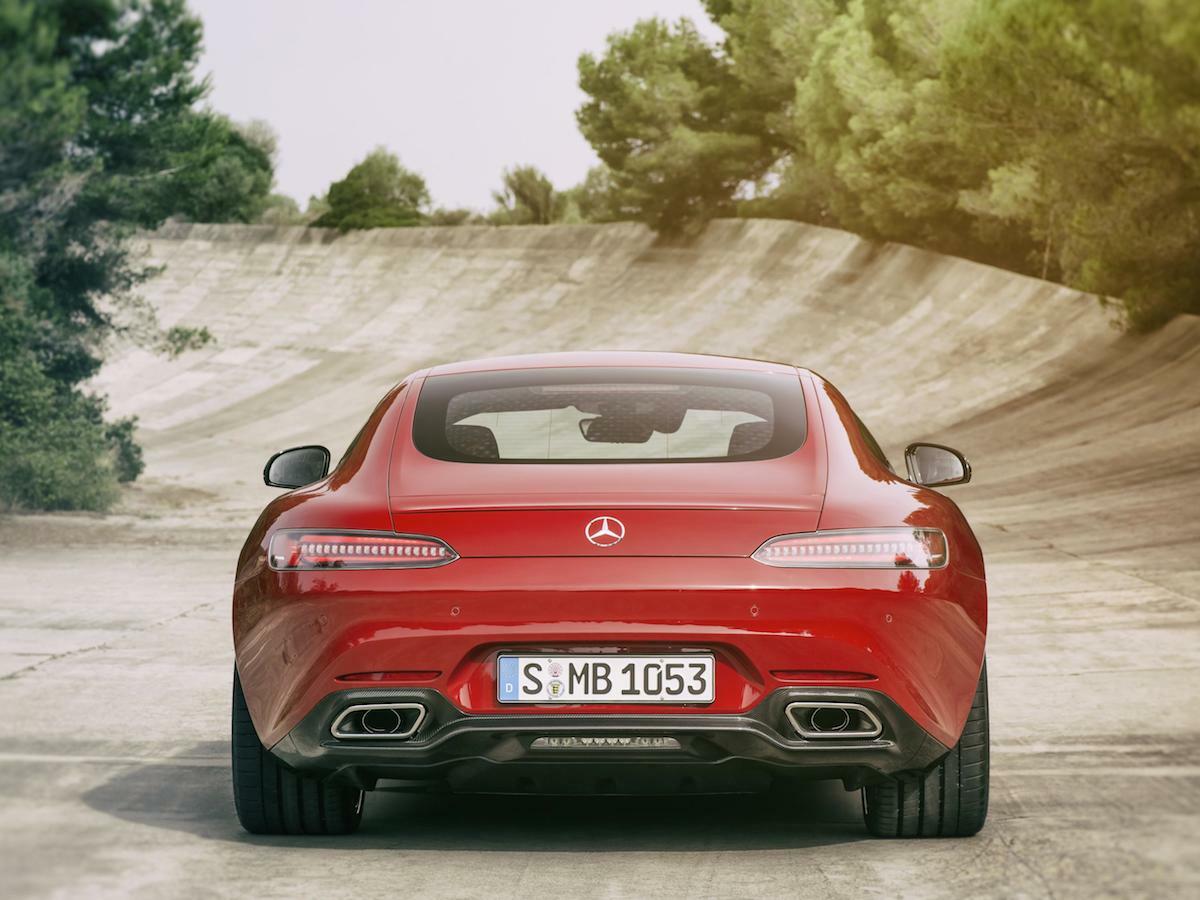 Are you telling us it's practical now?
Not really. It can only seat two people, for a start – and the boot is just a gaping hole in the rear when the tailgate is lifted. It does feature an array of tech treats, similar to the S-Class, though. Mercedes' intuitive COMAND system takes care of DAB radio, Bluetooth connectivity and internet-enable applications. You could easily use it as an everyday drive.
What kind of speeds can we do on our everyday drive?
The performance figures on this thing are impressive. The 0-62mph sprint is over in 3.8 seconds in the GTS model and it can go on to an autobahn-annihilating top speed of 193mph. Speed isn't cheap though; expect to pay around £95,000 for the standard AMG GT when it goes on sale next year.
READ MORE: More awesome Hot Stuff