Zelda-themed Nintendo Switch OLED set to arrive before Tears of the Kingdom
Hylian Crest brings a regal flavor to the Switch OLED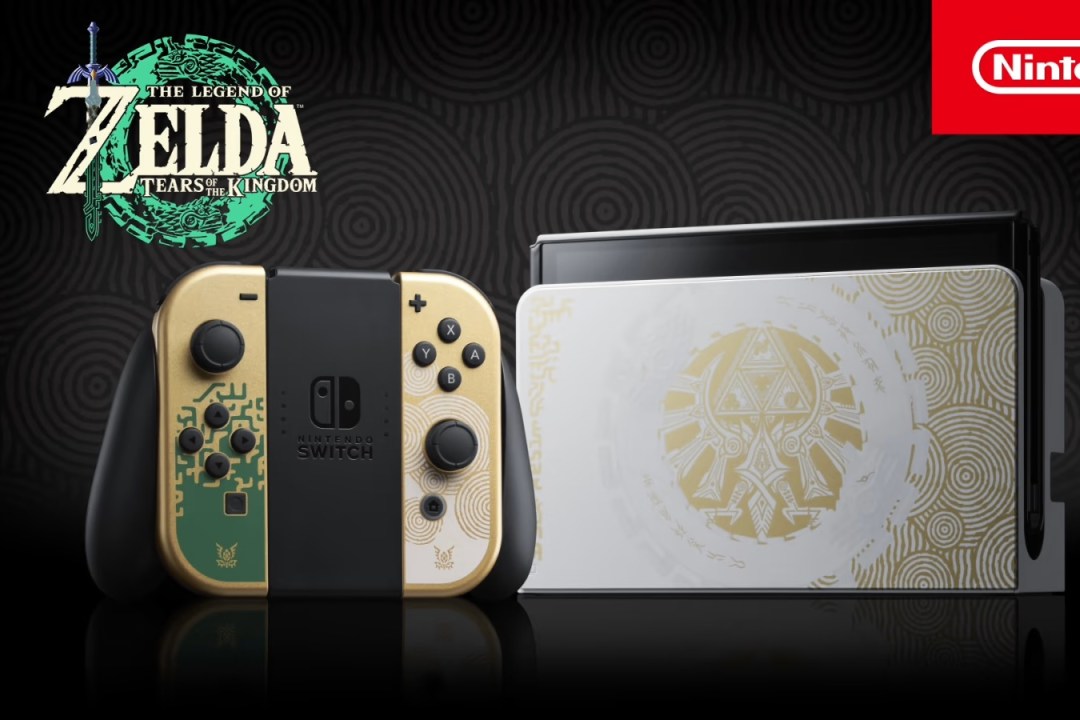 Nintendo fans eager to get their hands on highly anticipated Breath of the Wild sequel Legend of Zelda: Tears of the Kingdom are being treated to a new limited edition version of the Nintendo Switch OLED ahead of the game's launch. The Tears of the Kindom Edition console ($359.99/£319.99) features the familiar Hylian Crest from the Legend of Zelda series on the front of the dock.
The console goes on sale on the 28th of April – a whole two weeks ahead of the game, which is set to drop on the 12th of May, alongside a themed Nintendo Switch Pro Controller and Nintendo Switch carrying case. That means you'll need to pick up a copy separately, but once you do you'll be able to play with a bespoke set of gold, green and white Joycon controllers.
The hardware is otherwise identical to the regular Switch OLED handheld, with a 7in screen and full-width adjustable stand built into the console to provide extra support in tabletop mode – a big improvement over the tiny kickstand found on the original Switch. It has 64GB of onboard storage and the dock includes a wired LAN port for more stable internet connectivity when playing online.
Like other Nintendo Switch OLED models, the special edition device allows play in three modes: TV, handheld, and tabletop. Redesigned speakers bring enhanced audio in handheld and tabletop modes versus the OG Switch.
Tears of joy
Tears of the Kingdom is a sequel to 2017's The Legend of Zelda: Breath of the Wild. While it was first teased with a short trailer at E3 2019, a full video reveal didn't come until two years later at E3 2021. Even then, the game's official title wasn't announced until September 2022 at Nintendo Direct.
The new Legend of Zelda game returns to the open-world environment of Hyrule, only with more vertical exploration than its predecessor. It also features a new Fuse ability that allows players to combine multiple materials to form new weapons, Ascend ability to travel through ceilings, and an Ultrahand ability that makes it possible to stick objects together. There's also a Recall ability, which reverses time for objects.
The newest OLED Nintendo Switch is just $10/£10 more than the regular edition. You can pre-order the Legend of Zelda: Tears of the Kingdom Edition Nintendo Switch now via the Nintendo store and other retailers, but you'll have to move quick. Virtual queues quickly formed when it went on sale earlier today, although there was still availability at the time of writing.