HTC Sense 3.5 beta leaks all over the web
Weather widget lovers rejoice. Sense 3.5 is on its way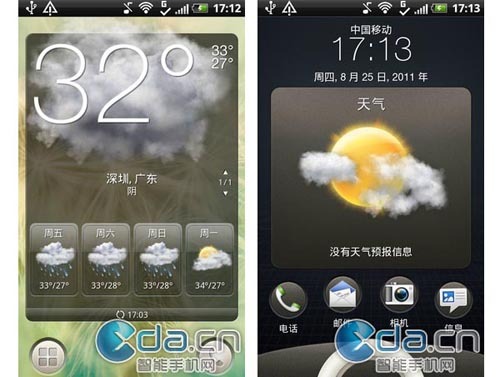 We're still having fun poking our way around HTC's Sense 3.0 UI on handsets like the Sensation, and already the next iteration of HTC's superb skin, version 3.5, has leaked online. Sense 3.5, rumoured to be running inside HTC's impending Bliss smartphone, looks set to bring all manner of visual treats to the table, according to XDA.cn. For starters, its famous weather widget has been given a refresh, including supersizing its onscreen presence, alongside a few other widget updates.
The lock screen looks the same as version 3.0 with its ring-style unlocking feature that allows you to access one of four widgets when locked. Meanwhile, the homescreen now has two dedicated buttons at the bottom of the home panel for quick access to the app tray and phone functionality.
Word on the web says HTC is also throwing its hardware requirements out of the window, which restricted version 3.0 to its more high-end handsets. This is great news for those with a HTC handset that doesn't sit at the high end of the scale. Sense is hands-down the best of the UI bunch, so as well as impatiently looking forward to eight brand spanking new blowers from the Taiwanese phone giant, we can look forward to some software eye candy too.
Also
HTC Vigor with Beats by Dr Dre out October 6?