GoPro's foldable Karma drone is a high-flying marvel
Ultra-portable drone lands next month alongside Hero5 cams
Karma could reverse GoPro's sagging fortunes – and we're not talking about the "what comes around goes back around" type either.
No, Karma is the company's first flying drone, a pivot from its trademark action cameras while still ultimately serving as a way to sell action cameras. Long teased and slightly delayed, the Karma was just officially revealed, and the compact, folding design makes it mighty appealing indeed.
Why should I care?
Good question! High-end quadcopters are usually large and can be complicated (and expensive!), keeping them out of the average consumer's hands, while the cheaper stuff trades away a lot of quality and consistency of product.
GoPro is trying to find a new middle ground with the Karma. It's powerful enough to hang with a lot of the higher-end drone options on the market, but it's also super-portable, easy to use, and made by the biggest name in action cameras. All of that together makes it a pretty big deal.
Fair enough. Wait… how portable?
Well, it fits into an included backpack case, which not only houses the drone itself but also the stabilizer and included standalone controller. That's possible because the Karma folds up neatly, as seen in the video above, and features an incredibly streamlined build. You probably don't have to be a tech wizard to wield this aerial sorcery.
The controller keeps things ultra-simple too, with a dedicated touchscreen display, twin control sticks, and one button used for takeoff, landing, and returning to you; meanwhile, the drone's battery provides about 20 minutes of flight on a full charge.
Ultimately, the Karma seems designed to sell a premium drone to people who probably wouldn't normally buy a high-end drone. It might not be the only portable-friendly large quadcopter on the market, but it'll surely be the highest-profile one.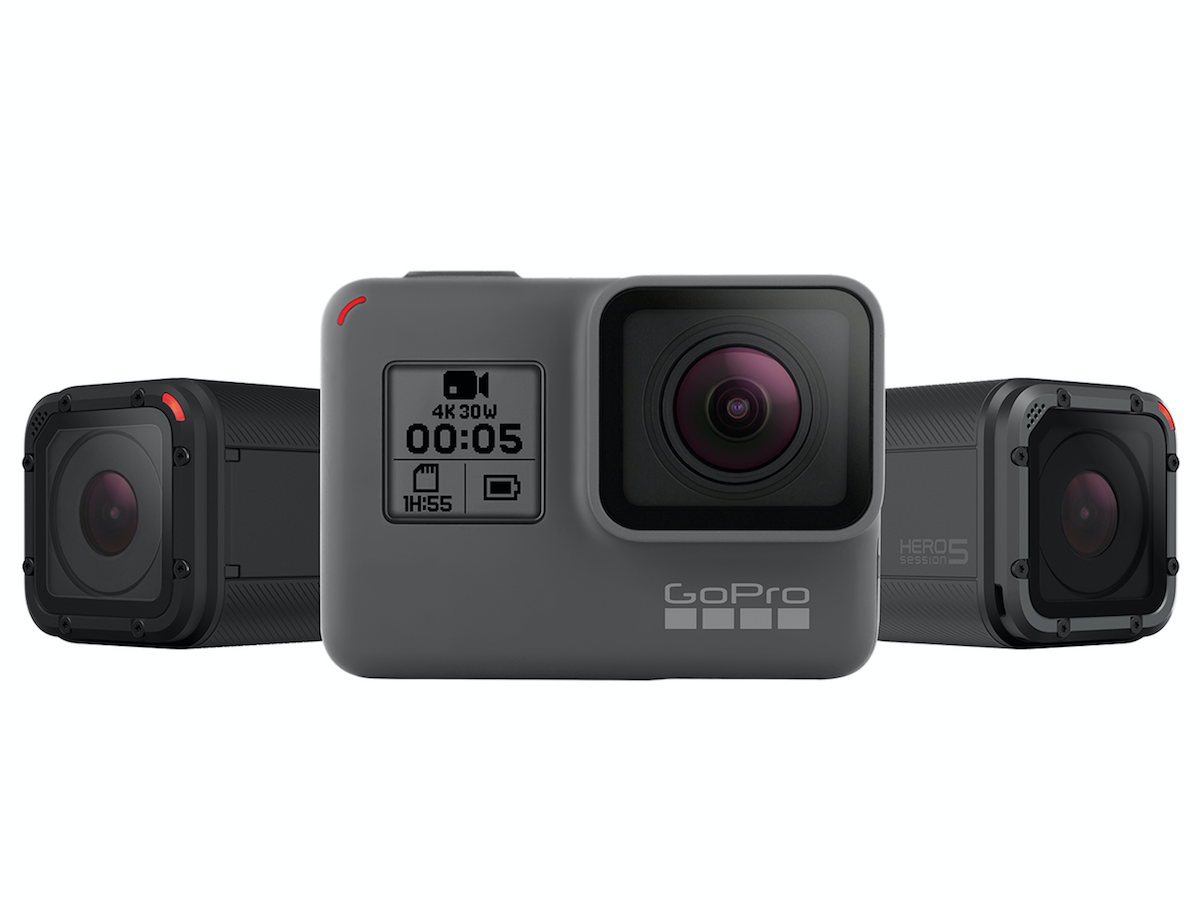 Which camera do I need?
While the Karma will work with Hero4 models, the announcement alongside the new Hero5 Black and Hero5 Session is no coincidence – they're even available together as bundles.
The Hero5 Black is the new GoPro flagship camera, shooting 4K video at 30fps and taking 12-megapixel photos, plus it features a built-in GPS, has voice control, and is water-resistant up to 33 feet underwater.
Meanwhile, the tiny Hero5 Session keeps a lot of those specs but ditches the GPS and drops the still image quality down to 10 megapixels – plus it doesn't have the 2in touch display of the Black. Both, however, can upload your footage to GoPro's new Plus cloud storage service, if you please.
Whichever camera you slot into the Karma, the front placement is designed to cut out the sight of rotors, which is a common annoyance with rival drones. Also clever is the ability to use a companion smartphone or tablet app to let a friend control the camera while you fly the actual drone.
What's up with the gimbal?
It's designed to be useful even when your drone isn't soaring above. You can detach it from the Karma and pop it into the included Karma Grip, which lets you shoot incredibly smooth and stable video even when you're running around on-foot.
It also attaches to GoPro's various mounts, meaning you can attach it to a helmet, strap, or bike to better stabilize your GoPro footage no matter what you're doing. That's a big perk, and it makes the Karma system potentially more useful that a standard drone might be. The Grip even has camera controls for easy usage.
When can I get it?
The GoPro Karma is out on 23 October at a price of £719 (or US$800), with a discounted bundle with the Hero5 Session sold for US$1000 (UK price TBD) or the Hero5 Black for £999 (or US$1100).
Individually, the Hero5 Session goes for US$300 and the Hero5 Black sells for US$400 (UK prices to be confirmed), so you'll save a little scratch with either bundle. The standalone cameras ship three weeks earlier on 2 October, as well.
While a £1000-or-so drone system is still hardly an impulse buy for the average consumer, the GoPro Karma aims to make a premium, high-end drone experience more accessible and easy to cart around. Will they succeed? We can't wait to find out next month.