Google I/O 2022 live blog: We saw Android 13, Pixel Watch, Pixel 6a, and surprises
Catch up with Google's developer event as it happens. Prepare for a big focus on software, and a few hardware announcements for good measure.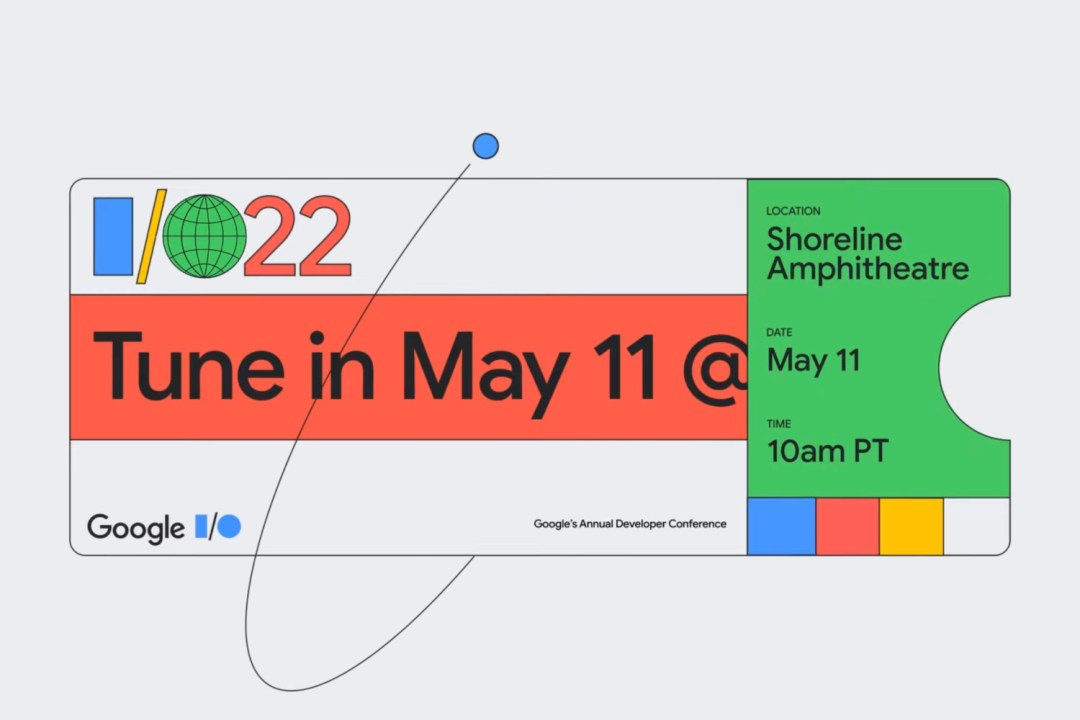 Every year, Google hosts Google I/O, the company's conference for developers. Here, we usually get a first look at the next version of Android, and Google has been known to debut a product or two. Since invites went out back in March, Android fans have been getting excited to see what Google has in store.
This year, we're expecting Google to announce the Pixel Watch, showcase the new Android 13, and maybe even launch the Pixel 6a. Of course, Google likely still has one or two tricks up its sleeve, so be prepared for a few surprises.
As per tech event law, Google is offering a live stream for fans to watch the I/O keynote as it unfolds (you can find this below). But, if you can't tune in to the live stream, you can follow along with our live blog here. We'll keep you up to date with everything going on at the event!
The keynote is scheduled to start at 6pm GMT today (May 11), or 1pm EST/10am PST if you're in the US. Check back just before the event starts for our coverage.
Google I/O 2022 live coverage:
We've already got these articles following the keynote:
And more will be going live throughout the evening and tomorrow, keep an eye out!
Google Pixel 6a and Pixel Buds Pro unveiled, and coming in July. Pre-order from July 21, available from July 28.
First look at Pixel 7 series and Pixel Watch, coming in the autumn.
And a sneak preview at the Pixel Tab for next year!
Phew, what a slate.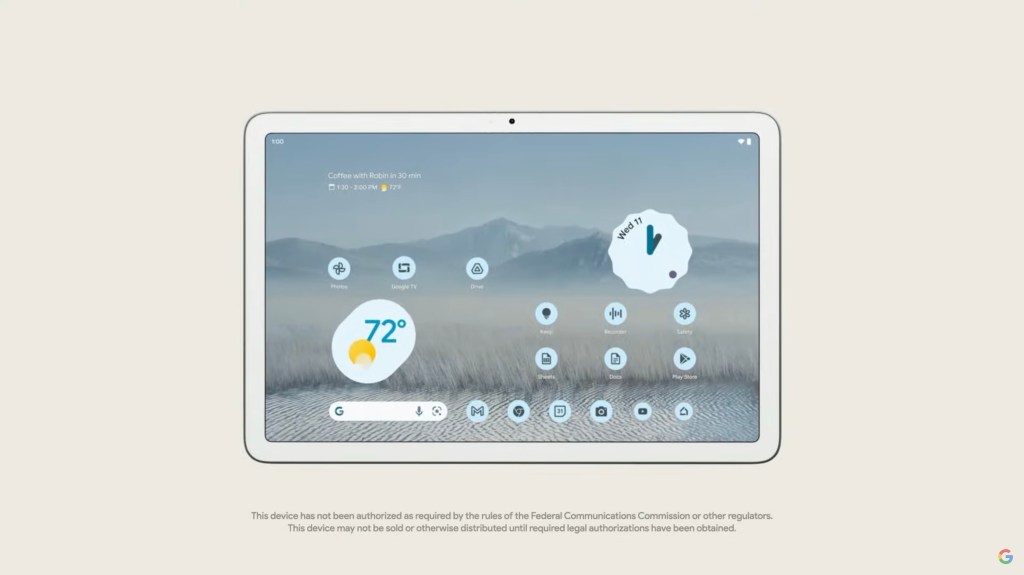 It's a long way off, but here's a first look!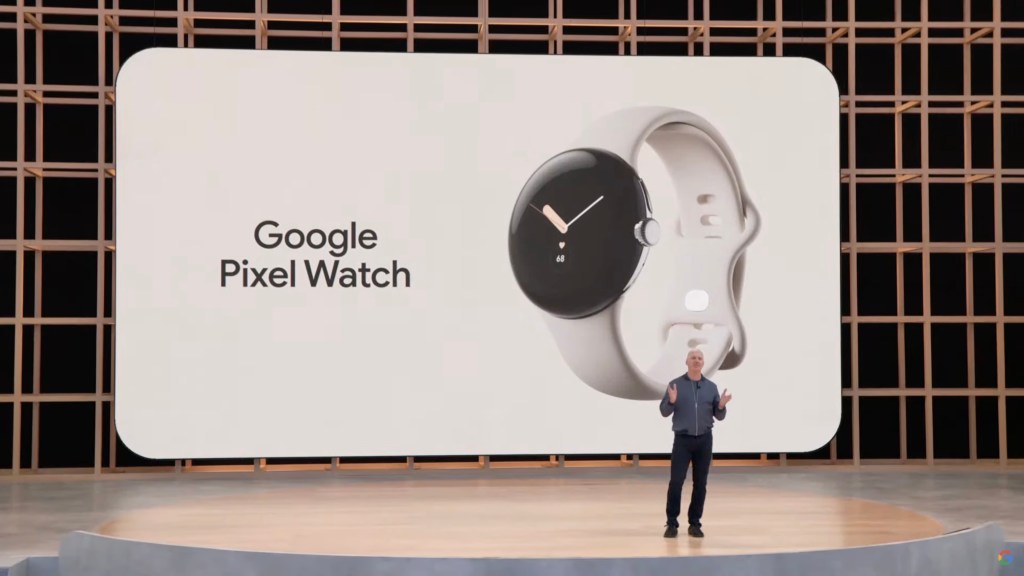 Coming alongside the Pixel 7 in the autumn. Rounded corners, new Wear OS, and Fitbit integration for fitness features. The leaks were right!
First Pixel Buds with active noise-cancellation. AirPods Pro competitor. Custom audio processor. Coming with Transparency mode, too. Features multiple microphones with noise-suppression for clearer audio. Google Assistant built-in, and automatic switching between devices. Will support Spatial Audio in an update later this year. Features Find My Device support. Very similar to AirPods Pro!
Come in four colours for $199. Pre-order on July 21 and shipping July 28 (just like Pixel 6a).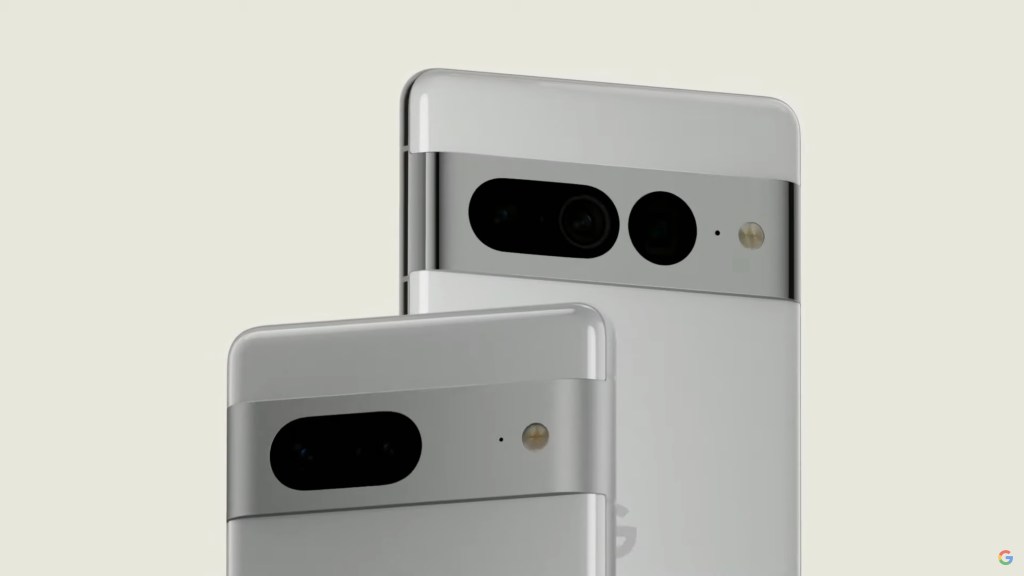 Similar design, slightly different camera. New Google Tensor chip. Shipping with Android 13. More info on Google Store.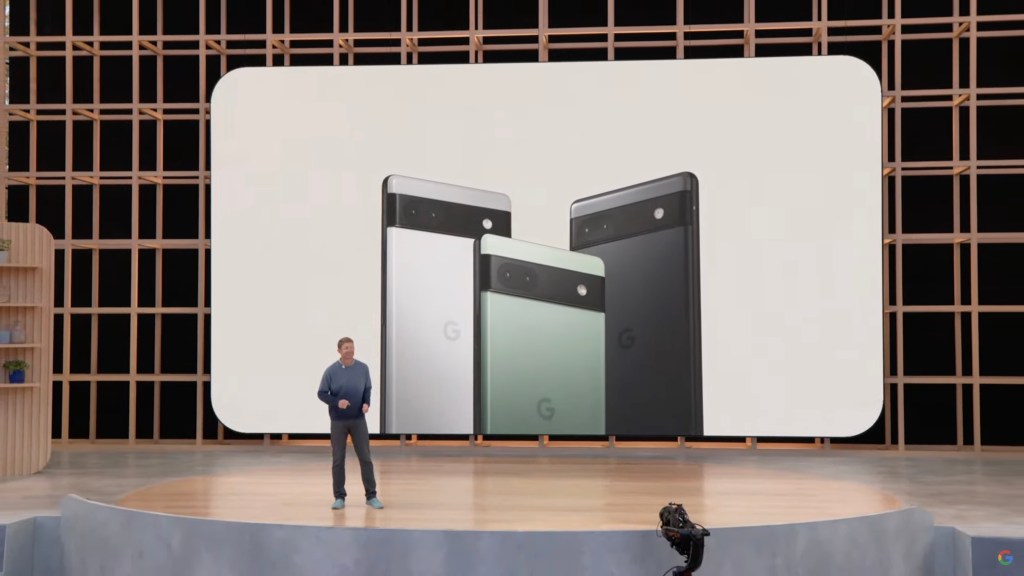 Dual rear cameras, the main is 12MP. Recycled aluminium body. Still got the camera visor bump. Comes with 5G, just as fast as regular Pixel 6. Also includes Google Tensor SoC chip, and Titan M2 security chip with 5 years of updates. "Big deal for a phone at this price", Soniya says. Real Tone, Live Translate, and Night Sight on the device. Also includes Magic Eraser in Google Photos.
Promises "all-day battery" Available for pre-order July 21 and shipping on 28, so still a little while to go. Three different colour options.
Recapping the Pixel 6 series and Google Tensor. Fastest selling pixel line-up ever, despite supply chain issues.
A quick promo at McLaren F1 HQ using Android software. Just a promo video, nothing special.
Then we're on to hardware, Google's words not ours!
Taking a look at making Google software play nicely with one another. Casting has been extended for more third-party apps. Phone Hub on Chrome OS has also been improved to access some of your phone apps on the computer. You can also copy-paste between Android phones and Chrome OS (something Apple has been doing for a while).
Expanding Fast Pair to pair headphones and smart devices with your other Google products. Will be included in the Matter system to enable this feature in third-party smart home devices. Like HomeKit… exactly like HomeKit with that barcode scanning.
Android has been re-optimised for larger screens such as tablets and foldables. The UI on Android and some apps will have extra options to take advantage of the larger screen real estate. Also improved multitasking, too!
YouTube Music, Messages, Google Photos, and Google Maps have all been optimized. TikTok, Zoom, Facebook, Canva, and other third-party apps are also being updated.
Nasty Pixel Watch tease before pivoting to… tablets? You could hear the disappointment in the audience!
Going to show us some updates for tablets.
Android devices can automatically detect crashes, and will automatically call emergency services. The feature is already out, just being expanded to Wear OS later this year.
Earthquake Warnings are also being improved.
Stores your cards, ID, car keys, Disney World card, and vaccination cards. Playing catch-up to Apple's Wallet features. Google Wallet is also bringing digital ID to wallets later this year, starting with Drivers Licenses. Rolling out in the coming weeks.
Definitely playing catch-up to iOS here, but still good to see.
Three big changes: Phone at the centre, extending beyond the phone, making all devices work better together.
Android 13 builds on Material You, expect some new widgets and icon options. You can also set individual apps to different languages, for those that are multilingual. Google wants every mobile OS to update to RCS in a rather shameless dig at Apple.
After a look at the London watch party, of course. Hey, where was our invite!?
Another cheeky watch mention. Talking about wanting software to work together, making things seamless in a multi-device world.
You'll be able to see additional context about websites in a new tool launching soon. It'll help you judge if the site is a reliable source or not.
You can choose the type of ads you see, what data can be used for ads, and the categories of ads you want to see more (or less). You'll be able to access it from the site or the Google app.
The feature will be rolling out later this year.
Another new tool being introduced that'll be able to help you take control of your online presence. You'll be able to remove results containing your number, email, or address. The feature is just launching "soon", no date given. The results will only be removed from Google Search, not the websites themselves.
It restricts access, removes identifying features, and cuts down on the data required in the first place.
Could this be a hint to the Pixel Watch, or are we reading too much into things?
Starting this summer, Google will automatically create virtual card numbers for Autofill card numbers when making purchase online. It'll work similarly to Google Pay and Apple Pay, and will take on premium mobile banking features.
No codes for Google's 2FA, and it's onboarded new users. The security feature is now switched on by default. Google claims it is laying the ground for a "future without passwords", using the Sign in with Google feature.
Please give us some products now!
Nope, we're talking about computer safety and privacy. Google's threat-analysis team works to help stop online attacks. They'll offer new features for businesses, such as a training course.
15 billion scam and phishing messages are prevented everyday in Gmail, not to mention the Play Store. It's expanding to Docs, Sheets, and Slides. You'll be automatically alerted of suspicious links.
Using a new Chain of Thought Prompting model to better get context. It'll be able to help with translations when giving AI answers.
Google can auto-generate a to-do list of steps to complete a larger task. It's a common Computer Science analogy when explaining algorithmic thinking, so it's impressive to see AI thinking like a person!
Here, you can test out new Google AI features before they're released. One beta feature can generate imagined answers and questions, based on its training data. Could Google write an entire story? Another feature challenges you to push the AI off-topic!
"Interactions are still not as natural as they could be". New hot words for the Google Assistant inbound! You can also look at Nest Hub and just start talking to wake it now. Expanding Quick Phrases for more commands without needing the "Hey Google!" hot word.
The demo is pretty cool. Google claims all image-processing is happening on-device. But do we need to worry about smart home tech watching us now, too?
Assistant is also going to become better at understanding "Umms" and pauses in speech. Extra processing will be done using Google Tensor, expect the SoC chips to expand to more products. Google will also prompt you with a "mmhmm" if you take too long to speak. That could get annoying! The demo also showed Assistant correcting the wrong band name. That's great, but how accurate will it be?
Computers should be adapting to people, not the other way around.
Nothing going on here, just to hide Sundar walking back on stage.
Google is using the new Monk Skin Tone Scale across features, ensuring Search works well for everyone. Google Images is being expanded to offer wider coverage of skin tones, and a new skin tone filter for makeup queries.
Also adding Real Tone filters allowing you to apply different filters to improve skin tones. The scale is also being made open-source.
Google wants to help make Search more inclusive for everyone, expanding on Pixel 6's Real Tone feature.
Trillions of questions asked every year! Google wants you to be able to search "any way and anywhere". It's Google's vision for the future of Search, understanding more complex context-based questions.
Recapping Google Voice search and Google Lens. Now, they're "redefining Google Search, yet again". With multisearch on mobile, you can search with a photo and text at the same time. Later this year, you'll be able to combine pictures and location data, to find local businesses near you. In the future, Google plans to expand multisearch to a live view of multiple frames. It's pegged as a "supercharged Control F for the real world".
Under the hood, Google has to recognise the image, recognise the intent of your search, compare the image, and apply it all to the search. Pretty complicated stuff!
Using (you guessed it) AI! Google is also adding a natural light feature to Meet.
We can see it coming, auto-generated TLDRs in Google Docs. And here it is! Automatic summaries in Google Docs, using AI to pull out key points. In the new few months, the feature is headed to Google Chat to summarise group chats, Google Meet, and other Workspaces products.
It sounds very impressive, let's just hope it works. As Sundar said, it's a huge leap in AI text understanding.
Improving YouTube's automated chapters, and 10xing this feature over the next year. It's also improving it's transcription via text detection. Auto-translated detections have arrived on mobile, too!
No mention of the dislike button, though.
1.6 billion buildings already mapped! Google Maps is 5x building mapping in Africa using some clever AI tech. It's also doubled the number of buildings in India and Indonesia. The UN is using these maps to provide support and emergency assistance.
Immersive View is a new feature Google is introducing. It's like 3D View on steroids. We've got a preview with London. Not only can you look around the city, but also see traffic, and check out the inside of locations nearby. Pretty cool! All the indoor footage is Ai-based, created by images.
And for the record, Sundar, it's not raining here. Thank you very much!
Eco-friendly mapping is being expanded to Europe. It shows the most fuel-efficient options, if that's a consideration of yours.
Sundar says there are still languages not covered by Translate. They've developed Monolingual Learning, using AI to learn languages rather than comparing texts. It's helpful where there aren't many published texts.

They're adding 24 new languages to Google Translate today! This includes the first indigenous language.
Focusing on making a difference through products. Sundar is taking a look at some of Google's efforts over the past year. He's mentioned COVID-19, monsoons in Asia, the Ukraine crisis.
Mic check, 1, 2, 3. Did you hear the crowd cheer? "It's great to be back", Sundar says, and he couldn't be more right!
Hear, hear!
Does that retro Google logo make you feel old? Oh, how times have changed!
3:07, to be exact.
Major Jumanji vibes here.
Google gave us a quick teaser for the event, with a light-source Google I/O logo. You had to see it to, well, see it (and get the pun).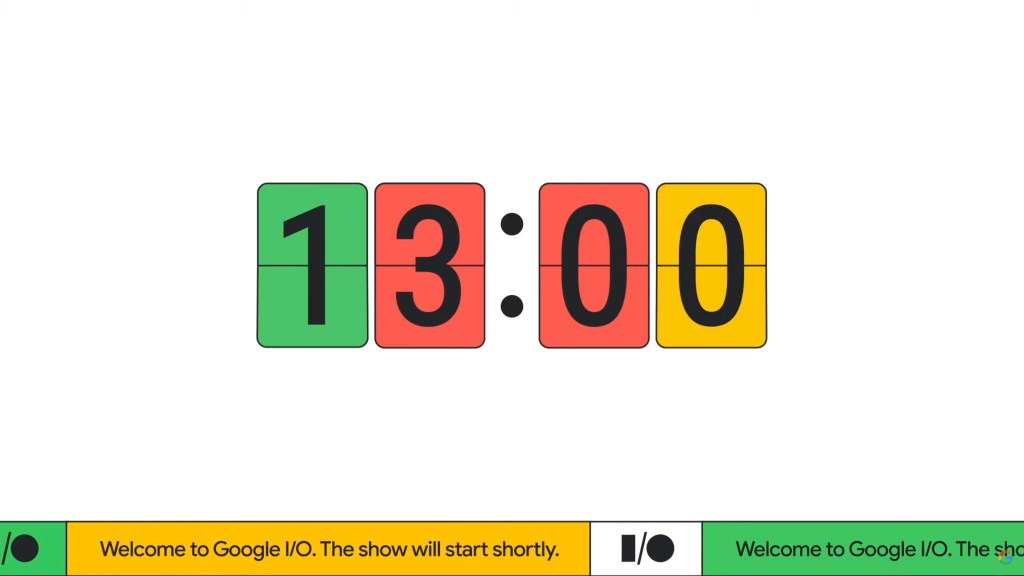 Consider the warm-up music Stuff approved! It's perfect entertainment for anyone watching the keynote, or there in the audience.
Oh no! Where'd it go?
While we couldn't be there in person, Google I/O 2022 is in-person. Look at that crowd in the audience!
While the event doesn't start for another 30 minutes, we're here, beginning our live coverage. There could be some pretty big announcements at the keynote, such as an unveiling of the long-rumoured Pixel Watch, and the launch of the Pixel 6a. We'll also be getting a look at new software; Android 13 is a sure thing, but expect some Wear OS and Chrome OS updates too!
In the meantime, if you're itching for some Googleyness in your news, check out what to expect from the keynote: