Fully Charged: The Steamboy Machine is a handheld Steam PC, next Xbox One update detailed, and inside Tokyo's new Apple Store
It's Monday—catch up on all of the news you missed this weekend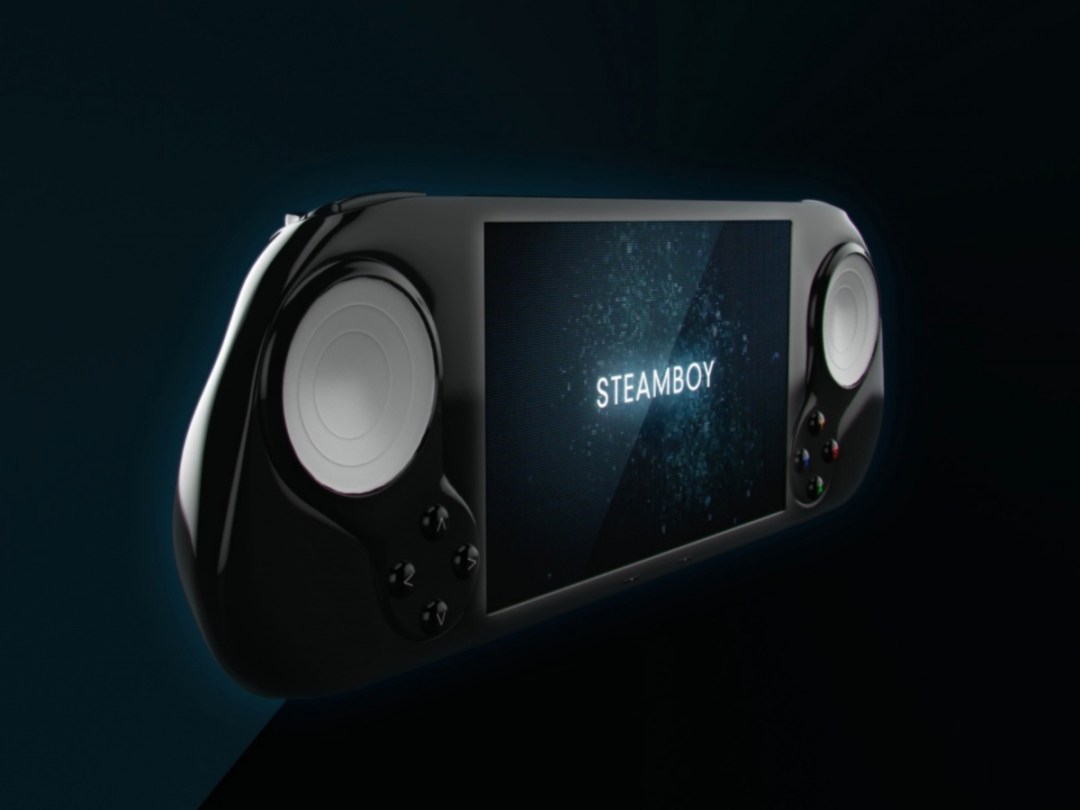 Steamboy Machine aims to be first portable Steam PC
Valve hopes to make PC gaming more accessible with the upcoming Steam Machines—a selection of third-party computers that run SteamOS and feature living room-friendly design. But one manufacturer aims to skip the entertainment center entirely and go straight for the messenger bag or pocket.
The Steamboy Machine was revealed late last week by an upstart manufacturer, and the handheld gaming system is slated to be released in 2015. It features the same innovative touch pads as the standalone Steam Controller, but on a handheld with a 5in touch display and both Wi-Fi and 3G connectivity.
Exact specs have yet to be revealed, but a representative for the maker tells The Escapist that the Steamboy Machine will have a quad-core CPU, 4GB RAM, and 32GB of internal storage—fingers crossed for external options on top of that, of course. It probably won't run the biggest AAA stuff, but the company says it'll "play the majority of current games" on Steam.
[Source: The Escapist]
READ MORE: 12 Steam Machines detailed, fondled, and photographed from every angle
July Xbox One update brings Achievement Snap feature
Achievement hunters—take note. Microsoft's next planned Xbox One system update is due next month, and it will add a new Achievement Snap function, which generates a sidebar that tells you how close you are to unlocking the next Achievement within a game. You can also prioritize specific ones you're chasing, and search the web for tips and FAQs that'll help speed you along.
The update will also add a "double-tap to Snap" to access that frame more easily with any Snap-able app, plus you'll be able to choose your spoken language for voice control and "like" Game DVR clips.
[Source: Xbox Wire]
READ MORE: Fully Charged: Xbox One's Kinect-less power boost, in-flight Wi-Fi expanding across Europe, and World Cup stadiums explorable in Google Maps
Inside Apple's slick new Tokyo store
On Friday, Apple opened up its third retail store within Tokyo, inside the Omotesando shopping district, and the company marked the occasion by posting the above clip, which spotlights the prep that went into bringing the store to life in the run-up to its launch.
At street level, the new store features three towering glass sides with a metal roof jutting out on the front, while a dashing spiral staircase in the center leads shoppers downstairs to a basement level where third-party items are spotlighted. The Verge says that the store is nestled in a district that frequently welcomes alluring modern architecture with its various retail shops, and it's likely that Apple's latest Tokyo venture will fit in quite nicely.
[Source: The Verge]
READ MORE: In-store location tracking to optimize your Apple shopping experience?
Toyota's Camatte concept car has a customizable LED hood
The Camatte will probably never be more than a cool sight for trade shows and expos, but Toyota's concept ride serves its purpose well in that regard. As seen in the video, the car features nearly 7,000 LED lights that can be customized to display an image of your choosing via a scanner like the one shown.
Toyota pulled out the latest version of the Camatte for this weekend's Tokyo Toy Show 2014 at in Koto, Tokyo, and had not only the light-up version on display, but also a separate "Tech Lab" version that offers a clear look at its inner workings.
READ MORE: Fully Charged: Toyota's mad mood ring car, the app that fixes your posture, and Call of Duty: Ghosts PS4/PS3 comparison