Fotokite Phi drone's tethered approach takes the stress out of indoor flying
This GoPro-toting quadcopter-on-a-string flies itself, letting you concentrate on looking cool for the camera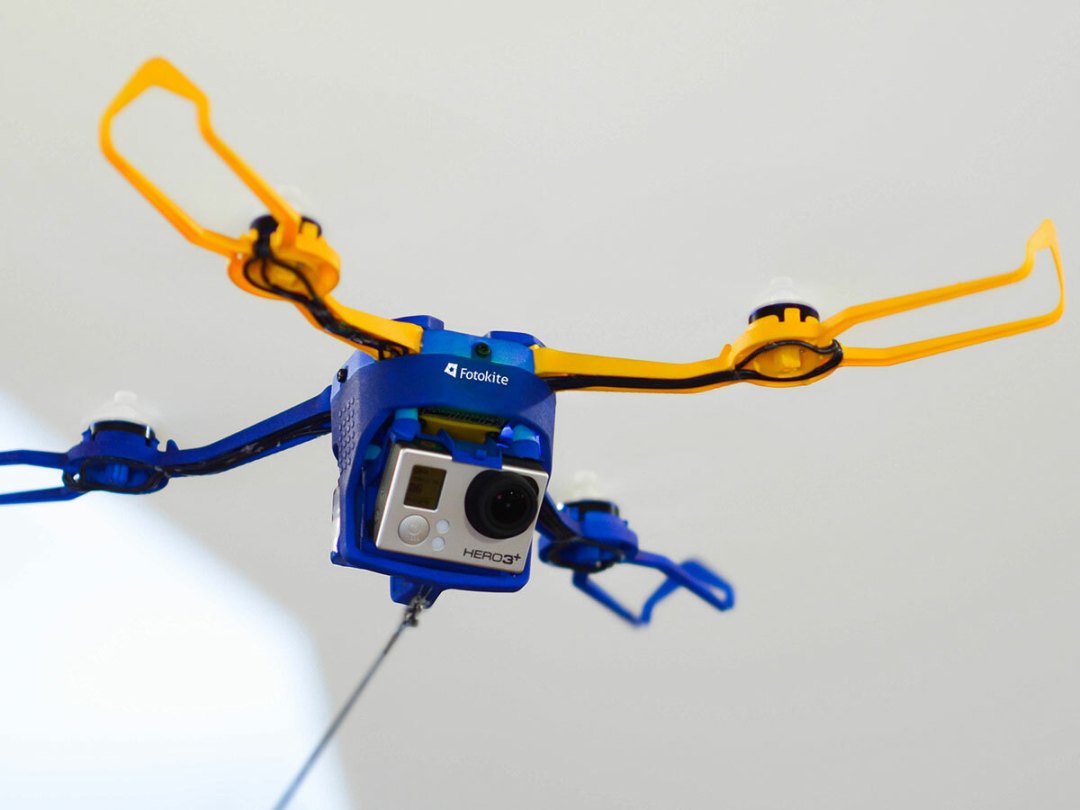 The new Fotokite Phi is the smallest, lightest GoPro-carrying quadcopter on the market, but that's not why it's got us so excited – the big deal about this little flyer is that it requires next to no effort to fly, even indoors.
Much as we love DJI's Phantom range, those camera-toting 'copters still require a fair bit of skill and experience to fly safely, especially indoors (and we have the dinged-up coffee table and tattered houseplants to prove it…). The Phi, on the other hand, does pretty much all the flying for you, thanks to its tether.
We got the chance to see the Phi up close during a demo last week (check the video below to see it in action) and were suitably impressed with how simple it was to operate, and how steadily it hovered once in the air.
This is a drone on a leash (hence the "kite" part of its name), and the user can control its height and distance (up to 26 feet/8m) by paying out or reeling in the cable, and its position by moving the cable in the desired direction. And because it's tethered to the user, there's no scenario where it can fly anywhere you don't want it to. It's not for nothing that its creator, Sergei Lupashin, describes it as "a cross between an airborne pet and a Steadicam in the sky". In fact, the Phi user-friendly approach to aerial photography means it's already finding use with news outlets, including the BBC.
The makers, who today launched an Indiegogo campaign to fund the production of a consumer version of the Phi, claim it will have enough battery power for 15 minutes of flight time per charge, and that it's able to carry GoPro Hero 3, 3+ and 4 camera models. It also folds down into a compact carrying cylinder, which makes it a lot easier to lug around than other GoPro-equipped drones.
If you're quick you can secure one of the first Fotokite Phis off the production line by pledging US$349 (£225) to the campaign (if you're very quick, you might even get one for US$249 or US$299). The company says that, once the Phi actually arrives in shops, it'll cost more like $500 (£320). That price doesn't include a GoPro, by the way.
While the Phi might appear to be a direct rival to DJI's drones, it's definitely aimed at a different market. Currently it's designed purely for indoor use, as its frame is 3D printed and therefore might struggle to withstand the rigours of the great outdoors; an injection-moulded version will follow, assuming the project gets its Indiegogo funding, and that'll be a lot sturdier. It's also likely to be classed as a "propelled blimp" rather than a drone, which means there'll be fewer restrictions as to where you fly it and the qualifications you need for commercial use.