Boffin creates radio controlled black cab
Stuck waiting for a cab? Drive your own with this full-size RC version. Now you'll just need the Knowledge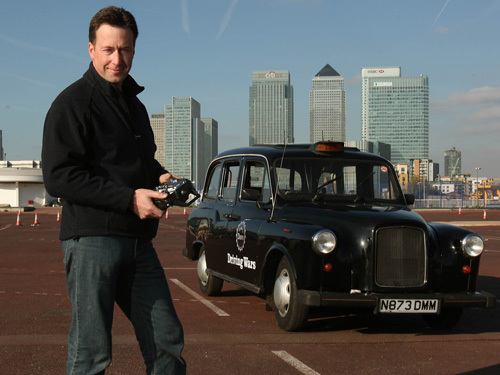 Ever been been stuck walking home after a night out, wishing you could just will a taxi into existence?
Sadly that's beyond the scope of current science, but engineering wiz Dr James Brighton has created the next-best thing – a full-size, remote controlled London black cab that you can pilot with a hand-held controller. The controller gives its user full control over the nearly two-tonne taxi, including steering, a fully proportional throttle and forward and reverse gearing. And – thankfully – braking.
Brighton has created the taxi in conjuction with new Dave show Driving Wars (starts Wednesday 19 October), in which members of the public are invited to replicate famous TV and film driving stunts using full-sized remote controlled cars.
We're guessing the chase from The Blues Brothers would probably break their budget, but we'd still love to see it.
Also
Next Big Thing – 3D printed silver
iPad 3 units are going into production