Big, brash Kia EV9 electric SUV is designed firmly for families
Lots of angles on the outside and a whiff of opulence in the inside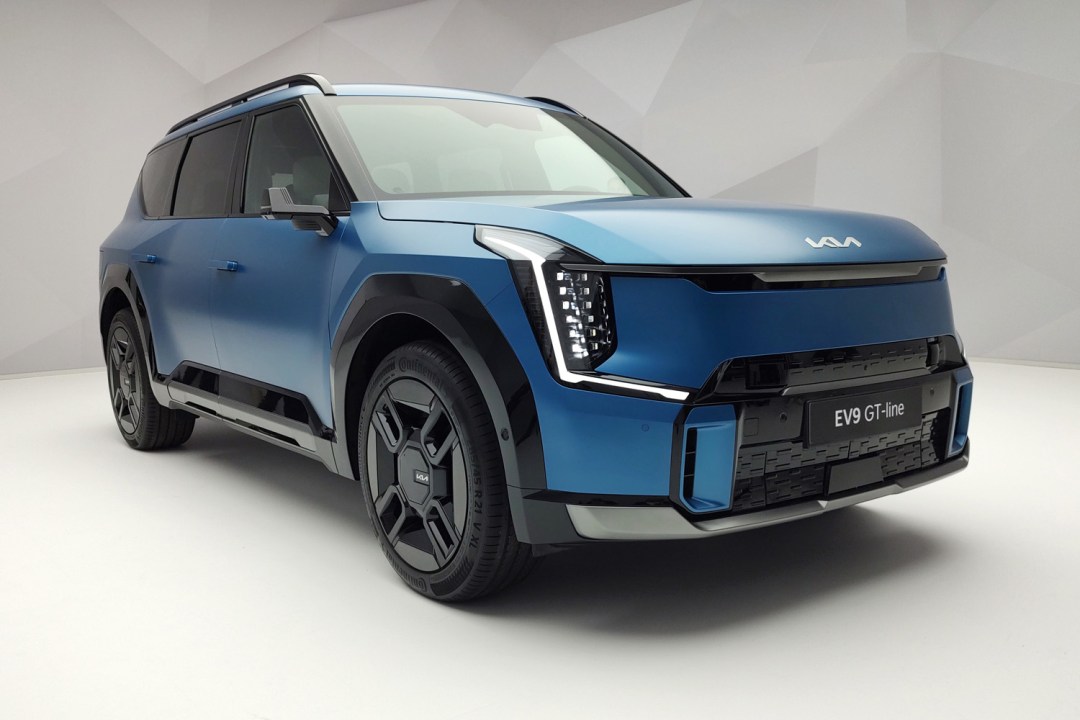 This monster is the new Kia EV9, which is every bit as big as the images suggest and just a smidgen shorter than a current Range Rover. For good reason, because it features no less than three rows of seats, meaning it's going to be perfect for larger families. Available as a six or seven-seater, the EV9's other main appeal is its potential range; up to 336 miles for the rear-wheel drive version and 308 miles from an all-wheel-drive variant.
Kia has already shown the all-electric SUV elsewhere, so the exterior looks probably won't come as any major surprise. However, the interior is perhaps a more interesting story, with lots going on with the seating arrangements. The second row of seats can be swivelled around to face the third row, which could cause harmony or consternation depending on how your kids get on.
The Kia EV9 isn't a by-numbers SUV, even when viewed from the outside. As has become customary from this innovative brand, Kia designers have made it big, bold and very angular, which is compounded by the matte blue finish you see here. Interestingly though, the EV9 is surprisingly dynamic with a drag coefficient of 0.28, which comes as a bit of a surprise given its boxy lines.
The EV9 will arrive loaded with lots of neat tricks. There are digital door mirrors and flush door handles on the outside, the relaxation seats offer up all manner of reclining options, and the expansive Triple-Panorama Display across the dash gives the sizeable SUV an added touch of class.
This trio of screens is actually divided up into chunks with a 12.3in instrument cluster in front of the steering wheel, second 12.3in screen for infotainment, and a 5.3in screen handling climate controls sandwiched in between. The cavernous interior can also be filled with glorious audio thanks to 14-speaker Meridian Premium Sound System.
Based on Kia's well-proven E-GMP platform, which has worked so well for the Kia EV6, the EV9 will be available as a rear-wheel drive or all-wheel drive model. Both versions will carry the came 99.8kWh battery pack. Kia's clever thinking on this front means the SUV should be great on range, but also hugely practical thanks to its capacity for 800V ultra-fast charging.
Hook up to a 240kW charger and you could be looking at up to 150 miles of range in around 15 minutes for the rear-wheel drive car, or 136 in a quarter of an hour for the four-wheel drive edition. Kia is also making a big thing about the EV9's capacity for offering bi-directional charging. That means owners will be able to use their SUV to power appliances, their home or send power to the grid. It's effectively a way of using any spare power more efficiently and balancing energy use in a more practical fashion.
Unsurprisingly for an innovative brand like Kia, the carmaker is also offering the EV9 with a digital key option. This allows owners to gain access to and operate their car with their smartphone. The SUV will also come fully laden with a host of driving aids, including Kia's Highway Driving Pilot Level 3 autonomous system. That's helped along by LiDAR sensors, radar, multiple cameras and on-board sensors. Given its size, they'll be mighty useful too.
The Kia EV9 is a premium all-electric SUV that will doubtless do well in the American and Chinese marketplace. But is its size going to work on UK shores? We can't wait to find out when we get a chance to drive it later in the year. No official pricing has been confirmed as yet, but the Kia EV9 is expected to start from around £65,000.